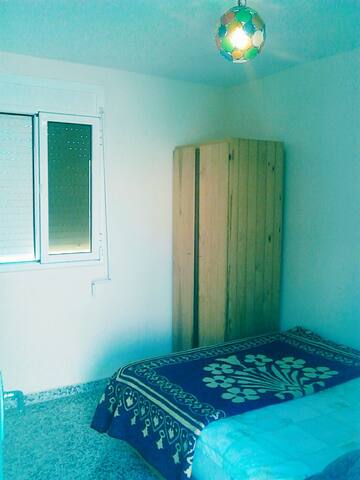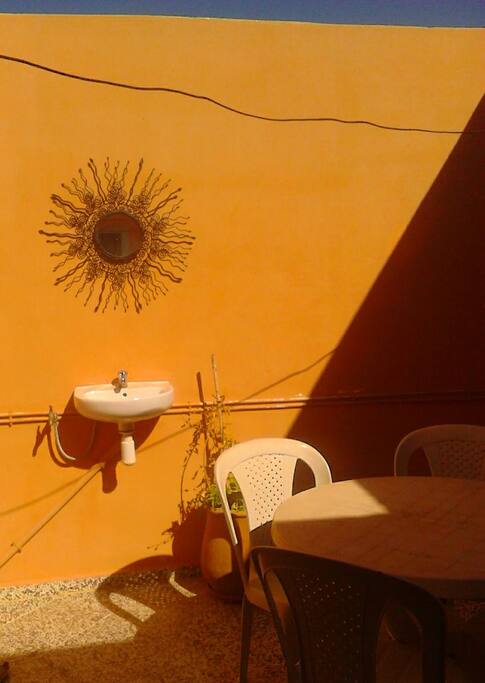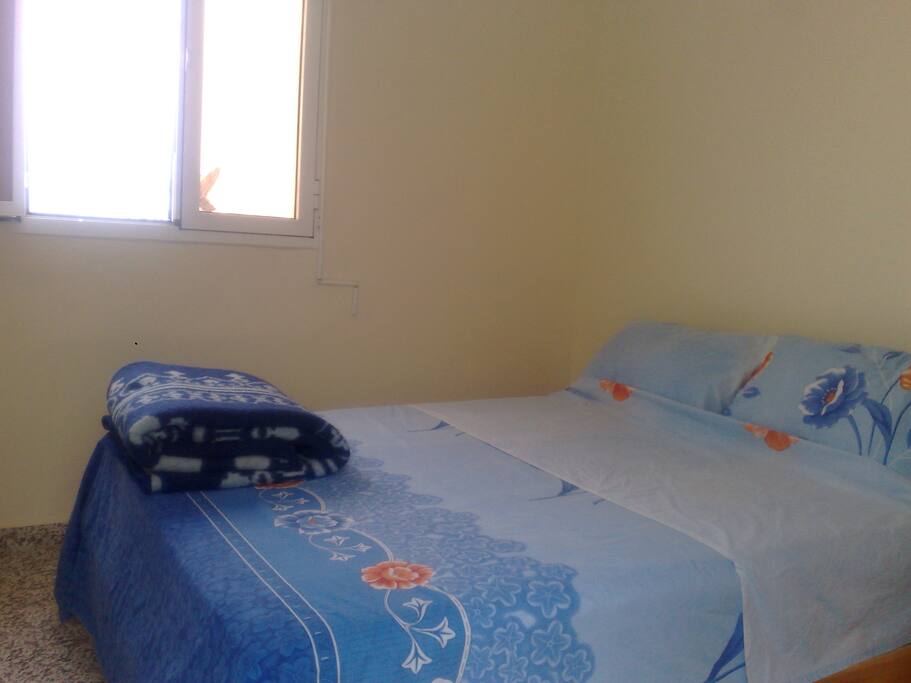 房源细节
it is 2 apartments, each apartment has 2 bedrooms with double bed and single bed, kitchen, bathroom and hot shower.
the house is just 2 minutes walk from the street of the Souk (market) there are restaurants, shops, cafes, post office, internet cafe, etc ....
The beach is a 10 min walk.
Legzira beach 20 km from Mirleft.
you can contact me for more information.
Het verblijf in Mirleft Souk Gueat House is ons heel goed bevallen. Een fijn basic en schoon appartement vlakbij het centrum van Mirleft. Prima uitvalbasis voor als je de omgeving van Mirleft en Sidi Ifni wilt verkennen. Zowel de kust als de bergen zijn prachtig. Abdoullah is een amicale gastheer, die ons goed op weg heeft geholpen en veel wist te vertellen over de omgeving en zijn inwoners. Mooie avond met Abdoullah en gouden tip voor andere gasten: koop een vis op de markt en laat deze vervolgens grillen bij een van de restaurantjes, dan maak je een echt stukje authentiek Marokko mee.
---
I did a trip for some days with a friend for different places in Morocco and we stayed 4 nights in Mirleft. Two in each of Abdoullah's apartments. They both were good, clean, with kitchen and utensils. Mirleft Souk Guest House is more simple but with everything you need, and it has a fridge. Abdou Guest House is really charming, with a very nice bathroom and terrace. Abdoullah was a great host! He showed us the center of Mirleft when we arrived, he's very nice and friendly. He invited us to have tea at the terrace of his place and we could not stop talking to him for several hours. He is also very fun, we had good laughs too. He's the kind of person that you can talk about different points of views without any problem. We would go back for sure! Mirleft is a perfect place for relaxing some days, there are beautiful beaches near, you can visit Sidi Ifni, and the atmosphere in this village is relaxed, people are nice and we had the best tajines of the trip there, in one of the places behind the market that prepare delicious grilled fish and tajines, let them know Abdoullah! Thank you very much for everything, from your Barcelona friends Héctor and Oriol! Fui de viaje por diferentes lugares de Marruecos con un amigo y nos quedamos 4 noches en Mirleft. Dos en cada apartamento de Abdoullah. Los dos estaban bien, limpios, con cocina y utensilios. Mirleft Souk Guest House es más sencilla pero con todo lo necesario, y tiene frigorífico. Abdou Guest House es encantadora, con un cuarto de baño y una terraza muy bonitos. ¡Abdoullah fue un gran anfitrión! Nos enseñó el centro de Mirleft cuando llegamos, es muy simpático y amistoso. Nos invitó a tomar un té en la terraza de su casa y no podíamos parar de hablar con él durante varias horas. Además es muy divertido, echamos unas buenas risas también. Es el tipo de persona con quien puedes hablar de puntos de vista diferentes sin ningún problema. ¡Volvería sin dudarlo! Mirleft es un sitio perfecto para relajarse unos días, hay playas preciosas cerca, puedes visitar Sidi Ifni, y la atmósfera en el pueblo es relajada, la gente es agradable y comimos los mejores tajines del viaje allí, en uno de los sitios detrás del mercado que preparan pescado a la brasa delicioso y tajines. ¡Díselo, Abdoullah! ¡Muchas gracias por todo, de tus amigos de Barcelona Héctor y Oriol!
---
Mirleft Souk Guesthouse was the perfect place to stay in Mirleft! The place was extremely clean and had a great location. Abdoullah was so nice and helpful. He met us pretty late at the taxi stand and showed us around the shopping/market area. He even brought us to eat the most amazing grilled fish I've ever had. I would definitely recommend the Mirleft Souk Guesthouse to anyone!
---
Abdoullah was the best host, very accommodating and seems to be the person to know in Mirleft. The apartment was clean and comfortable, near the cafés, restaurants and the souk on Mondays. The very private terrace gets the sun from 8am till 4pm in March. I'd come back & can only recommend :)
---
语言:
Deutsch、English、Français、العربية