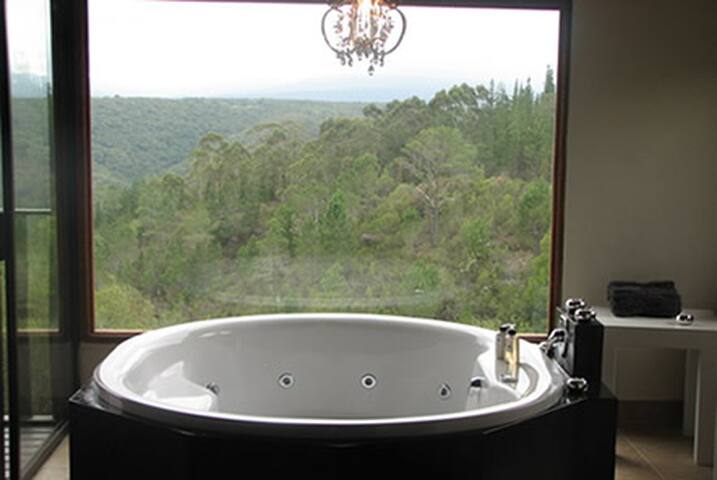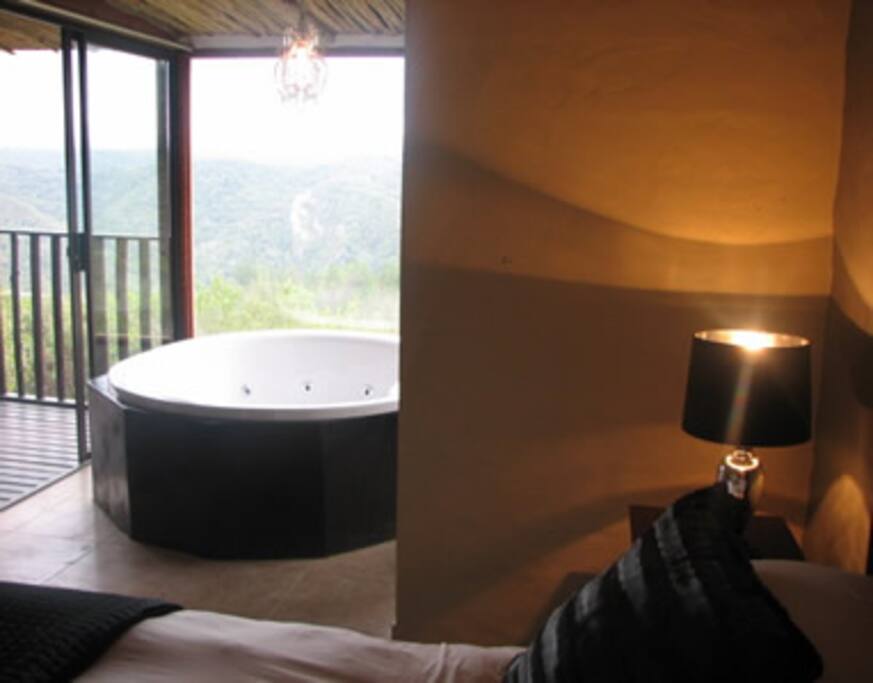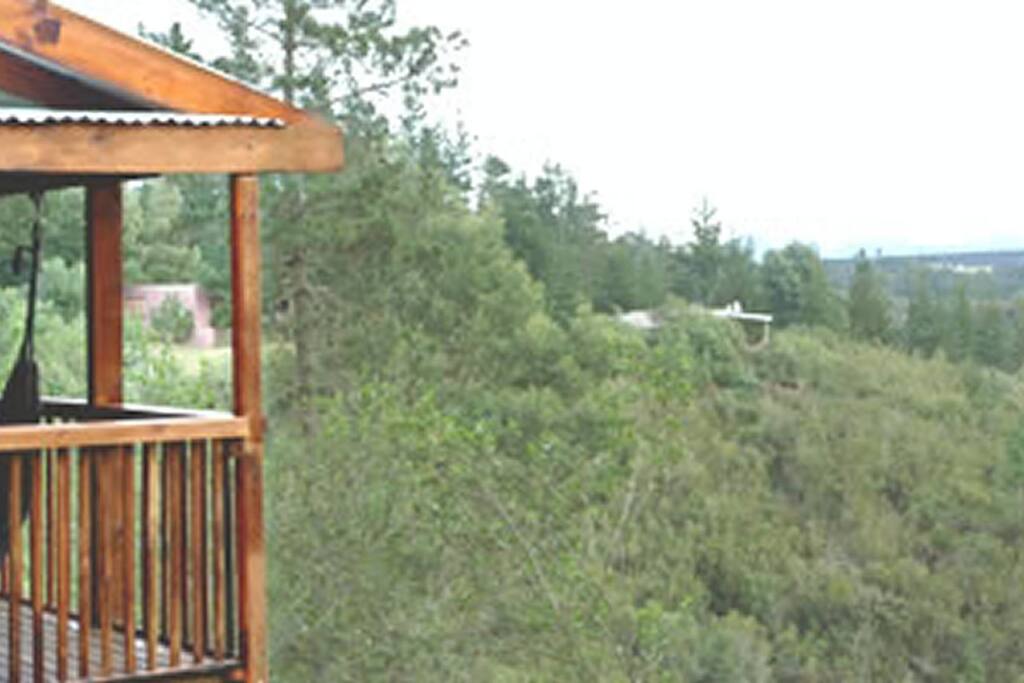 Enjoy casual luxury of Forest Valley Cottages. Built in deep forest valleys with awesome, unspoilt amphitheater views. Cottages have view decks built at treetop height, Jacuzzi spa baths, comfortable queensize beds with quality linens, electric blankets for cozy winter nights, wood burning fireplaces, cleaned daily, well equipped, with everything you may need for your self-catering get-away, where beauty/peace and quiet is the call of the day,close to town and beaches.YOU WILL JUST LOVE IT
房源
We have 4 HONEYMOON AND GET-AWAY COUPLES UNITS, a deluxe Honeymooner, of luxurious proportions, x2 Hide-Away cottages for 2 ppl 4 ppl or 6ppl
We are sited 7 mins, by car, from the lagoon, on the Cape Town side, then a scenic drive around to Knysna central, craft shops/malls/waterfront/restaurants/events etc
We have a tourist/guest info board in the office, with many Pamphlets and things to do in the area, that you can take, like the Canopy tours/Bungee Jumping/Monkeyland and bird park/Lagoon + Yacht trips/Elephant parks/Cango Wildlife and caves/Guided off-road Segway tours(self balancing driven two-wheeler things etc…
Positioned on top of deep forest valleys, a rejuvenating get-away, with amphitheater views of the forested valleys and the mountains surrounding Knysna, from everywhere in the unit, a jewel of the Garden Route.
Nothing beats sitting in the spa bath or tub, with some champagne and snacks, when the last rays appear or disappear over the horizon…you can get some fantastic shots, for the photo album, if you have your camera ready and it won't be through burglar bars and things because there are none …we have found safety peace and quiet her for 20 odd years, or anyone coming to ask us for a job! ...although a short distance to town center/shops/waterfront/malls and things.
房客使用权限
Hikes in Unspoiled indigenous natural forests, plunge pool, rising sun views, rejuvenating get-away, within an hr and a half's drive: You can go: Shopping, site-seeing in Knysna, Restauranting, to the Friday mkt, follow the scarecrows, if around the lagoon 4-8pm live music/drinks/bar, Sedgefield market Sat morning+13km away, towards C.T, Knoetjie castles, Jukani Wildlife Sanctuary, , Monkeyland and Birds of Eden, towards Plett, Ferry tripping, Knysna Elephant Park, , Zip lining, Canopy Tours, Sedgeway tours, Buffalo Hills & Plettenberg Game Reserves, Tenikwa Wild Cat Park, Noah's Park Wolf Sanctuary, Eagle Encounters & Lawnwood Snake Sanctuary. A day trip to the ostrich farms in Oudtshoorn, the magnificent Cango Caves or the Tsitsikamma National Park will prove unforgettable, which are all with-in 1.5hrs…being the furtherest, there is an info board in the reception, with pamphlets you may take to peruse and plan…things
与房客的互动
We will WELCOME: YOU AND YOUR PARTNER!...settle in and soak up the peace and tranquility, THE START OF YOUR AND A REJUVENATING STAY WITH US! ,We will set up the cottage beautifully for you, fresh flowers, rose petals, champagne, if you are on HONEYMOON and don't go through an agent?
It has Private deck with braai and hammock, where you may love to read from? And an outside braai lapa area, Housekeepers arrive about 10am, or when you are out, then the BBQ/braai will be cleaned, beds made ,dishes washed and sorted and you will find firewood, grain sacks full, replaced daily for 50 bucks, and some charcoal+fire-liters also for R50.
This unit has a pool for your pleasure, if muggy,(Dec to Mar, is lekke/nice
!) or you would like to lounge on the deck, absorb the fresh unclogged air, see the flowers and trees of deep forest valleys and the mountains surrounding Knysna 15mins away.
You will breathe in fresh air in a very private and safe environment, you can hike and cycle close-by in WORLD CLASS trails, swim in clean untouched rivers, visit the Historic Mother Hollies Tea room from the 1800's, see the old mining equipment use (URL HIDDEN) things are exciting if you book at BEAUTIFUL FOREST VALLEY COTTAGES.
8 mins by car from the Knysna Lagoon, then 9-15mins on a scenic drive around the lagoon to Knysna, for events, sightsee-ing, restauranting, touring, Oyster tasting, ferry-tripping…the worx
The best time to come into this area is Sept end to May?
if we can help in any other way...tell us?, we also don't like to be in your face/visit, so if you don't see us...have a wonderful stay ! Oh! you are welcome to chat/Question or chat to us at any time!
其他注意事项
private and safe in a beautiful environment!
---
---
dog behavour is not tolerable!/it is fair to be respectful
---
We had a lovely time in our cottage, the place is just perfect to relax and enjoy the nature. The cottage it self was well equipped and had a nice atmosphere. The Jacuzzi spa bath was just awesome with the view into the deep forest valley. Mark was really nice and flexible, everything was really easy to organize with him. We can would recommend the place to all our friends.
---
Our stay at Forestvalley Cottage was pure bliss. We were warmly welcomed by our host and then given privacy for the remainder of the weekend. This is the perfect spot for a romantic getaway with easy access to Knysna town but also equipped for cooking for yourself (which we did in the light of a beautiful sunset). The view from the balcony (and the bath) is exquisite. Highly recommended!
Tnx Tanja...you're a honey...and hubby, I enjoyed too...cheers man and we hope to see you again sometime? Ah! the towels and stuff are put in by staff, I try and check often, some housekeepers are slacker than others, the one doing that cottage will get a blast, (URL HIDDEN) they know which towels and mats are not for cottage use anymore?...we do upgrades on all those things every six (URL HIDDEN) there is no excuse, the floor wipes will certainly be plentiful shortly assuredly!! :) chou for now mark
---