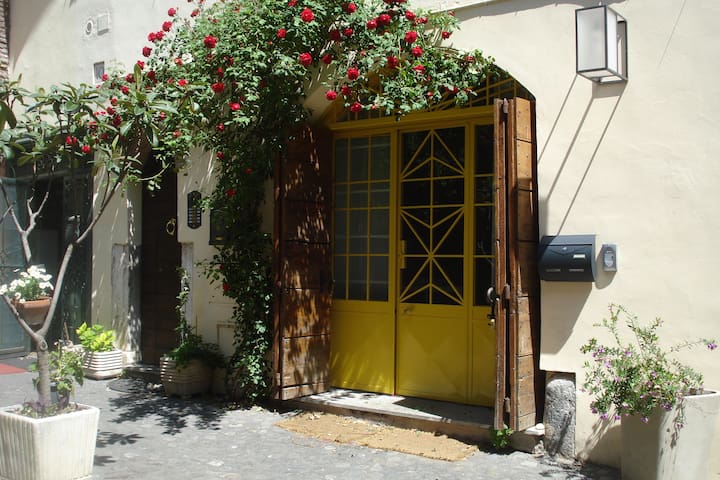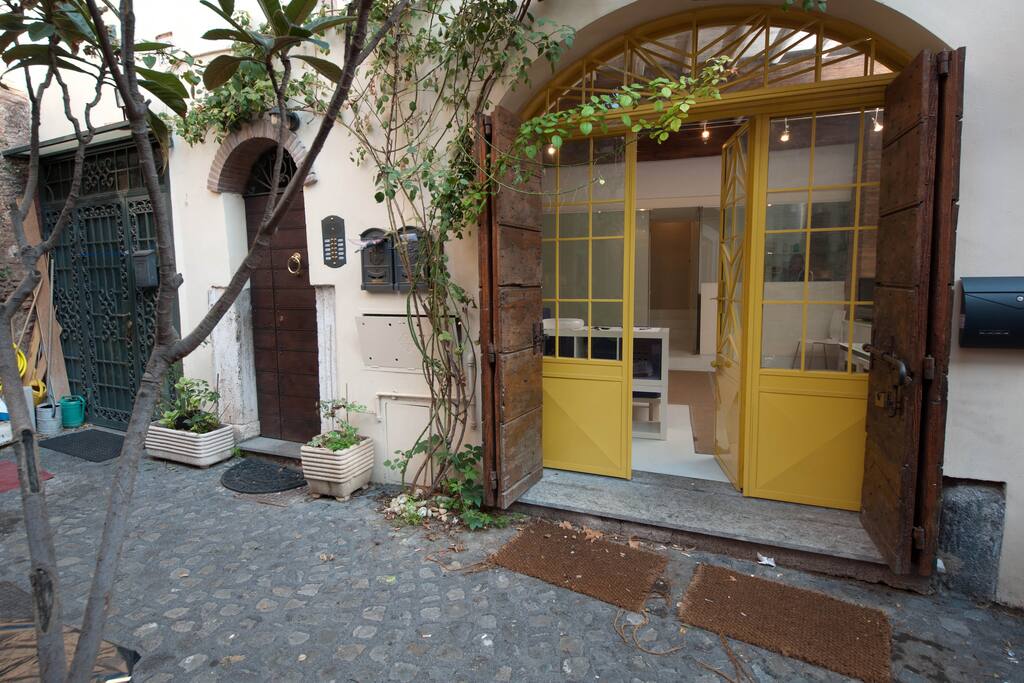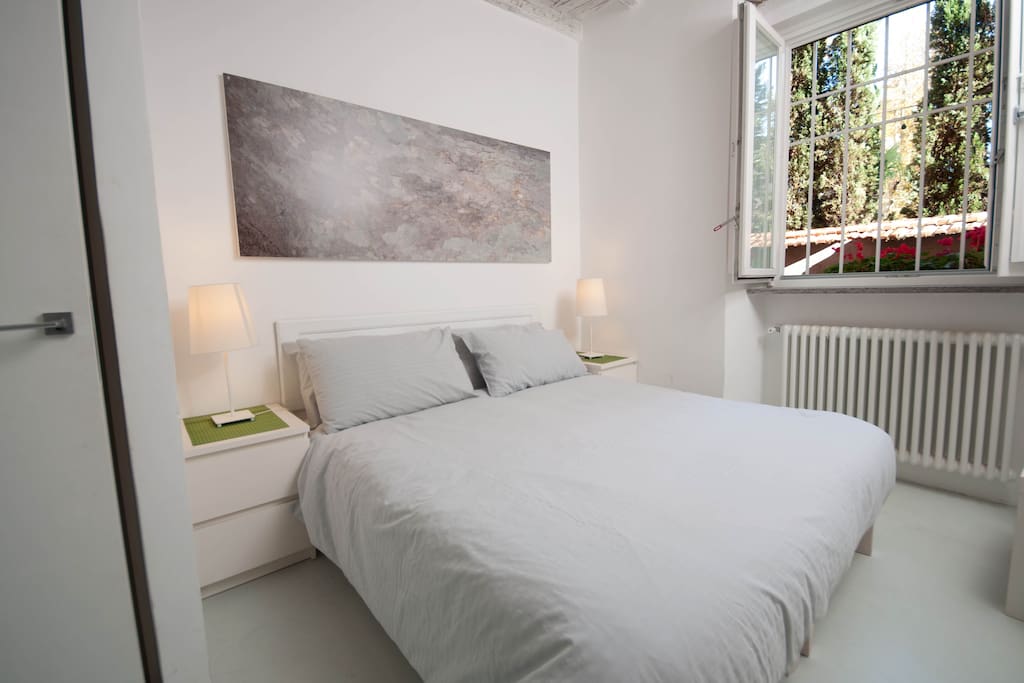 房源
One of the most characteristic of Rome's traditional quarters, where you can still breathe the atmosphere of the Eternal City is Trastevere and it is here at the foot of the verdant Gianicolo hill that you can rent a sunny, peacefull and elegant flat: Casa in Trastevere n. 2. It is the ideal base for a week's holiday in Rome for you, your family and your friends.
Casa in Trastevere no. 2

In a peaceful lane barred by the Aurelian Walls and closed to traffic, you'll find a delightful apartment, former annex of the 17th century's Palazzo Moroni, finely restored with wooden ceilings and an independent entrance . The flat offers a large living room with two single sofa-beds, a double bedroom (if necessary the double bed can be divided in two single beds), a second bedroom with two single beds, a comfortable bathroom equipped with a large shower, a well equipped kitchen provided with cooker, oven, fridge, freezer and dishwasher. Both bedrooms, overlooking a convent's garden, are very quiet.
Other utilities: color TV, autonomous heating, Internet service WIFI.


---
If you are going to Trastevere this is where you should stay!! It is in the heart of the town and everything is near! Not only is the location amazing the flat is beautiful, the little details Marta put into the house are perfect!!! Marta is a great host and helps with everything. We had internet problems and she fixed them right away, we wanted a fun place to take our girls and she gave us great suggestions! STAY HERE, it's perfect in all ways!
---
This was a wonderful place to stay in stunning Rome, made only better by our lovely host, Marta. The apartment was exactly as pictured: clean, well-stocked, and perfectly located. It is located at the end of a quiet alley, so we had no issues with noise. There was plenty of space for four people. We were traveling as a family, so it worked extremely well for us with two older children. The bathroom shower stall is glass-walled, so while opaque, I may not have felt comfortable sharing the space with friends. There are many areas to purchase food/drinks (both bars and stores) within a block, and accessing the area by foot was very easy. Most "tourist" areas were less than a 30 minute walk. There is a taxi stand right around the corner for longer trips. Marta made the experience wonderful, too. Upon arrival she gave us some very important information about Rome and the neighborhood. The air conditioning worked very well...a must if visiting Rome in the summer. The beds were comfortable, too, and Marta provided plenty of towels for everyone. I really hope to visit Rome again soon, and I will absolutely check to see if this place is available again.
---
Marta's apartment was lovely for my visit to Rome with my mother. With the amazing and eclectic front door to the lovely shower the entire apartment was great! It had all the essentials (towels, hangers, cups/plates, wi-fi, HAIRDRYER which was a surprise, TV, books on Italy and Rome, and more). It was also on a quiet street in Trastevere which is hard to find because it is such a nightlife area. There were also plenty of outlets for charging and when we arrived the apartment was spotless. Marta also arranged a car to take us from the airport to the apartment which worked out perfectly. I would definitely stay here again!!
---
Marta was very helpful with arranging transportation to and from the airport. When we arrived her husband was ill, so she had a friend meet us and let us in her place. Marta's amazing home is down a small cul-de-sac in the heart of Trastevere (and is uncannily peaceful for being in such a lively neighborhood). When our cab pulled up to her narrow street, her friend was waiting for us to make sure we found it. We felt welcomed and taken care of!
---
We came to Rome to visit our son who is studying here. We stayed at Marta's beautiful home right in Trastevere- the one with the yellow door! BELLISIMO! We had so much fun being in the heart of the area- and the accommodations were excellent. Enough room for all 6 of us- we got used to sharing the single bathroom! Beds were comfy, kitchen was great. Marta was a very simpatica hostess- she gave us recommendations for restaurants and provided a map for us- she was fantastic! Grazie mille!
---
Had a lovely time at Marta's apartment in Trastevere. Marta was there to greet us and made us feel very welcome. She explained everything clearly and gave us a few good hints and tips on where to eat and where to go. It's in a brilliant position and really quiet at night, yet right on the doorstep of the fantastic Trastevere bars and restaurants. Felt very safe and secure too. Thanks for such a great place to stay in Rome.
---