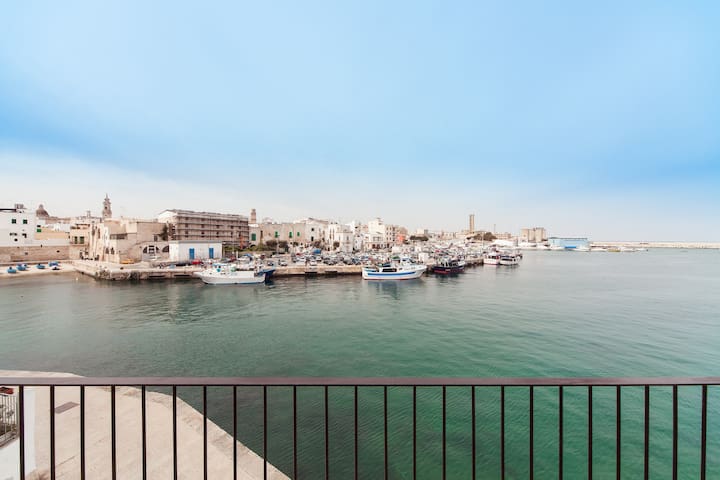 Adiacente al Castello Carlo V, la dimora si presenta come un balcone sul mare, che coniuga il fascino di un appartamento d'epoca con la suggestività della collocazione a ridosso delle verdi acque monopolitane.
---
We were sorry we never got to meet Gabriele or Maria Teresa, but the apartment is spectacular and the town is a fabulous find. There are tons of cute restaurants, bars and beautiful views from the balcony. The location of Monopoli is perfect to take day trips to other destinations in Puglia - nothing is too far. We loved watching the fisherman from the balcony. The only small concern was parking, but we got lucky each time. Maria Teresa was very attentive and answered all our questions. We would highly recommend this Airbnb!
---
Fantastic location with a great view from the balcony, very close to a mini-market with some of the best restaurants within walking distance. My boyfriend and I had a great time and Maria Teresa was really helpful with recommendations and offering to make reservations. There were also snacks left in the kitchen which was a nice and personable touch. I would definitely recommend staying here if you'd like the benefit of a great location with the comforts of home.
---
Beautiful, one bedroom apartment! It had a perfect location, right on the port, and we loved watching the sun set in the evenings from the balcony. We had a rental car and you need to park outside the historic area where the apartment is located, but it was usually easy to find a spot, plus our hosts drove us in and out to the apartment with all our bags. Monopoli was our favorite city in Puglia, don't miss it! We would definitely recommend this great apartment.
---
Absolutely 5*! The apartment was more incredible than the photos and was completely spotless. Lucia kept in contact the whole time and helped us so much! The apartment had great wifi, was very safe and just beautiful to look at! Monopoli was a real gem. We couldn't believe how beautiful and special it would be! And everything was really affordable. Amazing beaches, beautiful streets and the best seafood! We can't wait to return! Thank you Lucia for everything!
---