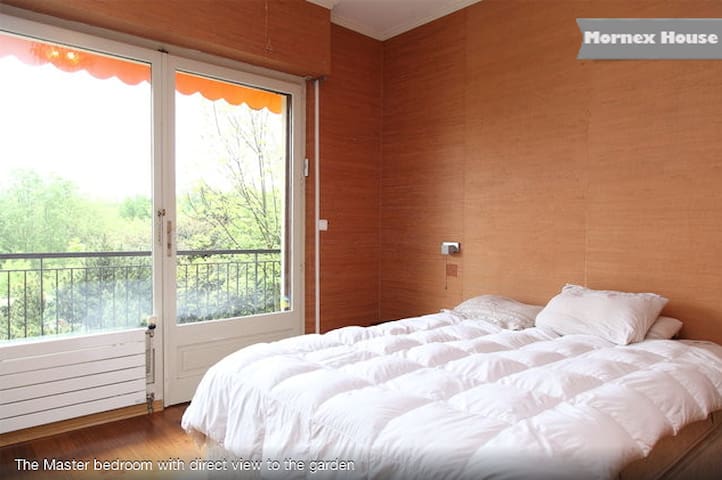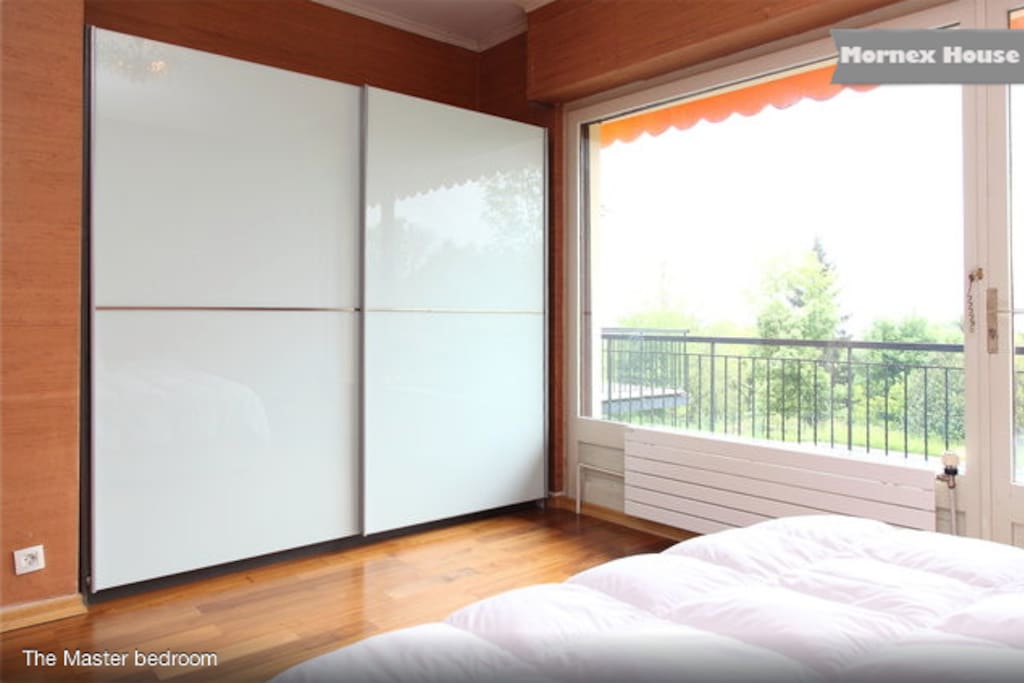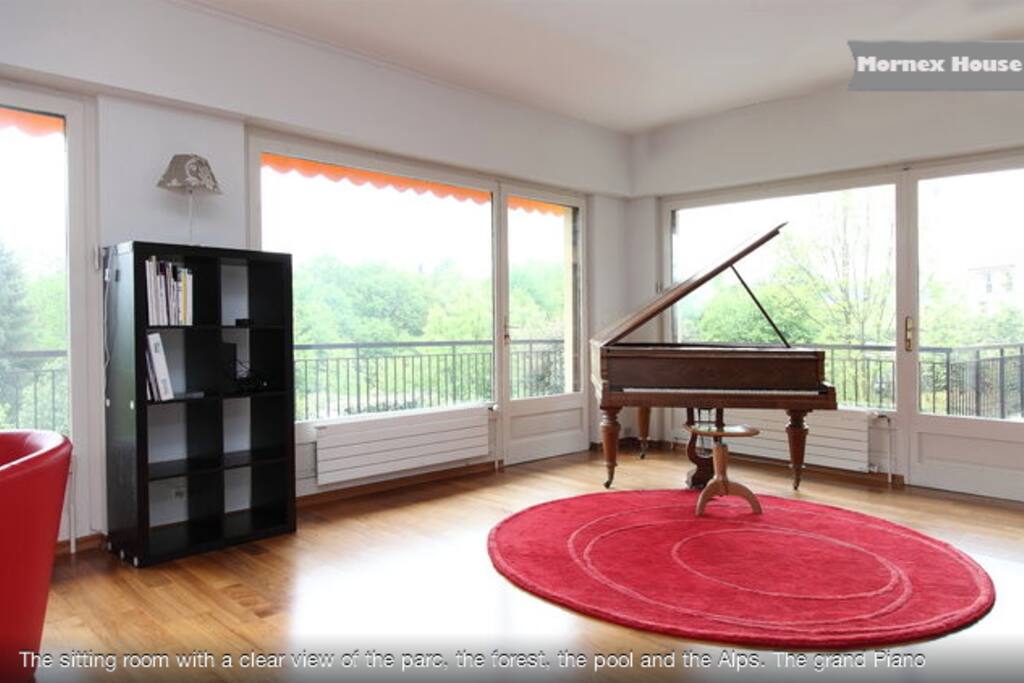 2 BedRooms in a house near Geneva
2间漂亮的卧室和一间私人浴室,位于一个非常大的公寓内,位于日内瓦外面,设有游泳池和大型公园。勃兰峰和阿尔卑斯山。使用客厅和厨房和设施
2 beautiful Bedroom and a private Bathroom in a very large apartment in a splendid house, just outside Geneva with pool and large park. VIew of Mont Blanc and the Alps. Use of the sitting room and kitchen and the facilities
---
Roland was very helpful communicating with us on our questions. He was very practical when there was no key for us to enter the apartment or lock it on the way out, remote control for the shutters worked. House could definitely use some more detailed cleaning and TLC with extra Bathroom supplies. Even though location was close to Geneva, I am not sure the location is reachable by public transportation. Neighborhood was very nice though.
---
Lorsque nous sommes arrivées nous avons été Surpris par la pile de paperasse étalée sur tout le planché, ainsi que la table de la salle à manger. Monsieur était présent dans la pièce toute la soirée, soit au salon pour travailler soit à la cuisine pour se préparer à manger. Les enfants ne pouvaient courir ni écouter leur chansonnette de peur de le déranger. Si nous avions besoin d'un coussin supplémentaire, à nous de le chercher, ainsi que la taie d'oreiller. Les draps sont jaunis, le cordon de douche trop court pour se doucher debout ; pas de gel douche de dispo, le chauffage dans la salle de bain ne fonctionne pas, la chasse d'eau coulait sans interruption. Niveau propreté, ça laisse à désirer ; le sol, la cuisinière, les placards ainsi que les casseroles sont sales. Tout est dispersé, difficile de trouver ce qu'on recherche. Pas de condiments de base, pas de tirebouchon, pas de couteau qui coupe, pas de bol, pas de bouilloire… Bref, nous n'etions pas très à l'aise
Chere Rebecca je croyais avoir ete tres accomodant au contraire. Vous avez loue une chambre et salle de bain attachee avec un enfant de 3 ans. En general mes locataire preferent etre dans leur chambre et ne pas en sortir bien que je mette le reste de l appartement a disposition. Vous etes arrivee avec 3 enfants qui courraient dans tout l appartement de 300metres carres et je nai rien dit et je vous ai laisse toute la cuisine et salon a disposition. Jai entendu la meme chanson de 18a a 22h. A 22h n en pouvant plus jai juste demande de baisser le volume de la chanson qui etait toujours la meme.....(URL HIDDEN) Le lendemain je n etais pas la du tou(URL HIDDEN)Si cela ne vous convenait il fallait louer un appartement prive(URL HIDDEN) Si vous aviez besoin de quelque chose type shampoing vous deviez demander j etais la (jen ai a peu pres 50 a disposition, mais dans l autre salle de bain). si vous vouliez quelque chose cousin ou autre, je vous indique ou cela etait, pas pour eviter de vous l apporter mais que vous soyez plus a l'ais(URL HIDDEN) Le chauffage fonctionne, il fallait juste l allumer desole. les bols etaient dans la machine a laver la vaisselle desole.
---
Positive points: Roland made sure to send us emails before we arrive to give us some directions which was more than appreciated He prepared a handbook with some information about the area, the regions, things to do and see around, advice for restaurants and grocery shops...very very useful document The house is spacious, lots of room, garden is lovely Negative points: Lack of "welcome kit": no towels, no soap, coffee or tea for exemple. There is a cleaning fee that is charge for each guest but the place is very dusty which is problematic with a kid for exemple (which was our case), furniture looks overused but confortable
---
Roland was excellent, plans were last minute and he accommodated us very nicely. House was beautiful clean and in a nice area. Bedrooms were nice size and the beds were very comfortable and clean. bathrooms were clean as well. Really top notch for my first airbnb stay this is my standard from now on.
---
we had a nice vacation in this house for 3 nights, very calm and romantic. exactly my ideal place for vaction. Roland also is nice person. we didnt have any problem there, everything was good and actually perfect. the only thing is that we arrived late at night and there were no lights in the road, every where was quiet dark and silent. I was scared because I thought I rent a place in the middle of the jungle and no one is here. Actually I thought that we should left the place and try to find the place in the city, but at the end we make a decision to stay there and all the night I was scared and I didnt sleep at all. but tomorrow when I went out from the room I saw amazing place and a lot of villas around us and quiet secure. and next nights I slept very well. The only thing that I recommend before you take this place is that it is better you have a car. because it is 20 minutes out of city.
---