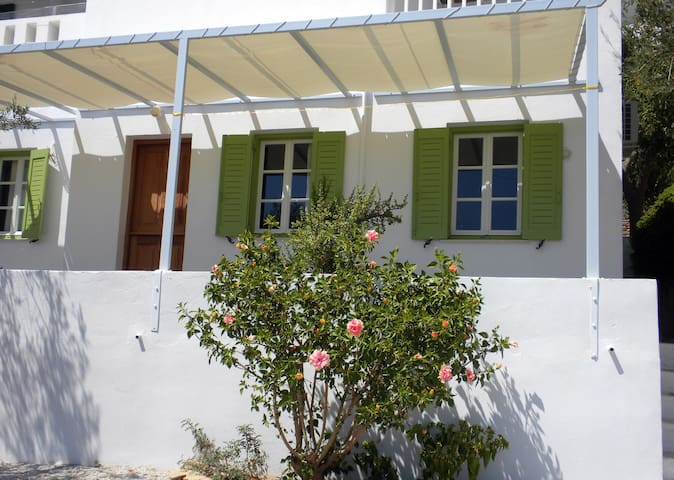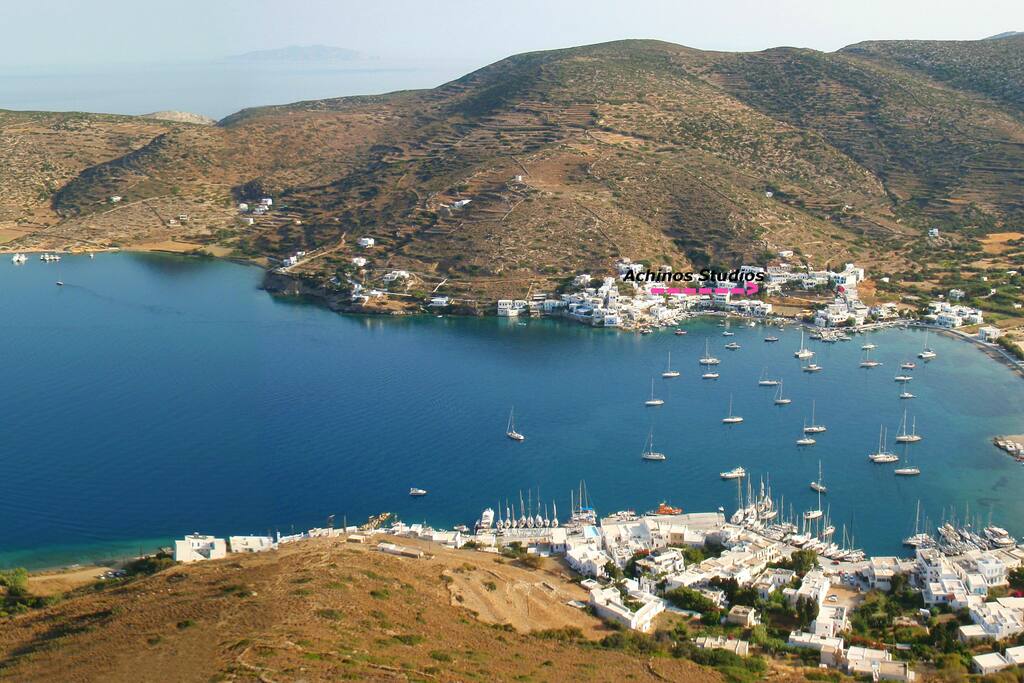 Aimilia's brother-in-law picked us up from the port and dropped us off at the apartment, where we found some lovely selections from his organic produce, including grapes, heirloom tomatoes, a bottle of wine and marmalade. Later, we walked to his market and bought more food to cook with. We loved this location because it's located in a quieter neighborhood, yet close enough so we could walk down to the Moon Bar in the evenings. Lovely view! Great hiking and swimming nearby. We also ended up taking the bus to many places on the island. The apartment is newly renovated, and we enjoyed the fact that a maid came and cleaned and gave us fresh towels every other day.
---
This is our second time staying in Achinos II and it was just as lovely as the first visit. We find the location perfect, with a full view across the port and easy walking distance to everywhere we like to visit but private and peaceful tucked away from the road. The apartment is spotlessly clean, comfortably furnished with an elegant style. The plants and flowers at the front of the house have grown since our last stay and create a really beautiful, cool and shady space to sit out on the veranda. Everything in the apartment works as it should; wifi and air-conditioning strong and effective, and after low water pressure in Katapola as a whole on the day of our arrival it soon reverted to normal and the shower was powerful for the rest of our stay. Aimilia is a super host. Communication is extremely easy and friendly. She went to great lengths to help us when we had to change our day of arrival due to a mix-up with ferry schedules and we couldn't have been more impressed. She arranged for her lovely brother-in-law Nondas to collect us from the port when we finally arrived and we had a fun trip around the bay waving hello to all our friends from the back of his truck! When we checked-in we found a bottle of excellent wine, a bowl of apricots and greengages (you will never eat a better apricot than the ones you find on Amorgos!) and a pot of marmalade - all from Nondas' organic farm. We've taken the marmalade home with us to remind us of this special place when we are back in the "frozen north"! Katapola is a wonderful town and has become very dear to us. We feel very lucky to have found somewhere to stay that enhances our lovely experience when we visit, we hope to find it available again when we return next year. Thank you Aimilia.
---
dies war unser zweiter aufenthalt in achinos II studio und es hat uns wieder total gut gefallen. ein überaus geschmackvolles apartment mit super ausblick auf die hafenbucht von katapola . nette tavernen in direkter entfernung . wenn amorgos dann hier. dear aimilia, thank you for having us again. when we return to amorgos some time we will only stay in your house and nowhere else !
---
Amorgos is a beautiful Island and Achinos is the right place to stay. Located in the village of Xiloketaridi, in the more repaired side of Katapola bay, the studio is 100 meters from the sea and you can sleep and wake up in the morning with the sounds of the waves. All is brand new, very welcoming and clean. Katapola is the right place to visit the island, in the middle of Amorgos and close to Chora and the beaches of the South and Aegiali area. Thanks for the stay and all the great memories.
---