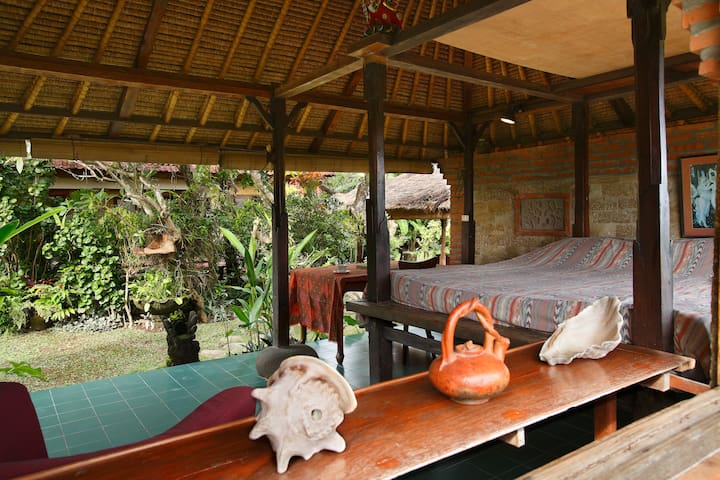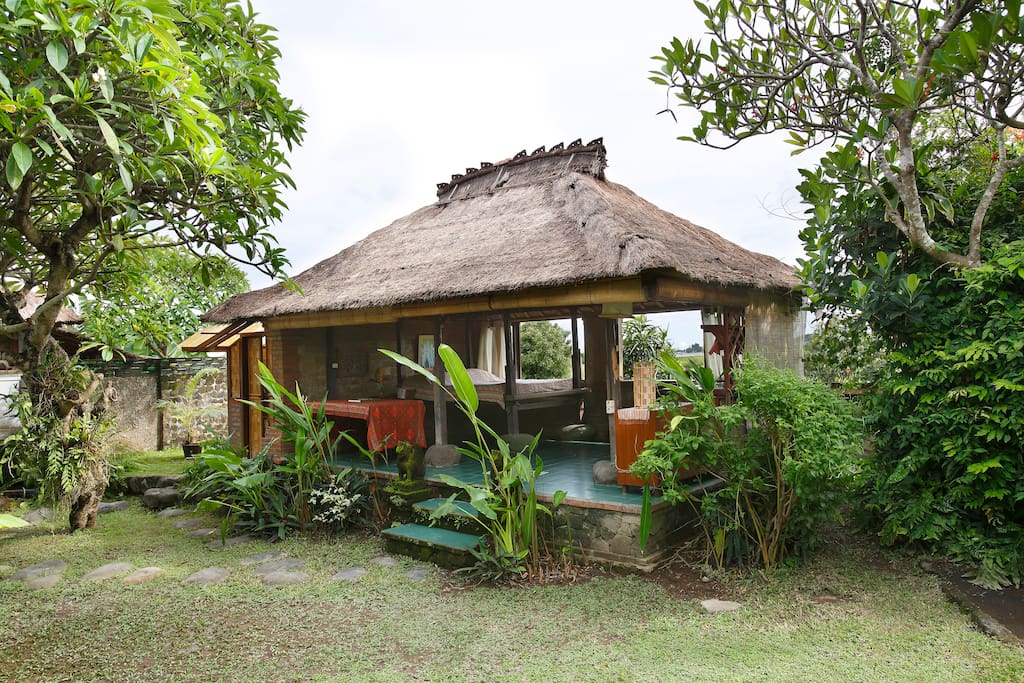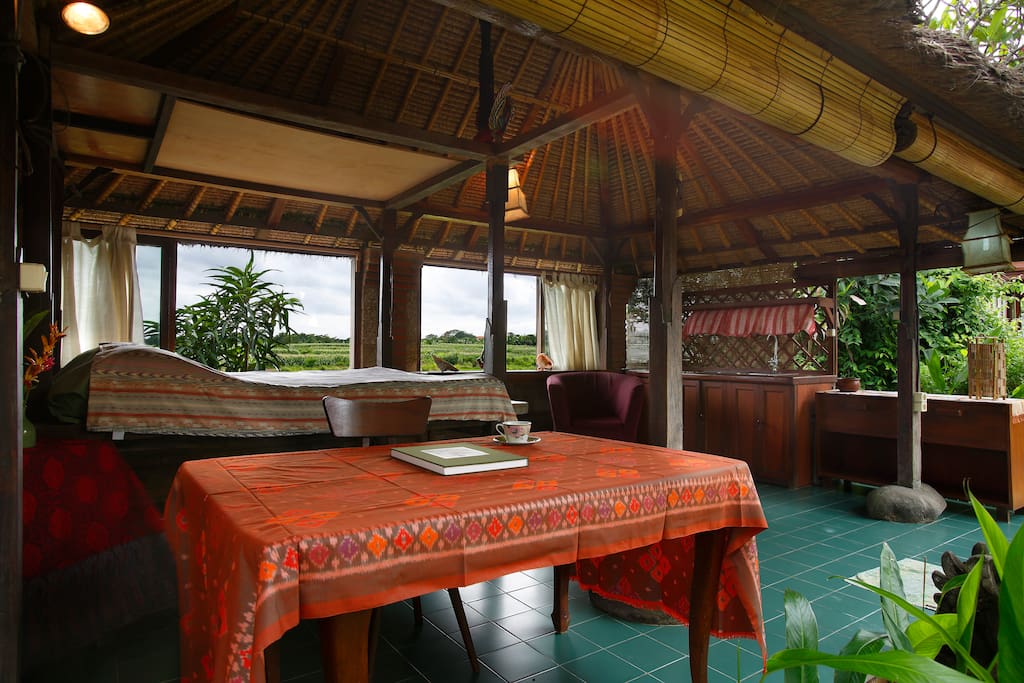 首先到了,房东不在家,给的两个联系方式都联系不上,到了一直没发入住,找不到人,等了1个多小时。描述说到海边走路10分钟,我的天。是从一片田地里穿过去的一个小小泥土路。下雨后全是湿泥巴水,两边是野地,房子就是茅草屋开放式的,睡觉就把帘子拉下来,周围没饭店,也没玩的,沙滩是黑沙子,海水是泥巴色,一路忘过去基本没人,只有一个优点,做早餐的人很友好,早餐很丰富,但是200多的价格,住这个屋子,实在不值,我住的其他200多的屋子,比这个好5倍,至少房间里有洗手间等,他这个没有,都是花园里公用的
---
This was a perfect place to spend our first couple nights in Bali! It is a little removed from the hustle and bustle of Denpasar, which I loved. There is a little walkway along the water you can take for a jog or walk, and leads to all the shops/restaurants in Sanur. The open pavilion itself was very simple, comfortable, and had a wonderful breeze...perfect for napping/sleeping/reading/relaxing. It certainly isn't the most private or luxurious spot in Bali, so if that is what you want, perhaps look elsewhere. Nonetheless, it was just the type of place we were looking for :) Delightfully simple, slightly removed from the big city, with wonderful people to have a chat with over a delicious breakfast each morning... Everyone was extremely helpful and welcoming! Thank you Kadek & family for being amazing hosts and getting our trip to Bali off to a wonderful start!
---
Kadek's place is a fantastic place to stay if you want to hear the ocean as you fall asleep and be able to walk to a lovely black sand beach in just minutes. The open air room was comfortable, but it was a bit of a trek to get to the bathroom in the middle of the night. Breakfast was great including fresh fruit toast and offered a chance to meet Kadek and his family. It's about a 15 minute walk to the white sand beach, or use their free bikes to find a nice beach lounge and great seafood. Stay here if you want a different experience than your usual hotel room!
---
Amazing experience!they are very kind to me,the house have wonderful environment with beautiful garden and lovely swimming pool,you can walk to the beach,nearby there.Sarita is very kind and grace,enjoy to talk to her.unforgettable experience,hope to come here again.Isabella(Beijing,China)
---
The location of this lovely basic room overlooks the fields - when, at the time we stayed the local people were practising for the kite festival. Every afternoon an array of kites of every size and description filled the sky. The room is spacious, bed very firm and there are plenty of towels. The small shower and toilet are not attached they are by the side of the pool, these are used by other guests if they want when using the pool. A torch is a good idea. The walk to Sanur along a lovely path running adjacent to the ocean takes a good 40 minutes - it is a really nice walk. You have to go out the back door, a 1 minute walk through garden/field and you are at the ocean. (we got locked out twice but you can negotiate your way around the building and through the shanti to get to the front of the house quite easily). We found the bicycles like other guest say, unrideable. We like walking so it was fine. It is lovely to hear the ocean from ones bed - the climate was perfect for us - we didnt need a fan at all - there was a lovely breeze throughout our stay. The room is completely open - the blinds give some privacy. There is a lockable cupboard for valuables. Tea, coffee and kettle provided in the room. There are lots of other lovely rooms in this property if you are looking for something less basic do check them out. This one has a charm all of its own. Thank you for a great start to our trip to Bali.
---
这座亭子在花园里,有写字桌、洗脸盆和板凳,带竹百叶窗来保护隐私。它同主家一起共用厨房、餐厅、游泳池、厕所和浴室设施。离沙努尔仅 1 公里,乘蓝梦船方便
---
Born and raised in Bali, I pursued tertiary education in New Zealand and Canada and returned to Bali in 2005. I manage Bali Eco Tours, and initially set up this AirBnB account to help my mum (born in NZ, has lived in Bali for over 40 years) get guests for her BnB. I slowly added other holiday homes around Bali belonging to our friends and family, and now have quite a portfolio.
语言:
Bahasa Indonesia、English、Français