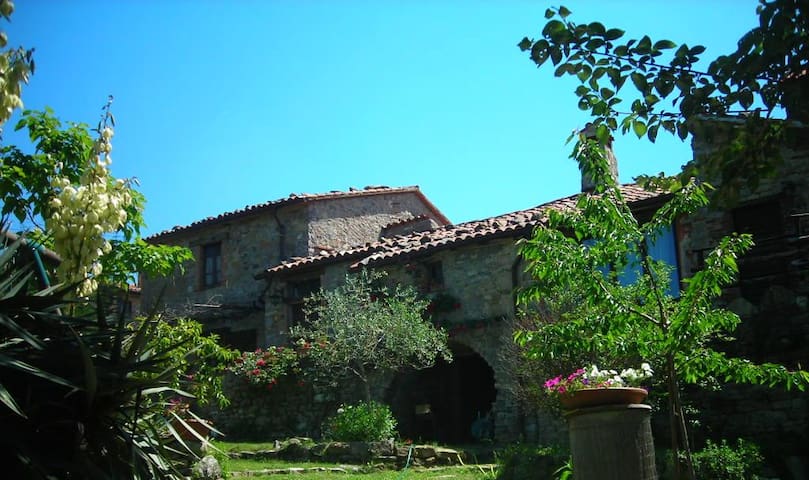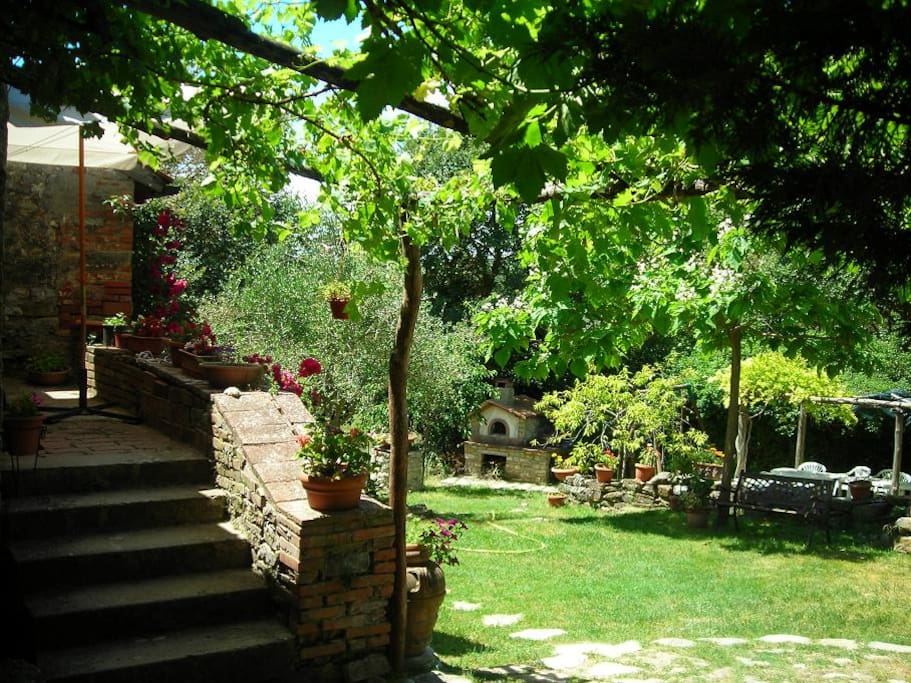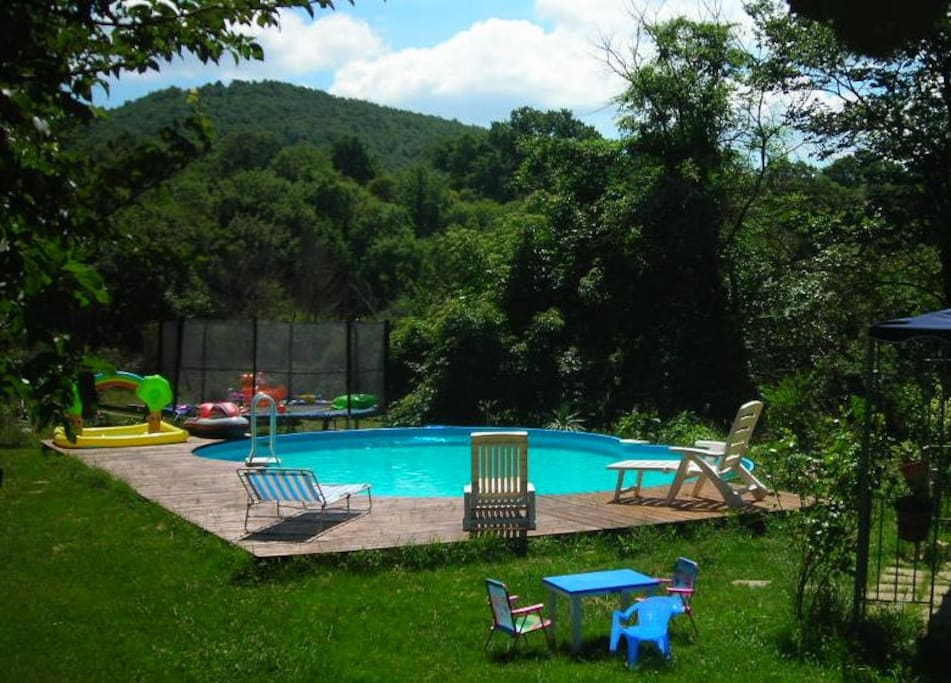 Holiday farmhouse w.pool in Umbria2
In a rustic setting where you can rediscover the atmosphere of the old country houses, Casale l'Alba is a very characteristic stone farmhouse, one of the few that still keeps the original features, retaining the old charm.
It is located in the green hills of Umbria, in a wild and untouched landscape on the border with Lazio and Tuscany.
We are only 10 minutes walking from "La Scarzuola"!!!! (see below)
房源
IL CIPRESSO
In the farmhouse there are two apartments for rent. The apartment "il Cipresso" (70 m2) has two bedrooms with double beds (possibility to put two or three single beds in one room), kitchen and bathroom with shower at the ground floor and living room with fireplace and double sofabed at the top floor. Single beds and baby cots are available on request.
Each apartment has privete and equipped garden for eating outside.
(see also IL SAMBUCO apartment)
The origins of the house date back to the XI-XII century, this means that when San Francesco d'Assisi came here on a pilgrimage, stopping at the place where La Scarzuola was founded, he probably found this house along his way!!
房客使用权限
The apartment has privete and equipped garden for eating outside.
The large garden, with many relaxing places, is shared with the guests of the other apartment and sometimes with the owners. It is surrounded by woods and pastures, it is full equipped, has a swimming pool (10x6m), pizza oven with barbecue and children's playground (a jumping carpet 4,30m of diameter with safety net, table tennis and table soccer, ecc.).
与房客的互动
Part of the house is occupied by the owners who are always available for any information and requirement.
其他注意事项
Dogs are welcome. We have a golden retriever, she is very kind and friendly, she lives with us, so whenever her presence is not appreciated, we can keep her apart avoiding any contact with the guests.
---
La maison de Barbara est située dans un petit paradis de verdure et de calme absolu, elle est absolument magnifique.. mais elle se mérite : un peu moins de 10 km de chemin non asphalté. Le jardin est très séduisant, mais l'intérieur de l'appartement est problématique ; cuisine et chambre minimalistes, et surtout salle de bain minuscule (moins de 3 m2), douche de 60*60 fermée par un rideau. Le linge de maison fourni était très usagé. Nous avons adoré prendre nos repas sous la tonnelle, mais à l'intérieur, la cuisine était trop petite, et il aurait fallu monter à l'étage pour la salle à manger, nous avons préféré faire la dinette dans la chambre. La piscine était telle la piscine olympique de Rio : verte. Au total, cadre somptueux pour un aménagement très rustique, que nous aurions probablement mieux accepté si nous avions eu une meilleure description des lieux.
Merci Annicki pour votre avis. Oui, comme la majorité des maisons de campagne ici, les derniers kilomètres pour obtenir la route de graviers, de venir nous sommes à environ 4 km (pas 10) passable par toutes les voitures, en provenance de Montegiove sont 3 km. Je suis désolé pour la piscine, mais comme nous l'avions informé avant de confirmer la réservation, moi et ma famille aurait été absent pendant votre séjour, avant de quitter, la piscine était parfait, mais malheureusement, ils ont commencé les jours des précipitations et des phénomènes météorologiques violents qui ils ont fait l'eau de piscine dans cet état et en raison du mauvais temps, la personne qui était dans la maison ne pouvait pas bien le nettoyer. Normalement, les clients de cet appartement manger à l'extérieur dans le jardin si le temps est beau, ou dans la salle à manger à l'étage qui peut accueillir de nombreuses personnes. Je suis désolé que dans votre bref séjour de trois nuits vous avez trouvé un temps si laid et on ne pouvait pas manger confortablement dans le jardin, mais même si vous ne voulez pas aller à l'étage, dans la cuisine deux personnes devrait aller sans problèmes. Cet appartement a également accueilli des groupes de sept adultes pendant deux semaines (et aussi très grandes personnes) qui étaient très satisfait. Évidemment, cela dépend des goûts des gens et leur capacité d'adaptation. Cependant, les photos sont fidèles et apporter les chambres telles qu'elles sont. Je suis heureux que vous aviez toujours eu un bon séjour et que vous avez apprécié notre paysage.
---
Die Kommunikation im Vorfeld mit Barbara war toll. Sie war sehr aufmerksam, schnell und die Wegbeschreibung war perfekt. Leider fing es auf dem Weg zum Haus aber schon an, dass wir feststellen mussten, dass man von der Straße bis zum Haus 20 Minuten über einen Schotterweg fahren musste ehe man letztendlich angekommen ist. Das war nicht beschrieben und erschwerte auch ein wenig den Gesamturlaub. Mal eben etwas vergessen war dann ein riesen Akt. Als wir dann ankamen waren wir auch ein wenig enttäuscht, denn die Bilder im Internet schienen schon etwas veraltet zu sein. Die ganze Ausstattung der Außenanlage war schon etwas in die Jahre gekommen. Das Haus ist natürlich ein altes Haus und das war im Vorfeld klar, aber nicht, dass kaum Tageslicht dort hineinkommt. Wir haben uns dann aber schnell von dem ersten "Schock" erholt und hatten dann auch schöne 2 Wochen Urlaub. Es gibt viele Tiere (Hühner, Ziegen, Pferde, Hund, Moskitos) und vor allen Dingen unsere 9 - jährige hatte sehr viel Spaß, durfte mithelfen und sogar Reiten wurde ihr ermöglicht. Das war wirklich klasse. Aldo war auch immer zur Stelle wenn wir Fragen hatten und hat sich wirklich bemüht. Am letzten Abend wurden wir noch herzlich verabschiedet und der anfängliche Ärger war bis dahin auch verblasst. Wenn man also einen Ort sucht der sehr ruhig ist, wenn einem der lange Weg bis zum Haus nichts ausmacht und auch sonst keine hohen Ansprüche befriedigt werden müssen dann hat man hier einen perfekten Ort gefunden für einen schönen Urlaub.
---
Hello from our family!!!! We are Barbara (from Rome), Aldo (from Buenos Aires), and our two young children.
After travelling all over the world, we met and we finally found our piece of paradise in the green hills of Umbria in 1999. We live a simple country life, but we also like to travel and discover new places around.
We will be honored if you will spend your holidays in our country house and enjoy what our beautiful region has to offer!!!!