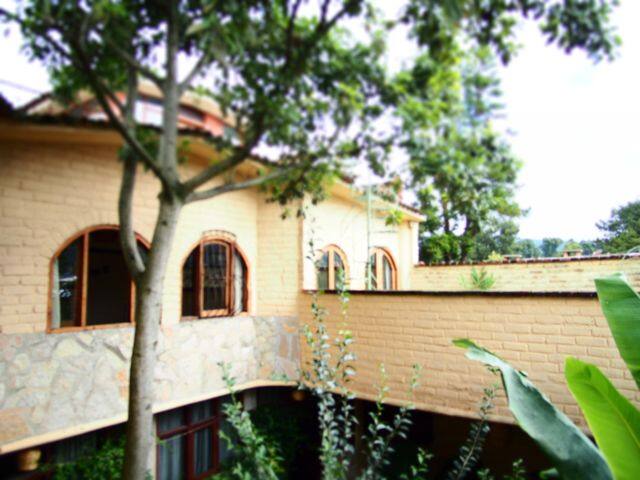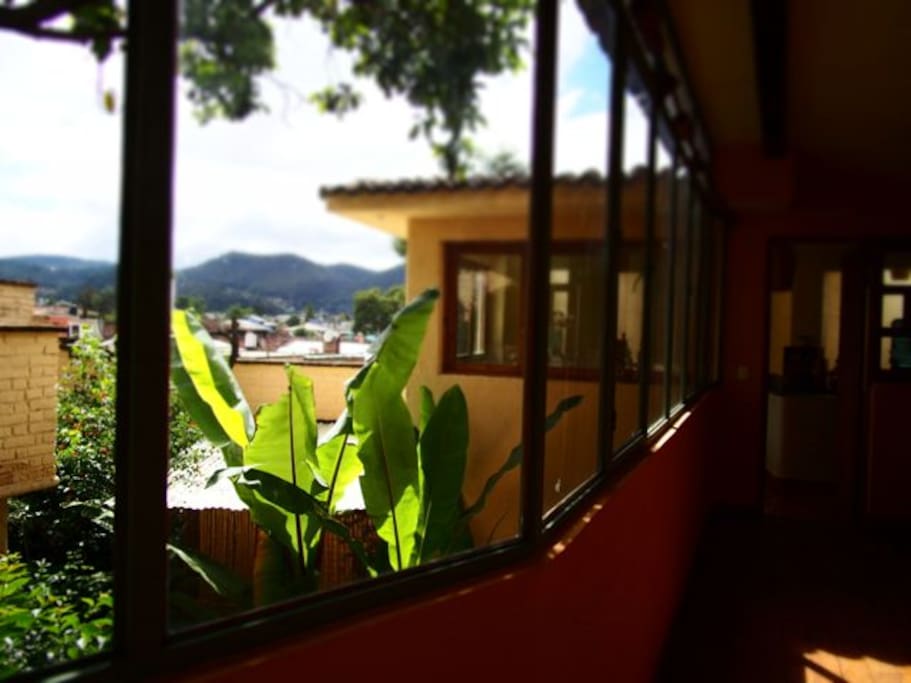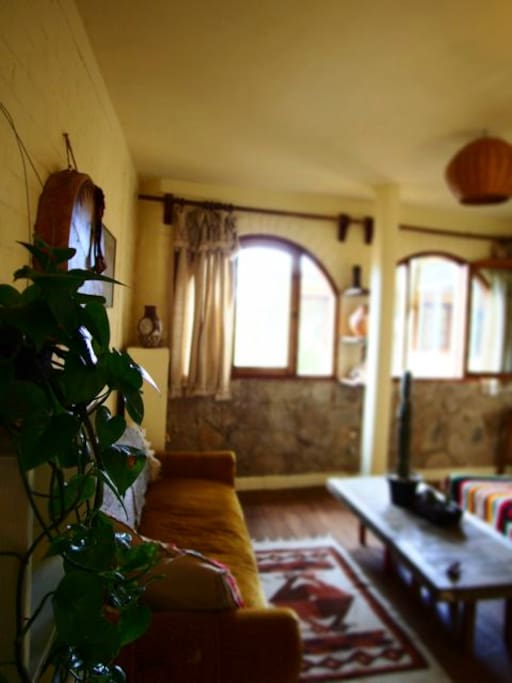 CASA HOK'OL///air penthouse
Welcome home all lovers of peace and quiet, art and nature! Our four rental apartments are set around a lush botanical garden tucked away on a historic, narrow cobblestone street just three blocks from the Artisan&Indigenous markets.
---
This was my second time staying at this beautiful apartment. If you need a two bedroom flat in San Cristobal, this is the perfect place. It is impeccably decorated, spacious, airy, and full of light. Very very comfortable. Kitchen is amazing. Walking distance to everything.
---
Lupe was easy to work with and check-in was a breeze. We didn't have any trouble finding the place either. Unfortunately, things went downhill for us from there. The apartment is dark and musty (unlike the well lit photos), and was in need of a good cleaning and decluttering. There was a good amount of dust on the blankets and the towels were old and in need of replacement. The sofa had holes and was in need of replacement too. Overall we just found the place to be old and spooky, which wasn't at all the expectation considering all the positive reviews. We are experienced airbnb users, but just couldn't make this one work. We left after just one night and finished our visit to San Cristobal in a hotel.
Tahamara's review is a complete surprise to me. She never got in contact with me to share her concerns and I have never received such comments about our house before. Since I never got to speak with her personally about her issues with her stay I am at a total loss here---I can only imagine that Tahamara and her guests went to stay at a hotel because that is really what they were looking for. Our rental is a home, and we have been praised for making it feel that way, as it is our intention for guests to feel relaxed and at home with themselves during their stay. Where one person might consider our garden overgrown, others might (and do often) call it lush, while some think our art and decoration objects are clutter, others might say the house is filled with interesting trinkets and antiques. I think it important to reassure others that we have an overall rating of 4.6 stars out of 5 and 71% of our renters leave a 5 star review--so although Tahamara felt out of her element here, nearly 3/4 of all our guests find exactly what they were looking for in our home. Lupe and Neri are meticulous in their cleaning and work and they work very hard to maintain our hosting standards, but I repeat, our rental is nothing like staying at a hotel nor does it bear that kind of pricetag. Nevertheless, I will reach out to Tahamara and offer to refund her stay as I do with anyone not completely satisfied with their stay.
---
Direct contact with the host is impossible, there was no soap to wash your hands in the bathroom and just one roll of toilet paper for 3 guests (over 3 days). It's details like that this make the stay unpleasant. Lupe and his wife are very nice caretakers. The mapping of the location is not accurate. Nice place, bright and walking distance to most stuff. Comunicación directo con el anfitrión nunca sucedió a pesar de varios intentos. De hecho los encargados son Lupe y su esposa unas personas lindas. No había suficiente papel higiénico y tampoco había jabón para lavarse la manos en el baño. Por si fuera poco las direcciones detalladas en el mapa están equivocadas ! En si, el lugar es bonito y muy céntrico.
I regret that Urbano wasn't completely satisfied with his stay, however I do think a bit of preparation on his part would have helped him avoid his frustrations. I think our listing description says it all: we do not live onsite. I am the owner and deal with any issues that need my consideration. I do not have (SENSITIVE CONTENTS HIDDEN)/smartphone and I am not connected to my phone and computer all day, I run a farm and have two small children and it is a conscious choice for me and my family to not be connected all the time. This is why we have on-site support 24/7 in the form of our caretakers Lupe and Neri who live just four blocks from the house and are always available by phone (their numbers are provided and so is a phone). In Urbano's case he got in touch with me in the morning while I was out and I had Lupe and Neri go over to the house to help him out immediately, as I was unable to get in touch with him directly. Him and his friends were sick and we let them stay at the house for free until the late afternoon until they were well enough to travel to their next destination...more than necessary on our parts. If Urbano needed more supplies he was free to take them from our supply closet or just ask Lupe and Neri for them--they are there everyday to check in with guests. All Urbano needed to do was speak up a bit and ask for his needs to be met. And with gusto! we can fix and accommodate to each person's preferences. About the mapping of the location: There has been some confusion on the part of guests using the airbnb mapping app to find the house, because our street is very old and cuts all the way from the center of the town out to the countryside it starts at #1 and ends at #1, so the mapping app is off and all my multiple attempts to correct it with airbnb staff has failed. Because of this, I have written detailed directions and tips for getting to the house and I send them to every guest in their confirmation packet from airbnb and I ask them if they have any questions before their departure. I think each traveler must take it upon themselves to be sure they know where they are going and review a bit the layout of their destination as I do every time I plan a trip--that is only logical. And with Urbano, like any guest, Lupe went out to get him and take him back to our house himself.
---
We are two artists and a baby. We are passionate about traveling and sharing our art and love of culture with the world. Since I was a child my parents and grandparents instilled in me a great curiosity for the world unknown, I have spent time in France, Spain, and Japan, I am originally from the East Coast and all my family is from the midwest. We love the mountains here and the people. I fell in love with Mexico the first time I came in 2008 and been calling this place my home ever since. We like to travel as a living experience, we like to be able to really spend some time and get lost, we like to walk and take the bus and metro wherever we haven't yet been and somedays we end up at the end of the line eating diner with the driver and his family at the top of a tiny mountain at sunset. Mexico has a strange magic, it is a surreal combination of the romantic past colliding with the desperate and chaotic future, it is filled with smells and colors and beauty under all the grime, it is raw and fragile and seems to sweep people up. I was once walking from village to village in the mountains of Oaxaca, and after about two hours of solitude I came upon a blind man sitting under an ancient stone fountain and I still wonder about him. He must have known those intricate pathways through the forest since he was a little boy. We have a great love of this land and appreciation of the kindness of heart of its people. We know what it is to feel like your in a home not a hotel, and we have made sure to make our house feel like home.

**We are currently traveling! We have entrusted our house and our guests to a local wife and husband team Lupe & Neri. They have been nothing but a godsend...all of our guests have appreciated their patience, kindness and warmth. Please do note that our house is a community of travelers and renters, not a bed&breakfast. Thus, the experience of staying at our house is best suited towards independent movers and shakers, many who return time and again:)***

语言:
English、Español