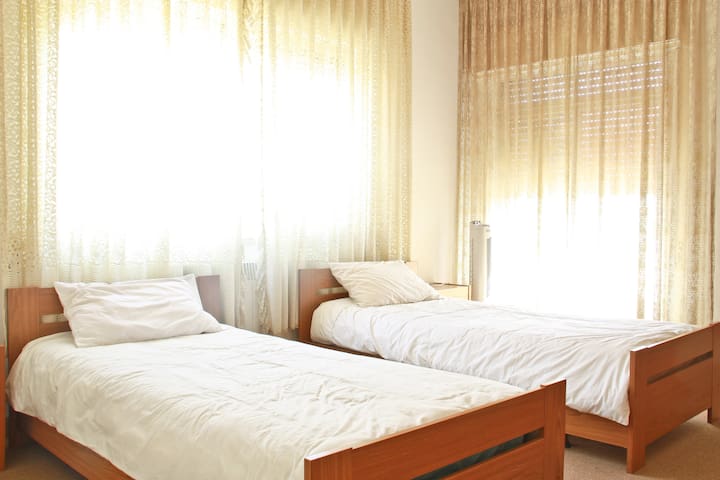 房源
Welcome to your home in Jordan :)

My newly renovated apartment is located in quiet street in Abdoun area , one of the best residential areas in Amman, walking distance from many supermarkets , bakery , restaurants , clubs, shops, & gyms. My house is only 15 minutes from the old town " Downtown " by taxi.
- Public Transportation is not that great in Jordan , but the good thing Taxi's here are not expensive " Make sure you ask him to put the meter on and it start with 0.25 day time and 0.30 @ night "
The house has:
- 24 hour security (watchman on premises)
- 165 Square meters
- 2 Bedrooms
- 2 Bathrooms
- Guest Living , Dining Rooms
- 3 Balconies . one small in each bedroom and one BIG covered with glass can be sunny breakfast area or 3rd bedroom .
- Fully Equipped Kitchen
- Washing Machine, Ironing Board
Wish you a nice day and hope to hear from you soon

Smile : )
---
---
---
Golden Rule
Enjoy my house and feel as if it is your house, and take care of it as if it is yours : )

If you need internet please advice me 2 days in advance to arrange .
1. 3 G USB stick cost 1 JD per day
2. 3 G Wifi cost 1.5 JD per day
3. WiMax faster net 2 JD per day
For long term stay Net is 25 & 30 JD per month
---
---
Sama'n was a great host with awesome communication. We only needed the apartment for one night at a time and he was willing to let us make a special reservation if we agreed to pay a cleaning fee. Compared to the hotel costs for the same neighborhood, the cleaning fee was more than fair. The apartment was in a great location--easy for us to get in and out of town for our trips to the Dead Sea and the airport at the end of our trip.
---
Sama'N was an incredible host and the apartment was everything I expected and more. I would recommend Sama'N and the listing to anyone. Not only was the apartment very good, spacious, and clean, but Sama'N also helped me and made me feel welcome in his city. He went above and beyond the duties of a host and I greatly appreciate everything he did for me. The apartment itself was just as it was described, large, very clean, sunny, and in a good section of Amman.
---
The apartment I rented from Sama'n was like what the pictures showed, it was clean and had extra house hold items that made our stay more comfortable. Sama'n left us a nice welcome note and a lot of welcome snakes that came in handy after a long night of partying. Sama'n was really nice and always was there if we needed help, I will rent from him again when I go to Jordan next year. Thank you Sama'n.
---
We were 5 people who stayed in the apartment, and our favorite thing about it was the location. Although the apartment is in an old building it was a very pleasant stay, Sam'an used to check on us daily making sure that we have everything we need. When we read the listing's description we noticed the "Home Feeling" description, and it was something that we truly understood when we stayed there; it was clean, cozy, and it really felt like home. We would recommend this apartment to anyone planning to stay in Amman. Sam'an is an amazing host who we regret not having the opportunity to meet in person, however, the number of times he called/texted us made us feel like we knew him since forever :)
---
Although we did not get to meet Sama'n, he was a great host by following up with us and making sure the concierge attended to the entire process from arrival to departure. He also stayed in touch to ask about us and even offered us an Uber code for our taxi to the airport! That doesn't happen very often! The apartment itself was cold, as the electric circuit couldn't handle the 3 electric heaters Sama'n had provided, and kept breaking. To resolve this issue, we split the cost of diesel (to power the central heating) and then it was warm again.
---
Great location with easy access to Amman's centre and close to a large supermarket yet a quiet secluded spot. Samaan was a great host and wonderful guy who made us feel at home. The flat is a bit dated but it was spotless and the internet and shower are great and the beds so comfortable! We had a great stay.
---
Saman is a gentle man who was checking on us daily and asking if we need anything. There was two air conditions, one in the sofa room and on in the main room and saman was clear about that. The appartment was clean and ready although we booked the night before our arrival. We were family of 2 adults and 3 children ages 10 and below and the app was enogh for us. There was no lifts but was o.k. for us to take the stairs as the app is located in the second floor. Amman is a very safe city but One thing is common in amman in general is difficulty to stop taxies but the guard told us that he can bring taxi for us whenever we need. We have stayed in amman before and believe me this appartment is all what you need if you are looking for an air conditioned appartment near everything. We will definetly rent from saman again.
---
I am different and trying to make a difference ..

In my search for happiness and inner peace I changed a lot .. After 10 years working hard for one of the world's largest companies .. I finally woke up and realized money and position wont give me happiness and life is so short to spend it collecting money and then maybe not have time nor health to spend it . So I quitted my job and started an amazing 3 months trip to Brazil were I learnt a lot about myself , life , relations , and people. Now back home thinking of my next step in life.
- I like to enjoy life, small , and simple things .. You'll be unlucky if you did not see me happy and smiling , I try not to allow small things or details to upset me.
- I enjoy meeting new people and making new friendships , I use CS to make new friends not to find or offer a free couch .. Please keep this in mind if you wana meet me , ask me for a couch or even host me.
- My Golden rule in life is " Treat each person you meet as you would like him/her to treat you " I believe we should try to leave a nice impact or touch the life of each person we meet .. Imagine how wonderful our world will be if we all left each person we meet happier and better.
- I believe in peace & think we can make it happen in our world when each one of us starts with himself , I believe the best way to defeat ur enemy is to love him because when you love him you will transfer him from an Enemy to a friend.
- Lately I am becoming more and more interested in saving our planet , and as an X -Training manager , I wana try do anything to educate the new generation to be more environmental friendly.
If you think you will enjoy meeting me .. Just drop me a line ..

Smile : )
语言:
English、العربية