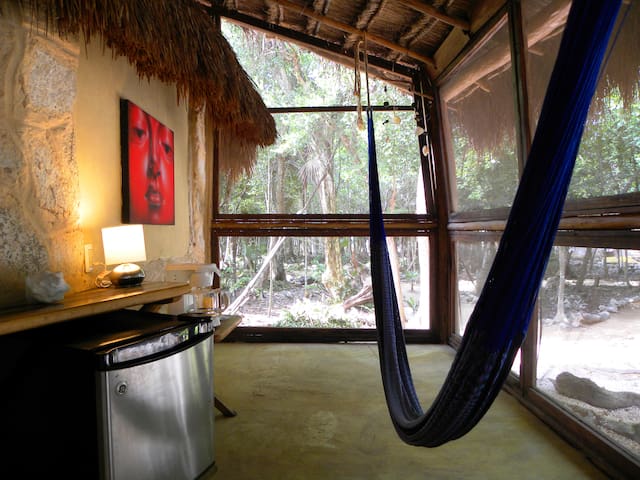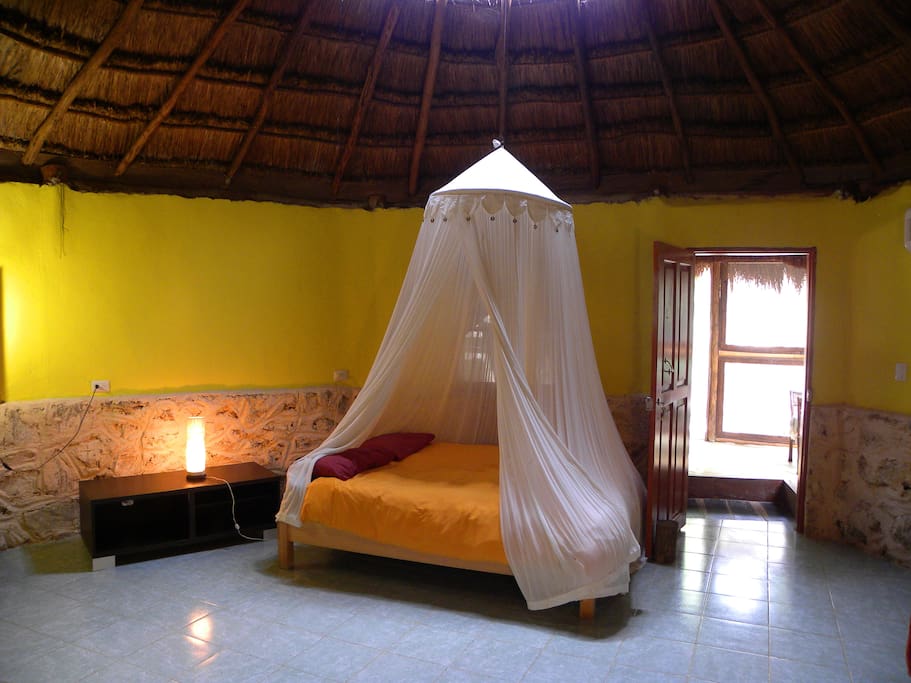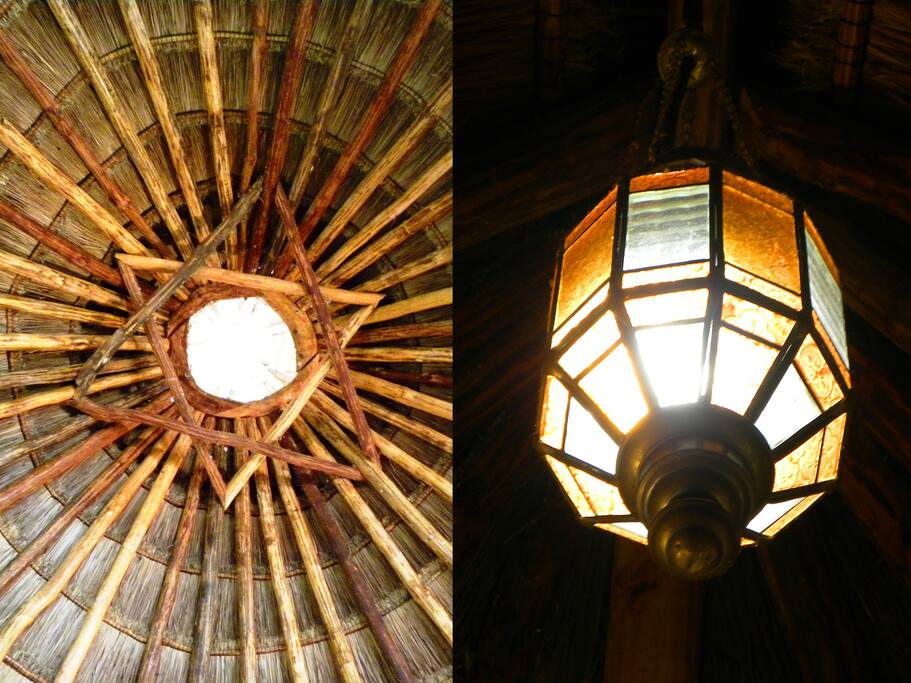 房源
an incredible space in the Mayan jungle We Have a big palapa Specially design for yoga and meditation it is build with local materials ... totally conncted to nature and mother earth ... breathing and listening to the noises in the jungle while you do asanas ... There Is Also WiFi A / C in the rooms ....... Also as I am chef and There is posibility for meals if you so Desire I Specialized in vegetarian and seafood dishes for cooking .... I use organic veggies from my garden!! I love cooking !!!!! There are Several Activities to do jungle walks around .... .... visiting cenotes near by, going to Tulum to visit the ruins or just going to Pla and del carmen. Early in the morning meditation & yoga we do by trees and birds SURROUND .... what a way to start the day !!!!!! After That You, Can Have breakfast in our dinning room outdoors Surrounded by all the trees, watch the jungle birds alive rigth Completely Before Your Eyes. I can RECOMMEND you where to go for the day to explore cenote There are, ruins, beaches ..... abd of course if you are now to diver lover well you just hit the rigth corner of the world ... reefs, turqoise lots of fish waters!!
---
My girlfriend and I had a lovely 4-day stay in Leon's jungle retreat! We booked at the last minute (the evening before we arrived), but Leon responded quickly to our pre-arrival questions. Leon's place consists of a cluster of thatched-roof buildings, set among lovingly tended pathways and gardens, surrounded by forest. There are 3-4 guest houses of varying sizes, as well as a shared kitchen with a dining area, an outdoor dining area, a yoga/meditation space, and Leon's own residence. When we arrived, Leon showed us around and gave us helpful advice and recommendations. We stayed in "Shakti", which was the perfect size for a couple. We enjoyed lounging in the hammock on the screened-in porch, and the shower had abundant hot water and great pressure. Our room was clean and comfortable, with fresh towels every day and a cleaning every other day or so. While there were a few mosquitoes outside, our screens and windows ensured that we almost never found them inside, and the air conditioner did a great job of keeping the space cool and providing relief from the humidity. Due to the building style and its proximity to the forest, we shared our space with various critters: millipedes, grasshoppers, the occasional spider, a long-legged bug that we'd never seen before, and lizards who left the occasional dropping behind. But the net around our bed allowed us to sleep comfortably, and we awoke every morning to birds singing. For breakfast, Leon provided fresh fruit and excellent bread, and the kitchen had all of the basics needed to prepare food. We ate our breakfast in the outdoor dining area, where we could watch birds, iguanas, and the occasional snake going about their business among an amazing variety of plants and flowers. As other reviewers have noted, one of the things that makes Organic Yoga special is its connection to the surrounding jungle that, as Leon likes to say, is full of life. Leon himself is a generous host: we enjoyed chatting with him and some friends who happened to be staying with him, and he gave us great advice for restaurants and beaches. The beginners' meditation/yoga course he gave us on our second morning—in Spanish and English—was a highlight of our stay. We also loved hanging out with his big, friendly dog, Venus. Overall, Leon has created a welcoming, relaxing, life-giving retreat in Organic Yoga, and we hope to come back and visit again soon.
---
I had a wonderful time at OY lodge. It was much better than I had expected given that there were some mixed reviews. I loved it. Leon is a wonderful host and goes the extra mile to help you feel welcome. The area is beautiful and the little bungalows are rustic but elegant. If you like to walk, it's about 10-15 minutes to the highway, an easy hike, and then the collectivos take you wherever you need to go. The beach at Akumal was lovely and Leon had some terrific suggestions for nearby beaches and cenotes.
---
We had such an amazing stay at Leon's beautiful jungle home, we returned again this year. Leon is very easy to communicate with when you are making your plans to visit. If you have any questions, he gets right back to you via email. Upon arriving, you walk through a beautiful jungle path which has been lovingly groomed by Leon. The homes Leon has built are beautiful, thatched roof dwellings with screened porches and hammocks. Next door is a communal kitchen with everything you need to prepare any type of meal you want, or just enjoy the complimentary tropical fruit, bread, and coffee. There is plenty of fridge space. One of the best parts about the place is Leon. He is kind, helpful and has the uncanny ability to be there when you need him, but to leave you privacy when you want that. Leon has lived in the area for many years and can help you with your travel questions. We came back to have a more authentic experience as we don't care for the all inclusives in the area and we felt at home in the jungle for a week. Leon was one of the main reasons we returned, and I hope to return someday and to stay there again. Leon graciously led us in meditation in his yoga meditation studio on the property which we were incredibly grateful for. All in all, we would highly recommend staying in the Akumal jungle with Leon.
---
Organic Yoga is a beautiful getaway off the main highway. Coming from Cancun its about 5 minutes before you reach Akumal. There's a small sign where the dirt road begins and it's not too far of a walk to reach it. Leon is very welcoming and his place is peaceful, comfortable, and surrounded by jungle life. The kitchen has everything you need to cook and purified water is available. Leon had fresh fruit for us in the morning. Before we ate the delicious fruit, Leon guided us through a yoga session geared towards our different levels. The room/hut was spacious and beautifully crafted. The A.C was amazing!! We visited in late June so it was a relief to have it. The insects and lizards are everywhere so if you're not into them just be aware that you will have many different visitors. A headlamp is handy for night time. We didn't have a car (which would be best if you are only staying here for your visit, we also stayed in Tulum) so we used the collectivos (local busses) to get around. You can catch them on the side of the highway and they come pretty frequently. Overall this is a truly beautiful place to spend your time and Leon is a warm and gracious host.
---
We had a great time! Wish we'd been more able to spend time looking around the premises - he has a garden we didn't even get to. We had a car so had easy access to anything we might want to see in Akumal, Tulum, and the surrounding areas. I would say a car is very helpful to have at this location. Leon is, as everyone says, super friendly, and knows exactly where to go and what to do. We got some stellar advice from him, and also an excellent yoga class. Very professional yoga instructor, clearly knows what he's talking about. When the maid cleans, things sparkled. Always nice to come back to an orderly room. Bugs didn't bother me at all - just keep the nets closed over your bed.
---
I love to wake up early and have coffee....!!!! then I will do a meditation and then of course yoga....after that I am ready for my day the organic garden or the big garden there is always pathways to clear off the leaves..... from the garden when it is in season I can collect lettuce,rucola tomatoes herbs and many other things that I constantly use in the kitchen when I cook for guests I like to cook ....... I just don`t like the rush from the restaurant.
Life here at Organic Yoga is relaxed there is no hurrys not even in high season when guests are coming and going we take it easy amigo......there are hamocks so there is always a chance to make a siesta important factor for any day!!!!!!!
语言:
Deutsch、English、Español、Sign Language、עברית