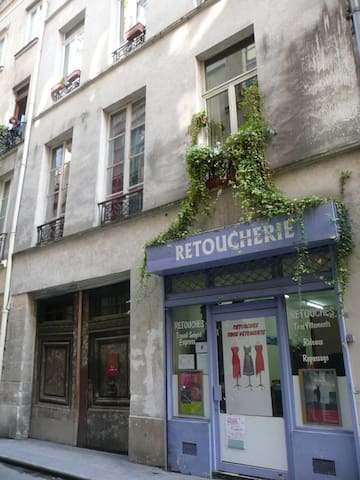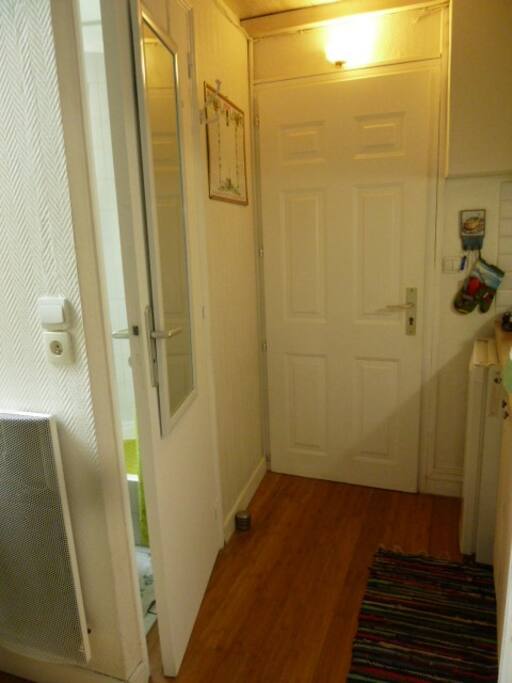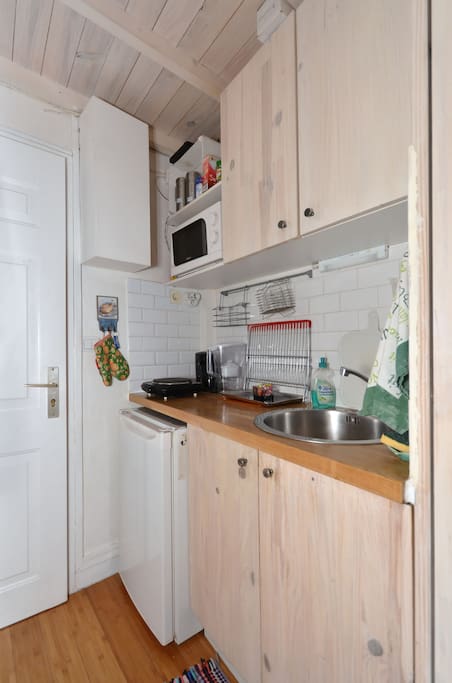 Ideal Internship/Mission
32% discount 1 month & more
HIP area, VERY CENTRAL, 17th build
pedestrian st, supermarkets, bars,
resto & museums by walk
(Pompidou, Louvre, Notre-Dame).
Lots metro lines: Sentier (3), Réaumur (3, 4),
Halles-Chatelet (RER A, B, D, metro 1, 4, 5, 7, 11).
Well furnished (handmade wood furniture),
comfortable, small & high ceiling,
direct from airports,
near train station Gare du Nord, Gare de l'Est;
房源细节
IDEAL FOR MISSION OR INTERNSHIP
My "Little Nest Studio", as I like to call it, is in 17th century building.
Entrance and stairs builing are new renovate, but no lift.
HIP area, REALLY CENTRAL, pedestrian parisian street with supermarkets, shops & lots museums around by walk (Georges Pompidou, Louvre, Notre-Dame ...). Stations around Metro: Sentier (line 3), Reaumur (3, 4), Chatelet-Les Halles (RER A, B, D, metro 1, 4, 5, 7, 11), and Velib stations (bikes) for sports persons .
Well furnished (handmade wooden furniture), comfortable, small & high ceiling studio, DIRECT FROM BOTH AIRPORTS, near train stations Gare du Nord, Gare de l'Est, 2 min walk from Les Halles, less than 1 min from metro HAVE A LOOK ON WITH KEY WORDS DAILYMOTION "rue Montorgueil" AND HAVE A LOOK AT THE STUDIO
a living room with kitchenette & many necessary tools, small closet and arrangements, FUTON bed (140x 200) on Mezzanine (customized narrow staircase),
Separate small shower & toilet, sheets & towels included, TV, Wifi, heating. 2d floor (no lift), safe area with 2 CODE at the door. (Laundry very near) € 210 deposit (400 for month location),
Generaly
CHECK IN FOR 3 PM AND NOT AFTER MIDNIGHT /
CHECK OUT FOR 12 (noon)
PER MONTH MORE THAN 1 WEEK OFFER
& price change regarding season
房客使用权限
Guests have access to everything in the studio that become
there private house.
不适合儿童(0-12岁)入住,或不能为儿童提供安全的住宿环境
No smoking in the studio
Save the planet and switch off light & heater when out :-)
When you have finished using an electrical appliance, turn it off before unplugging it, it is less dangerous for the next user :-)
No noise after 10 pm
This is a review written by my friend for whom I had booked the Airbnb: "Monic's place is in a WONDERFUL prime location. I stayed in at least 3 other AirBnBs in Paris and hers was by far the best location. It's a very cozy studio. It was only me so it was perfect, homey, and cozy. Monic is very accommodating and fun host. The place was clean, comfortable and had everything I needed. I stayed for a little over a week and had grown really attached to it. My main thing is you have to be careful going up and down the narrow stairs to the loft (yes, there's a loft!). Just something to take note of. In any case, if you want to be centrally located and be a stones throw away from many bakeries, restaurants, coffee shops and awesome places to visit, I highly recommend Monic's place!"
---
Monic is charming and, from my American point of view, delightfully French. Spend time to get to know her. Her story is fascinating and engaging! She is rightly proud of her apartment, and all week she was very helpful offering options in Paris. The neighborhood is fantastic and alive. One does not need to explore elsewhere to feel the French way of life. Cafes, boulangeries, patisseries, fruiteries, and markets within the immediate area. Also, lovely galleries, boutiques, you name it. It felt like a very safe neighborhood. We love walking, and we walked all over Paris from here. Direct line to airport from a nearby station - map it out on (SENSITIVE CONTENTS HIDDEN) Maps before you arrive. There are a couple of metro stops within 5 minutes walking. The apartment is smaller than I imagined. The photos are accurate and well composed. I estimate, though, that with the folding table down (something we did for lack of almost any other surface area), there is maybe 4 square meters of standing room. There is room to stow one or two carry-on suitcases. The bathroom door could not close when I was "sitting" - my knees protruded a bit into the hall. The stairs to the loft bed are very steep and require full alertness before descending. The kitchen space is small enough that we opted not to do any cooking on the single electric burner offered. My wife and I called this the "tai chi" apartment, because we moved very slowly to avoid bumping things and elbowing each other. :-) However, do not let that deter you. The apartment is well organized - very clever use of space. The shower is comfortable (for one person). The kitchenette sink doubles as the bathroom sink. The table folds down from the wall. There are shelves under the stairs and a closet to stow your clothes and other items. The windows are large and airy. The loft bed was comfortably spacious for two, both vertically and horizontally. The loft was consistently warm (hot one day) and did require the fan she offered, but the rest of the apartment was cooler than I had expected and very comfortable. (We had mild weather that week - upper 70s to upper 80s.) An unexpected inconvenience was the lack of internet access. Monic was very distraught to find it not working when we arrived, and she called in a repair order. She kept us updated, but it was not repaired by the time we left -- supposedly it is working now. She provided us existing credit to a local computer cafe, but they don't offer Wi-Fi. We used my slow cell and the local Starbucks. Another surprise: Our initial request to stay prompted a reply that the price listed was incorrect, and Monic requested a modest increase before booking us, which we accepted. However, she was very accommodating when we wanted to change our dates. Summary: Charming host & apartment, some quirks, small but recommended. We enjoyed our stay.
I thank you a great deal for your very nice appreciation. And also for your remarks which are useful to improve the quality of my hospitality. Today everything is again in order and I took the opportunity to change operator with fiber connection to make it faster. I have loved to share with you these friendly moments over a meal so dear to the French.
---
My stay at this Airbnbwas MY WORST Airbnb experience and here is why:: 1. First, before I walked into the Airbnb she informed me that I MUST help her install her cable. I then spent an hour and a half on a ladder installing the entire thingand then when it didn't work, she called the help line making me wait on the ladder another half an hour. After this the TV and the WIFI didn't work and since it was Friday, she told me that no person could come but she would take the wifi box the next day to get fixed (however it didn't work). 2. She came on Monday to reinstall it (while I'm not there) and it still didn't work. 3. She came on Wednesday (the technician was scheduled to come) and he came however the wifi still didn't work. 4. Another technician was scheduled to come on Friday(after the entirety of my stay is over) to fix the wifi. However she offered to pay for 10 hours of free wifi at a further place which I REFUSED because I had free wifi at a Starbucks nearby AND these "10 hours" didn't, in NO WAY, make up for the INCONVENIENCE of not having wifi there. 5. On Friday, the technician came and I saw her and asked for a partial refund for all the days that the wifi didn't work during my stay and she was very rude and said that wasn't her problem. 6. She later rudely messaged me that the WIFI FINALLY worked(on my last day) and that she refused to reimburse me any amount. She then ACCUSED me of ruining her hot plate (she said had a mark on it after the first time she came, but I only used it once BEFORE the first time and she didn't say anything) and then rudely told me that the trash should be taken out everyday( when I saw her earlier she thanked me for keeping her Airbnb so clean and neat at ALL times)!!! 7. When I checked, she warned that the water was hot and it couldn't be fixed. However she didn't warn me that the shower knobs get hot while in use. When showering, my arm touched the nobs and got burnt ( the burn is severe WITH BLISTERS). I have taken a picture, will send it to Airbnb: THIS IS JUST NOT SAFE. 8. Finally, Airbnb is supposed to be your "home away from home". However this was NOT my experience as Monic came 3 DIFFERENT TIMES, accused me of ruining a hot plate(which is not true) and told me when to take out the trash (like my mother ) when she had no business being in the Airbnb at all. 9. Overall, THE WORST EXPERIENCE I could have possibly had and I DON'T RECOMMEND HER AT ALL and will even send Airbnb a complaint against her. DO NOT STAY HERE. THIS IS MORE OF A HEADACHE THAN IT IS WORTH!!!!
Your late comment surprize me a lot. I won't answer to each point because many treat same subject. I have tolled you many time that I apologize for the situation that unfortunatly was not under my control. Each times I inform you with the situation. You should have tolled me about the water, but you did not. I am afraid that you misunderstood the Airbnb service price and my cleaning fee. Best regards Monic
---
Monic is a fantastic person. Getting to meet her was the best part of my stay. The studio is small but comfortable with everything one might need. It's centered in a very lively neighborhood with restaurants and cafes in every direction. I had a great time and would definitely stay here again.
---
My week in Paris at Monic's apartment was as expected and more. The location was perfect and close by foot or metro to every place in Paris. If you are a foodie, this is the place to be. The apartment is small, but very well appointed. Monic gave good directions to the apartment and warmly greeted me upon arrival. Monic has a special charm and I am very happy to have met her. Merci Monic. I hope to stay again!
---
Monic es una muy buena anfitrion, ella nos espero mas de un hora que nos retrasamos en llegar y fue muy amable, nos dio muchos buenos consejos de como movernos y que lugares visitar, la estación del metro esta muy cerca a menos de 5 min y bueno también es fácil moverse a pie, el área esta súper tranquila a pesar de que hay muchos bares, restaurantes y cafés alrededor... Muy buena ubicación, el apartamento es muy pequeño pero para nosotros estaba bien, tenia lo básico para nuestra estancia y muy limpio, el edificio es viejo y rústico digamos pero el apartamento esta muy bien para una o dos personas... Tuvimos una excelente experiencia y lo pasamos de los mejor, gracias Monic por todo ...
---
Monic was terrific! Her little "nest" was ideal for me and my girlfriend for the week we were in Paris. First of all, the location of the apartment is perfection. It is so centrally located that we only had to take the metro a few times in order to see the sights. It is just off a fabulous, lively little street that has some awesome shops and restaurants. Also, the neighborhood is safe, which was very important to us. The space itself, although extremely small, was charming and suited our simple needs just fine. The ad description is perfectly accurate. It has a well equipped little kitchen. Monic also provided little essentials like sugar, coffee, honey, mustard, and butter. There was a slight misunderstanding about the day we were to arrive. Actually, it was totally my fault and I probably inconvenienced Monic a great deal. She was nonetheless kind, gracious and welcoming. She gave us our privacy during our stay, but also checked in mid-week to see how things were going for us. I would stay at her place again in a heartbeat, but keep its size in mind. I'd say it's only appropriate if you are by yourself, in a couple situation, or just very intimate and close with your travel partner. You will no doubt be a bit on top of one another. Fantastic find, though.
---
Settle in Paris in 1972 after many years traveling.
Love it, and ready to share what I know about Paris with my guests.
Now freelance journalist and have a jazz radio show since 33 years...
So if you want introduction about our "52 second street" please ask... :-)
语言:
Deutsch、English、Français