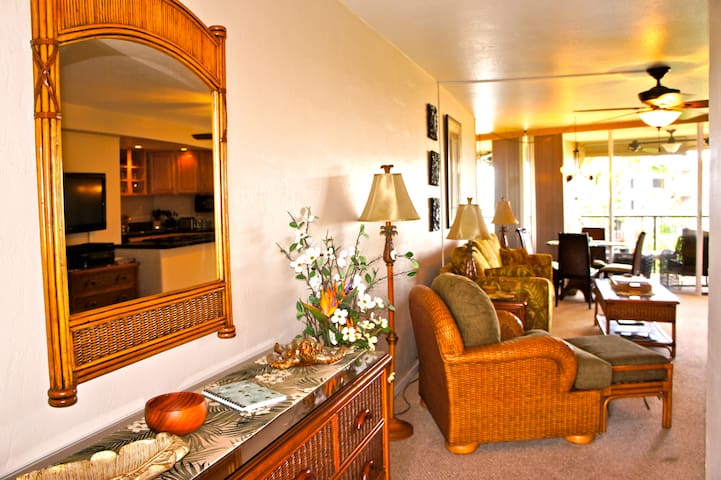 West Maui Condo, Lahaina, oceanview
Sun sets and ocean breezes everyday. Located in the popular west coast in the neighborhood of Honokawaii between Kaanapali and Kahana. Competively priced to make this affordable for everyone.
房源
WELCOME! to Hale Ono Loa, located on the west side of Maui in the neighborhood of Honokowai. HOL is a 4 story direct ocean front Condo building on the beautiful Kaanapali coast with views of Molokai and Lanai. The well maintained grounds have everything you would expect of Hawaii; tropical plants, coconut palms, tropical fruits and views, views, views!
If you were expecting trade winds, ocean views, sunsets, ocean breezes, sunshine, whales, turtles, monk seals, rainbows, snorkeling, sunbathing, quiet pace, swimming pool and laundry facilities...look no further, Hale Ono Loa, "House of Good Living" has it all.
Our unit is located on the 3rd floor (has elevator) is a one bedroom fully furnished remodeled unit with large private lanai. The unit sleeps 4 with king bed and queen sleeper sofa. Amenities include usual kitchen appliances with coffee maker, microwave and dishwasher. Linens and towels are provided, but no toiletries. Washer and dryer facilities on 2nd & 3rd floor. Our westerly facing unit allows for beautiful sunsets from the covered lanai, whale watching or sunbathing. This is a non smoking building.
The refurbished pool and sun decks offer lots of sunshine. Lounge chairs and tables provided as well as free gas barbecue. The elevated sun decks are within feet of the shore allowing great viewing of whales and sea turtles who make their home in the coral reef directly in front of the decks.
We are located less than 1 mile from a grocery store with many smaller convenience stores and coffee shops along the way; and organic farmer's market within walking distance of the Condo. The new Dukes Beach Restaurant is nearby and Historic Lahaina town less than 5 minutes away. Free parking for one vehicle. Approximately 45 minutes to 1 hour from Kahului airport depending on traffic and 5 minutes from smaller Kapalua airport.
PLEASE NOTE: OUR FEES INCLUDE GE AND TRANSIENT OCCUPANCY TAX OF 14.42%. ANY SPECIAL OFFERS WILL INCLUDE THESE TAXES. TAX ID #W(PHONE NUMBER HIDDEN)
ADDITIONALLY: Cleaning fees are not included in reservation fees. You will need to leave $115 for housekeeping upon departure in US funds.
其他注意事项
CLEANING FEES: $130 needs to be left upon departure either cash or check (in US funds) and are not included in reservaton fees. #WB(PHONE NUMBER HIDDEN)
---
---
---
---
GENERAL RULES INCLUDING OCCUPANCY, LANAIS, COMMON AREAS
(website hidden) Owner, Tenant or Guest shall use any portion of the common area for their exclusive use and/or purposes other than those for which the area was intended including walkways.
2.Excessive and/or noises by any Occupant(s) (NO EXCEPTIONS) are not permitted. The Resident Manager will enforce the following:
a. A "QUIET TIME" between the hours of 10PM and 8AM, daily. No Occupant shall make or permit any loud or disturbing noises, including that of stereo and musical instruments, in the apartments or common areas by him/herself, friends, or Tenants nor permit anything to be done by such persons that will interfere with the rights, comforts and convenience of other occupants.
(website hidden) involving disturbing noises such as sawing tile or wood, loud hammering or pounding, using a loud compressor, etc will only be allowed in the apartments between the hours of 8AM and 6PM, Monday through Friday, and 8AM and 12 Noon on Saturday. No such construction activities are permitted on Sundays or holidays. The cutting or other construction that causes dust or odors must be done in the unit with all doors and windows closed. No construction is permitted in the common areas. The owner will inform the contractor of the requirement to sign in at the office daily. The owner hiring the contractor is responsible for having the contractor remove construction residue daily at their expense.
3.Walkways are provided for access to the pool area. Climbing over or jumping off the retaining walls is prohibited.
(website hidden) and maintenance of apartments shall be accomplished at such times and in such a manner as not to interfere with other occupants' enjoyment of their own premises and/or the common area. Noise from such activities is prohibited between 10PM and 8AM.
5.Damage to the building and/or its equipment or systems resulting from improper use, negligence, or as a result of moving and/or carrying of articles therein shall be paid for by the occupant of the person responsible therefore.
6.Lanai railings shall not be used for the shaking out of items or drying of laundry, bathing suits, beach towels or other such items. Lanais are not to be used for the open storage of personal items. Items too large or bulky to be stored in apartments can be stored in areas designated by the Resident Manager. Barbecuing on lanais is permitted only with electric barbecues. A GAS BARBECUE IS PROVIDED FOR YOUR USE IN THE POOL AREA. Please make sure that your read the instructions before using and that you turn off the main gas valve when finished with your cooking.
7.All employees including landscapers and others have been instructed to take orders only from the Resident Manager. Do no ask him them to perform tasks. All requests must come through the Resident Manager.

8.Apartments occupancy of 1 bedroom units is limited to a maximum of 4 individuals for VACATION RENTALS and is a preferred maximum of 2 for long term rentals
9.The Resident Manager may enter an apartment without prior notice in the event of an extreme emergency, i.e. FLOODING, FIRE, ROBBERY, DEATH, ETC.
(website hidden) objects, especially cigarettes or matches or other items shall be thrown or swept over the lanais form the 2nd, 3rd or 4th floors.
11.Each unit is entitled to ONE PARKING STALL, and each Owner, Tenant, or Guest MUST OBTAIN A PARKING PERMIT FROM THE RESIDENT MANAGER. Such permit must be displayed as directed by the Resident Manager. Any vehicle that is not authorized or does not display the approved permit will be towed away at the expense of the Owner, Tenant or Guest.
(website hidden) avoid personal injury and damaged vehicles, recreation activities of any sort in the driveway, elevator, stairways, lanais or other common areas are prohibited.
(website hidden) pets, livestock, poultry, rabbits or other animals shall be allowed or kept in any part of the project.
14.The lobby is designated as a NO SMOKING AREA.
15.Vehicles may be washed from 9AM to Sunset at the South end of the parking lot in the area provided. Repairs to vehicles on property ARE NOT PERMITTED EXCEPT IN CASE OF EXTREME EMERGENCY.
16.Lockout requests made to the Resident Manager between 8AM and 5PM will result in a $50.00 charge to the owner's account. Requests made between 5PM and 8AM will result in a $100.00 charge to the owner's account.
POOL USE
1.The pool is for the EXCLUSIVE USE ONLY of Hale Ono Loa occupants and guests. The pool area is open from 9AM to 9PM daily.
2.Hale Ono Loa is a family-oriented complex and we ask that occupants and guests wear bathing suits with this in mind. There are to be no topless (females) and G-string bikinis (all sexes).
3.a. No nude bathing regardless of age (NO EXCEPTIONS)
b. For hygienic reasons, children who are not toilet trained must wear protective outwear.
c. Owners, Tenants & Guests are responsible for the safety & conduct of their family members and guests.
d. No screaming, pushing, running, fighting, etc. will be permitted.
e. Children under the age of 12 years must be, and any persons who cannot swim should be accompanied by a responsible adult or other person with swimming ability when using the pool.
f. ABSOLUTELY NO GLASS IN OR AROUND THE POOL.
g. The pool game "MARCO POLO" is prohibited.

4.All persons known to be afflicted with an infectious disease, suffering from a cough, cold or sores displaying discharge shall not use the pool. Spitting or spouting water, blowing the nose in the pool, etc. is strictly prohibited.
BUILDING AND OTHER MODIFICATIONS
1.Unless the Board gives advance approval in each instance, occupants shall not install or operate on the premises any machinery or electrical apparatus not classified as a household appliance.
(website hidden) air conditioners are to be installed without being approved at a regular Annual meeting of the Owners Associations.
(website hidden) storage and/or use of any flammable or explosive material not classified as a household product is permitted.
(website hidden) draperies, curtains or other material placed against any windows or doors visible from the exterior shall be of a color other than off white (unless lined with a material of similar off white color).
5.Lanai sunshades must be of light brown color and well cared for by the Owner or Tenant. The shades must be pulled up and secured at night and in the event of extremely bad weather the Resident Manager reserves the right to remove damaged or worn out shades.
NOTE: ALL VACATION GUESTS, LONG TERM TENANTS AND OWNERS WHO RENT PRIVATELY MUST RECEIVE AND SIGN FOR A COPY OF THE HALE ONO LOA "HOUSE RULES" IN ORDER THAT THEY MAY HAVE A COMPLETE UNDERSTANDING OF WHAT IS EXPECTED OF THEM BY THE RESIDENT MANAGER, MANAGING AGENT AND BOARD OF DIRECTORS.
---
---
---
---
We absolutely loved staying at this condo! We had been at 2 other islands on this trip and it wasn't until here that we actually felt completely relaxed and at home. This condo has everything you could want. A beautiful view from the lanai, very relaxing atmosphere, a fully stocked kitchen and even some snorkel gear/toys for playing in the ocean. We found out after arriving and posting pictures of the area on (SENSITIVE CONTENTS HIDDEN) that some of our good friends actually got married in this complex by the ocean! Talk about a small world. We didn't get married, but I did propose to my girlfriend on a beach and she said yes! So we may be back for a destination wedding in the future :) We will definitely try to stay here again!
Thanks Glenn. I reviewed you as if you were at our other property. Sorry about that. But message is the same. Always appreciate folks like you who take such good care of the place. We have also had multiple proposals at the condo. Congrats! PS. Already on the items you mentioned. Thanks! K
---
This condo is very well organized and appointed. Everything we expected and more. Loved the lanai and how the doors to it opened so wide to the views and breezes. The only issue was that the mattress was broken down, but we notified the owner and she was grateful for the feedback and said she would replace it. We would definitely recommend this condo.
---
Aloha! We just returned to our home yesterday, but we have already recommended your condo to others, who are planning a trip to Maui in 2016! We enjoyed your condo from mid November to mid December, 2015, and we were thrilled with everything that this ocean-view, Hawaii-themed condo had to offer. We even saw whales (including one that breached!) from our lanai. The pool was also refreshing, especially after the hot days at the beach! Thanks for including so many amenities with your condo, especially the very comfortable king-size bed, the coffee grinder and the beach chairs! Mahalo!
---
We had such a great time. The place is absolutely beautiful and its location is stunning. You can watch the sunset from the balcony or go swim in the ocean in your back yard. There are lots of colourful fish to see and if you're as lucky as us you'll even get to swim with turtles! Our vacation could not have been any better! Thank you so much Kathryn for being the perfect hawai host!!
---
Our stay here at the Lahaina condo was perfect! It was comfy and everything that we wanted during our vacation. The condo is pretty up to date. The balcony overlooking the pool and the hawaiian waters was just to pleasant to see. The location was so convenient to grocery and local shops. Our home away from home made our 7 day stay memorable. We'll be staying here again for sure next time we visit Maui. Thanks Kathryn! We loved your little piece of treasure!!!! Hopefully see you next year!!!!
---