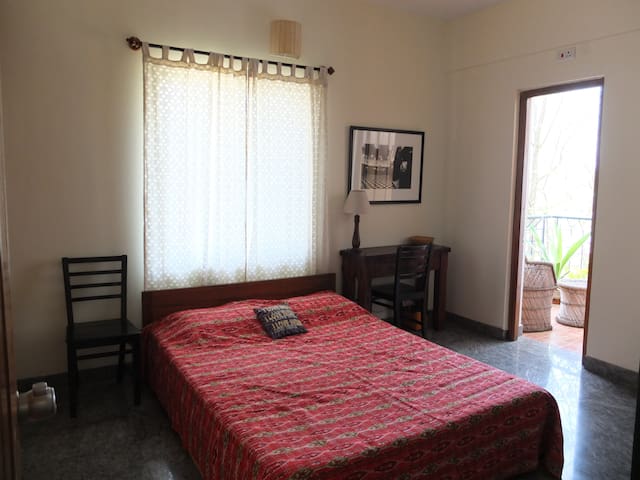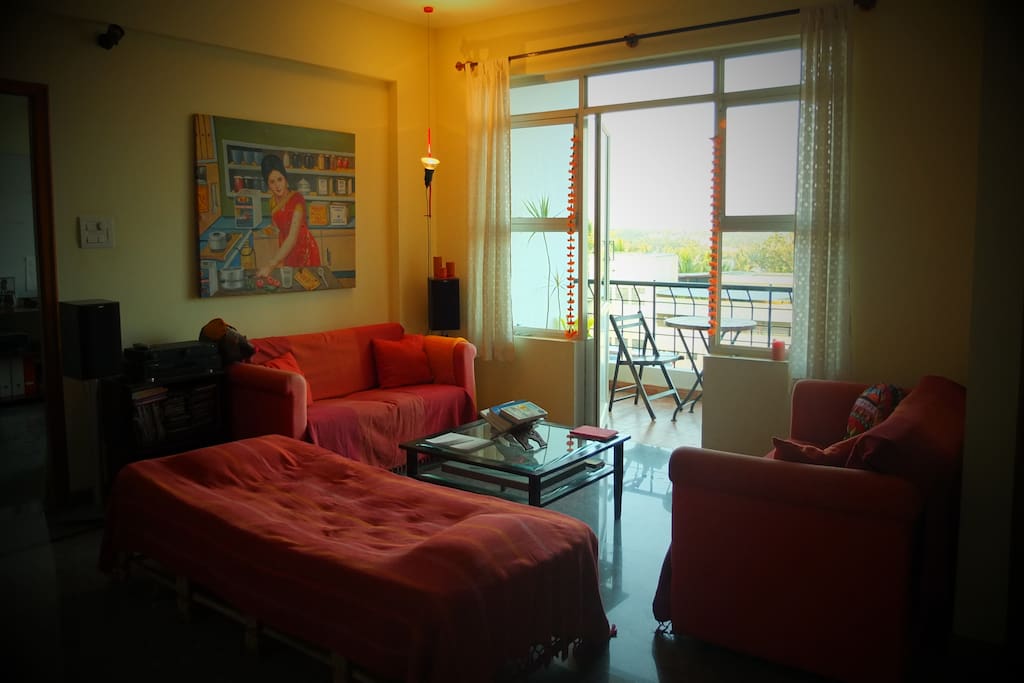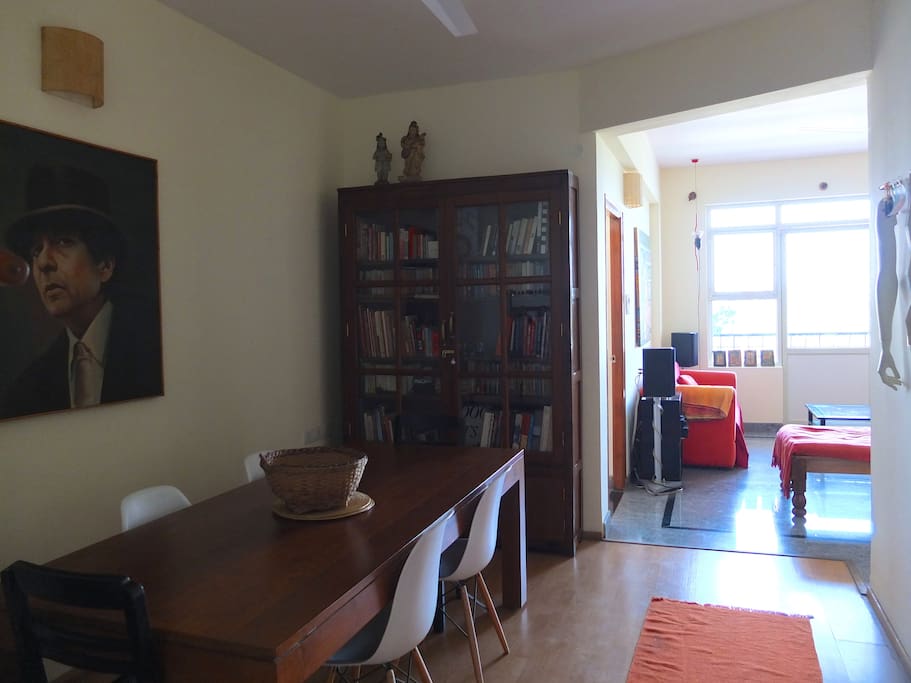 Comfortable & contemporary w/views
Located in V V Mohalla (neighbouring Gokulam), a green residential neighbourhood of Mysore (just 10 min to all sites), within steps to restaurants, grocers, yoga schools, and with great views of some hundred coconut trees from 3 terrace sit outs.
There are 2 bedrooms for use (1 queen bed, 1 single bed), both with private bath & balcony, large kitchen (with all modern amenities), dining area and living room. The bedroom with single bed is generally used as an office - with 2 desks.
---
Absolutely delightful home for either a short term or long stay in Mysore. Our family has spent plenty of time living in India, and we were grateful to find a place to stay with our five-year-old daughter where everything worked--unlike most apartments in India--and a place that was truly comfortable and charming on top of that. Laura and Sirish, and Sirish's mother who is local to Mysore, were always available to help with anything needed. Easy access to purified water, fast and reliable internet, everything you need in the kitchen and apartment to get settled in. We were even able to hire Laura and Sirish's cook for the duration of our stay, which made things very easy for us. And such a gorgeous view! We would definitely book again.
---
The host introduced us to neighbors that were immensely helpful.
---
5 stars across the board may seem a little excessive, but there really were no negatives. The apartment was exactly as portrayed in the pictures and was very comfortable and spacious. It became a home from home. The hosts (Chris and Warren) were exceptionally friendly and helpful and helped many times to overcome little difficulties in obtaining phone cards, taxis etc.... They were a mine of information about local amenities. I would be very disappointed if I couldn't stay here on any return visits to Mysore!
---
This is a very lovely flat and lived up to its billing in the photos and then some. The owners are overseas, but they have a local support network comprising friends and relatives that mean that someone was always on hand to first welcome me to the flat and then respond warmly and efficiently to any queries I had (though Laura is exceptionally organised and the induction document she provided me with was very comprehensive). Already looking forwards to my next visit!
---
We loved our stay at Laura's apartment. Laura was away but arranged for her friendly neighbour Nancy to meet us on our arrival, she was very helpful and explained everything and answered any questions we had. The neighbourhood is great, very safe and short walk to nice cafés etc. The apartment was lovely perfect place to relax and unwind. Thanks again Laura.
---