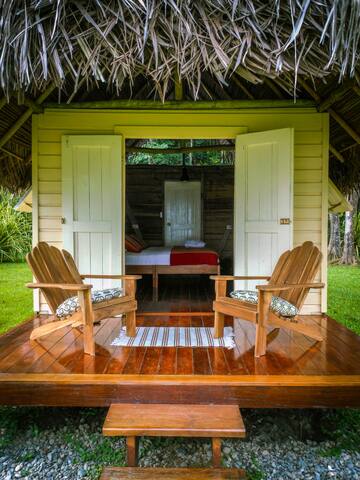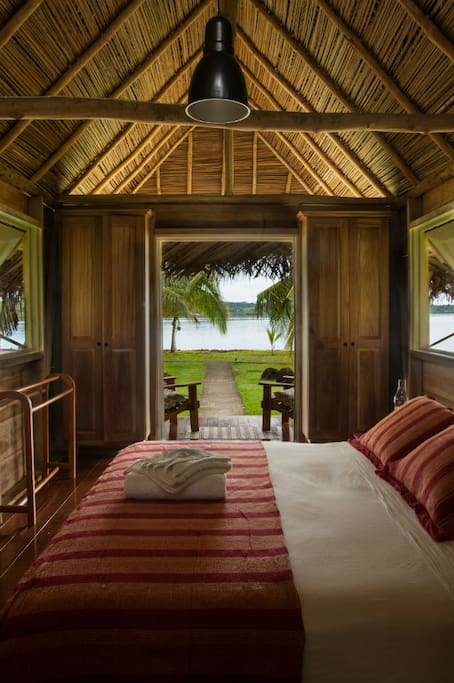 Welcome to Dolphin Bay Cabanas.
Our small eco-conscious waterfront resort has just three gorgeous en-suite cabanas. With great views across the bay, you can watch the dolphins play while relaxing on your own private deck or on either of the two over the water relaxation ranchos.
---
Jelle and his team are fantastic, they get out of their way to make you feel welcome! The cabanas are great, beds are comfortable, the bay is amazingly beautiful, the garden well maintained and the food delicious. The place is secluded, off the beaten track and we have all loved it. Cannot wait to go back.
---
Pequeño paraiso en Bocas del Toro. Alojamiento de absoluto relax en preciosas cabañas construidas con techo de hojas de palma. Interesante bosque tropical con monos aulladores y perezosos en los alrededores y la posibilidad de ver delfines y rayas desde el embarcadero. El dueño es muy atento, siempre dispuesto a ayudar y hacer posible que la estancia sea agradable.
---
The dogs are very friendly and well behaved. The jungle trail was my personal favorite. You can see sloths, howler monkeys, many birds, and Vianca or Rocky (Panamanian workers) can guide your walk. The vista from the top of the mountain is amazing! The food is really outstanding and is prepared daily by Jelle. A couple of times we went by boat to restaurants operated by Panamanian families out of their house on the lagoon. Its a great way to experience the local culture, and the host, Jelle, knows many people on different islands and across the lagoon. During the day one may snorkel or spearfish in the lagoon or just lie back and read a good book (available on the premises). We are avid travelers, and this is one of the most peaceful and pleasant places we have ever been, and it is at the top of our 'return to' list!
---
Everything about our stay was wonderful. Jelle picked us up from town for a very reasonable price compared to the taxis and showed us around the property including a hike in the back farms/jungle. There were three adorable dogs that kept us company lounging in the hammocks but knew their boundaries when we arrived at our cabana. The cabana was simple yet thought through with a fan, mosquito netting, closet space, soap and most importantly it was clean. There are many outlets and a very comfortable bed. We didn't mind the cold showers as we knew in advance and the weather was warm. The location is a beautiful serene bay and we indeed saw dolphins! Also, rays, jellyfish, starfish and other exciting animals. Jelle cooked himself exceeding our expectations with wonderful home cooked breakfasts and dinners including wine coffee and dessert. We felt like we were on our own private paradise and really enjoyed Jelle's presence and advice. He arranged a trip for us to Zapatilla island, which was great as well. We would definitely come back.
---
Me and my boyfriend had the most amazing time at Dolphin Bay Cabanas. It far exceeded our expectations, which were already very high. This place is a perfect getaway with stunning scenery and amazing wildlife. If you need to relax and unwind this is the place to come. To top it all off you will be accommodated by the most amazing hosts and their loveable dogs. We couldn't recommend this place highly enough. True paradise!
---
Jelle was a great and friendly host. His piece of land is idyllic and it is a great place for relaxing. You can watch the dolphins from the terrace and with Jelles canoe it is possible to make a ride with them. We also made a trip to the jungle trails behind the cabanas with Bianca. She is a lovely person and she showed us interesting animals and plants. The food is very delicious and worth the price.
---
Welcome to Dolphin Bay Cabanas, our eco-conscious waterfront resort.
Join us to experience the natural wonders of the Bocas del Toro Archipelago.
语言:
English、Español、Français、Nederlands