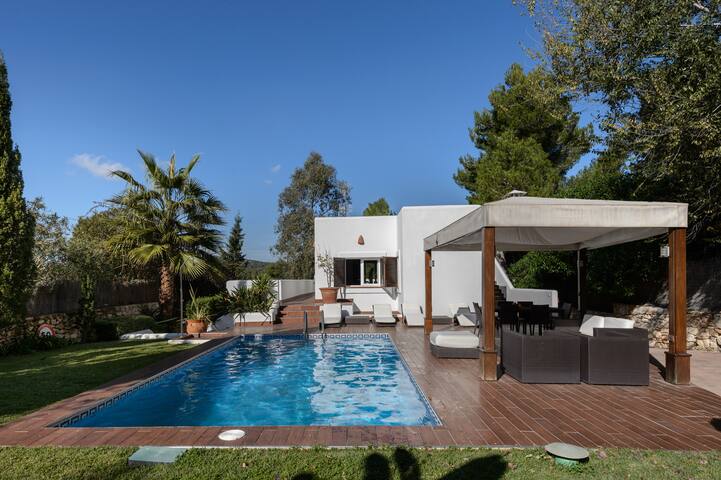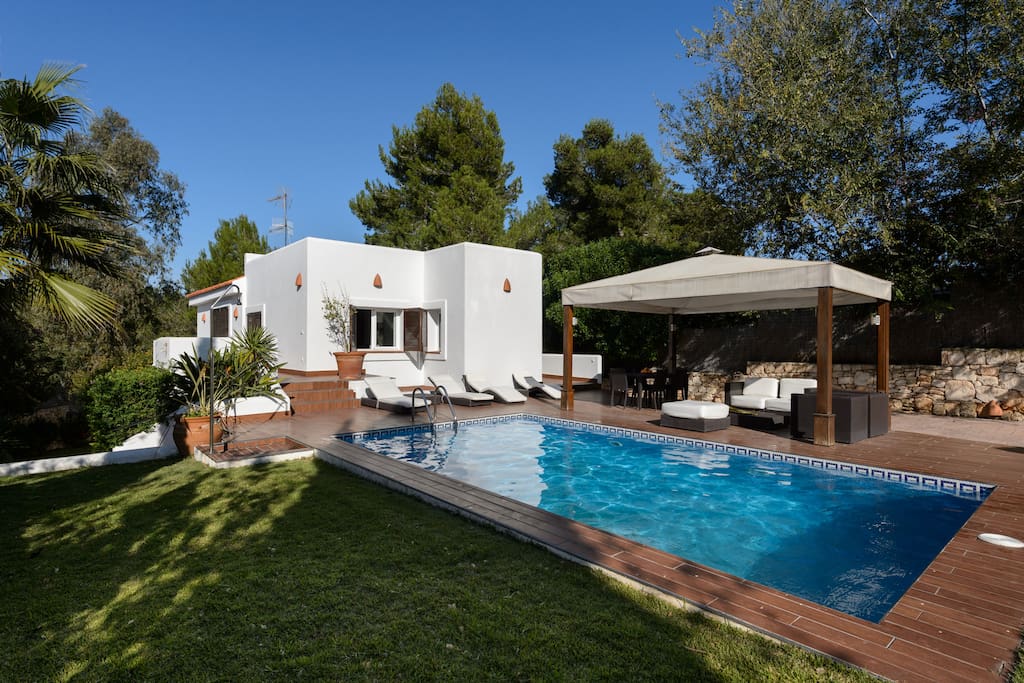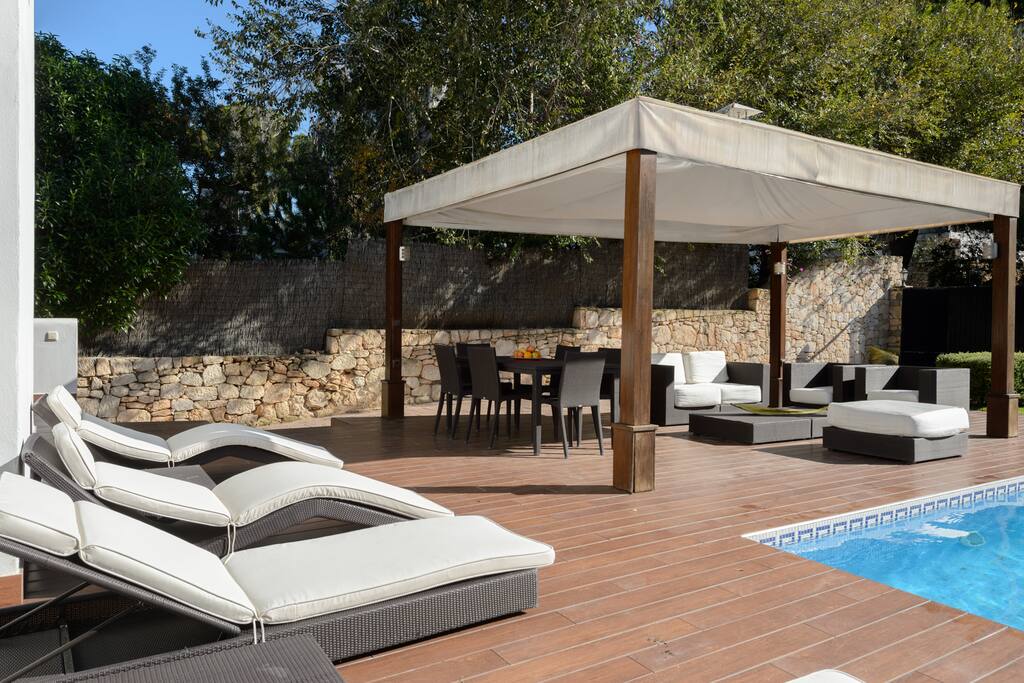 Luxury villa in Roca Lisa with 5 bedrooms,4 bathro
Luxury villa in Roca Lisa with 5 bedrooms,4 bathro
last minute prices for May 2017!!!!!
Villa in Roca Llisa, Ibiza,with 5 bedrooms, 4 bathrooms, pool, A/C in all rooms, BBQ - perfectly located between Ibiza and Santa Eulalia next to the sea, with a nice view over the golf course.
FOR FAMILIES:
If you need baby coat or baby bed, just contact me, I will put if for free!!!!
SHORT TERM STAYS POSSIBLE, JUST ASK ME PLEASE
DISCOUNTS ON WEEKLY BOOKINGS.
房源
WE ALLOW SHORT TERM STAYS, JUST ASK ME PLEASE
This new luxury villa is located in the secured urbanisation of Roca Llisa is set in a quiet and natural environment with great views, and all this just a few minutes from Ibiza town, It has a wonderful view over the golf club who is 2 min away.
Luxury villa with approx. 350 m2 of living space, with 5 bedrooms, 4 bathrooms / shower rooms, big living room with new kitchen, a dining area, a store room and a garage for 4 cars.
FOR FAMILIES:
If you need baby coat or baby bed, just contact me, I will put if for free!!!!
All rooms in the house are fully air-conditioned to give you the opportunity to live here comfortably all year round.
This beautiful family home is in one of the quietest parts of Ibiza. Located just a 15-minute drive from Ibiza airport, it is extremely easy and quick to get here. With its glorious panoramic views across the beautiful mountains of Ibiza, you will never be dissatisfied looking at them. Once you arrive at the gated villa you will instantly feel away from the world.
I can put two extra single beds in the two single beds rooms or a two baby cots. Families are welcome, big parties in the villa are not allowed, you have neighbours around you.
There are numerous areas to sit in the sun and read a book or listen to music and talk with your family or friends. The villa has a private swimming pool for you and your guests to use at your leisure. With a large BBQ and outdoor seating area to entertain your guests.
There are a laundry service and concierge facilities at your request. With only a 10 minute drive to Ibiza town you can easily enjoy all of the restaurants and nightlife that Ibiza has to offer.
******For the ultimate island experience, we also offer special services for our guests such as catering, shuttle service around the island as well as a party and nightlife guide. Our service will ensure you won't miss any party on the island********

Why Ibiza?Well, everyone knows about the incredible clubbing, and the electric, night time vibe, but there's far more to this magical island...The Wonderful Weather..Of course, if it weren't for the gorgeous weather we wouldn't be here anyway! Wonderfully, clean, clear air and skies of the deepest blue. The summer is perfect for lazy beach days, and sports and water sports abound. Enjoy the balmy evenings sitting on the terraces enjoying a cocktails or two...The Beautiful (URL HIDDEN) of the joys of being on this island is, that no matter where you are, you're never far from one of the many wonderful beaches or secluded little coves... Ibiza's waters are amongst the cleanest in the Med, many of the beaches are continually awarded the coveted EEC Blue Flags, and the combination of soft, golden sand and warm, crystal clear waters. Restaurants, dinner on the beaches by the light of the stars, sipping chilled wine and listening to the gentle sounds of the sea; enjoy the tastiest of local Spanish and International specialities on the shady terraces of beautiful country restaurants or soak up the atmosphere of Ibiza by night in the romantic,paveside restaurants of the Old Town.The NightlifeClubbing wise, it just doesn't get bigger or better than Ibiza; the most grandiose and spectacular range of clubs anywhere in the world, experience every serious DJ and promoter around, a relentless summer clubbing agenda. Add in the hundreds of charming, scenic and intimate bars across the island, and you have one of the world's iconic destinations for donning those dancing shoes and letting the good times roll. The Cosmopolitan Mix Ibiza is only a short flight from every major European Airport, and that there are many holidaymakers from all countries nowhere in the world do you find such a cosmopolitan mix of culture.
I can organize cheap tickets for all clubs:
SPACE
AMNESIA
PACHA
PRIVILEGE
DC10
USHUAIA.
You can rent as well a Sea Doo Challenger 230 boat. This jet powered boat unlike many others has many advantages to it are build and design enabling sports car-like handling and performance, the twin 430bhp supercharged jet engines eradicate many modern boats performance inabilities. 860 bhp in total, 60 miles/ 90 km fast,
Boat features:
Boat just 2 years old.
Ample room with seating for 12 people. Very loud sound system.
Sunbathing platform and swim board. Fishing on request.
Nice staff with extensive island knowledge. No age restrictions, fun for all the family. Drinks food, petrol, skipper and water sports including.
Satisfaction guaranteed, cost for 8 hours trip 1100Euro.
In this price are all drinks, foods, the skipper and the petrol including. You can drive with the boat where you want for example to Formentera, or Es Vedra and can make water sports. The boat is faster than Jetski!!
I can also organize the transport for you to the clubs, to the airport and to the beach.
房客使用权限
I will meet you at the Roca Lisa Main entrance
其他注意事项
House Rules
1. noise:
Please respect after 10 pm a moderate noise level, as there are local families living arond you.
Parties are strictly forbidden after that time. Keep the doors and windows shut to avoid police interaction.
Do not play any music outside (Terrace, balcony or garden area).
If we get complains from the neighbors or police we will charge 500-, Euro of the deposit
2. Attendance
Please respect that there are no more people allowed to stay in this house then the amount that has been booked.
3. security / safe
Do not leave the house unattended without closing the windows and doors
There is a safe located in the house. Please note the users manual to personalize your code
We remind you that your insurance will not pay any damage if the safe was not used by you.
This belongs to your own responsibility always lock the main door at least twice.
4. Keys
We hand out 4 key-sets for each group including a key of the Gate and one of the main door.
At any lost of a key, we will change immediately all keys. For this, there is a charge of €200 Euro from the Deposit.

5. Dishes
Dishes must be washed and the kitchen must be cleaned before check out time. If not there will be an extra cleaning charge of 50€.
6. Garbage
Trash bags must be deposited in front of the main entrance before check out time.
7. Light and Air conditioning
Turn off the lights and Air Condition when leaving the house.

8. Damage Deposit
The Damage deposit is 1200€
During the check-in you will be informed of existing damages and the condition of the house. At check-out time we check with you the condition of the house and the facilities again. Eventual damages will be fixed by us and costs will be deducted from your deposit.

9. Check-in and Check-out
Check-in time: from 4 PM
Check-out time: latest at 10 AM
Late check-out: if we do not have new guests the same day, we can offer a late check-out, each extra hour cost 30 Euro.

10. Luggage before check-in and after check-out
We can suggest a pick-up luggage service. A third-party company can pick up your luggage at the airport to bring it the house for the check-in, or for check-out pick it up at the villa and deliver at the airport whenever your flight departs. This service cost €10 Euro per person.
---
The villa is nice and spacious, located in a residential suburb near the golf club, at a 20-min drive from Ibiza center. It is well-kept and fully equipped (dishwasher, washing machine, hair dryer, coffee machine, kettle, air cond, wifi, etc.). Alex, the house manager, is professional and approachable, and communicating with him was easy and quick. We experienced some inconveniences with hot water for showers, but he sent the plumber right away and made it up to us by letting us check out later on the last day. The only downside of this accomodation is that you need to be EXTREMELY QUIET since the neighbours do not tolerate ANY noise, this meaning NO MUSIC in the pool area and no chatting outside at night; this is the only aspect that prevented us from fully enjoying the villa.
---
Great villla this one - far enough from town for some peace and quiet stay, but close enough to the clubs and hotspots of Ibiza town and the smaller and convenient village of Roca Lisa.This turned out to be a brilliant holiday. The Villa is great if you're a family with kids or a group of party-fuelled ravers with its 5 bedrooms in the house. It has a lovely pool area and outside lounge, perfect for winding down in the mornings on return from the the clubs. A group of us stayed in this villa and from the moment we arrived we had a fantastic time. The villa is very easy to get to, close to all the main restaurants, clubs and beaches. It is well looked after and works well for both families or groups of friends. It also has a great pool and lots of outdoor space, which include a nice barbecue. The contact with the Alex was very easy, he was always available for us. Thank you we will come back again
---