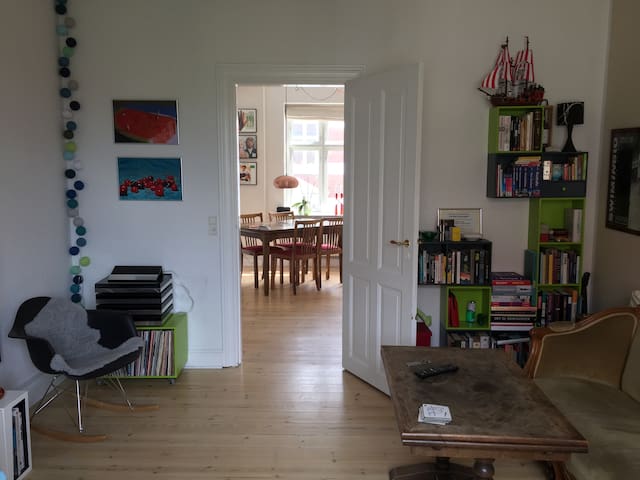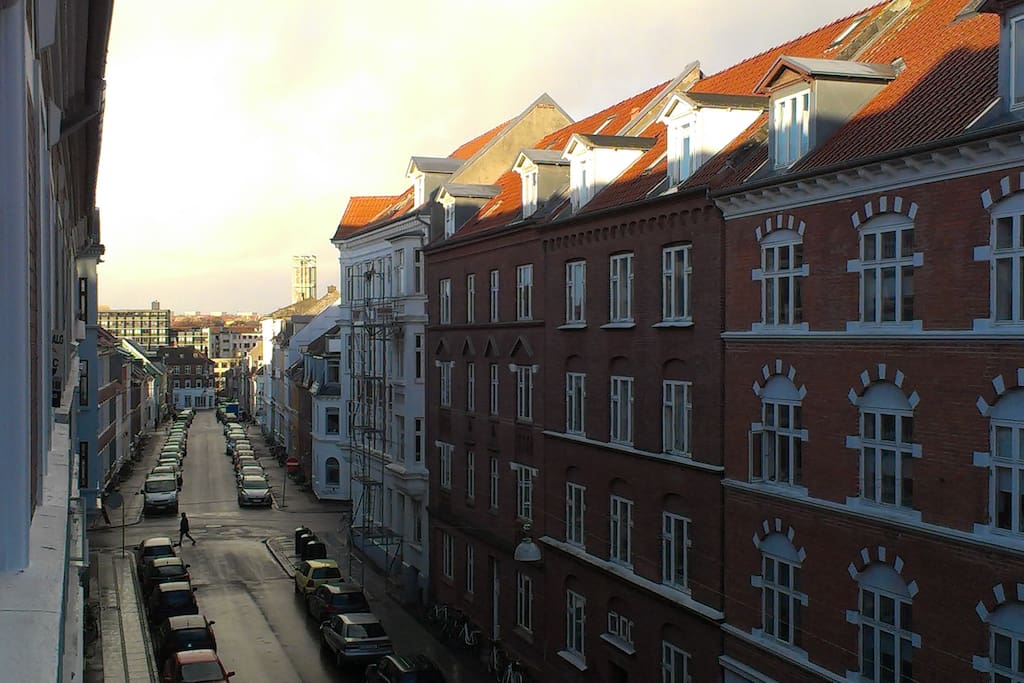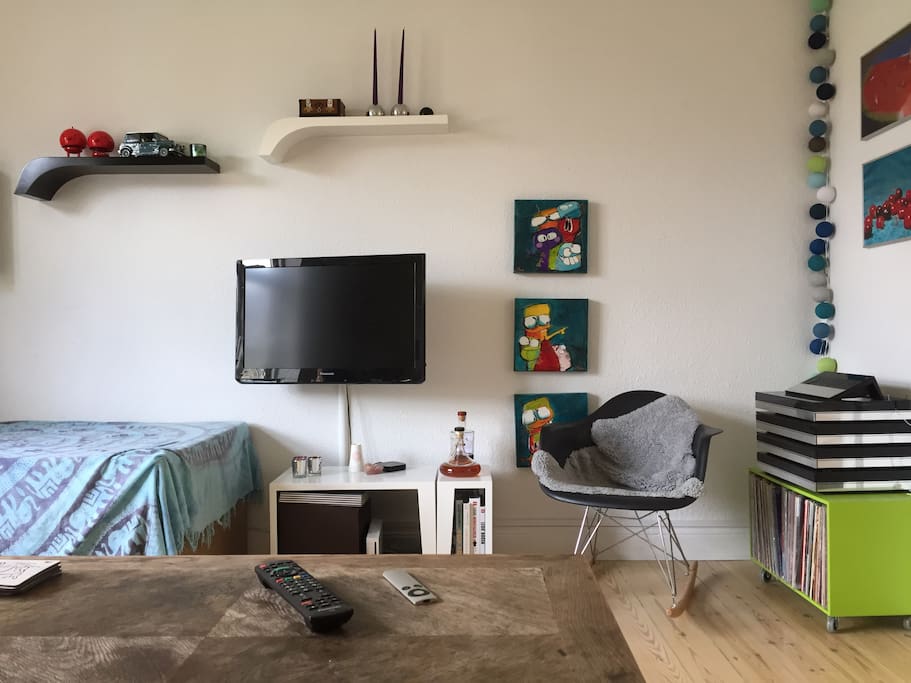 Best area in Aarhus, lots of cafees, shopping and so close to the railstation it only takes 5 min to go there = Downtown.
Enjoy this quiet and safe area full of activity and special shops with homemade icecream, smoothies, juices and top resturants
房源
2 big rooms, hall - big kitchen and bathroom just for you to use. Great light and so quiet you can sleep with the windows open during summertime.
Nice queensize bed. Dinningroom/officearea
房客使用权限
Washing in the basement - you just pay in the jar in the hall
WiFi

---
---
---
No smoking in the appartement - use the backyard
No pets allowed
No guest allowed
Please treath my old girl of an appartment well. I love her to bits :-)
Let me know if there are any problems asap. I´ll try to help as fast as possible. Better contact me too much then not :)
---
---
---
Overall impression: Christina is awesome, and her apartment was the perfect place to bunker down in for our three weeks in Aarhus. It's cozy, fairly minimalist, and quiet while still being in a lively area. The area: it's in a great part of town! The market around the corner on Wednesdays and Saturdays was a must for us, and there were plenty of grocery options near by, as well as restaurants, cafes, and bars. We had Chicago-quality cocktails at St. Paul's Apothek, the friendliest service at Forlæns & Baglæns and delicious gourmet smørrebrød at Kähler Spisesalon, all 5 minutes away on foot. The Latin Quarter, where I took yoga classes and did a lot of touring about, is just 20 minutes away on foot and less than 10 by bike. The apartment: I really liked the open lay out, the air flow, and view (who minds doing dishes when you can gaze out the window?), the beautiful wood floors and the quiet neighbors. The 4 story walk-up never ceased to leave me a bit short of breath, but I think that's just a sign I needed it! Anyway, the walk up means you have that much nicer of a view and air flow. I made a lot of meals there, and found that the kitchen was equipped for most cooking endeavors. The only things I felt were missing were some sort of blender or processor and a chef's and serrated knife. On the other hand, Christina was so helpful that if I had asked for any of the above, I'll be she would have done her best to bring it over! The double bed was comfy and on the firmer side, which I like. In the summer the apartment gets pretty bright, even with the shade, just as a heads up. It's beautiful light, though, and a nice way to be woken up in my opinion. There are some guide books available, and we had a lot of fun reading Calvin and Hobbes i dansk. She also provided plenty of tapered candles to enjoy in the various holders, which made homemade dinner even cozier! The desk is really neat--you can adjust its height so that you can use it as a standing desk. My boyfriend really appreciated that as he was working remotely. The host: I really enjoyed communicating with Christina. She was extremely helpful and offered tons of tips leading up to our trip, even before I had formally booked the apartment! When I had to make a slight change to our dates pretty last-minute, she was super accommodating. She researched yoga studios for me (Hamsa is great, you yogis out there--you can pay by the week and get a great deal). When she had to stop by the apartment once or twice to pick something up, she gave us fair notice and respected our space totally. When we had a small issue, she came by right away and took care of it, and she's very responsive via text...
---
Christina's apartment is very well located - 10 minute walk to the main train and bus stations, one block from good supermarkets, many good cafe and bakeries. The apartment is also close to the beach and forest - I went for many jogs down there - saw a dolphin in the bay. It is also very quiet. There is a washer and dryer in the Basement for communal use, and this was easy to use. Christina was prompt and helpful!! Highly recommended.
---
I stayed at Christina's for a month and a half, and I can say her flat has everything you need for a comfortable stay in Aarhus. The location is really good, in a quiet but centric and cozy neighborhood. I would definitely live there for a while again. Christina is very easy to talk with, has a nice sense of humor, and will gladly explain you whatever you need to know to navigate the city.
---