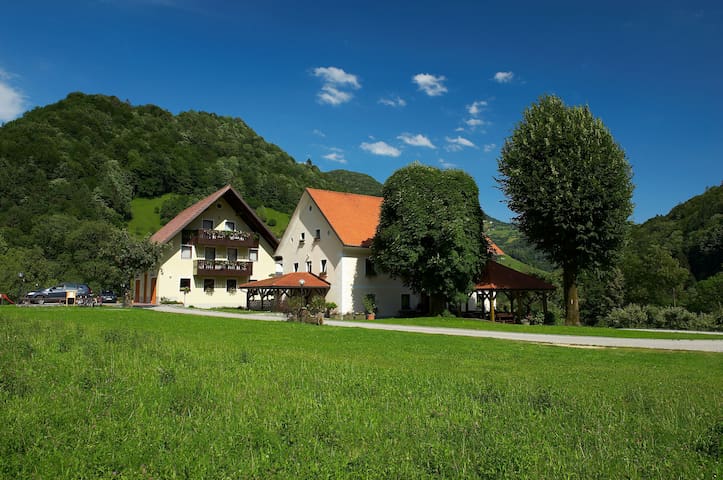 IDYLLIC FARM STAY Zelinc - B&B
There is nothing better than waking up to a view of the nature and surrounding hills. All rooms come with a bathroom and are furnished in rural style. This type of room is without balcony.
Tourist Farm Zelinc is located in the village Straža and surrounded by hills. The farmhouse offers fresh home-grown fruits and vegetables, dairy products and meats. An outdoor swimming pool is free for use during the summer.
---
When you arrive on a new location to stay for a couple of nights you can have this feeling that you booked not enough nights just by first impression. Sometimes you're wrong. But not in the case of staying at Zelinc. Jernej's place is great. It is surrounded by the finest green hills and grassland. We had a great apartment with a big terrace watching the sun went down behind the hills. We managed to have a nice dinner here prepared in the kitchen with just enough kitchen equipment. But cooking here is not needed since they also prepare good meals for a decent price. Altogether we really like to recommend Jernej's place when you like the foothills of the Alps.
---
Een heel leuk adres midden in de prachtige Sloveense natuur. Handig om elke avond daar te eten voor een zeer schappelijke prijs : een drie-gangen maaltijd. Vriendelijke familie en zeer nette kamers en lekker eten ! Ook voor je activiteiten kan Jernej je helpen ( canyoning, rafting,..). Een echte aanrader !
---
My husband & I stayed for 5 nights and wish it could have been longer. We had a room on the top floor with a large balcony and wonderful view. Marta greeted us upon arrival, she is a gracious warm lady. Breakfast is ample, tasteful and fresh. It is savoury breakfast, homemade yogurt, jams and breads. And if your lucky an omelette from the eggs laid just the day before. Great suppers suppers as well prepared by Marta's son. We hope to return September 2017.
Dear Jacqueline, Thank you for your nice review and visit , it was a pleasure to host you. I would just like to say that few days before your arrival there was thunderstorm and all routers and even our computer were broke down. So that is why our WiFi system wasnot working as it supposed to. Normally all areas are covered with good signal. Kind regards and hope to see you again, Jernej Brus
---
My mum and I stayed at this lovely farm for a long weekend and it was perfect. It's a family run business and they're all just lovely people. They put so much love, passion and hard work into the food they produce and one can really taste the difference. This is so hard to find these days and I'm glad I did. The breakfast buffet is so delicious and I'm still dreaming of that freshly home baked bread, the home made yogurt, jam and even honey. And it all repeats at dinner time. The rooms are spacious and clean and the farm is conveniently located. We did day trips to Most na Soci, Tolmin and its beautiful surroundings. I would definitely recommended farm Zelin and hope to be back in the future.
---
We stayed for four nights at the farm, and really enjoyed it. The farm is in a good location to explore much of western Slovenia. Each day during our stay, we took day trips that were 45 min - 1.5 hours from the farm including Ljubljana, Bovec, and Bled. We felt very welcome by the hosts and other guests. A nice breakfast was included and we were offered a great dinner each night for 12 EUR. The place was good for us (a couple), but would also be good for families. We will stay here again if we return to Slovenia. Highly recommended.
---
We were drawn to the fact tht this was going to be a quiet and sweet place to stay at. its so family friendly and is a family run business-we love tht. despite it being a farm stay there are still things to do and discover around there with walks around. And the dogs! Cats. bees. Cows. Chickens. Geese. Organic greens and fruit! The perfect way to end our slovenian holiday. :)
---