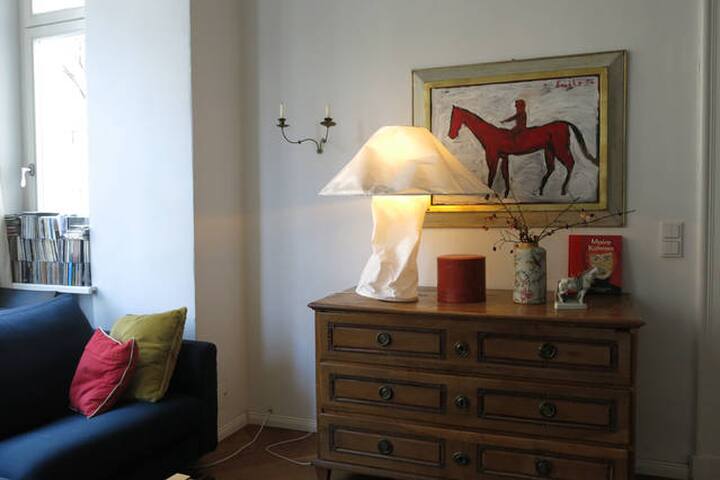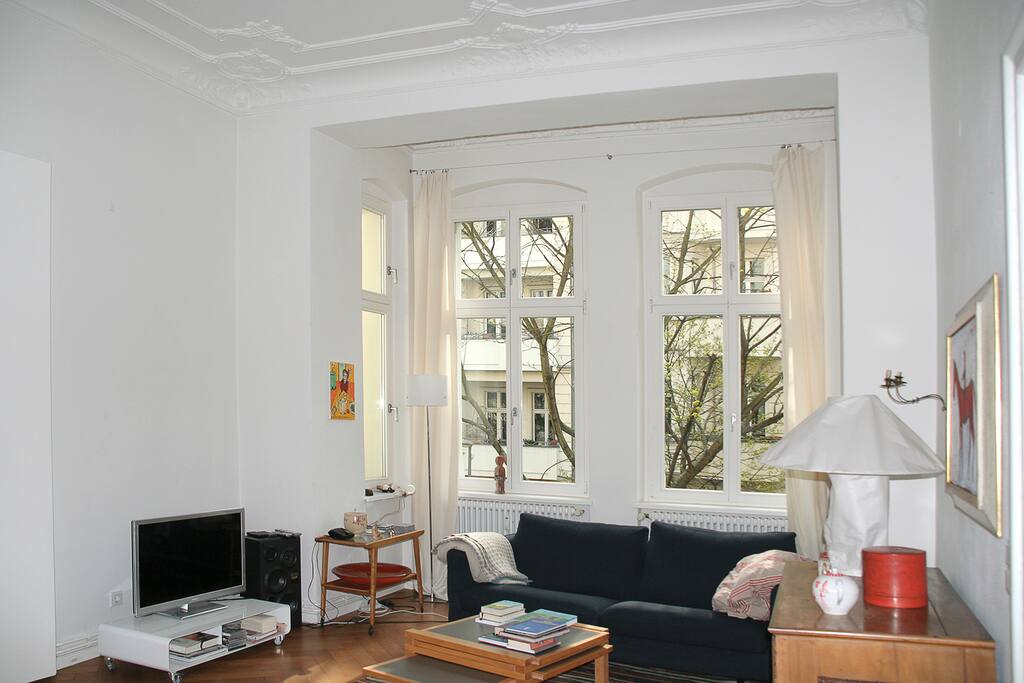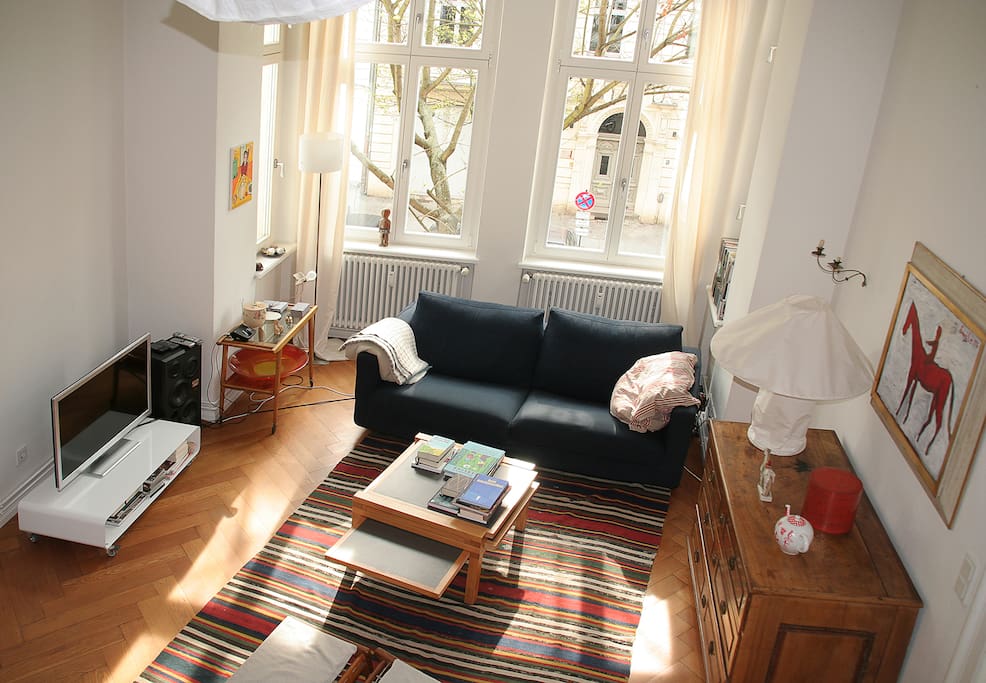 房源
Das Apartment besitzt eine helle, sehr große Wohnküche mit anliegendem, sehr schönem, überdachtem Balkon. Die Wohnküche ist durch eine sehr große Flügeltür mit dem Wohnraum verbunden. Der Wohnraum hat Parkett und eine Loggia. Daneben erreicht man durch eine Flügeltür einen Arbeitsraum mit einem professionellem Arbeitstisch (von Eiermann), Tageslichtleuchte, einen Drucker, scanner, Kopierer. Neben diesem Raum liegt ein sehr geräumiger Schlafraum mit Balkon. Wenn nötig könnte man noch ein Kinderbett aufstellen. Das Bad hat ein Fenster, ist nicht sehr geräumig, aber es hat alles, was man braucht, eine schöne Dusche und shampoo und Hygieneartikel liegen bereit. Außerdem besitzt sie einen Flur mit einer wundervollen Garderobe. Die Wohnung ist circa 130 Qudartmeter groß und ist mit vielen persönlichen Dingen geschmackvoll eingerichtet. Ein Mix aus modern und antik. Ihr habt ein sehr schnelles Internet.
Die Gegend ist sehr beliebt, Ihr habt 2 min. entfernt einen großen supermarkt, der bis 24.00 Uhr geöffnet hat. In der Strasse gibt es sehr viele kleine, besonders schöne cafe`s, internationale Restaurants, Boutiquen, feine Trödlerläden, Galerien und Märkte. Ihr könnt Euch 5 min. von mir entfernt sehr günstig Räder ausleihen, um die Stadt auf gut ausgebauten Radwegen zu erkunden.10 Minuten entfernt gibt es einen großen Park zum spazieren oder joggen.15 Minuten entfernt findet ihr den berühmten Mauerpark mit vielen Attraktionen, am Wochenende den begehrten Trödelmarkt. Meine Strasse liegt ruhig genau zwischen 2 großen Strassen mit phantastischen Verkehrsanbindungen nach Flughafen Tegel mit der Tram M2 von der Prenzlauer Allee nur 3 Stationen zum zentralen Alexanderplatz und dann mit dem TXL Bus direkt zum Flughafen 30min. Oder zum Flughafen Schönefeld mit der Tram4 auch nur 3 Stationen zur Greifswalder Strasse und dann mit der S-Bahn direkt 20 min. zum Flughafen. Die Tram M10 fährt von mir 5 min. entfernt Fußweg (Danziger Strasse) 24 Stunden lang durch alle Szenebezirke wie Mitte, Wedding, Prenzlauer Berg, Friedrichshain, Kreuzberg. Auch bis zur berühmten east side gallery. Ganz in der Nähe zum Laufen 10min. gibt es die berühmte shopping Meile Kastanienallee und Alte Schönhauser Allee. Hier leben sehr viele junge Menschen aus der ganzen Welt. Ihr werdet Euch ganz bestimmt wohlfühlen in meinem apartment.
english:
The apartment features a lucid, very spacy kitchen living, sidelined by a beautiful roofed balcony. The kitchen living is connected to the salon area by a large wing door. The salon has parquet flooring and has a loggia. Next to it, through a wing door, you reach the study, hosting a professional desk (by Eiermann), a daylight desk light, a printer, a scanner and a xerox machine.
Next to this room there is yet another spacious sleeping room with a balcony. If you need a children bed, I can set it up. The apartment has an little nice bathroom with window and a designer shower with shampoo and other hygiene products.
The apartment is around 130 square meters in size and tastefully styled, a mix of modern and antique styles. You have high-speed internet. The area is very popular. You have a big supermarket, open till midnight, at a distance of two minutes. There are many boutiques and coffee shops, international restaurants, antique shops, galleries, and markets. You can rent bikes close to the shop, around 5 minutes from the apartment, to check out the town on the very well developed bicycle roads. With 10 minutes walking distance, there is a nice spacious park for jogging. Within 15 minutes walking distance, there is the internationally famous "Mauerpark" with its many attractions, such as the flee market on weekends. My street is right between two boulevards with exceptional traffic connections to he Tegel airport (tram M2) from Prenzlauer Alee, and to the Alexanderplatz, where the airport bus leaves. The airport is reachable within half an hour. Also the airport Schönefeld is reachable with the Tram M4 (three subway stations to Greifswalder Strasse, then with the S-Bahn another 20 minutes). The tram M10 is 5 min. away and takes you 24 hours through the fashionable quarters Mitte, Wedding, Prenzlauer Berg, Friedrichshain, Kreuzberg, including to the famous East side gallery. There is a shopping area close by (around 10 minutes by foot), at Kastanienallee and Alte Schönhauser Allee. Many young people life in that area. You will surely enjoy staying at my apartment.
与房客的互动
Wenn es nur geht, zeige ich persönlich den Gästen meine Wohnung und gebe viele Tips zu meiner Gegend und auch insgesamt zu Berlin, ich bin ja Berlinerin.
---
---
---
Bitte behutsam mit meinen persönlichen Dingen umgehen. Das Rauchen ist nicht erlaubt, ich habe 2 Balkone, da ist es ja möglich. Und Haustiere bitte auch nicht mitbringen, da ich selbst auf Katzen allergisch reagiere.
---
---
---
---