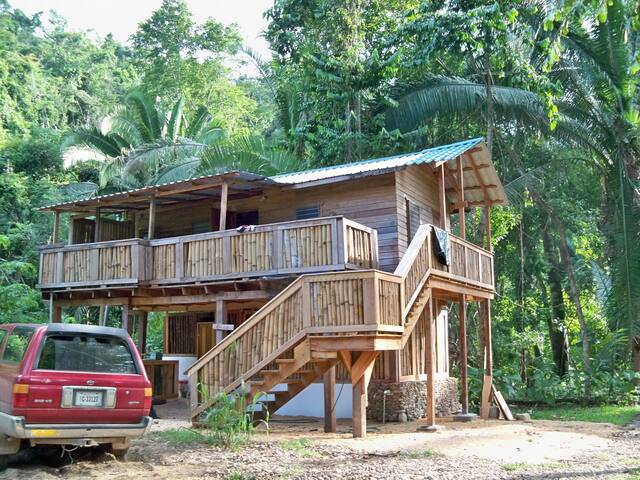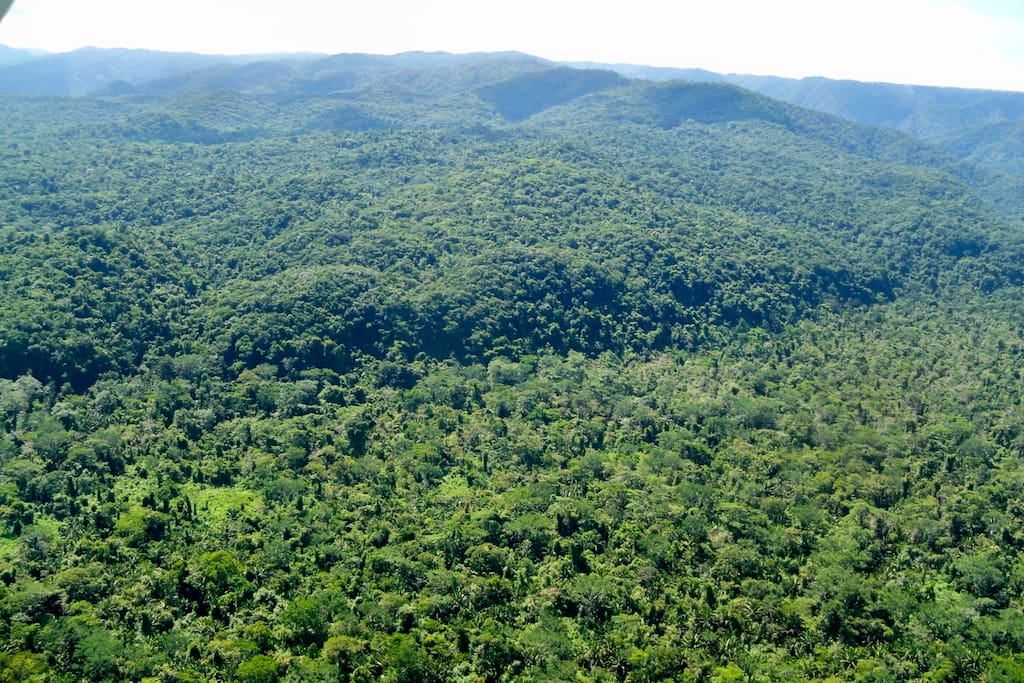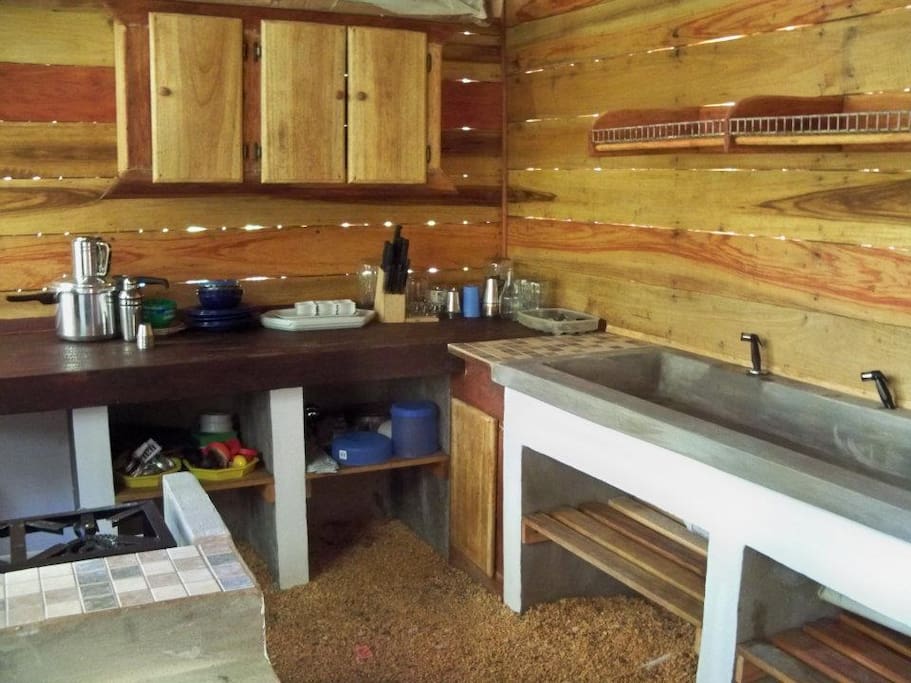 If you are looking for an affordable way to experience the Virgin Rainforest & natural beauty of Belize this is the place! A Basic Kitchen, Low-Voltage Solar Electricity, & Flushing Toilet ensure basic comfort while stepping off the beaten track!
房源
"Two roads diverged in a wood, and I, I took the one less traveled by, and that has made all the difference."
The Etho-House IS that difference! Slow down, unplug your devices, don't style your hair today, just be in the Rainforest!
This is a cabin with a spacious kitchen and a tiled spring fed shower house downstairs. Upstairs is a studio style sleeping accommodation with a Full size bed and four twin beds. There is also a flushing toilet with a hand sink, and a spacious deck upstairs.
The kitchen is equipped with a 4 burner propane stovetop and a 2 burner pancake griddle. There is also a huge sink with three seperate sprayers to make cleanup a breeze! A large array of stainless steel cookware is sure to meet your needs, as well as a variety of kitchen accessories like graters, sieves and even a tortilla press!
At the STAND Center everything is off grid and sustainable! Renewable solar and hydro electricity serves this permaculture farm and research Center. Your house has low voltage lighting and small reading lamp and rechargeable flashlight is also available for your use, while here. There is definitely no a/c so be prepared for the actual outside temperatures, generally a breezy 75-90 degrees F, though it can drop down into the upper fifties here in the mountains! We can also teach you about native flora & fauna, organic permaculture, primitive skills and natural living! This is definately a one of a kind experience, not available anywhere else in Belize! We can set you up with local affordable tour guides and companies to visit the Actun Tunichil Muknal cave, waterfalls, rivers for tubing or kayaking and more, all within a few miles of our location! If stunning views of pristine Rainforest, natural sights like sinkholes, caves, and waterfalls, and waking up to the sound of parrots, toucans and howler monkeys sounds like your cup of tea, we've got what you are looking for! If on the other hand you want access to lots of night life like clubs and restaurants check out San Ignacio! And finally, we are not attempting to present ourselves as a fancy resort accommodation. We are a family-run not for profit business, and while every effort is made to ensure your safety and comfort while here, it is a simple but sufficient house to relax in after a day of touring, or to write that next novel!!!
房客使用权限
Basic Kitchen (4 burner propane stovetop, 2 burner pancake griddle, sinks, cabinets and produce racks) Flushing Toilet, Tiled shower with 75° spring-fed tropical water, Full Linen Service available, Lockers in house, Safety Deposit Box available, Nature Trails, Pristine spring-fed Natural Swimming Pool, Seasonal Waterfall, and more await!
与房客的互动
We have our own private home on the same property, about 1000 yards away ensuring privacy yet the security of knowing we are close-by to help you! We have 6 beautiful children and would be delighted to invite you for a dinner in our home if you like kids and family settings!
其他注意事项
We can include a local handmade farm to table breakfast and dinner each day, if you wish! ($25 Per person per day) Comes with unlimited bottled water, and lunch fixins fir you to make yourself. We also offer various organic and whole food packages, for you to prepare your own meals! We host a wide range of workshops to teach you about the natural flora & fauna, organic permaculture, and sustainable living! Learn to make Cacao, build a thatch or harvest bananas!! It's another world! Get ready!
Things to pack:
-Headlamp and spare batterries!
-Shoes: Chaco/Teva or other jungle hardy sandals/water shoes or waterproof boots. LOTS OF SOCKS.
-Natural bug repellent! (Or make your own here with us!) And skmething with DEET, just in case, (trust us, while we have the least bugs in all of belize... there are times....)
-Clothes: Quick drying synthetic materials are ideal for our environment, a soft raincoat will also make life nicer if it is drippy! Even though it is warm here, people like to layer. Cotton underclothes to wick moisture, synthetic overshirts (think Columbia, Patagonia etc) and pants are your best friends. Ladies, dress modestly, tshirts and jeans or the like,
Out here in the jungle the boys won't see you, but the BUGS WILL! ;)
-Attitude: Go into this not thinking of the posh jungle resort (thats called Pooks Hill and is across the river!) But of camping...with a posh tropical hardwood cabin, with kitchen and bathroom for a tent! ;) It's a nice spot, if you really enjoy stunning old growth rainforests!
---
---
---
1: DO NOT BURN CANDLES, INCENSE, OR MOSQUITO COILS ON BARE WOOD, ALWAYS USE A CERAMIC OR METAL PLATE AS A BUFFER! There is a fire extinguisher, but we hope to never need to use it!
2: DO NOT LEAVE GATES OPEN! We are a family farm, first and foremost, we have sheep which we depend on to help clean oir orchards, so please, if you ooen it shut it, and then check to be sire it is a tight fit!
3: Do unto us as you would have us to unto you if we were the guests! Just be respectful. We are a Christian Family, so in general, we ask you to refrain from consuming copious amounts of drugs and oralcohol (not a good idea anyway!) ;) or carrying on otherwise obnoxiously! We also advise you to be efficient with your electricity use, ie do not just leave lights on etc. Or you might find yourself out of juice!!!
---
---
---
---
We have lived in Belize for almost fifteen years now and are raising our six children here in the Rainforest on our Permaculture Farm @ The STAND Center. We are committed to the growing of our own foods and over 95% of our diet is grown processed and prepared directly from our gardens! We also eat primarily wild caught fish or other hunted game. We do occasionally butcher chickens from our free range chicken flock as well. Finally we raise native fish in our Aquaculture Ponds, and Sheep help keep the undergeowth benesth our Stacked Polyculture Forest Gardens clean! We offer guests the chance to participate in a variety of exciting workshops in the field of natural living, and run a volunteer program as well.
语言:
English、Español