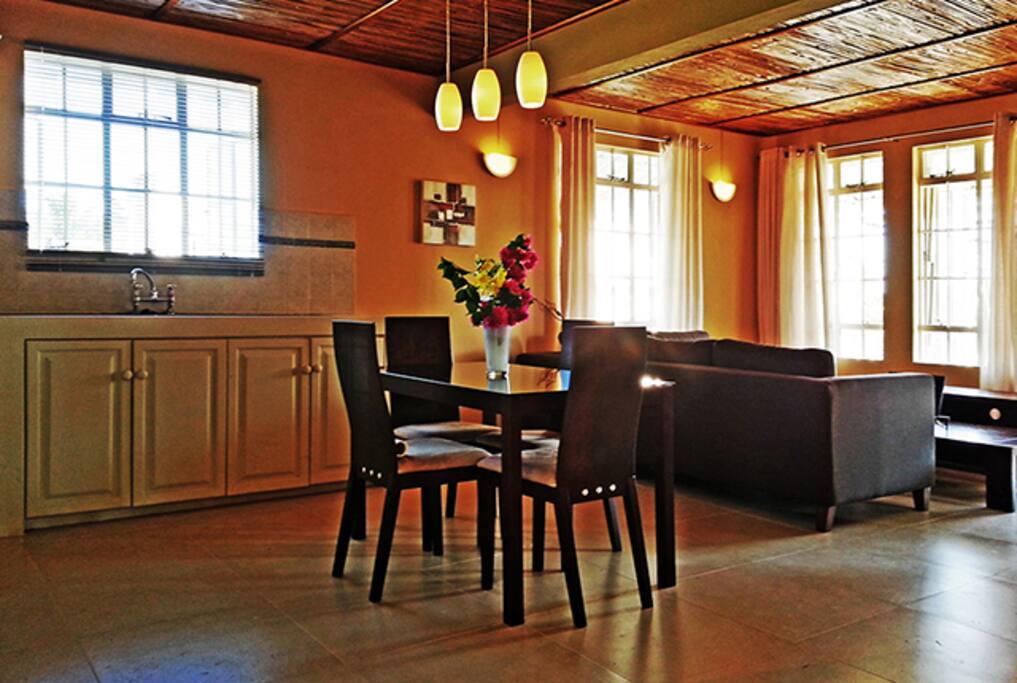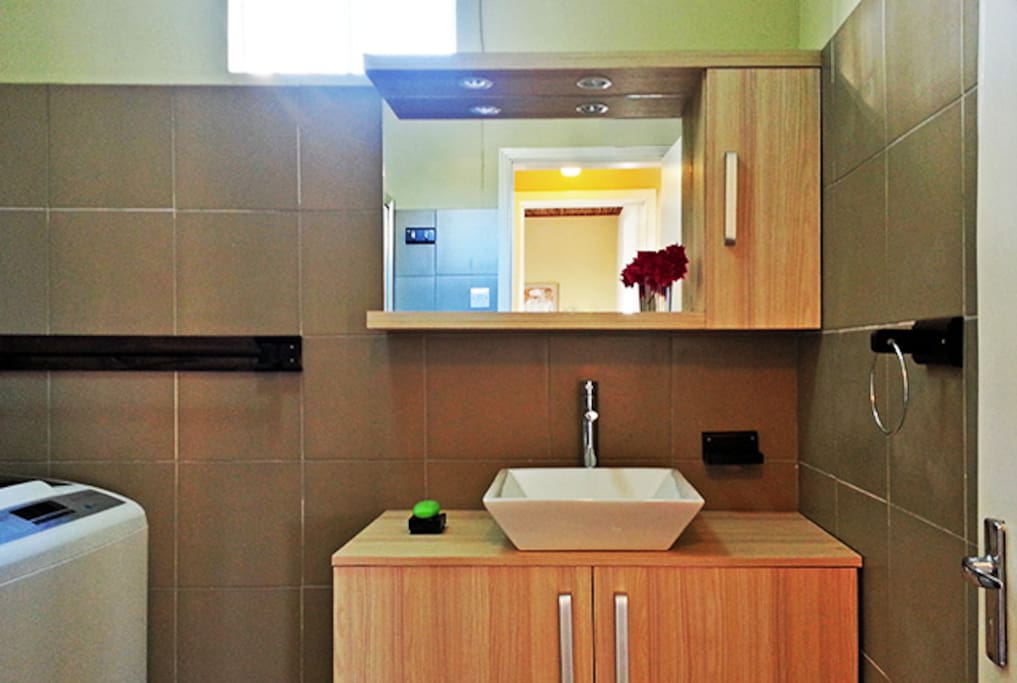 Villa with garden in Grand Baie
Villa with garden in Grand Baie
新装修的房子,在Grand Baie有花园,为那些想要一个家庭的私人经验的人们。一楼设有2间空调卧室,可出租。我们不住在顶层,所以客人可以享受这个安静的财产的隐私。 设备齐全的洗衣机。 大百合海滩约5-7分钟步行。 SuperU(超市)步行约5-7分钟。
Newly renovated house with garden in Grand Baie for those who want the private experience of a home. The Ground floor, with 2 airconditioned bedrooms, is available for rent. We do not live on the top floor, so guests can enjoy the privacy of this quiet property.
Fully equipped with washing machine.
Grand Baie Beach about 5-7 mins walk.
SuperU (supermarket) about 5-7 mins walk.
房源
房子包括2个独立的公寓,一个在一楼,一个在一楼。只有一楼可以出租。 公寓设有2间空调卧室,厨房,带洗衣机的浴室和客厅。 免费无线上网。 酒店提供私人停车场。 酒店可应要求提供一张婴儿床(120厘米x 70厘米)。
The house consists of 2 separate apartments, one on the ground floor and one on the first floor. Only the ground floor is available for rent.
The apartment consists of 2 air-conditioned bedrooms, kitchen, bathroom with washing machine and living room.
Free wireless internet.
Private parking is available.
A baby bed (120cm x 70cm) is available upon request.
房客使用权限
上市是一楼的公寓。公寓设有独立的入口。 客人还可以独家进入酒店后面的私人花园。
Listing is for ground floor apartment. The apartment has a separate entrance.
Guests also have exclusive access to the private garden at the back of the house.
与房客的互动
Limited interaction, we live in another part of the island.
其他注意事项
来自巴黎Fred和家人的提示 ========================= 上下文 入住时间:2015年7月3周 我们在那里有2个孩子(3和7岁 - 主要是我们的旅游"视线" 住宿@ Vijay的地方 非常实用 10号步行去超级U(购物中心):沿Vijay的街道走下去,然后通过足球场右边的右边快捷方式(街对面),带给你几乎在超级U 10'步行到大百合公共海滩 Wifi工作很好(路由器下面的ID代码) 海滩 ====== 这一切都取决于你的口味当然,但这里是我们的最爱(按优先顺序排列): La Cuvette 从Vijay的地方步行很快:25分钟。沿着海滨,经过所有酒店 小海滩 - 但真的很好 - 有一些阴影 漂亮友好的餐厅,海滩上方 甚至一些公厕 大宝公共海滩 因为:靠近Vijay的地方 一个小沙滩(不拥挤),有阴影 并且因为您有BARAQUE A FRITES小餐馆(见餐厅部分) Peyrebere 你需要车去那里(5分钟车程) 但海滩也很好(有阴影) 和餐厅(不是一个面向海滩,而是在你的左边(背上的海洋)是好的 - 良好的服务 - 虽然价格是更多的普通餐馆(约300 RS一顿饭) Mont Choisy 最大,最白的海滩 但没有树荫和没有好的餐厅(除了食品卡车 - 但质量很差) Trou aux Biches 公共海滩很小...但没有阴影 除了低质量的食品卡车之外,没有餐厅 餐馆 (按优先顺序排列) La BaraqueàFrites 在大百合公共海滩上:请求Priscille(女主人 - 她很善良地教我们如何烹饪:酱油啤酒,油炸的scampi和蜂蜜馅饼) 非常实惠(约120 RS每餐),它是非常新鲜,与餐厅质量相同。加上女士厨师非常友好 你可以在凳子上的凳子上吃饭,或者在你的毯子上吃饭,就在海面前面:) 你可以使用隔壁餐厅的厕所 - 如果需要的话。 Rougaille克里奥尔语 晚餐好(晚上) ESP。因为它是如此接近,克里奥尔食物是非常好的/合理的价格 Trip Advisor排名很好(排名:5/117) 快乐的拉贾 对于那些喜欢印度美食的人来说,就在左边,当面对超级U 一般餐厅的价格范围:300 RS /餐 小餐馆在Cuvette海滩上面:可以 - 有限的食物选择,但您可以在la Cuvette前面欣赏美景。 面向大百合公共海滩的餐厅 非常舒适/美观 但一般餐厅的价格范围:300+ - 600 RS /餐 - 游客餐厅 查看 Pamplemousse花园: 参加导游:他们是非常好的 卡萨拉动物园: 从Vijay的房子开了一个很好的1H 但这是值得的孩子 - 我们建议采取驱动器通过(看大猫) - 漂亮的鸟,龟和其他猴子等... 路易港 中央市场:真的很好 Dodo /自然历史博物馆:免费!孩子们看到了Dodo ;-) 海滨是...所以非常旅游 Trou aux Biches: 参观印地文庙是值得的旅行(15'开车) - 并且旅行 - 没有任何官员,但一个人在那里工作将乐意为你做这件事。我们已经留下了一些提示(100 RS) 小步行,旁边的沙滩: 在警察局从公共海滩相反的方向 在Canisse餐厅,有一条小路径,带您到海滩。 你有一个很短的步行(但在日落时很好)直到教堂 - 你可以回去(在那里你也会通过一个药店 - 这可能是方便的) Trou aux Cerfs: 在Cure Pipe旁边:一个非常漂亮的地区,别墅和大使馆 很棒的运动在围栏:你可以去它周围(不允许车) - 你可以停放在您的任何一侧的货架。 实际上我们发现最好的观点实际上是在"一边",而不是在*观光点。 提示 最重要的一个 - 特别是如果你是法国人的话)LOL 你在超级U找到的面包,不会在法国真的分类。 好消息:您有"P&M"(Pains&Moulin),一个真正的Boulangerie,由法国人管理,并提供美味的长棍面包(仅限25 RS),羊角面包,巧克力等)美味mmmh 地址:Chemin 20 Pieds。实际上,从维杰的家,你离开并走到你右边的GBBQ的方向。在GBBQ, 你左转(在Chemin 20馅饼上朝着超级U):500米(在右边),你会发现面包店 - 甚至有一个停车场 3'从Vijay的房子开车 - 15'步行距离(但这是值得的) 超级U:那个地方;-)价格是好的 - 大多数毛里求斯人实际上去大百帝,来到超级U(!) 在天雨的时候:大百岁的公共图书馆(警察局旁边)是一个好地方 - 还包括一些为孩子们的书。 租车: 大多数旅游运营商的1000 RS /天(而Europcar将收取2500 RS /天) - 我知道Vijay得到了800 RS,但他不是像我这样的"Blanche Neige";-) 注意:自动车的收费是200 RS。并且最少为2天(同样的规则适用于所有旅游运营商) (SENSITIVE CONTENTS HIDDEN) ? 不要去在梳妆台(Coiff'Emoi)和Coton des Iles之间的那个:它很便宜,但业主(Jean)不是专业而不可靠 相反,我们喜欢MonaLysa:他们是值得信赖的。 但你必须驾驶LEFT - 我个人*讨厌* 在积极的一面:气体便宜:5升是约230 RS。 也不需要租用GPS:(SENSITIVE CONTENTS HIDDEN)地图及其导航模式在毛里求斯工作得很好! (毛里求斯玻璃画廊除外,我们从未发现:) 巴士(三重奏):非常方便: 频率很好,虽然时间表是不可能预测的:-) 便宜:每人约30 RS 快:35分钟到路易港口中心 机场城市转机:在毛里求斯国际机场和Grand Baie之间,我们使用AirPortCityTransfer,并对此感到满意。 我们是4名(2名成人+2名儿童),来回支付94欧元(3800卢比)。 在前往大百帝的路上,我们有一辆"小巴",司机正在机场等待我们,在一个标志牌。 当我们支付4K卢比,他没有改变=>他们确实给了我们我们的200卢比,在回到机场的路上。 由于他们没有提供任何可用的"小巴",而是为我们准备了2辆普通车。非常专业 如果你有一些小硬币(Rupies) - 其中几个你可以在地上找到,在海滩上!对于孩子们,我们使用他们在几个街头商店购买一些有趣的当地糖果,其中大多数都在1到3 RS之间。
Tips from Fred & family from Paris
=========================
Context
Stay : 3 weeks in July 2015
We were there with 2 kids (3 and 7 yrs old - which drove mainly our touristic "sight seeing"
Lodging @ Vijay's place
Very practical :
10' walk to go to Super U (Mall) : going down Vijay's house street, then shortcut to your right (street going in diagonale) passing by the soccer field, brings you almost in front of Super U
10' walk to Grand Baie Public beach
Wifi works great (ID Code underneath the router)
Beaches
======
It all depends on your tastes of course, but here are our favorites (ranked by order of preference):
La Cuvette
Nice walk from Vijay's place : 25min. along the seafront, passing by all the hotels
small beach - but really nice - with some shades
nice, friendly restaurant, above the beach
even some public toilets
Grand Baie Public Beach
Because : close to Vijay's place
a small beach (not crowded) with shades
AND because you have the BARAQUE A FRITES small restaurant (see Restaurant section)
Peyrebere
you need the car to get there (5 min by car)
but the beach is also nice and small (with shades)
and the restaurant (not the one facing the beach… but to your left (with the sea in your back) is good - good service as well - though prices are more of regular restaurants (ca 300 RS for a meal)
Mont Choisy
Largest, whitest beach
but no shade and no good restaurants (apart from the food trucks - but low quality)
Trou aux Biches
public beach is small … but no shade
and no restaurant apart from low quality food truck
Restaurants
(ranked by our order of preference)
La Baraque à Frites
Right on the Grand Baie Public Beach : ask for Priscille (the lady owner - she was kind enough to teach us how to cook : sauce beurre d'ail, fried scampi and beignets de poulets)
Very affordable (ca. 120 RS per meal) and it's very fresh, same quality as in a restaurant. Plus the lady chef is very friendly
and you get to eat either on stool on benches or … on your blanket, right in front of the sea :)
and you get to use the toilets from the restaurant next door - if need be.
Rougaille Creole
Great for a dinner (at night)
Esp. because it's so close and creole food is very good / reasonnable price
Very good ranking at Trip Advisor (ranking : 5/117)
Happy Rajah
For those who like indian food : it's on the left, when facing the Super U
Prices range of a regular restaurant : 300 RS / meal
Small restaurant atop the Cuvette beach : is OK - Limited selection of food, but you have a great view in front of la Cuvette.
Restaurant facing the Grand Baie Public Beach
Very comfortable / nice view
But Prices range of a regular restaurant : 300+ - 600 RS / meal - Restaurant for Tourists
SIGHT SEEINGs
Pamplemousse Garden :
MANDATORY to take a guided tour : they are very good
Casela Zoo Park :
A good 1H by car from Vijay's house
but it's worth it with kids - we recommend to take the Drive Thru (to see the Big Cats) - nice birds, tortoises, and other monkeys etc…
Port Louis :
Central market : really nice
Dodo / Natural historical Museum : it's FREE ! And the children got to see the Dodo ;-)
Waterfront is … so so - very touristy
Trou aux Biches :
Visiting the Hindi Temple is worth the trip (15' by car) - And pls take a tour - there isn't any official, but one the men working there will gladly do it for you. And we've left some tips (100 RS)
small walk, alongside the beach :
at Police Station going opposite direction from the Public beach
at Canisse restaurant, there is a small path bringing you to the beach.
you have a very short walk (but nice at sunset) up to the church - and you can go back (there you'll also pass by a Pharmacy - which might be handy)
Trou aux Cerfs :
Next to Cure Pipe : a very nice area with villas and embassies
Nice walk around the cratere : you can go all around it (no car allowed) - you can park yours either side of the cratere.
We found the best view were actually on the "side" and not at *the* sight seeing point, actually.
Tips
THE MOST IMPORTANT ONE - especially if you're French ;) LOL
Breads that you find in the Super U, would not … really classify as such, in France.
Great news : you have the "P&M" (Pains & Moulin), a true Boulangerie, managed by French people, and serving delicious Baguettes (25 RS only !), croissants, chouquettes etc) Delicious mmmh
Address : Chemin 20 Pieds. Actually, from Vijay's house, you leave and go to your right in direction of GBBQ. At GBBQ, you turn left (on Chemin 20 pieds) in the direction of Super U) : 500m (on your right) you'll find the bakery - there's even a parking lot
3' by car from Vijay's house - 15' walking distance (but that's worth it)
SUPER U : THE place ;-) Price is good - most mauritians do actually travel to Grand Baie, to come to Super U (!)
In case of Rainy days : the public library (next to the Police Station) of Grand Baie is a good place - also includes some books for the kids.
Renting a car :
1000 RS / Day at most of the tour operators (whereas Europcar would charge for 2500 RS/day) - I know Vijay got it for 800 RS, but he's not a "Blanche Neige" like me … ;-)
Note : they kind of charge 200 RS extra for automatic cars. and it's for 2days minimum (same rules apply to all tour operators)
Where to ?
Do NOT go to the one in between Hair Dresser (Coiff' Emoi) and Coton des Iles : it's cheap but the owner (Jean) is not professional and not reliable
Instead : we liked MonaLysa : they are Trustworthy.
but you'll have to drive on the LEFT - which I personally *hated*
on the positive side : gas is cheap : 5 liters is ca 230 RS.
No need to rent a GPS either : (SENSITIVE CONTENTS HIDDEN) Maps and its navigation mode work really well in Mauritius ! (except for the Mauritius Glass Gallery, which we never found :)
Buses (Triolet) : are very handy :
good frequency, although time table is impossible to forecast :-)
cheap : ca 30 RS per person
fast : 35 min to go to Port Louis center for example
Airport City Transfer : between Mauritius Int'l airport and Grand Baie, we used the AirPortCityTransfer and were happy with it.
We were 4 (2 adults + 2 kids) and paid 94 Euros (3800 Rupies) back and forth.
On the way to Grand Baie, we had a "mini bus" and the driver was waiting for us, at the airport with a Sign.
As we paid 4K Rupies and he did not have the change => They indeed gave back to us our 200 Rupies, on the way back to the airport.
As they did not have any available "mini bus" on the was back, they instead had 2 regular cars ready for us. very professional.
If you have some small coins (Rupies) - several of them you can find on the ground, on the beach even ! : for the kids we used them to buy some funny local candies, at several street shops : most of them ranging from 1 to 3 RS, each.
---
---
---
始终通过爱彼迎进行交流
为了保护您的账号隐私和付款安全,请不要相信其它任何平台的折扣或优惠券代订,并始终在爱彼迎站内转账和交流。
了解更多
---
---
---
---