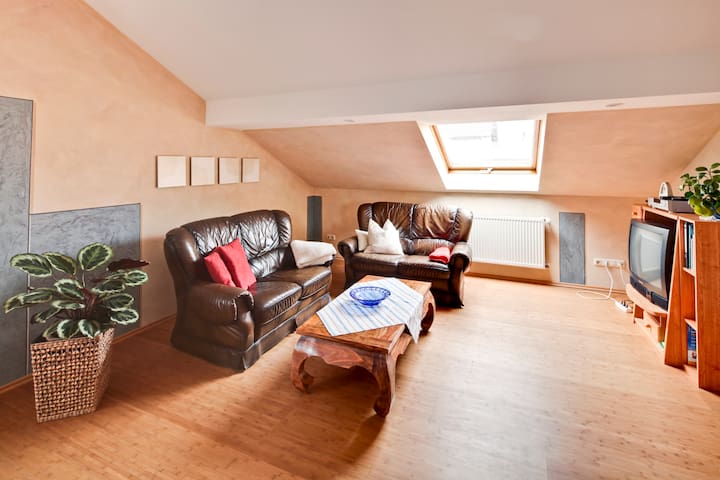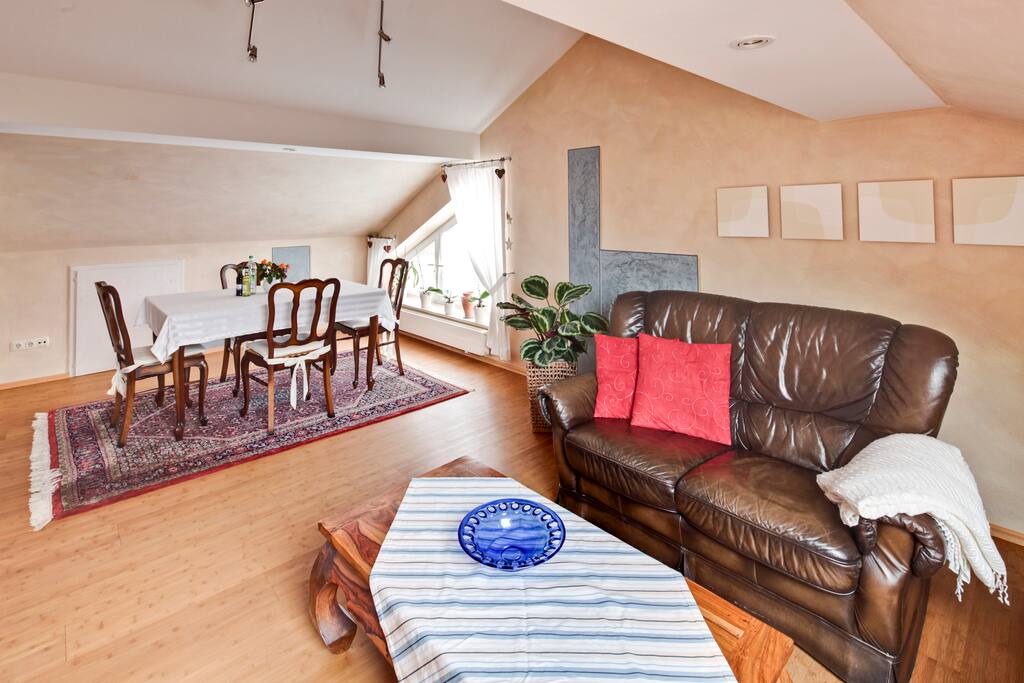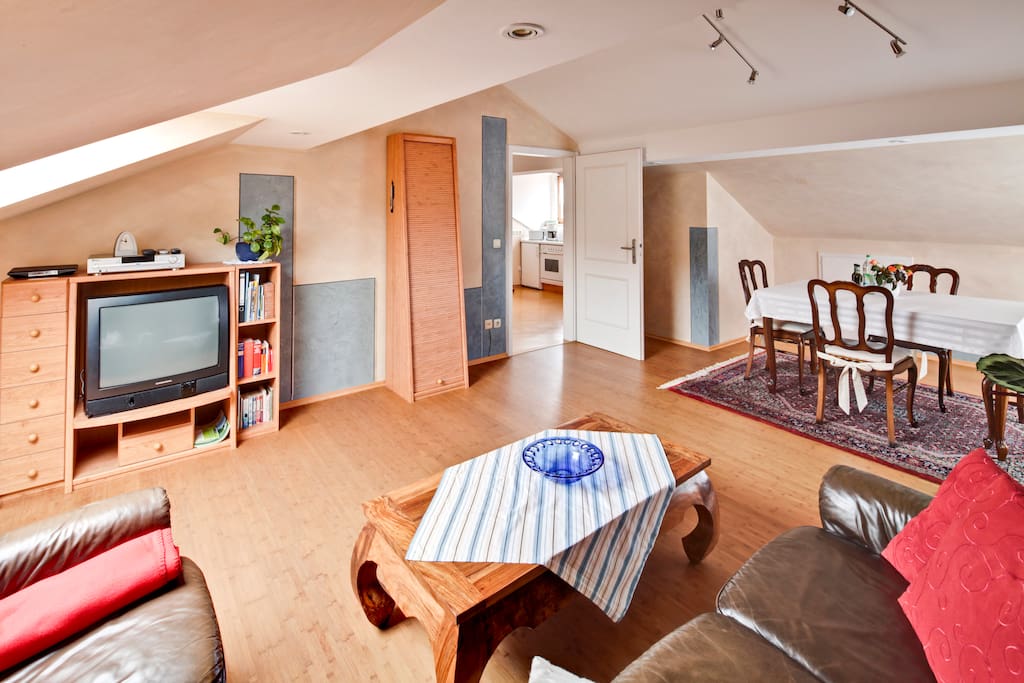 Sunny-Cosy-Calm close to Munich
房源
Beautiful bright and quiet apartment with modern furniture.

Our 80 sqm Non smoking apartment offers up to 4 people, a comfortable home.

The sophisticated flat is equipped with:
A cozy living-dining room, 30 square meters of bamboo flooring, dining table, couch, satellite TV and DVD Player. With parquet in the living room and carpet in the bedroom, all other rooms equipped with cork.

Large bedroom with closet, sitting area and a double bed 180 cm x 200 cm
Separate bedroom with two single beds each 90 cm x 200 cm
Fully equipped kitchen with dishwasher, microwave, toaster, etc.
Modern bathroom with bathtub

We offer our guests a breakfast terrace and a spot in the garden to sit and relax
All our rooms are colourful and harmonious

Shops and restaurants within walking distance. By car you will get to Munich or to the fair in about 40 minutes.
The distance to Cathedral city Freising is down to about 10km and the distance to the Alps (Garmisch,Tegernsee,Kitzbühl) might be around 80-120 km
No laundry in town.
Landlord speaks also English.
Bed linen and towels are provided.
---
By Mark Steven Doss and Dawn Rivard of Toronto, Canada – Period from Dec. 23, 2012 to Jan. 4, 2013. 1) Our hosts Edith and Toni were amazingly accommodating. 2) The lodging itself is in Wolfersdorf (21.5 kilometers or 13.5 miles from the Munich Airport) and only about 10 to 15 minutes by car to the nearby town of Freising, where it was possible to easily take the train into Munich (about a 30 minute trip). Renting a car was necessary as Wolfersdorf is a bit too far from the Munich Airport and Freising to make the situation workable. 3) Our hosts lent us their GPS unit, which was indispensible for just about all of our travels in the area. 4) The flat itself was incredibly spacious for a 3rd floor dwelling, with two very nice bedrooms (the 2nd room was used most of the time by our nephew, Dustin) and a very large sitting room. The kitchen was large and fully equipped and even had a dishwasher. The bathroom was complete with a tub, and showerhead contained therein. 5) We would have liked to have had wireless internet service. If we were to go back we would request it, even if we had to pay extra since the Internet sticks don't work extremely well and the flat itself was reasonably priced. 6) We were served breakfast the following morning of our arrival and were given many wonderful treats after that on a regular basis. These amenities were all very well appreciated, especially since we were spending Christmas and New Years' away from home. 7) We received a wonder gift of a bottle of Prosecco on New Years' Eve and upon our departure Toni was very thoughtful to make sure we made it to the highway and off to the airport safely. 8) For the 12 nights we spent in the flat it would have been nice to have had a washing machine for clothes, but for someone staying for only half that time it would probably not be important. 9) In walking around we found that the people in the town were very friendly, and we even attended a church service, after which Toni was nice enough to give us a tour. 10) Being away from all the crowds in Munich but still able to easily get into Munich to enjoy the sights made the lodging situation ideal, and again the price was extremely reasonable so we will definitely consider staying there again in the future.
---
Ho soggiornato nell'appartamento all'ultimo piano della casa di Edith per una settimana e sono stata davvero bene. Appartamento arredato bene con ampi spazi e pulito. Edith ci ha cambiato gli asciugamani e fatto le pulizie ogni giorno. La casa si trova in un piccolo paese di campagna a circa 60 km da Monaco che senza traffico e' raggiungibile in soli 30 minuti. Avrei voluto godermi di più la casa perché c'era davvero una gran pace e silenzio, purtroppo trovandomi qui per lavoro non è stato possibile. Sarà per la prossima. Lo consiglio a tutti Edith e suo marito sono davvero due persone gentili e sempre pronte ad accogliere ogni esigenza.
---