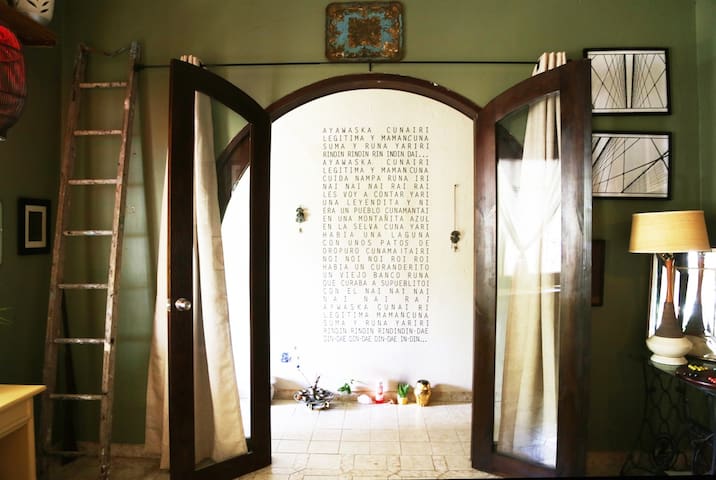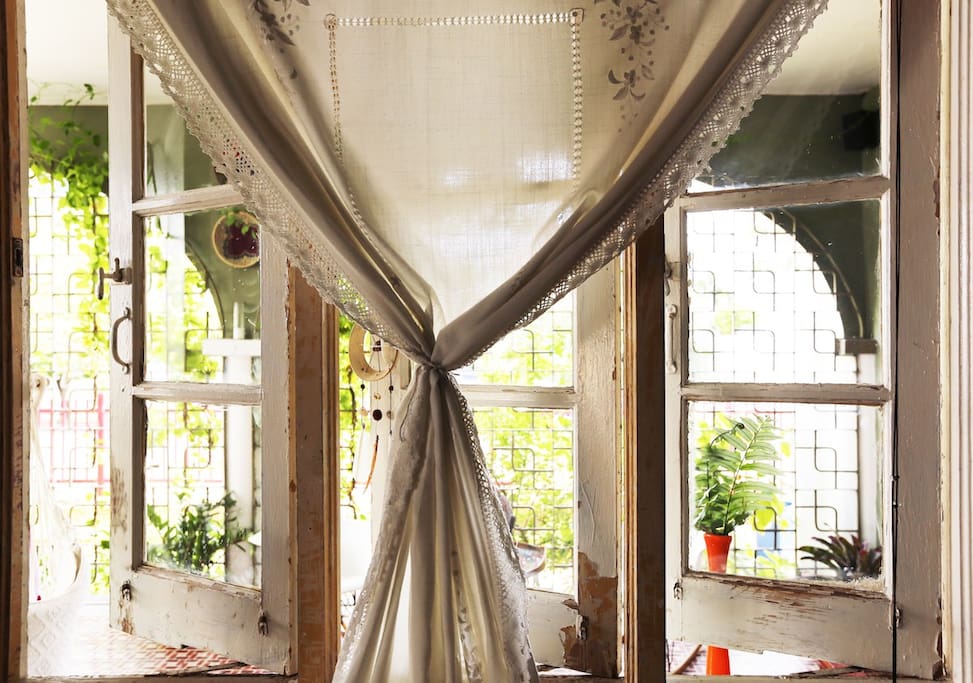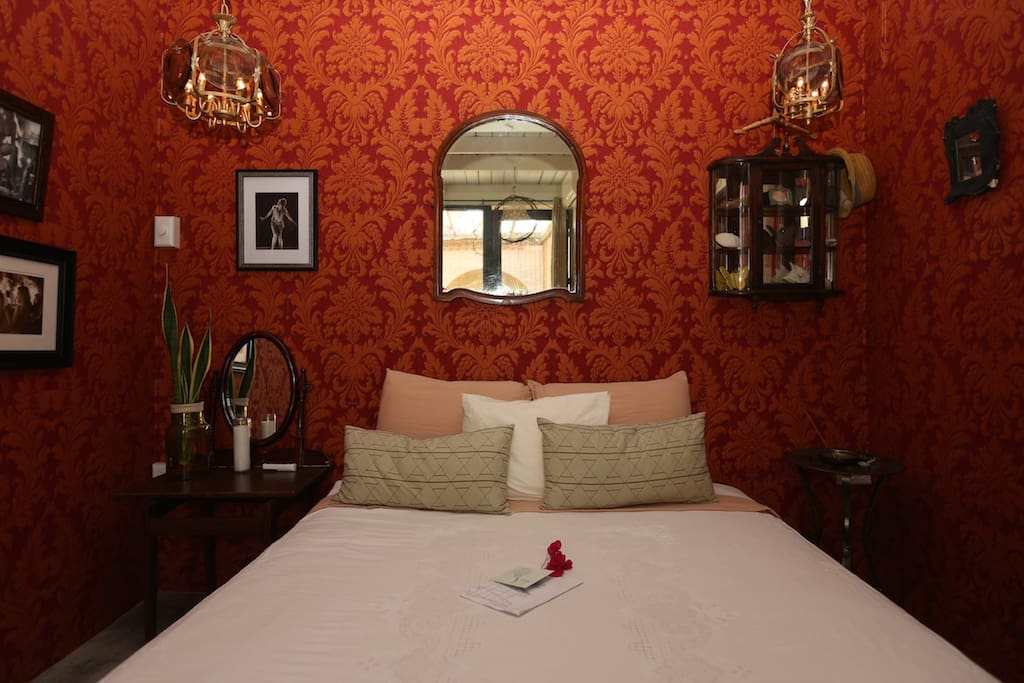 Puerto Rico's only Vegetarian Bed & Breakfast is located right by the Beach. Guests may sign up for daily Yoga Classes, take part in Exclusive Tours, enjoy an award-winning Brunch or cook their own meals in Communal Kitchens. All rooms have A/C.
房源细节
CATEGORY YOGI
sleeps 2 | shares bathroom with two rooms
Rooms in this category are extra large, have a queen-size bed and come with either a hanging chair. The full indoor bathroom is shared with only two other room. The rooms are equipped with A/C, cotton sheets, soap, bath and beach towels, iron, and a blow dryer. There is also a Dreamcatcher to protect your sleep and entice sweet dreams.
We have four rooms in this category and each one is decorated individually in a special theme. While the decor in each room is unique, the amenities are the same.
THE HOUSE
The Dreamcatcher is a gorgeous and intimate guest house located just two blocks from the beach in Ocean Park, 10 minutes away from the historical Old San Juan and the airport.
It is thoughtfully decorated with mostly vintage furniture and collectibles. The house holds beauty and memories alike, every corner tells a story. The Dreamcatcher is a true oasis with many areas to find privacy as well as to come together with other guests and friends.
BREAKFAST
We offer daily vegetarian breakfast and brunch starting at $11.
YOGA
We offer Yoga Under the Stars nightly and Morning Beach Yoga for $12 pp.
MASSAGES
Our therapists offer Swedish, Deep Tissue, and Thai massages starting at $85/hour.
GUIDED TOURS
Guests can join our exclusive daily tours offered by our local tour guides. Destinations include El Yunque Rainforest, Gilligan's Island, the Caves, and more. All tours have a two person minimum and must be scheduled at least 24 hours in advanced.
SALSA
On Thursdays, we hold our Salsa event including a sangria cocktail hour, a salsa lesson, and live music for $35 pp.
LAUNDRY
We would be happy to do your laundry for $12/load.
房客使用权限
The common areas consist of a dining area, lounging areas with rocking chairs and hammocks, a sun deck, a spacious living room that opens to the garden, and two fully equipped communal kitchens. The garden is protected by dozens of Buddhas, who quietly sit among the fruit trees, fountains, and in between the flowers.
与房客的互动
Between 8am-11pm, we will be at the front desk to assist guests with all of your questions and concerns.
CHECK-IN & CHECK-OUT
Our regular check-in time is between 2pm and 10pm. You may, however, arrive as early as 8am and use our common areas or head to the beach while we watch your bags. Should you need to check in after 10pm, we ask you to let us know beforehand. There will be a late check-in fee of $25. Check-out is at noon.
At check-in, we will ask you to provide a credit card information (number and expiration date). It is a mere precaution and there will be NO charge to nor hold on your card. Upon check-out, you may to choose to pay your outstanding balance (if any) with any credit card, cash, or a combination of both.
KEYS
We will provide you with keys to your room and to the house upon check-in. It is your responsibility to return the keys when you check out. Should you lose them or forget to to return them when you check out, there will be a key fee of $30.
QUIET HOURS 10 PM - 8 AM
We pride ourselves on being a quiet and relaxing retreat. During quiet hours, communal kitchens are closed and we do not allow noisy gatherings or loud music.
COMMUNAL KITCHENS
While the Dreamcatcher is the only vegetarian guest house in Puerto Rico, we keep our communal kitchens pescatarian. This means that seafood is permitted. We do, however, strictly prohibit the preparation of red meat and chicken.
Please be considerate of other guests and wash the dishes you used. We provide tea, coffee, oils & spices, as well as assigned shelves in the fridges for you to store your groceries.
THE DOGS
Sometimes, Pippa and Malda, two very well-behaved golden retrievers, will be at the house. They love people and they want to love you and be loved in return. We understand that not everyone is comfortable with dogs, so please let us know, if you do not want them to approach you.
We ask you not to feed them as this promotes unwanted behavior and may, in certain cases, even be harmful to Pippa and Malda.
SAND
Being located close to the beach, sand is one of our main challenges. We ask you to shake the sand off your beach towels before entering the house. At the main entrance, there is also a shower for you to remove the sand from your feet.
BOOKS
The books at the Dreamcatcher are for everyone to enjoy, but please do not take them with you. Some of these books have been in our family for years and are precious memories. If there is one particular book you really like, please talk to Sylvia regarding a possible Book Exchange.
This place was phenomenal! It was beautiful and so tranquil with great vibes. The location is wonderful and steps away from the beach. Checking in and out was very easy and the staff and other guests were amazing too. I am still in awe over this place and how great it was. I will definitely be recommending this place to everyone I know traveling to San Juan and we will be coming back! 10/10
---
Dear Traveler, stay here. Just do it. It was tucked away in a gated community, which I sort of wondered about as gated communities in Florida are zero lot line cookie cutter houses, but this neighborhood WAS NOT like that. Beautiful and unique houses! The Dreamcatcher itself was a dream... checked in at night and the lanterns and candles lit the place up like a magical tropical retreat. Check-in was a breeze. The place is a block from a quiet beach that affords you views of the city. Breakfast at the kitchen was DELICIOUS. Nom nom. We also walked to dinner at a great little place nearby and saw lots of other cute places to eat or drink at. The sound of the coqui and the breeze on the walk just added to the magic. S&S have created an oasis that I will dream about in my twilight years, I'm sure. Every corner, every wall, every thing is artfully thought of! Dreaming of a destination wedding here now with family and friends getting to experience this place with us. The only bad thing is that we only stayed one night. We went into mountains for two nights but our advice would be to stay here and day trip into the mountains and other towns. The mountain roads are treacherous and take FOREVER to get anywhere on.... (50 minutes for 16 miles, IF your gps is kind and doesn't send you down a private 4-wheel drive necessary road!)
---
The dream catcher was perfect for a working holiday. I spent 6 days,4 of them working at least 4hrs a day and this guest house was perfectly quiet and had great internet for streaming calls. The beach is only 2 blocks away and the chefs food was pretty amazing. I would most definitely come here again. Also the decor is so nice I wish I could take everything home for my house.
---
My name is Stephan, born and raised in Germany I moved to NYC in 2008 where I started a career in residential real estate. Not long after that I discovered my true passion: creating and curing spaces. In 2012 I founded my own interior design company but it didn't take long and I fell in love again.. this time with Puerto Rico. Finally I moved to the island in 2013. Together with Sylvia, I built this place called "The Dreamcatcher", a childhood dream come true.

A Message from Sylvia:
One of the most important things that I have learned from my mother and grandmother was the importance of creating a special place for yourself, your family and friends. A home that holds beauty and memories, a space that it is alive. Have every corner tell a story and decorate it with little reminders of where you come from. Make it a home that provides a sanctuary for the special people in your life.

The first time I had my own place I realized how important it was for me to create a little oasis. I still have books, drapes and furniture from my small house in Sarasota, where I went to school at the time. I must have had 25 more places after that and each one of them was like an empty canvas to rearrange my memories with objects I had collected over time.

After 15 years away, life looped me back home to Puerto Rico. I reconnected with the wisdom and love of my grandmother and not to forget all her simple yet beautiful vintage furniture, which now serve as comfort and decoration at the Dreamcatcher.

This is our home, and while you are here, yours as well….
Sylvia
语言:
Deutsch、English、Español、Português