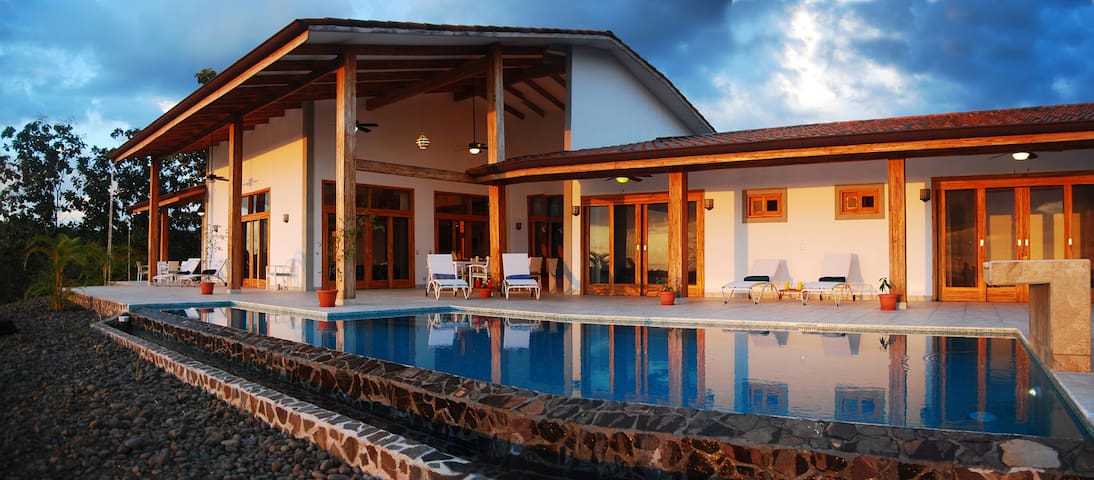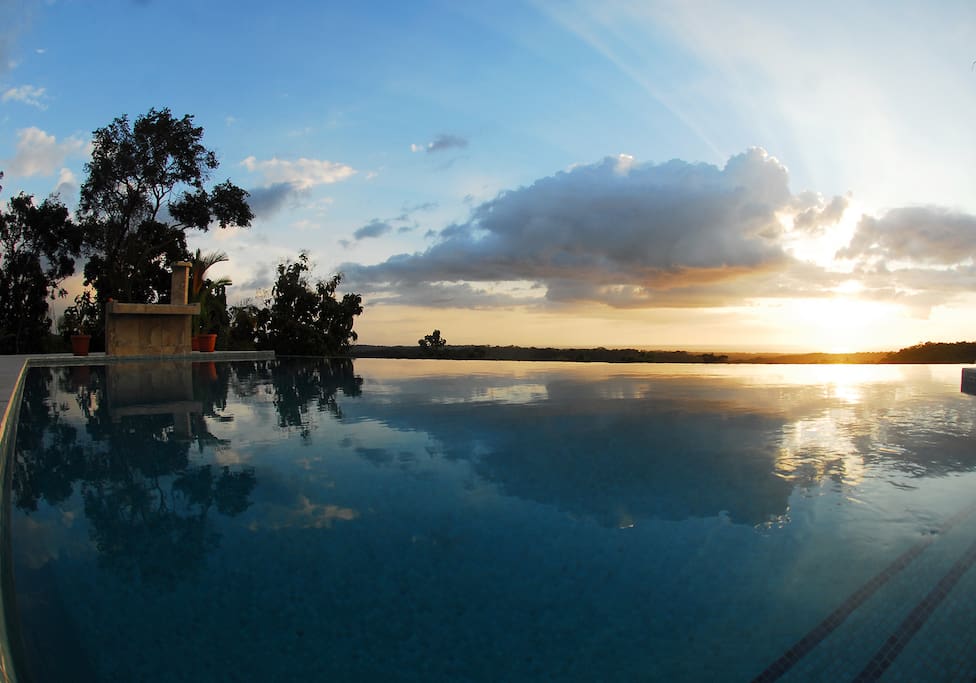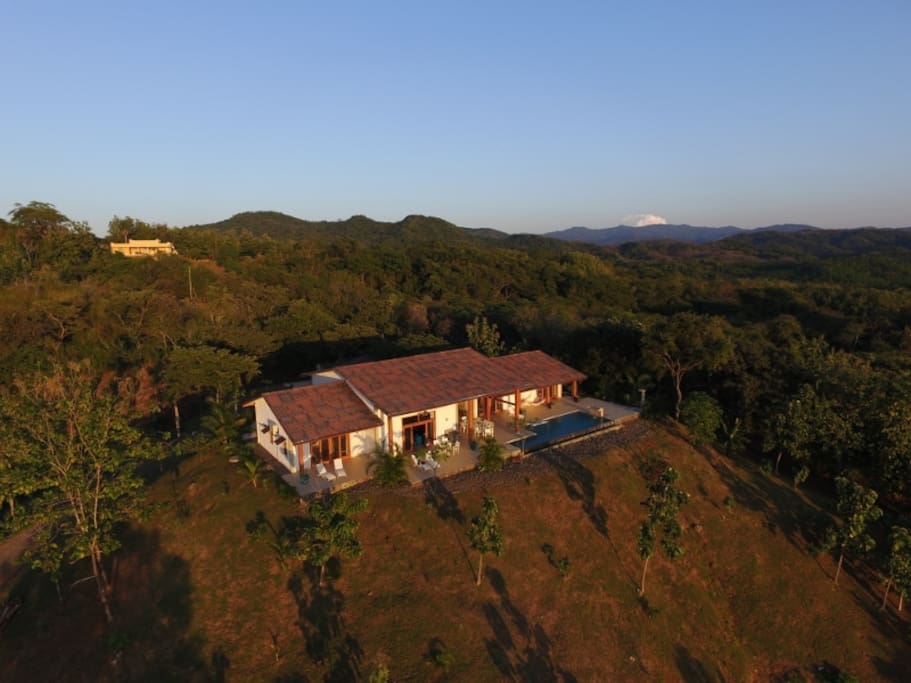 Private & Exclusive. Off the road less travelled. Pristine Jungle Forest.
房源
Did you ever wish you could push the pause button on your life? To take time to catch your breath, take in your surroundings, stop racing through every moment!
From the time you arrive at Hacienda Isabella, you can take comfort in knowing you can genuinely adopt the pace of nature.
Your alarm becomes the warm embrace of the sun rising and the sounds of the monkeys calling and chattering to one another. You enjoy your breakfast on the terrace in the company of breathtaking panoramic views of the jungle and Pacific Ocean. You feel as if you could be the only person on the planet with unobstructed views reaching out to the horizon.
You may spend your days savoring the serenity of Isabella or may decide to venture out to discover more Costa Rican adventures, from Canopy tours or horseback riding in the wild, to surfing or relaxing on the beach.
Your evening ends admiring the captivating sunsets that never cease to amaze.
Before you head indoors, peak up and witness the most incredible blanket of stars in a jet black sky. And by now you truly understand the meaning of 'Pura Vida'.
'Two roads diverged in a wood, and I took the one less travelled by, and that has made all the difference' - Robert Frost
房客使用权限
- Daily Maid Service (rate inclusive)
- Private Pool
- Personal Computer
- Modern Appliances
- Private Hiking
与房客的互动
Interaction with guests depends on the guest's preference. We can be as available or unavailable as requested. We are on-call if guests need assistance or feedback about Costa Rica & local surroundings.
其他注意事项
When making your flight reservations note: The closest Airport is Liberia International. Only a 1hr drive, compared to San Jose International's 4.5 hr drive.
---
Perfect for families. With so many sleeping arrangements this place could handle 6 adults and 4 kids. Lounging inside and out was great, views were outstanding. Keep in mind that if you are traveling during dry season the main area of the house is not air conditioned, so it took our group a few days to acclimate to the temps. All the sleeping quarters have A/C. Getting there is an adventure, but once you arrive, you are really remote. Which, for us, was a good thing.
---
Our stay at Hacienda Isabella was carefree from start to finish. Fabrice and Miho both speak perfect English, and reply promptly to all communications. They live adjacent to the house, and will resolve any difficulty immediately. Worried our late arrival New Year's Eve would cause problems with grocery stores closing, Miho purchased basic groceries for us and we reimbursed her. Directions provided to the home are precise, though we would recommend bringing along a GPS (either via cellphone arrangement or rental car company). A 4-wheel drive vehicle to access the house is a must. And for 4-wheel drive novices, we'd recommend a short demonstration at the rental company. You'll receive helpful recommendations of nearby things to do. The view from the house is spectacular, and will entice you to stay put for a couple of days without venturing out. An absolute must of a side trip, though, is Lola's on the beach at Playa Avellana. We went twice. You'll need to get used to most anything being about a 30-minute drive away. But the view is worth it. There are usually 2 means of accessing any destination - dirt roads and mostly secondary roads. Dirt roads are pretty bumpy and dusty. Paved, secondary roads may take you just a little longer. The JW Marriott wanted $100/person for day passes during high season to sit around their pool and order food/drinks!! Rather than purchase 4 day passes, I simply used Marriott points to rent a room, make charges to the room and receive some 7,000 pts (including use of my Marriott credit card). We had no intention of sleeping there. We felt as though we made new friends in Fabrice and Miho. Though we had several of our party back out at the last minute, it was still well worth what we paid for the house.
---
Hacienda Isabella is special place. Tucked into what feels like the middle of a nature preserve overlooking the Pacific Ocean is a very clean, spacious and modern house. You literally can't see another house in any direction and it feels as if you have hundreds of acres all to yourself! Yet despite the feeling of remoteness you are within 15 minutes of some fantastic beaches and some decent restaurants. Miho and Fabrice were very welcoming upon our arrival and were staying in the casita in front of the house. They were there when you needed them, but otherwise out of sight. In my view, the perfect balance. We were a family of 8 including 2 seniors and 4 children (3,5,8 and 10 yrs old). We had plenty of personal space but spent much our time near the pool while we were at the house. Although we didn't get to see any monkeys we heard them throughout our stay. The bathrooms and the kitchen were very well appointed. Daily maid service kept the house impeccably clean, even with all of the kids. I would highly recommend Hacienda Isabella for almost any group that is looking to get off the beaten path a little bit away from the crowds in nearby Tamarindo. Thanks Fabrice and Miho for a wonderful stay!
---
Incredible! The house is just gorgeous and Fabrice and his wife were both such attentive and gracious hosts. The house was perfectly remote, creating an amazingly tranquil and serene environment but only about 20-30 minutes away from incredible beaches, restaurants and more. I also have to mention that there is an incredible babysitter who lives just down the street who was just simply amazing with our children and became a good friend to us. Overall I'm not sure I could recommend this experience enough.
---
We spent Christmas in this spectacular villa with beautiful pool. We were seven but it can easily sleep ten to twelve people. Has wonderful views and is super peaceful. We would get up early mornings and watch the sun rise and listen to the monkey calls. Only things to note are that it is a 20 min drive to the nearest beach, Playa Junquillal -- though what a beautiful beach it is -- and there are lots of creepy crawlies due to the forest setting. If you're looking to get away from everything, this is the place. Fabrice is an excellent host - happy to make recommendations and tell you about the area and quick to resolve any issues. Overall we loved it.
---
What a place this is !! Fabrice was the perfect host, welcoming and available whenever we needed something. Apart from the house itself, the location is a wonder. We have been coming to Costa Rica for 20 years and this place is the one where we experienced the best the country has to offer. If silence and space are the true modern luxury then Hacienda Isabella is the ultimate luxury get away. One has to experience the view while seating by the pool or swimming in it and listen to the jungle.That can't be described! The house itself offers everything we could ask for from modern comfort to large open space and privacy. It is a great family vacation place that is hard to get out of! Our 2 daughters, 10 & 3 years old would have a hard time leaving the pool or not watching the monkeys playing in the trees. Once out of the house, some breathtaking beaches offering great waves or swimming conditions are within a 10 minute drive. Several good restaurants and plenty activities are available in the area which makes the whole experience perfect. Just ask Fabrice and Milo what is their suggestion of the day, they know the area like the back of their hands. Can't wait to be back!
---
Bonjour! My name is Fabrice Beaux. Originally from France, I have been touring world wide as a pro windsurfer for the last 20 years & have finally settled down in Costa Rica. I want to share what I believe to be a one of a kind dwelling place & Nature's true Luxery. I look forward to accommodating you at my Villa.
语言:
English、Español、Français、日本語