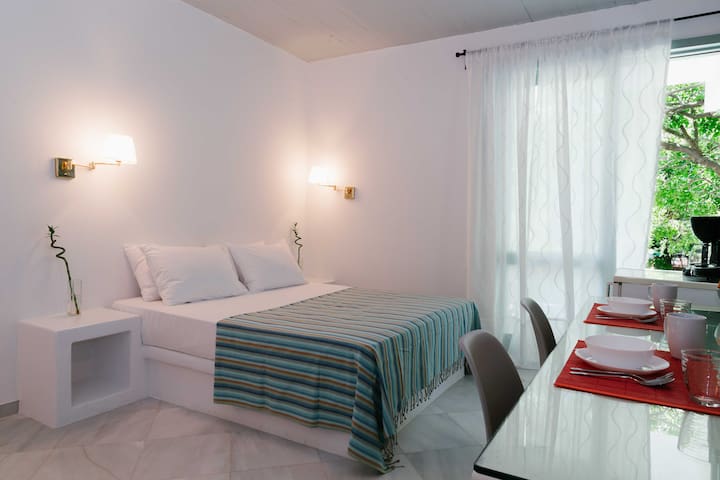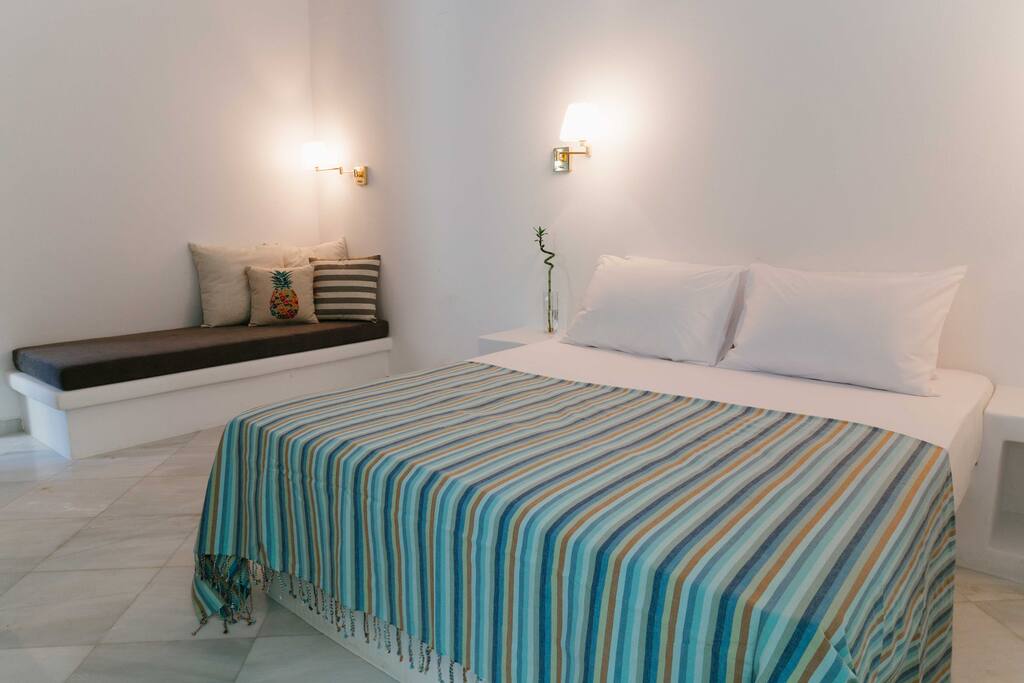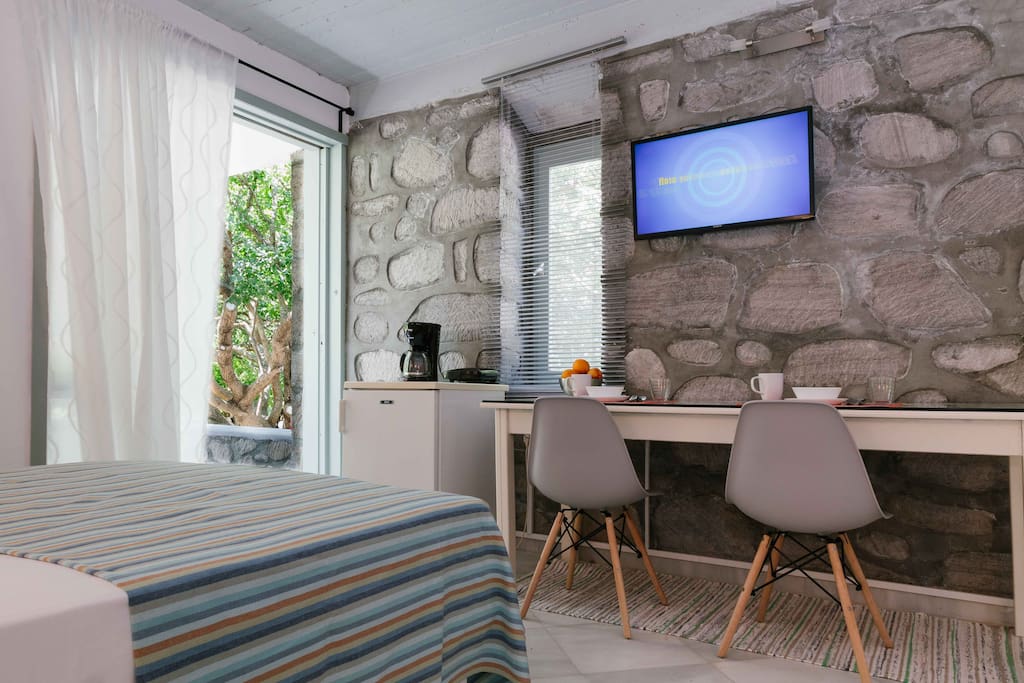 The room is centrally located, 5 minutes walk from the port. The accommodation is in a quite area within a blooming garden. There is a supermarket and bakery across the street as well as an ATM and bus & taxi station 150m away.
We had an amazing stay at Theodora's place. The room was clean and spacious, had a fridge, a toster, a coffeemaker and basic cutterly and dishes. Also, we had a big balcony with a clothing rack, good to dry bikinis after a day at the beach. The room was cleaned daily and it was easy to park near by. The apartment is a 5 minute walk to adamas port and close to markets and bakeries. Theodora was a great host, readily available and she gave us great tips on where to go. We loved it!
---
Sin lugar a dudas, el departamento de Theodora es el mejor lugar para visitar Milos. La ubicación es perfecta, el departamento es mejor que lo que se ve en las fotos, y el patio a la sombra de un gran árbol, es el oasis ideal para esta soleada isla. Theodora es una super host que estará atenta a todo lo que necesites. Si todavía no te decidiste reservá ya, no te vas a arrepentir.
---
I'll start with the obligatory cliché; I don't normally write reviews, but in the case of this stay, I just had to. We had an amazing visit with Theodora in Milos at the start of September. So much so, we decided to remain an additional day. We were only in Greece for a fortnight, but she rightly convinced us that just 2 days on this beautiful island was simply not enough. We even came close to staying for a fourth day, if it were not for the strict schedule we had for the rest of our holiday. With her help and advice, I have no doubt we could have enjoyed at least a week there. Let's start with the room; spotlessly clean, tastefully redecorated and located only a minute's walk from the harbour, yet surrounded by a peaceful garden. There's a lovely terrace where you can watch the kittens play under the pomegranate trees. It was secure, well maintained with great air conditioning and shower. But the real star of the show here is Theodora herself. She went out of her way, above and beyond anything you would normally expect, to make sure we made the most of our time in Milos. Her restaurant recommendations were spot on, leading to some of the best meals I have had in Greece (Oh! Chamos is an amazing place to eat). She pointed us to the best beaches and places to visit, even going as far as creating a rough itinerary for every day of our stay. She also dropped by as we sat on the terrace to check how are day went and to scribble new ideas on our well used maps. From fresh fish lunches to the perfect place to watch glorious sunsets, we really felt like we had seen the very best of this island, and all thanks to our gracious host, Theodora. You'll love this place. Book it now.
---