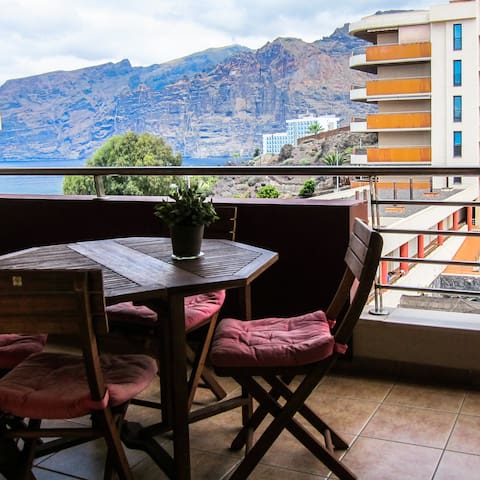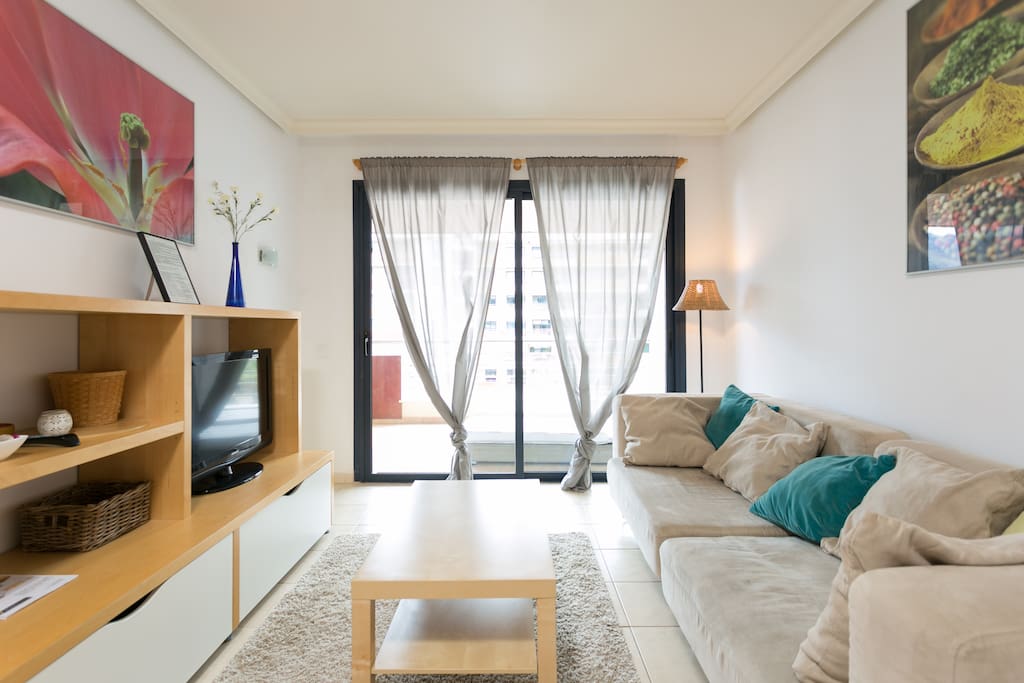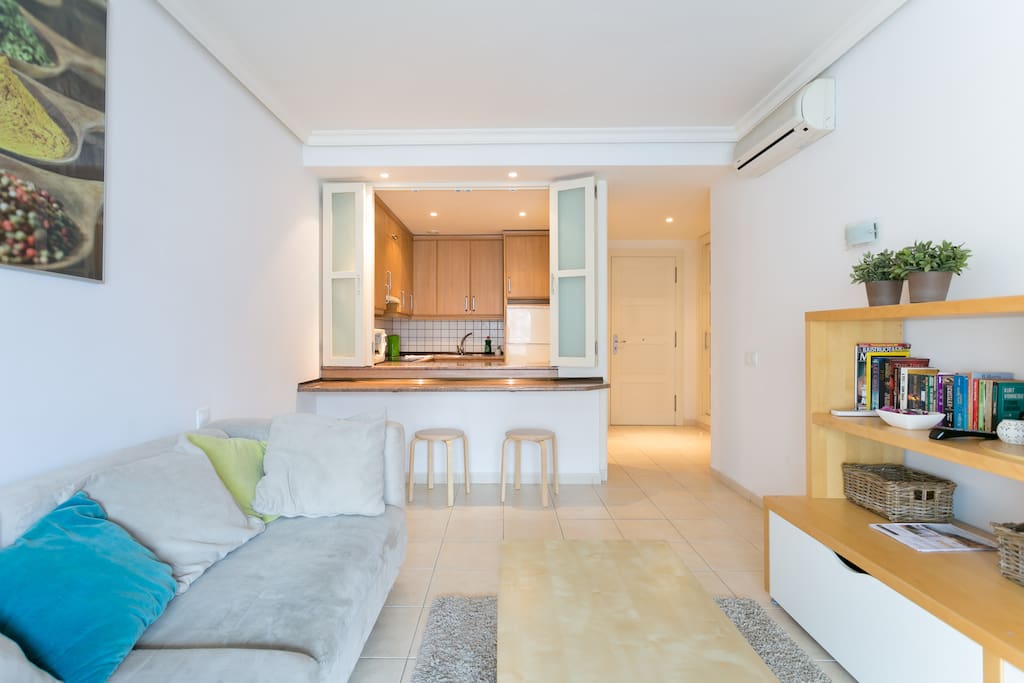 Apartment in Los Gigantes with a huge open terrace (17 m2). There is a large swimming pool, children pool and Jacuzzi inside the complex. Popular areas of Los Gigantes and Playa de la Arena beach is within the walking distance.
房源
The apartment is located in a complex Balcon de los Gigantes. It is a one bedroom apartment with living room, kitchen, two bathrooms and big open terrace. The terrace may be accessed from living room and bedroom and has a stunning view to the ocean and complex pool. Terrace has a dining table and chairs. The apartment is fully equipped and prepared for your holidays.
The bedroom has a double bed, there is also a bed in the living room for extra guest (perfect for children and teenagers), so the house fits families with up to three members. We can also provide you with a baby crib (babies do not count as extra guests until they are 2 years old).
There is a large swimming pool, children pool and Jacuzzi inside the complex.
Complex has four entrances. Around the building there is a lot free parking spaces, so there will be no problem if you have a car during your holidays.
---
---
Children (up to 2 years old) may stay in the apartments for free.
The maximum number of guests is indicated in the reservation. There should not be more guests staying in the apartment.
Please be silent in common places of the building (hall, elevator, stairs) and inside your apartment from 22:00 to 8:00 (do not speak loudly, use headphones, take care with the TV volume, do not party too loud).
It is strictly forbidden to smoke inside the apartments.
Do not hang clothes, towels and other things on the terrace railing.
Please note that you can lock yourself out of the apartment. Make sure that you always take the keys with you.
Please take care of the apartment. If you will break the lamp, table, chair or other things we will insist to cover the damage.
Please do not change the order of the furniture in the apartment. If you do so, please restore the previous order before leaving.
Before moving in, you will be given the entrance card and the keys from the apartment. Please do not loose them - there is a penalty of 25 Euros for the card and keys.
Do not open the door for the strangers. While in contact with the strangers, please mind your privacy and do not share personal details with them.
Your valuable items are your responsibility during the stay.
We are not responsible for the quality of internet connection. Better quality internet connection is always around the pool area and in the complex library.
We would kindly ask you to take the rubbish out of the apartment when moving out.
Thank You for understanding!
---
Jonas' flat in Tenerife is an oasis! It was clean, comfortable, in the perfect location, and the view from the balcony cannot be beat. We felt very at home and loved staying there. Jonas was friendly and accomodating even though we arrived early and he gave us good suggestions for restaurants within walking distance. It's the perfect place for a relaxing weekend!
---
Nous avons passer un agréable séjour chez Jonas. Le Point excellent De l'appartement est sa vue sur Los Gigantes Avec Sa grande terrasse. L'appartement est fonctionnel même si il n'est pas le mieux équipé pour cuisiner. La clim Est très appréciable. Il est situé entre Los Gigantes et Puerto De Santiago. Les plages se trouvent entre 15 et 20minutes De l'appartement. La communication Avec Jonas est parfois légèrement compliquée (longue) Mais nous n'avons eux aucun problème. Nous recommandons cet appartement
---
We have really enjoyed our stay in the apartment. It has been very quiet, clean and cozy. The pool available in the property was simply amazing. Only El Teide can beat the view from the balcony, we enjoyed every breakfast there! Also, we had almost zero issues parking the car nearby and the place proved itself as a good starting point to travel around the island, especially west, south and east. While we haven't met Jonas in person, his friend Povilas has been very helpful and we've also arranged our leave very early in the morning easily. If you are looking for a great vacation in Tenerife, this is the place to stay!
---
This is a wonderful apartment! The furniture is morden and simple, the kitchen is very well equipped (even with grater and toaster), unfortunately the dishwasher was broken. There bed is comfortable and there are nice deck chairs on the terrace. The area/complex is calm and 2 supermarkets are close by. We never had a problem to find a parking space. From the terrace you have a wonderful view to the cliffs from Los Gigantes. Near the beach (around 30 minutes walking distance) it is possible to rent kayaks and SUP boards so you can paddle along the cliffs. We had a SUP board for 2 people which was only 15€/2 hours. The beach has fine dark sand, but also some stones in the water. So if your sensitive with that bring shoes for swimming. On the way to the harbour and beach there are many reastaurants, pubs and shops. One restraurant we liked a lot was Tas-K (near beach). The apartment is well located for day trips to the Teno mountains (Masca), dolphin boat trips, Costa Adeje, Siam Park and also the airport isn't far. So, it is absolutely recommendable!
---
On the day of your arrival (if it's not to late), we will welcome you personally to show you around, explain how everything works and give you a map of the island with a list of restaurants, beaches and trails. If you are looking for something in particular and would like some information prior to your arrival, just let us know and we will be glad to help.
We believe that, in order for you to have the best holidays possible, it is very important that you actually get to know the island. This is why we'll be sharing with you our experiences about Tenerife, so you can enjoy you holidays differently, just like a real local resident would do. You will also be able to reach us by phone in case you have any other questions so we can help you as much as we can.
I believe that, in order for you to have the best holidays possible, it is very important that you actually get to know the island. This is why I'll be sharing with you our experiences about Tenerife, so you can enjoy your holidays differently, just like a real local resident would do. You will also be able to reach us by phone in case you have any other questions so I can help you as much as I can.

I am happy when people are happy
语言:
English