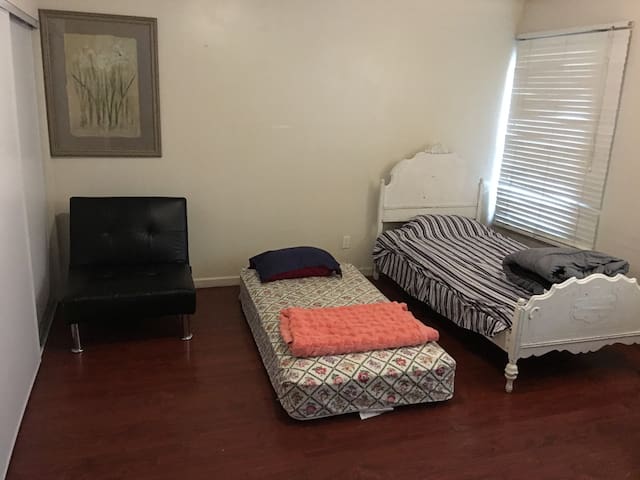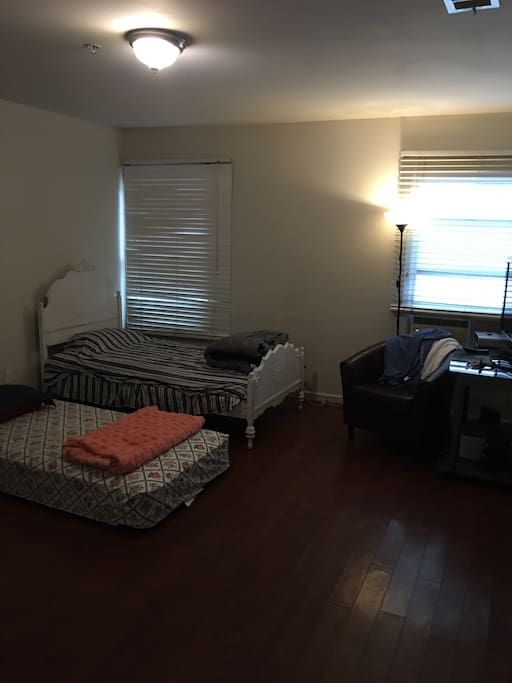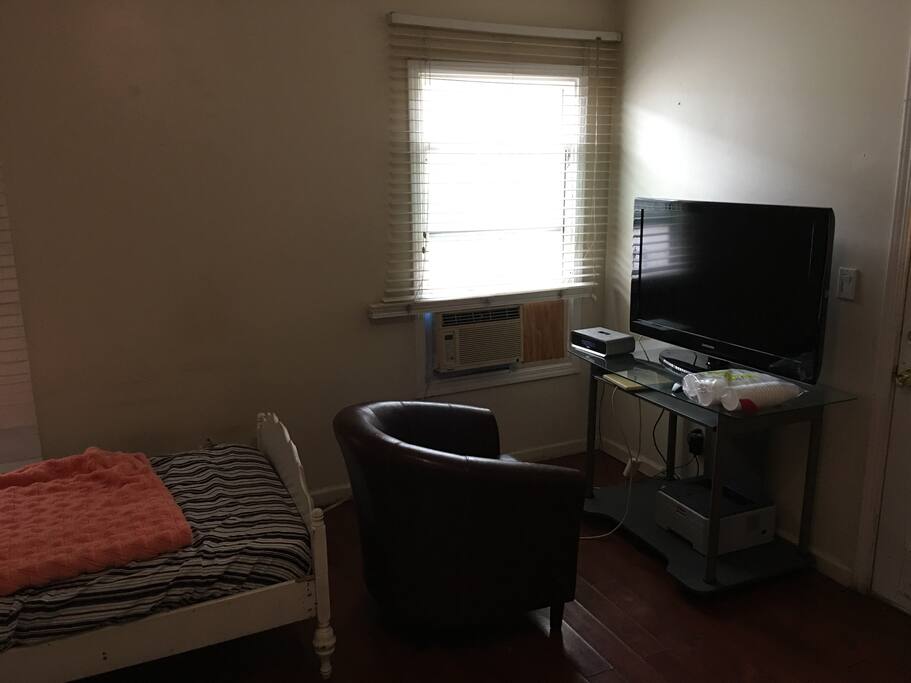 Huge 240 sq ft bed room with 3 windows, private entrance, private storage room, 2 private parking spaces for guests in a single family house. equipped with A/C, TV, desk, closet, fridge. Shared bathroom. Bedroom is not near or next to other tenants in the house, which ensures privacy and quietness. If there are more than 2 guests, you are welcome to use an additional mattress. the neighborhood is extremely safe and full of some of the best Chinese restaurants in Los Angeles.
房源
So you are looking for a room. Forget these losers who try to rip you off with $100+ room listings. They are trying to screw you. You know it. Also forget these cheap rooms where you have to share the room with strangers. That is unsafe and disgusting. Here is a huge private room you have to yourself. Private entrance. Private backyard. Separate storage room. Three big windows. A closet. Private parking place. The only catch? You have to share the bathroom with others. If you are OK with it, book it before it's gone!
Why should you book this place?
1. You don't want to be bothered. There are no kids or pets to bother you around the house. Normally the house is very quiet without any activities.
2. You just want a spacious and affordable place to sleep. It does not have the best furnishings on Airbnb but I price the place as competitively as I can. If you are money savvy, wants a spacious, quiet place to sleep, and are not finicky about details, then this place is for you!
3. You can sleep as late as you want and make as much noise as you want. The room is separated from other rooms in the house.
Why should you not book this place?
1. You are extremely finicky about cleanliness. The bath room is shared with other tenants in the house. So it has signs of usage just like a normal shared bathroom. I clean the room after every guest visit. I mop the floor, change the bedsheets, clean the bathroom. It takes on average 2-3 hours after every visit. Although I clean it frequently, it is not spotless or look like new. But would you want to turn your host into a hotel maid cleaning after you all the time while you enjoy the very affordable room rates? I hope your moral consciences says no.
房客使用权限
kitchen, parking lot, front door, living room, bathroom, front yard, back yard.
与房客的互动
I am available most of the time if you have any questions please call me or text me I will be glad to help.
其他注意事项
After every visit, the linen is washed and the floor is mopped clean for the room. The floor is disinfected after every visit.
If you want to book this room, please think clearly about what you want. As a spacious and quiet guest room, it is perfect for travelers to sleep in. It has all the essential amenities. You are getting exactly what you see in the pictures. You are going to get the maximum value for your money. However, if you are new to Airbnb and expect to be roomed in a Vegas 5 star hotel with spotless and shiny new furnishings, then this is probably not for you. I have had one group of guests who showed up expecting to be roomed in a Hilton Suite, told me "money is not a problem" and made demands I could not possibly meet, so I fully refunded them on the spot no questions asked. Think about the price you pay and compare to other listings, and I hope you can be a gracious guest as I will always be a gracious host.
---