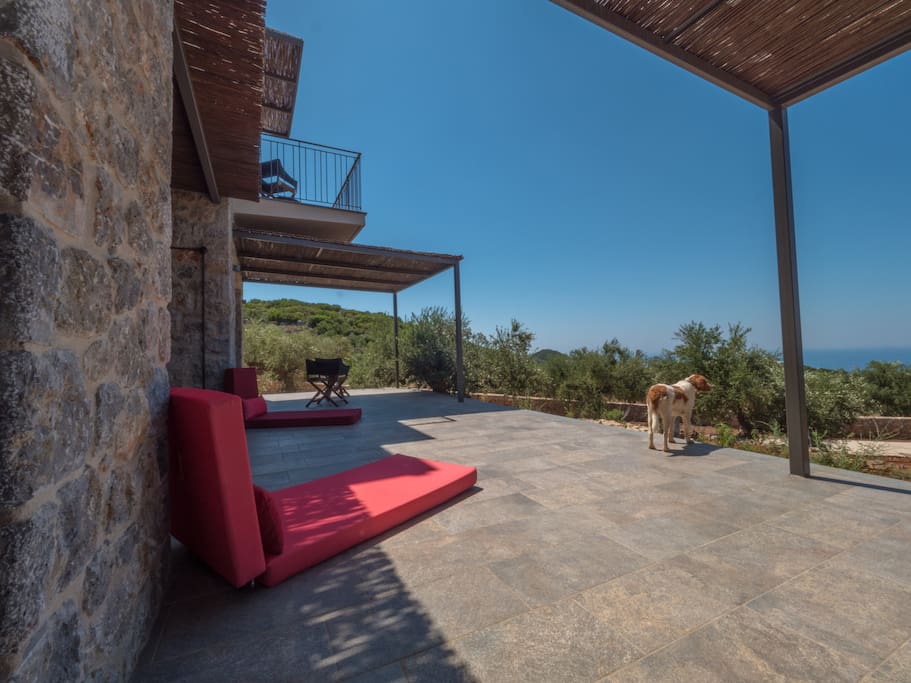 Luxurious triple room with private bathroom and a large common kitchen fully furnished and equipped where you can fix your tea or coffee and store your treats as needed. An outside patio with amazing sea view, where you can take your meals, al fresco, under the shade of olive trees and a carob tree!
The 3 villages of Kallianeika, Doloi, and Stavropigion form a triangle around us where some of the roads are not paved, and you have to drive a few hundred meters in dirt road to get to us. However, most of the main roads connecting us with civilization are paved. Enjoy perfect quietness, and a new expansive way of being, as this healing land invites and welcomes you.
After Kalamata drive 30 minutes down Mani Peninsula, either on the coastal road to Kitries or mountain road to Kardamyli. Be prepared to drive 400-1km of dirt road to reach Zen Rocks Retreat.
---
Zen Rocks is the dream child of visionary couple, Vivi Letsou, yoga master teacher & educator, longtime Zen meditator, and Eraj Shakib, creative and compassionate entrepreneur.

After 22 years in San Francisco, Vivi and Eraj left their respective careers in film-making and high-tech marketing to come to Greece and establish NYSY Studios & Academy for Yoga and Pilates, and Avocado Vegetarian Café—two bright centers in the heart of Athens, beacons of community and positive living. Their goal has always been to support people to find their true, joyful, giving, and compassionate self.

This particular gaia/earth in Mani invited them strongly back in 2007. Accepting the land's invitation, they vowed to build a retreat that would make it possible for people to come and enjoy the stunning and healing qualities of this rare place.

They are now in the great position to invite you to enjoy the absolute beauty of nature, swim in exquisite beaches, walk, hike, enjoy sports like bicycling and kayaking, visit nearby charming villages, ancient sites and byzantine churches or simply relax and let the magical essence of this place heal you. Few places can match the quietness and tranquility of this heavenly olive grove.

Special Invitation for way-seekers:

If you are up for deeper rejuvenation, the hosts offer you a few extra options that could include healing meals, meditation, yoga practice, and massage.

Expect to be pampered in warm hospitality, complete with delicious meals using fresh local ingredients and our own organic olive oil, healing massages, and invigorating Yoga instruction tailored to your private needs. All in the spirit of our individual and planetary well-being! Join us in a special journey that will start with your own restoration, and then ripple out into the world!
语言:
English、Ελληνικά