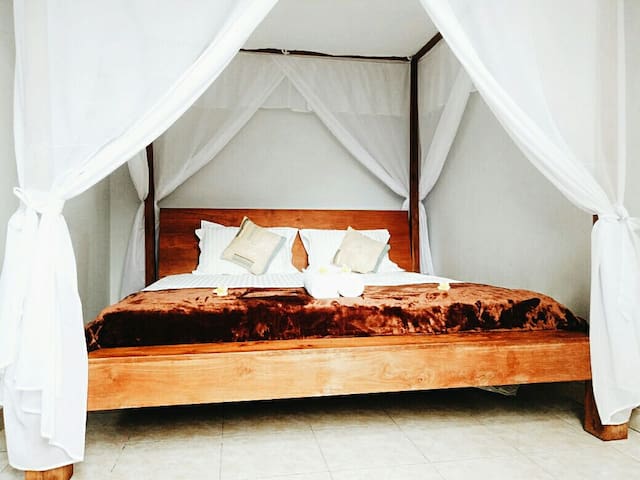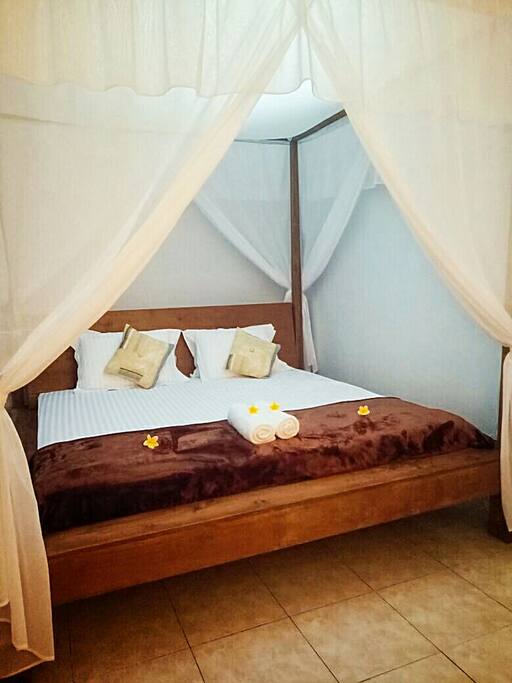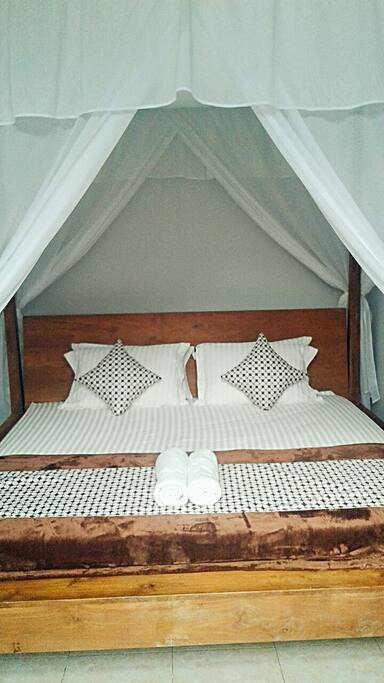 King size bed - Nice room in bali
King size bed - Nice room in bali
My house located in the heart of denpasar ,close to sanur beach and many restaurant . we provide a transportasion to pick up at airport at anytime,it cost $15, one day tour for $40, also hire : scooters, car, bicycle to explore bali for your holiday
quiet surrounding environment , but my place not far from renon monument, 10 minuts from sanur beach, 60 minuts from ubud.
---
Miko and his wife are amazingly helpful and lovely. They totally made sure we feel comfortable and we find our way around. Incredible prize performance ratio! Very clean and comfortable rooms. They helped us wherever they could and the cooking skills of Miko's wife are great. Absolut recommendation for this place.
---
Miko is an AWESOME host! He will do anything for the guest. We forgot our bag and he helped transport our backpacks and surfboard to the next house we were staying at, in another town. Then he went BACK for our bag! He picked us up from the airport, and we met his wife. Miko is a great man! Definitely recommend staying with miko at any of the many houses!
---
We stayed one night at Miko's place and really enjoyed meeting him and his family. He took his time to chat about our trip and what we could do during our time in Bali and was also helpful with other things. The room was exactly as shown in the pictures and everything was very clean and tidy.
---
We are the super spontaneous type of travellers and booked Mikos room because it is close to Sanur Beach and still in Denpasar where the airport is. Miko speaks very good english and we had no communication problems off and online, so check in and out were hasslefree, fast and reliable. His place is well organized, super clean, the aircon not smelly and the bed is huuuuge! There are only two rooms in total - so it is quiet and privacy is ensured. The bathroom is clean, but separated and there is only a cool water shower, but I didn't mind, since the temperature outside is always hot. Miko was a super nice host. Although our plane had a delay because of the windy coast, he waited until very late to explain the city to us. He patiently answered our questions and always kept a friendly smile on his face although I knew he must be tired. :) He provided us with hot and cold water for drinks and noodle soup (ours) and organized the booking of a fast boat to the Gilis. I am typing from there right now and we had a very good experience with the transfer. Everything went smoothly and I would highly recommend a stay with Miko! Thank you!
---
hi.. i am miko
me and my family stayed in bali.
I like a lot of new friends, so I will help you to know about bali, because bali is a likable and low cost of living.
I like sports, friendly and wanted to travel the world.
You may also be petrified me when i go to your country.... ha ha

see you in bali
语言:
Bahasa Indonesia、English