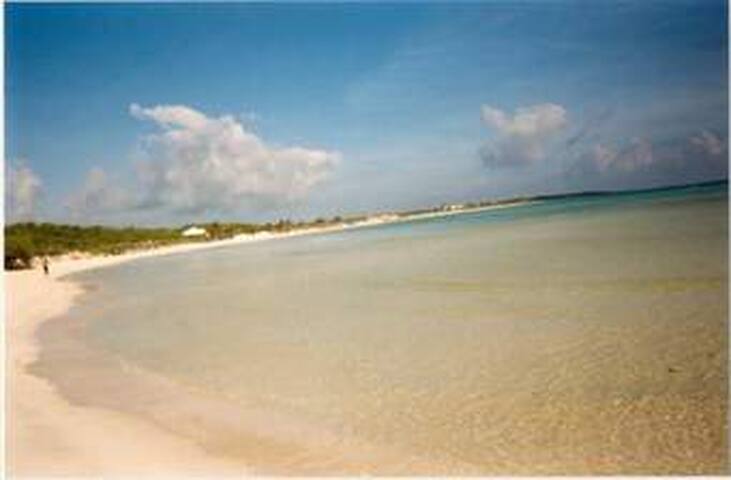 HOSTEL PLAYA LARGA - WIFFI
The HOSTEL is a new building all the decoration is modern, we are the only ones we have Queen Size beds and Black Out curtains for a better break the site is quiet to relax, make scuba diving, Tours, walking etc, have near the crocodile farm and the salt mines.
---
Alexis really wants to take care of his guest, always smiley, talkative, and ready to support you for all your needs. You will enjoy his company. The room was clean and comfortable and has wifi; as in the rest of Cuba you'll need Tarjeta Etecsa for internet, but once you have one you can connect from your bed. Breakfast is not included in the rent and cost 5CUC/each per day as in the rest of Cuba. The hostel is 1' walk from a white sandy beach where there are oth. people at night and you can have cocktails. Playa Larga is a very small village of fishermans and landlors w/ a couple of roads and a couple of white beaches surrounding Bahia de Cochinos (the Bahia itself is not properly a swimming area due to the presence of mangrovias that color the water of brown, but right around, depending on the seasons and the stream, youl find natural crystal water). If you expect to find the common activities of western Countries you won't in Cuba, nor at all in Playa Larga; here you can scooba dive, snorkeling (10CUC an all day excursion to a Cyenote and a shipreck in Cueva de los Peces...very nice!), hunt Coconut on the beach (a nice beach w/ crystal water is right in front to the hotel...don't worry there's only one hotel in Playa Larga right after the scooba center), or as we did stay on the beach at night watching stars, having mojito and dancing in the dark. All hostels here serve fish of the day for dinner, so also Alexis; despite oth.guest where eating at the hostel we had our dinner (a 2kilos fish) at Tiki restaurant, 2' walk from the hostel w/ a faboulous view of the bay and for a ridiculous amount. In our 15dys trip in Cuba, after Trinidad, the simplicity of Playa Larga makes this place our second favourite, more than Viñales (must visit), Cinefuegos (the french town), Havana (smog and decadent buildings), Santa Clara (you can avoid this).
---
Such a great stay at Alexis's place, him (and his family) are so helpful and friendly! The rooms are well equipped (with a/c, mini bar, hair dryer etc). Wifi works as well as can be expected in Cuba. Breakfast and dinner were delicious and Alexis helped me out with changing money, organising buses/taxis and giving recommendations for bars etc. Great, central location. Also organised scuba/snorkel trip through the host and the bus picked us up right from the casa. Highly recommend!!
---
Alexis's casa is great and very close to the beach, and Alexis is a great host. He organized our scuba diving and even our taxi collectivo. Food was great and the place was very clean. Hoghly recommended!!
---