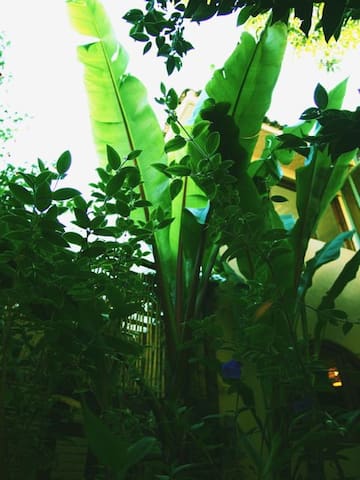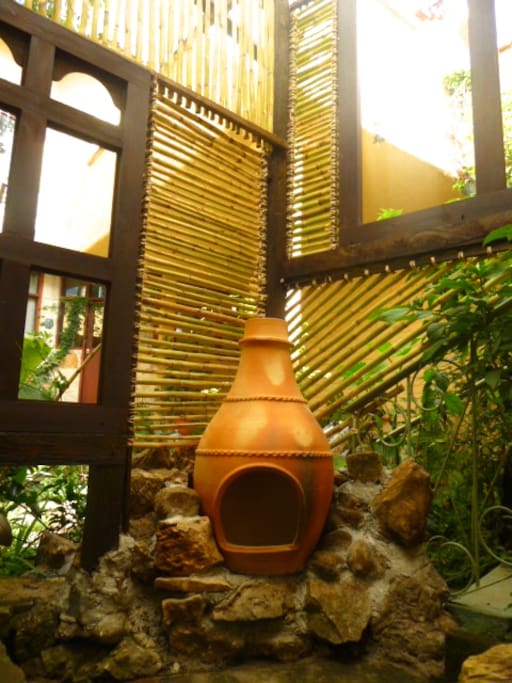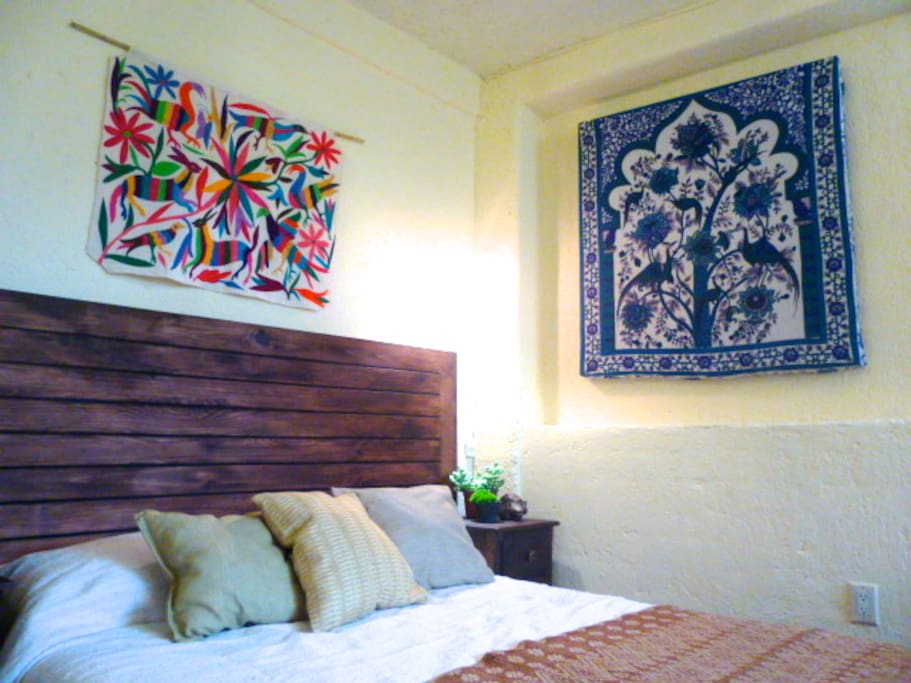 Welcome home all lovers of peace and quiet, art and nature! Our four apartments are set around a lush botanical garden tucked away on a historic, narrow cobblestone street just three blocks from the Artisan&Indigenous markets.
房源细节
Here at Casa Hok'Ol we are offering a cozy and affordable home away from home. Each of our apartments has hardwood floors, an equipped kitchen, once a week cleaning service, linens, wi-fi and the human necessities: warmth, light and beauty. We have decorated them with love and charmed them with personal trinkets and art from our own travels. We appreciate the beauty of nature and have cultivated a bit of it in every corner of our house. It is with great joy we welcome you to share in this space!
房客使用权限
Don't be fooled by the unmarked entrance to our little hotel, we are a tiny little epicenter of wanderlust hidden here amongst the chimney smoke and fog of San Cristobal. You will be taken aback by the abundance of lush green that overflows in our garden. We have two different seating areas perfect for enjoying some time outside with the plants and the birds. Our third floor "mirador" is a great place to watch the sunset…or rise.
与房客的互动
After nearly eight years in Southern Mexico (Oaxaca+Chiapas) we have relocated to San Miguel de Allende in Guanajuato to begin new projects and live closer to our family. The place that was once our home became home away from home for many travelers along the way and although we don't have the pleasure of hosting in person any longer--the space and what it offers remains unchanged. Although our house and business are for sale we continue to manage from afar. I take my role very seriously and spend time each day attending to Casa Hok"ol. I am constantly in contact with our guests via internet and our husband and wife team, Lupe & Nery, have very gracefully taken over the role of the management of the house, welcoming our guests and taking care of their needs on-site. I have written up a booklet with my take on San Cris and our favorite nooks and crannies of the city. Because of these changes we ask that our renters be aware that our house is best suited to independent travelers.
其他注意事项
We take pride in being socially responsible with our earnings and try to make our rates accessible while offering our travelers the most we can. We do not skimp in our services and we pay a fair wage to the families we work with. We are committed to putting our income back into the lives of normal people here in Chiapas and buy everything we can from local, fair trade artisans.

We are looking for mature and responsible guests, we ask that our guests be respectful of each other's desire to have a good night's rest and a clean, friendly environment.
Overall this place was fine, the location is great and the hosts provide a tank of drinking water which was a nice plus. But we had a few issues with our stay. First, Edric and Rachel employ a property manager, we never actually met either of them. The property manager was an hour late to give us the keys and let us in, which was frustrating since we were there on time. There is little natural light in the apartment, even during the day - just something to keep in mind as he pictures portray it as very well lit. Edric and Rachel write that they are looking for quiet guests who will be respectful of others and the neighborhood. We are quiet people which is one of the reasons we chose this place. But they rent the apartment above this one to a few young guys who were drumming and playing loud music well into the night. One last thing, the apartment is decorated nicely with local artwork and furniture. While it is visually appealing, I found there was a lot of dust built up on the wool blanket and on some of the statues and my allergies had a hard time.
---
The place was great and as advertised. I needed a place for myself and two students, and Edric & Rachel's place worked out perfectly. We rented the three bottom units for about a month. It was perfect for us since each person had their own space with bath and kitchenette, but there was also a large and beautiful garden to use as a common space. It is nice that the rooms are slightly higher than the garden level, so that when you are in the garden, you can't really see into the rooms. Mine, "Earth", also had a very nice chiminea and private patio. The house itself is located in one of my favorite barrios of San Cristobal, El Cerrillo, and is convenient for both the town center and the market. Rachel and Edric were always prompt in communicating and were very helpful and flexible when making the arrangements for myself and my students. Lupe and Nery who take care of the place were also wonderful.
---
We are two artists and a baby. We are passionate about traveling and sharing our art and love of culture with the world. Since I was a child my parents and grandparents instilled in me a great curiosity for the world unknown, I have spent time in France, Spain, and Japan, I am originally from the East Coast and all my family is from the midwest. We love the mountains here and the people. I fell in love with Mexico the first time I came in 2008 and been calling this place my home ever since. We like to travel as a living experience, we like to be able to really spend some time and get lost, we like to walk and take the bus and metro wherever we haven't yet been and somedays we end up at the end of the line eating diner with the driver and his family at the top of a tiny mountain at sunset. Mexico has a strange magic, it is a surreal combination of the romantic past colliding with the desperate and chaotic future, it is filled with smells and colors and beauty under all the grime, it is raw and fragile and seems to sweep people up. I was once walking from village to village in the mountains of Oaxaca, and after about two hours of solitude I came upon a blind man sitting under an ancient stone fountain and I still wonder about him. He must have known those intricate pathways through the forest since he was a little boy. We have a great love of this land and appreciation of the kindness of heart of its people. We know what it is to feel like your in a home not a hotel, and we have made sure to make our house feel like home.

**We are currently traveling! We have entrusted our house and our guests to a local wife and husband team Lupe & Neri. They have been nothing but a godsend...all of our guests have appreciated their patience, kindness and warmth. Please do note that our house is a community of travelers and renters, not a bed&breakfast. Thus, the experience of staying at our house is best suited towards independent movers and shakers, many who return time and again:)***

语言:
English、Español