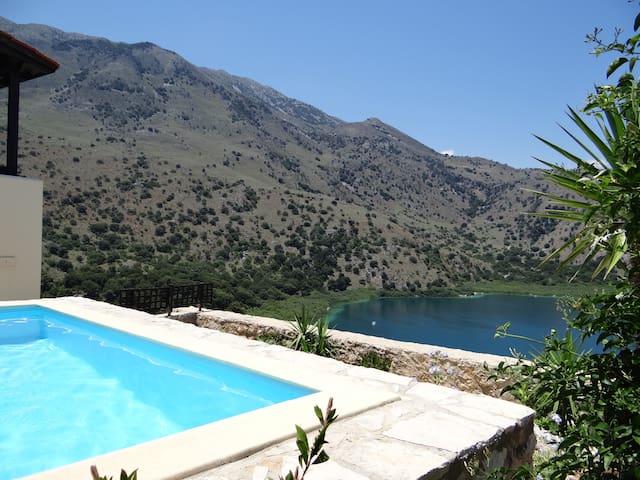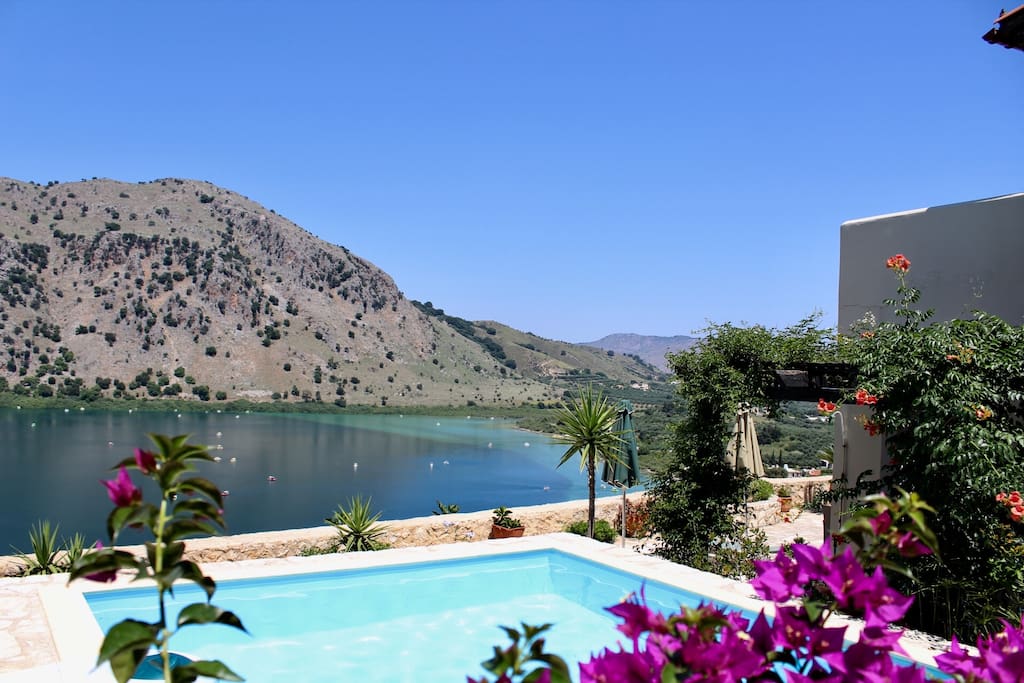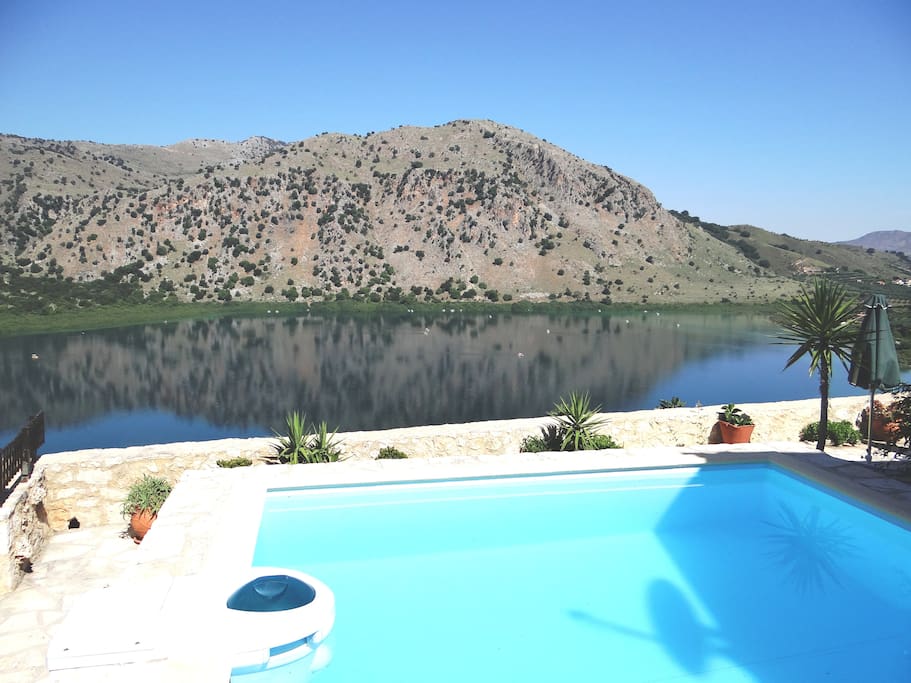 This is an original modern style, luxurious residence with breathtaking views.
This spectacular villa is the perfect retreat for guests who envision a dream holiday in an unrivalled position, enhanced by modern comforts cleverly blended in a 2-floor layout with private outdoor facilities and a large veranda offering absolutely breathtaking and amphitheatrical views of Lake Kournas, the mountains and the Aegean Sea!
房源
This elegant & luxurious 120 sq.m. residence is fully equipped and able to accommodate up to 7 people, minutes away from Lake Kournas and a couple of kilometres away from the famous Georgioupolis sandy beach.
It is located on top of a hill offering a majestic view of the whole surrounding area! Views towards golden hours of sunrise and sunset will more than certainly let you relax comfortably in a private and serene environment!
There are 3 spacious bedrooms, the master with en suite, a bathroom and a fully equipped kitchen with dishwasher. There is a spacious living room with a large corner sofa and a dining area.
Its usual residents state it that it is ideal for "outdoor living" as all outdoors spaces offer panoramic views of the Lake Kournas, the Aegean Sea and the beautiful mountains.
There is one private large balcony on the first floor and different sitting and dining areas on the ground floor terraces. It is ideal for families as there is plenty of space for the children to play but also great for those who seek total privacy and relaxation while sunbathing, dining or sipping your favourite drink surrounded by this beautiful Cretan setting! Of course the Villa has a PRIVATE swimming pool, situated on the ground floor. While chilling in the water, you almost get the feeling that the swimming pool has been converted to an infinity swimming pool, and you are ready to grab the little boats in the lake.
••Detailed Description of each space in the Villa
• Bedrooms
On the ground floor there is one master bedroom with an en suite. It is equipped with a wardrobe and side table. It offers beautiful private view out to the terrace and plenty of natural light bathes the whole space!
On the ground floor, there are two more spacious modern bedrooms with wardrobes. They both have two single beds (which can be combined to a double bed) with all necessary furniture for a worry free and comfortable stay! Direct access is offered to the outdoors, private terraces and facilities. From both bedrooms the spectacular view can be seen as you wake up each day without even getting out of your bed!
All bedrooms are elegantly decorated in plain earthly colours with discreet pictures on the walls, curtains, lampshades and cushions. All of them also have TVs, are fully air-conditioned and have access to the terrace and the amazing views of Lake Kournas and the Aegean Sea! A private resort and a paradise setting only for our guests!
An extra 7th person can sleep on the living room sofa. Fresh Linen is provided to all our guests for the duration of their stay! A baby cot is provided at no extra cost.
• Bathrooms
There are 2 bathrooms. There is one en suite bathroom with shower in the master bedroom and one more bathroom with shower cabin on the ground floor. A washing machine and dryer is available and of course, shampoo and soap are provided along with other toiletries and essentials!
• Kitchen
A fully equipped kitchen offers you all necessary amenities and has it's own air conditioner. Beautiful surfaces and counters give you this extra luxury feel and you can prepare any kind of a meal without any hassle! DISHWASHER also available! The kitchen has access to the balcony with an outdoor table providing a great dining space enough for 8 guests.
• Living Room
The living room has one sofa and a coffee table in the middle. The room is beautifully decorated in pale colours and textiles of minimal aesthetics matching the furniture. Large windows offer a majestic view day or night and the balcony door leads to a balcony where dinner should be served! There is a TV and an air conditioner. The living room has also a main dining space and direct access to the kitchen.
• Outdoors
Sitting in the outdoor terraces and balconies of this Villa will more than definitely make you feel that you are king of Lake Kournas. The house is situated on the top of the hill offering amazing views of the Georgioupolis town and the deep blue Aegean Sea...and when sunset or sunrise golden hours arrive, you don't want to be anywhere else in the world!
It is ideal for complete relaxation, private and luxurious!
Chania, is only a leisurely 30minutes drive and Rethymno around 20minutes. Georgioupolis is just 5 minutes by car and the main tourist strip of Lake Kournas within walking distance. A traditional local taverna where you can experience the genuine Cretan cuisine is a few metres away. There are a large variety of shops, restaurants and supermarkets at Kavros (in the tourist strip just off the main highway towards Rethymno).
---
---
---
- - The house is built with love and lots of honest work from the family, originally destined to roof their relaxation. Needless to say, but we expect our guests to treat it with the corresponding love and respect. Also, although we allow smoking, we would much appreciate it if it was kept outdoors. Thank you and welcome!
---
---
---
This is an excellent house with a stunning location, a close walk to local bars and restaurants and a few mins drive from some local shops. The house is very modern and clean with all the amenities that you could need. George is a great host, all communications were very quick and responsive and his english is excellent.
---
My name is George and although I spend time in London I live in Crete. Crete is a magical tapestry of splendid beaches, ancient treasures, and landscapes, encompassing vibrant cities and dreamy villages, where locals share their traditions, wonderful cuisine and generous spirit... Priceless!

But it all comes down to senses...
where the sun softly burns your eyelids, the smell of orange and olive trees which reminds to everyone the appreciation for small things, the crystal sea that re-vitalises every cell of the body and ultimately.... the feeling of satisfaction gained after a sumptuous feast at a small taverna at the plaza of the village, enriched by aromatic herbs and green gathered from each hillside, which ends with a raki treat from the owner...

I have landed my foot on more than 20 countries and still counting... this is probably why I see myself in the eyes of every traveller who wishes to grasp as much of culture, bewitching scenery and local cuisine taste from every place I go to. To me, hunting out the best coffee place, most magical view, most tasteful local dish is what I call small "gems", and makes my trip memorable.

Founder and CEO of AirBnB-Helper, we help house owners with the property management and logistics... and we help guests finding the right place according to their needs for a great experience.

My moto comes from Martin Bubber who said "All journeys have secret destinations of which the traveler is unaware.", which I would like to spot and share them with others!

We are always 24/7 ready to help available and instantly reply to every and each of your questions!