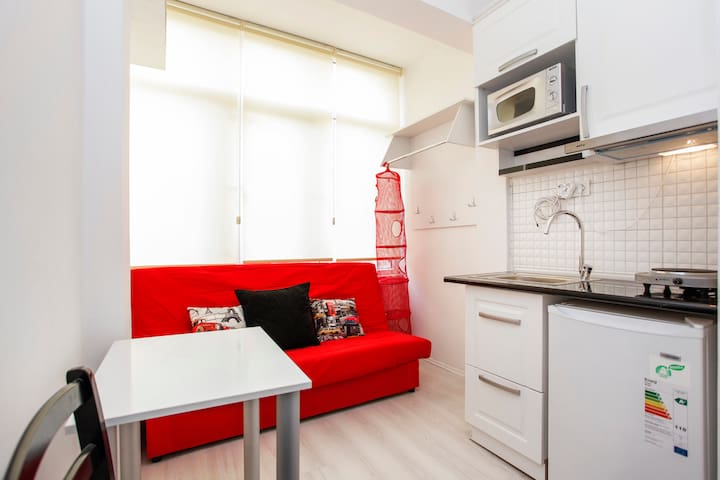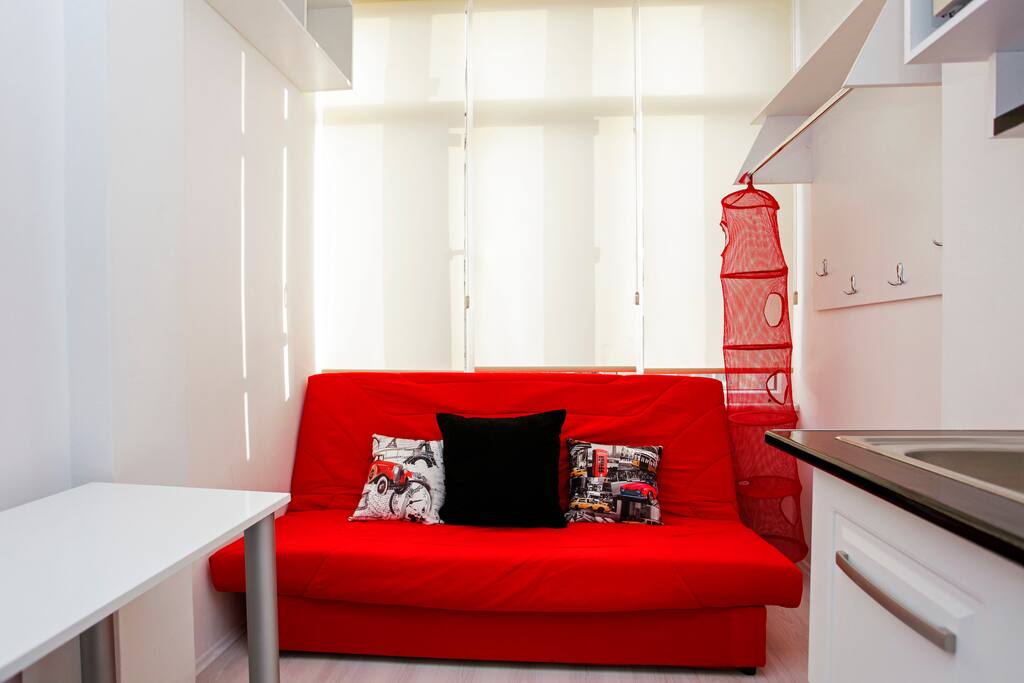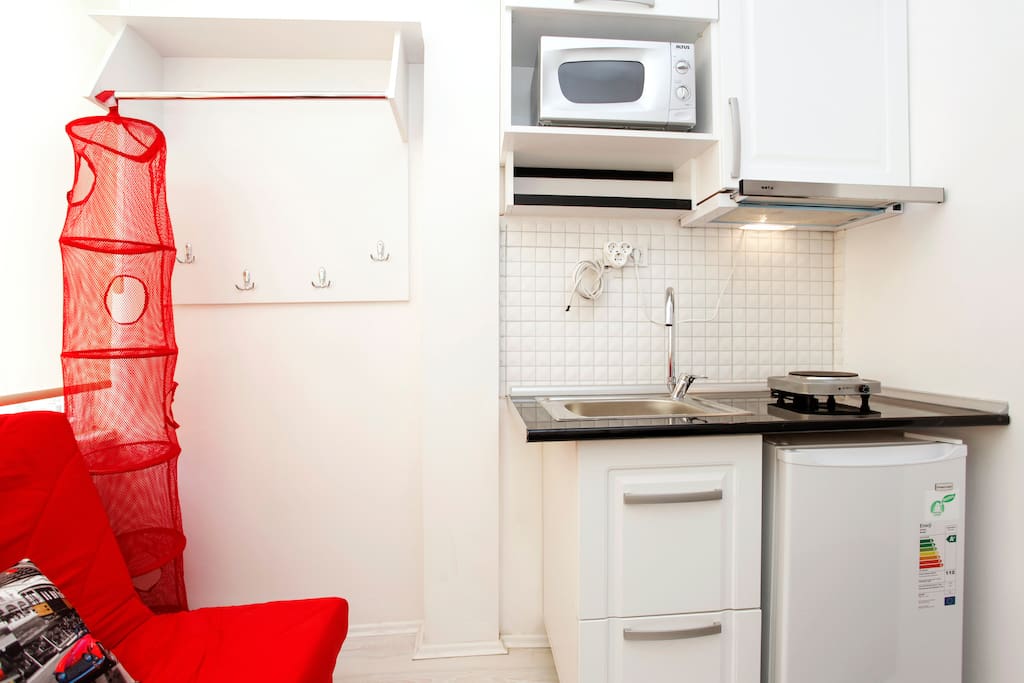 平被comp.renovated。它虽小,但很(URL隐藏)得到很好的阳光下熠熠生辉有炊具,冰箱,microvave等,你希望你能做饭的厨房。并有一间私人浴室..有2人沙发床 的平面尺寸是4.50厘米*2.20厘米。 。而浴室高度为2.10公分。如果你真的高大的可能是困难的请你保持在你的脑海之前进行的预订
The flat is comp.renovated. it is small but very (URL HIDDEN) gets nice sun shine There is a kitchen with cooker,fridge,microvave etc. you could cook as you wish. and There is a private bathroom.. There is a sofa bed for 2 people
The size of flat is 4.50 cm* 2.20 cm. .and bathroom height is 2.10 cm. if you are really tall it could be difficult for you please keep it on your mind before make an reservation
---
---
---
expect the guests turn off the water,gas ,electric when they go out.We clean place before the guest check in. after that we do not do cleaning until they check out.My guest can not reach me after midnight. Each cleaning costs 10 tl.(incl. washing powder and softner),please close the
---
灵活
距离旅程开始至少24小时取消预订可获全额退款。如果距离旅程开始不足24小时取消预订,将扣除首晚房费。
---
---
---
Le logement était parfait, très bien situé à Kadikoy sur la rive asiatique d'Istanbul à 10 minutes à pied des "vapur" bateau pour faire une balade du Bosphore ou pour aller de l'autre coté de la rive. . Beaucoup de restaurant prés du logement, des magasins. Tous les lieux les plus importants , les plus grandes places sont accessibles facilement à partir de Kadiköy . Le propriétaire est très sympa de l'accueil jusqu'à la fin de la location il nous a même au bout de 2 jours offert une plus grande chambre dans le même appartement cela nous as fait trop plaisir. Je vous le recommande vivement!! La terrasse sur le toit de l'immeuble est très cool pour se poser la nuit après un grande balade à Istanbul :)
---
Bon séjour dans cet appartement situé du côté asiatique d'Istanbul. A 10 minutes à pied des bateaux qui mènent aux lieux plus touristiques: balade quotidienne sur le Bosphore, parfait! L'appartement n'est pas grand mais c'est convenable pour deux personnes, surtout si vous passez du temps dehors. Il y avait un ventilateur dans l'appartement, très appréciable en août. Feyzi est très sympathique: nous avons apprécié notre séjour.
---
Feyzi es un gran anfitrión , siempre dispuesto a ayudar . La habitación es chica pero completa . Gracias laudos
Juan is a nice person. ı could not meet him when he arrived. Later on ı ve visited him. so ı asked him if the cleaning is ok. so he liked it . There was no problem about the cleaning. but it was a hot day so they keep the window open There fore some dust comes in from the window. He asked me the markets . ı showed them. in the evening ı was asked wi-fi code. . ı could not remember at once ı told him all of them and in a few hours he was connected. since then he never complained They were nice people Best WİSHES
---
Feyzi properties are as accurate as the photo ads shown on this site.. Perfect for a lone traveller or a couple (there are properties with a queen bed). The room I got just fits the bill perfectly..Small but cozy and tucked in the back of the building which made it so quiet and restful. What I love about this property is light filled room that get the afternoon sun and is in a quiet corner and more importantly it's location for 3 key aspects 1. CLOSE PROXIMITY TO PUBLIC TRANSPORT (train station is 5min walk and ferry wharfs to European side.. is 15min walk; 2. VERY CLOSE PROXIMITY TO SHOPS..(supermarket and various food and beverage shops are literally at your doorstep..The Mall is next to train station and a mere minute walk and you hit all the restaurants and trendy cafés 3. YOU FEEL LIKE YOU ARE AWAY FROM THE HUSTLE AND BUSTLE AT NIGHT..(although on a Main Street, by midnight it is quiet that all you hear are seagulls..meanwhile near the seaside most hotels have to contend with hourly recorded Quran prayers through loud speakers). I thoroughly enjoyed every night of my stay here and highly recommend it to anyone who is looking for a great value personalised accomodation with a bit of soul and genuine grit.
---
feyzi bey çok ilgili ve yardımseverdi.her türlü ihtiyacımızla ilgilendi ve ofisine kahve içmeye davet etti, daireden de çok memnun kaldık.her şey için teşekkürler :)
---
카드쿄이 중심 시내와 가까우며 걸어서 7분이내에 큰 마트와 시내 중심가로 나갈 수 있습니다. 아이를륵 체크메시 역과도 가깝고 황소동상과도 가깝습니다. 밤에도 아늑하고 조용한 공간이며 옆에는 초등학교가 있어 비교적 안전하고 마음이 편안해지는 공간입니다. 다만 아쉬운점은 저녁에 조명이 약한 편입니다. 하지만 낮에는 채광이 아주 좋습니다. 빛이 잘들어오며 따뜻하여 포근한 분위기를 자아냅니다. 주인인 페이즈 투란은 정말 친절합니다. 제가 처음 이스탄불에 도착했던 날은 폭우가 쏟아진 날이었는데 페이즈와 그의 보조들이 약 7분거리에 있던 저를 데릴러 나와 저의 20kg에 가까운 짐을 옮겨주었고 저를 환대해 줬습니다.
---
Фейзи отличный хозяин! Наш самолет задержали и он дождался нас, хотя были проблемы со связью и телефоны разрядились в самый неподходящий момент. За это ему огромное спасибо :) квартира-комната такая же как на фото. Очень маленькая, но нам было её достаточно. Не хотелось засиживаться дома, мы просыпались, завтракали и бежали гулять. Кстати, это отличный район! В округе множество приятных местечек.
---