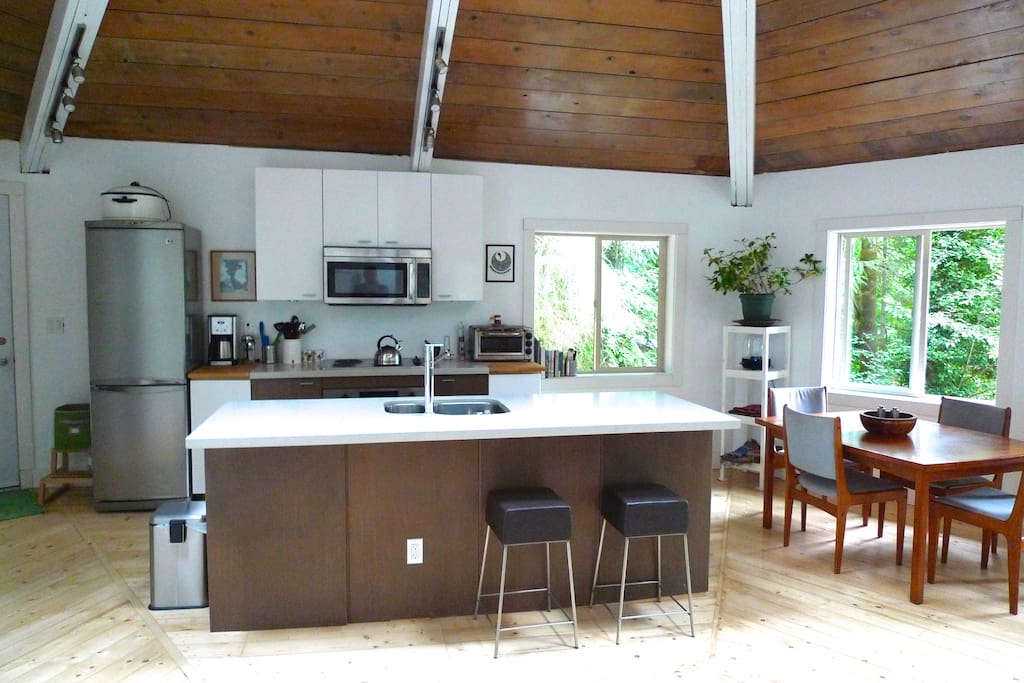 Coppermoss Cottage and Retreat in Tuwanek
这个改造的1960年代的Panabode工具包房子栖息在一条神奇的河流的岸边,在深林的边缘。这间宽敞的六角小屋享有Inlet的景致,是浪漫的假期或朋友和家人的小聚会的理想选择。这是一个独特的空间,在美丽的Tuwanek村,以其迷人的海滩和宁静的生活而闻名。这个令人惊叹的两卧室小屋可以第一次出租,深思熟虑地配备了所需要的一切。
This remodeled 1960's Panabode kit house is perched on the banks of a magical creek and at the edge of a deep forest. With views of the Inlet, this spacious hexagonal cottage is ideal for a romantic getaway or a small gathering of friends and family. This is a unique space in the beautiful village of Tuwanek, famous for its stunning beaches and tranquil living. Available for rent for the first time ever, this stunning 2 bedroom cottage is thoughtfully appointed with everything you need.
---
---
---
- No shoes in the house please. No pets on the furniture. No noise outside after 11pm.
---
---
---
---
This is the most amazing location! We went on a number of great hikes but our favourite was hidden groves, right near by. We didn't come for the food but we were very impressed by the all the places we went to: wobbly canoe, basted baker, the shift, bakery and cafe at the start of skoocumchuck narrows trail. The place has a unique charm and was recently completely renovated. We can tell a lot of work was done. It was super clean and we loved the coffee that was supplied. We are sorry that we didn't get to meet our hosts in person as we were mostly out exploring the woods and ocean. Thanks so much!
---
My wife and I visited with our 2 big dogs recently and spent 5 nights. We had a wonderful time at Coppermoss Cottage. Sadira and Simon provided all the basics you could need and so much more. The kitchen was fully stocked with everything you could want. Want a crockpot? Got it! Want a BBQ brush? Choose from 3! Loads of spices, oils, salts (plural!), pepper, foods storage containers for leftovers and the list goes on. Wonderful locally roasted coffee beans provided and thoroughly enjoyed. Recently renovated, the cottage is well appointed, clean, and very comfortable. It feels like home. With high ceilings and plenty of skylights, the space feels very large! I estimate it's around 1100sqft, but it feels so much larger! (Please take that estimate with a grain of salt in case it's not correct.) There are so many windows that you almost feel like you are outdoors at all times. Even with all the windows, it is a very private setting nestled in the forest by a creek. As the description says, there is a steep driveway and 38 stairs from the top of the driveway to the cottage. This is not a bad thing, because it provides you will a gorgeous view of your surroundings from inside the cottage and both of the decks. Having 2 decks was great. We used the back deck for barbecuing and we brought a baby gate with us to put on the stairway so our dogs were able to lounge about outside unsupervised. The front deck has a nice patio set and is a great place to enjoy your meal. The area is beautiful and the cottage is located across the street and a couple steps away from a beach. A 3 minute walk if you are taking your time and strolling very slowly as you enjoy the scenery. Another beach is about a 15 minute walk away! We did a LOT of walking. There are trails all over the place and Sadira has provided a bunch of maps and sent us information on the local area that helped us find them all. Our favorite local area was Hidden Grove which is a beautiful, volunteer-maintained park with kilometers of trails. They wind up and down and all over the place. You can choose a short route or a long route and go from trail to trail and never worry about getting lost because it is incredibly well marked! It has wheelchair accessible trails and more difficult steeper trails. In all, we were very happy with our stay and wouldn't hesitate to return again. Thanks to Sadira and Simon for making our first AirBnB experience a wonderful, relaxing, refreshing, and memorable one.
---
Coppermoss is an outstanding location to take advantage of all of the attractions of the sunshine coast. Our hosts (and the community) provided excellent recommendations and we offer our own - The Lighthouse Pud at sunset, Sharkey's Fish Locker for take out, Smugglers Cove hike, Molley's Reach, The Wobbley Canoe, fresh water swimming at Dan Bosch Regional Park and Garden Bay Lake, Roberts Creek Pier, Skookumchuck Rapids, the rope swing at Chapman's Creek Falls, Mount Daniel (take the difficulty rating seriously), Francis Point hike, Pedal and Paddles for endless hours of kayaking/paddle boarding......... The list goes on - we spent 8 days and could spend many many more. And the accommodation is outstanding - lots of light and space - including an excellent deck to just sit back and enjoy the location.
---
Wow! Words can't even describe how amazing Coppermoss Cottage is. We booked our stay when the property was brand new on Air BnB and although the pictures looked great, we were a little worried to book somewhere that had no reviews yet! But the second we pulled up to the picturesque location, steps away from a stunning beach we knew we had no reason to worry. Coppermoss Cottage is beyond expectations. The living space is beautiful, spacious, comfortable and instantly felt like home, the kitchen is well equipped and had all the added extras like coffee, sugar, spices etc. The bathroom could be out of a boutique hotel, the bedrooms are a great size with comfortable beds and the outside space is perfect for family dining or just relaxing and taking in the views. One of the bedroom's looked straight onto the creek and felt like you were sleeping in the middle of the forest. During the day you could open all the windows (which had the mesh on to keep mosquitos and bugs out) and listen to the sounds of nature and water flowing, then at night the the windows were great for keeping all the noise out, I think the cottage had all new windows and doors which made it feel extra safe. There was also ocean views from the living space. I can't say a bad word about Coppermoss Cottage, it was by far our best Air BnB experience! Thank you Sadira for such an amazing trip, we hope to be back again soon.
---
Copper Moss is indeed a very magical place and was the perfect family get away. The house is gorgeous, spacious, comfortable and peaceful. We immediately felt at home. It is clean and well maintained and everything we needed was easy to find. The decor inside is awesome! Outside is awes-inspiring, there is the soothing sounds of the creek, birds and ocean views all tucked in a dense and lush grove of trees full of wildlife. We even saw a dear wander down the creek on our last day. The beautiful garden and wild feel of the forest make for a secluded hangout. There are tonnes of hiking trails and beaches to explore nearby within walking and driving distance. We went clamming during low tide and picked fresh raspberries wandering back from the beach one day. The open concept layout is fantastic for cooking and dining with a group. We had two small children with us and there was lots to inspire wonder but little to inspire trouble. Sadira made sure that we had absolutely everything we needed and was lovely to interact with. The only downside is having to leave. It is a very special home away from home and we would definitely visit again, next time during blackberry season!
---
We are a Vancouver-based couple whose primary work is in the cultural sector. We both work at the post-secondary level in art + design, and have spent the last fifteen years enjoying life on the wescoast. We are avid travelers, who prefer to spend time in homes and apartments over hotel rooms. This gives us a chance to experience 'living' in a place, instead of the starkness of large, depersonalised hotels. We are very responsible and quiet, and are homeowners ourselves as well as owing a small cabin that we also rent. This means that we are very respectful of the places that we rent. Our idea of a party involves a good bottle of wine and stimulating conversations, and late nights are a thing of the past!