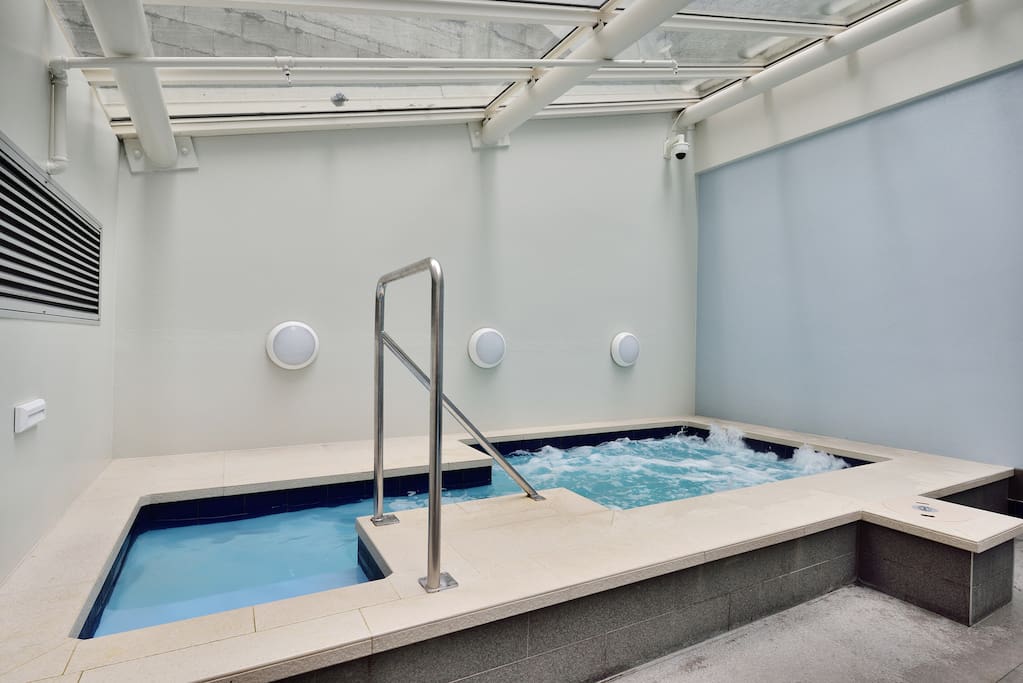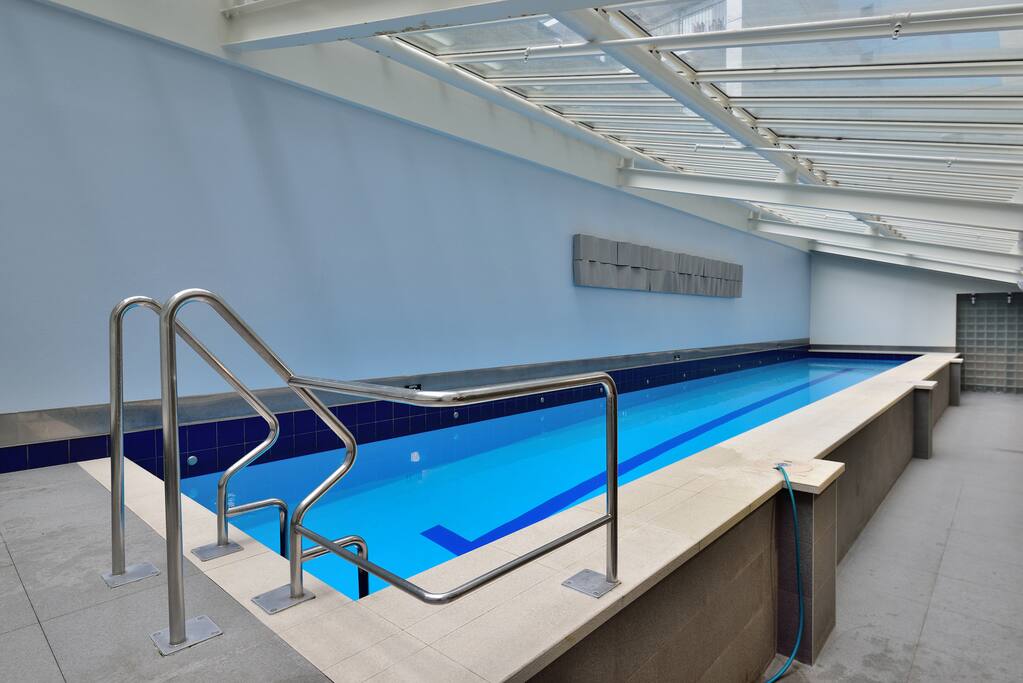 每一位旅客在一天结束前都需要在家外面回家,我们都需要放松身心,酒店设有一个户外屋顶游泳池,停车位,健身房和一个带有球拍和球拍的灯光网球场。
Every traveler needs a home away from home at the end of the day, we all need to unwind, and our hotel features an outdoor rooftop swimming pool, parking space, gym and a floodlit tennis court with racquets and balls available for hire.
房源
大床卧室大号床卧室特大号床卧室可按要求提供折叠床独立厨房和用餐区室内游泳池和水疗中心健身中心桑拿新鲜棉床单,毛巾和化妆品提供全套设备所有主要家电包括冰箱,炉灶的厨房,烤箱和洗碗机沏茶/咖啡设备,水壶,烤面包机和微波炉高速无线上网平面电视洗衣设施熨衣设施所有公用设施包括卧室的闹钟配备吹风机的浴室所有套房内的烟雾和热量探测器专用工作空间和更多城市景观阳台
Queen size bed in Master Bedroom Queen size bed in Second Bedroom Available roll away bed upon request Separate kitchen and dining area Indoor Lap Pool & Spa Fitness Center Sauna Fresh Cotton Linens,Towels and Toiletries Provided Fully Equipment Kitchen with all Major Appliances including Fridge, Stove, Oven and Dishwasher Tea/Coffee Maker, Kettle, Toaster and Microwave included High Speed Wireless Internet Flat screen TV In-suite Laundry Facilities Ironing Facilities All utilities included Alarm clock in Bedrooms Bathrooms equipped with Hair Dryers Smoke and Heat Detectors in all Suites Dedicated work space and much more City view on balconies
与房客的互动
我们协助客人预订退房。我们的客户服务代表通过电话,聊天和电子邮件等待24/7,以处理任何问题。
We assist our guests from booking to check out. Our customer service representatives are on standby 24/7 on phone, chat and email to handle any concerns.
其他注意事项
取消政策:预订时,如果您因任何原因决定取消预订,酒店将收取10%的住宿费用。如果在入住当天的21至30天之间取消预订,您将收取入住总费用的50%。如果在入住当天不到21天取消预订,您将收取全额入住费用。提供您的ETA(估计到达时间)这是一家自助服务公寓,因此请在抵达前72小时致电或电邮确保单位和密码已准备好,否则可能导致延迟入住。从晚上9点起,办理入住手续时需要支付25美元的费用给我们的支票人员,为了安全起见,客人必须在抵达前发送照片的身份证件和信用卡,并在办理入住手续时出示照片。每件丢失的FOB都有$ 85.00的罚款,失车卡/标签损失100美元,每个失去的钥匙需要$ 50美元,可以根据要求提供50美元的Pack n Play和Cot。任何与家用电器,电器,游泳池或与房屋维护有关的任何事项将在24小时内确定,因为我们将解决与房产相关的任何问题,客户不会给予任何赔偿,如果没有修理和房屋或公寓处于可居住状态将安排住宿。这只有在48小时的投诉后才能完成。客人必须在抵达前发送照片的身份证件和信用卡,并在办理入住手续时出示。该物业将要求客人签署租赁协议和信用卡授权表。请联系酒店了解更多详情。在预订后,酒店将收取250美元的押金。剩余余额将在抵达前至少14天收取。该酒店还可能收取额外的$ 250可退还的附带押金。这笔押金在退房时全额退款,并对住宿进行损坏检查。损失的物品将从您的保证金中扣除。噪音投诉十分严重,可能导致驱逐而没有赔偿,罚款$ 1000。请注意,所有特别要求均视供应情况而定,并可能收取额外费用。该物业将在到达之前签发租赁合同,说明租赁期限,费用和租赁协议的详细条款和条件。请注意,我们可能会要求您在实际预订前向我们提供护照信息。
Cancellation Policy: Upon reservation, should you decide to cancel for any reason, a fee of 10% of the total amount of your stay will be charged. If cancelled between 21 to 30 days prior to the day of check-in, you will be billed 50% of the total charge of your stay. If cancelled less than 21 days prior to the day of check-in, you will be billed the full amount of your stay. PROVIDE YOUR ETA (ESTIMATED TIME OF ARRIVAL This is a self-serviced apartment, so please call or email 72 hours before arrival to ensure that the unit and keys are ready for you. Failure to do this may lead to a delayed check-in. For check ins from 9pm onward, a fee of $25 is to be paid in cash to our check in personnel. For security and documentation purposes, guests are required to send a photo ID and credit card prior to arrival and to present them during check in. There is an $85.00 penalty for every lost fob, $100 for lost car card/tag and $50 per lost key. Pack n Play and Cot are available upon request for $50. Any issues with the house/apartment with regards to appliances, electrical, pool, or anything related to the maintenance of the house will be fixed within 24 hours. There will not be any compensation given to the client in this matter since we will fix any issues related to the property. If it is beyond repair and the house or apartment is in an inhabitable condition, alternate accommodations will be arranged. This will be done only after 48 hours of complaint. Guests are required to send a photo ID and credit card prior to arrival and to present them during check-in. The property will require the guest to sign a rental agreement and credit card authorization form. Please contact the property for further details. The property will charge $250 anytime after the booking is made to secure the reservation. The remaining balance will be charge at least 14 days prior to arrival. The property may also charge an additional $250 refundable incidental deposit. This deposit is fully refundable upon check-out and subject to a damage inspection of the accommodation. Lost and damaged items will be deducted from your Security Deposit. Noise complaints are taken very seriously and may result in eviction without compensation and a penalty of $1000. Please note that all Special Requests are subject to availability and additional charges may apply. The property will issue a leasing contract to be signed before arrival stating the lease term, fee and detailed terms and conditions of the lease agreement. Please note that we might require you to provide us with your passport information prior actual booking.
---
Bitter start to our experience with this accommodation. The manager gave me the run around to three different addresses to obtain keys, seems like he was very unorganized and unsure of the location of the accommodation. The manager's phone also died during my hunt to find where he was - he was on the other end of the building, not where he said he would be which was where i was. I noticed he had another phone on him.. funny how he couldn't have used that. The consequence of this was i was made late to a following appointment. Furthermore, the room has no wifi, unless you pay for hotel wifi nor is it high speed if they are speaking about the hotel wifi. I rang their customer helpline and the representative told me that the room has not internet installed, but it should be installed in the next few days, we stayed 10 days and it never happened. Although i have been told i will be reimbursed for the purchase of hotel internet.. yet to see that money come through. We were also given a great surprise when plumbers walked into our room one day, they had a key card to our room, they were just as shocked as we were. They were told the room was vacant. Glad they came, since the toilet in one room was broken and so was the basin in the bathroom. But a prior notice would have been great. Not a bad accommodation space at all. Great location. Very clean. Central to everything you would need. However, a big let down with all the things mentioned above which could have been avoided with greater organisation from the host team.
---
Providing short and long term stay vacation rental.
语言:
English、Tagalog