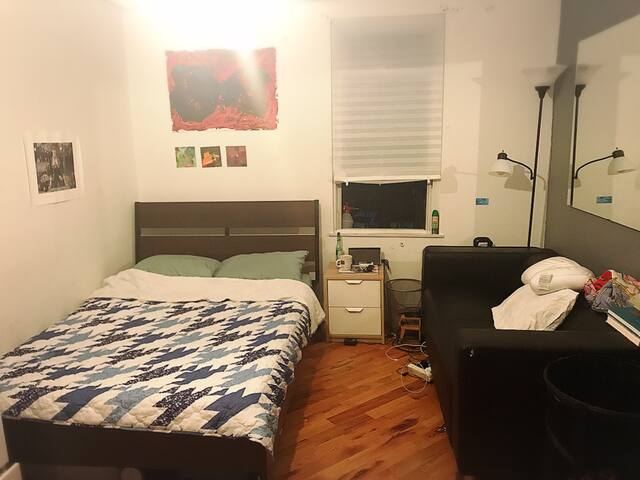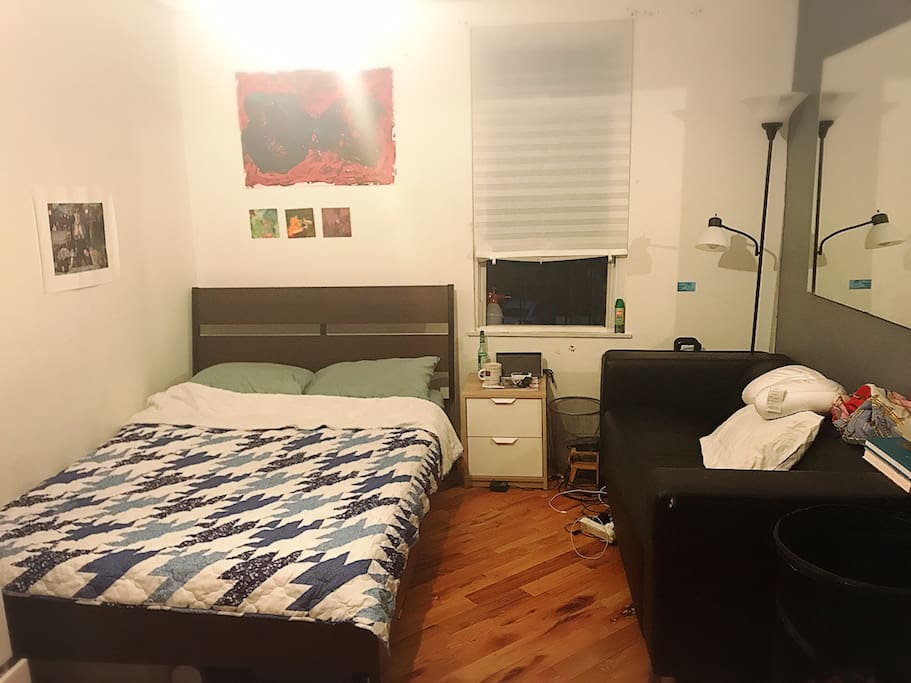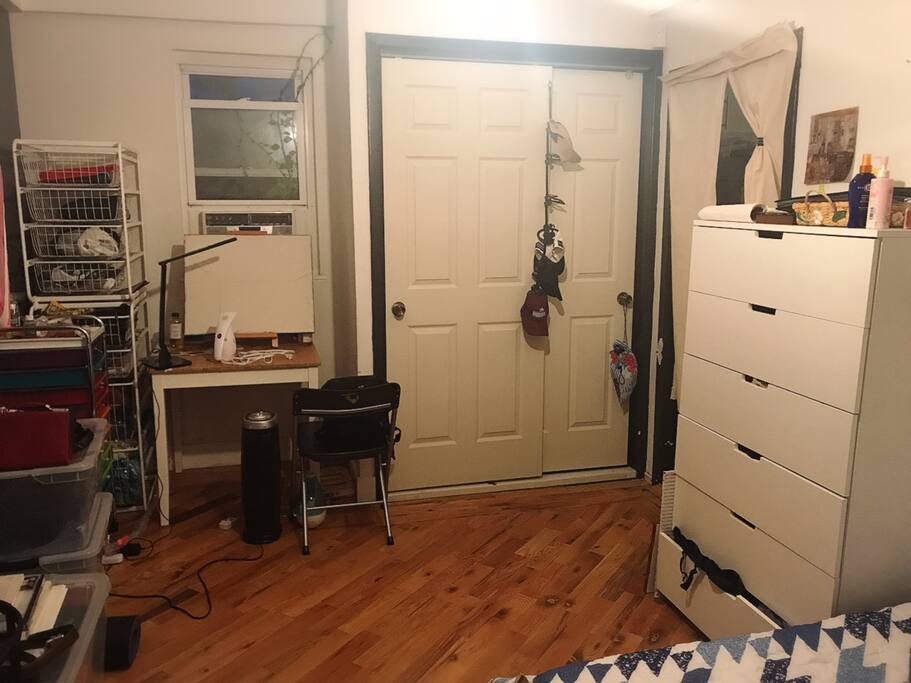 You will have the entire furnished apartment to yourself. It's a huge studio(600 sq) with bedroom, bathroom, living room and kitchen. Laundry in unit. Air conditioned.
Quiet residential neighborhood. Close to J,M and L subways. 20 min to manhattan.
The photos were taken before I moved out to live with my girlfriend, actual place is without my stuff and the cat. But all the furniture and giant closet will be ready for you to use.
---
---
---
I will meet you at the apartment to show you around. You can also call me if you have questions during your stay. Please clean up after yourself and take your garbage downstairs. Feel free to use the cooking and eating utensils, but please wash them after.
---
---
---
This is a good deal for the money we paid. It is a very simple place with no frills really, but my travel companion and I were just looking for a safe place to crash while in NYC while avoiding the high cost of a hotel. Location: Excellent Location is actually quite good (for the money) it's a few blocks from the Gates Ave (M & J lines). There's quite a few good bars and restaurants within walking distance. There's even more just a $6-8 uber away in Bushwick. Size: Excellent The place was plenty roomy for the two of us. There's only one bed and initially we had hoped the couch would be suitable for sleeping on, but it's a little small. Kind of like a dorm room couch. The layout is a long narrow hallway with the bathroom right inside the door. You walk past the sink and kitchen area into the bedroom. I liked that the bathroom was on the total opposite side of the apartment. Bed: Comfortable The mattress was kind of a foam like mattress topper I think. It was fairly firm but comfortable. There were clean sheets and a quilt. It is best for a couple or a single traveler. Not really good for kids in my opinion. Air Conditioning: Good It has a single window unit that we ran when we were in the room. It cools the bedroom effectively - the kitchen area doesn't have a fan so it's a little warm outside of the bedroom, but time of the year probably solves that. Bathroom: Needs a scrub This is my only constructive criticism on the place was that the bathroom was a bit dirty. The shower area especially. It's a very small bathroom also. I tried to spend as little time in there as possible. Least favorite part of the stay. Other stuff: This is probably less indicative of Yihong than it is other Airbnb'rs - it looked like someone really trashed the walls and the couch with a stapler or knives or something. There were little cuts and holes in everything. It just brought down the whole feel of the apartment. You could kind of tell it has been treated like a hostel. Safety: Neighborhood is predominately african american and latino with some young hipsters enjoying the lower rent here than in say Williamsburg. I felt safe at all times during the day and for the most part I felt safe late at night too - esp when walking down the main road back from the Subway. It was well lit. The building has an outside door and the room has 3 deadbolts. We felt safe at night. Final thoughts: If you're coming to NYC and looking to impress the ladies, I'd probably temper my expectations and find a more expensive place. My gf would not have been ok with the shower/bathroom cleanliness. In our case, we were two 30ish guys wanting to spend a cheap week in the City....
---
Unfortunately it didn't look like the place had been cleaned since the last tenants. It was dirty and I kept spotting long, thick, women's hair throughout. Definitely in need of a good scrubbing. Also - the towels weren't washed which was disappointing. There is a laundry downstairs but we were here as tourists so we didn't have the time to be doing laundry. I made the mistake of not background checking the neighborhood. It wasn't the worst neighborhood, but we're used to the suburbs so it was more intimidating than we realized. It was a good deal budget wise when we looked into places to stay from out of town, but next time I'll be willing to pay a little more for comfortable accommodations.
---