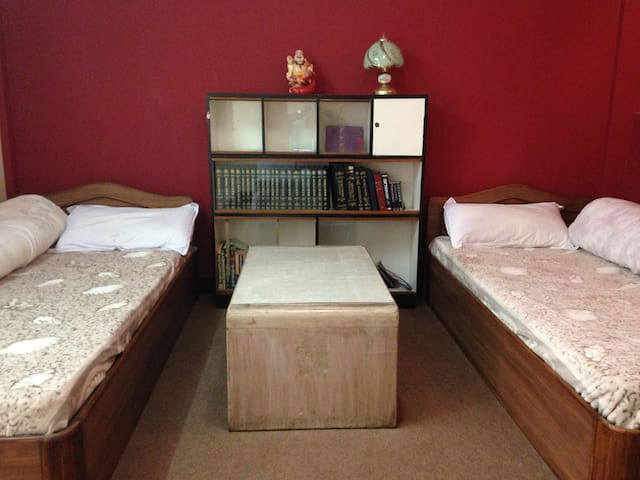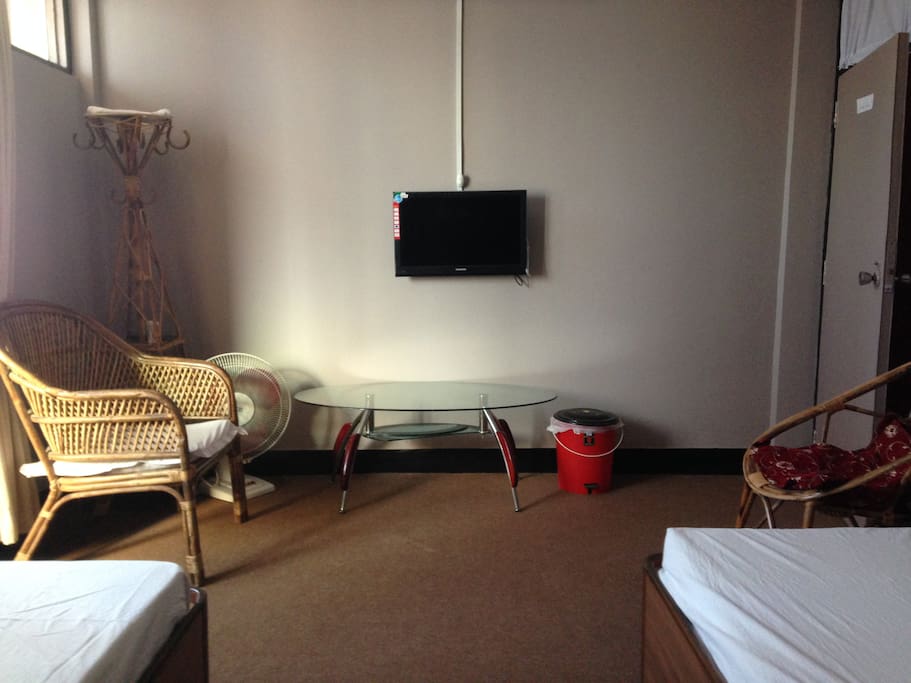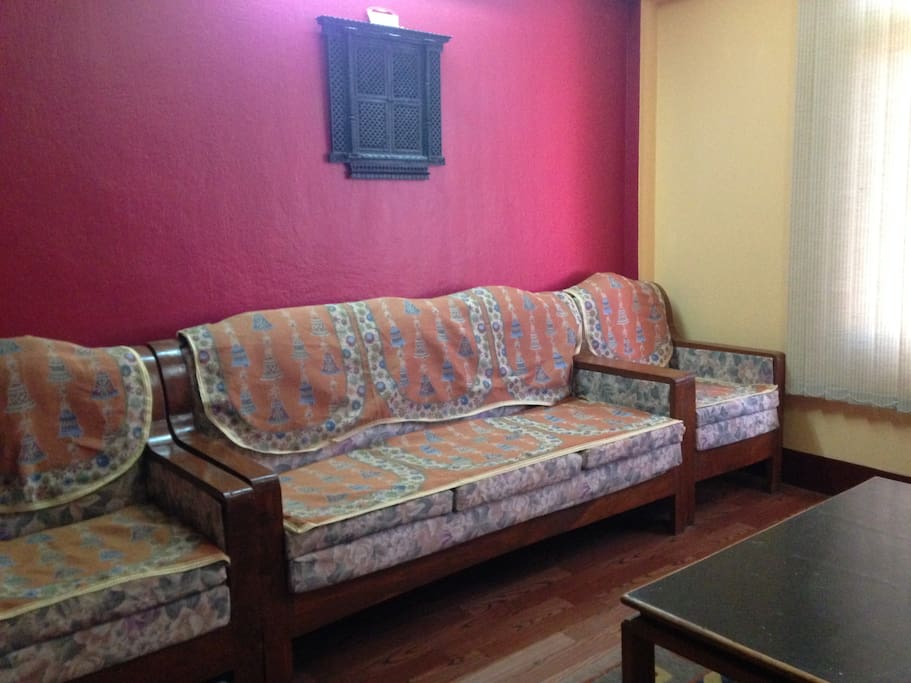 Metkha Cyber & Guest House
Metkha Cyber and Guest House酒店位于Patan Dhoka的中心。在这里,距离Patan Durbar Sqaure步行约5分钟,那里拥有许多历史悠久的寺庙,无限购物和一小撮餐厅。更靠近的地方,有各种各样的餐馆,包括当地的momos,咖啡馆和国际食品。从泰美尔休息一下,看看加德满都有多少当地人在那里散步,放松,友好,并且总是愿意回归"纳瓦什"。 - 距离Patan Durbar Sqaure步行不到10分钟 - 5分钟的各种餐厅,包括当地美食,咖啡馆和国际菜肴。 从出租车/巴士3分钟 距离百货公司Bhat Bhateni有5分钟的路程,您可以在整个住宿期间获得所有必需品 乘坐10-15分钟出租车,或者乘坐当地的巴士直接在那里15卢比去打嗝 -20-30分钟车程到机场 到动物园步行15分钟,那是尼泊尔唯一的一个 宾馆内: - 使用太阳能发电的淋浴 -24/7免费wifi和电,而加德满都的电力中断在白天和黑夜各种时代 - 在屋顶上,加德满都山谷和积雪覆盖的山脉令人难以置信,特别是在晴朗的季节 - 宾馆的第一层是一个网络咖啡厅,传真机,电脑和非常便宜的国际电话 每个房间都有一个全天候允许阳光的窗
Metkha Cyber and Guest House is in the center of Patan Dhoka. Here, you are about a 5 minute walk from Patan Durbar Sqaure which holds numerous historic temples, unlimited shopping, and a handful of restaurants. Even closer, there are varieties of restaurants, including local momos, cafes, and international foods. Take a break from Thamel and see how many of the locals go about there day in Kathmandu, relaxed, friendly, and always willing to return a "Namaste".
-Less than 10 minute walk to Patan Durbar Sqaure
-Within 5 mins of various restaurants, including local cuisine, cafes, and international dishes.
-3 mins from taxis/buses
-5 mins from Bhat Bhateni, department store where you can get all necessities and more throughout your stay
-10-15 min taxi ride, or catch a local bus going directly there for 15 rupees to thamel
-20-30 min ride to airport
-15 minute walk to the zoo, the only one in Nepal
Inside the guest house:
-Hot water for showers using solar power
-24/7 free wifi and electricity while there are power outages throughout kathmandu various times during the day and night
-Patio on the roof with incredible view of kathmandu valley and snowcapped mountains, especially during seasons with clear skies
-First floor of guest house is a cyber cafe with fax, computers and very cheap international phone calls
each room has a window that allows sunlight in throughout the day
---
We had a most wonderful experience at Metkha Cyber & Guest House. We booked a triple room but Ashes let us use 2 rooms that were available at the time so we had more space. The rooms were clean and each one had its own bathroom. Our plane couldn't land when scheduled due to poor visibility and we finally arrived around midnight and had to call Ashes at that late hour. He was cool with that, and he spent some time with us giving us tips about Kathmandu. He also gave us a bottle of drinking water. Ashes is an amazing person and was a great host throughout our stay. Our only regret is that we did not have a chance to spend more time with him and his wonderful friends. We think of Ashes as a dear friend and we certainly hope we will meet again. We highly recommend Metkha Cyber & Guest House.
---
I am sooooo glad we stayed with host Ashes at the Metkha cyber and guesthouse. It made our trip to Nepal really special. Ashes was a wonderful host. He really went out of his way to help us and to make our stay comfortable and enjoyable. Nothing was too much trouble for him. He helped us with exchanging money, getting a nepali SIM card and even picked up something we had ordered from a shop. The rooms were a good size, very clean and had en suite bathrooms with shower.A percentage of the guesthouse profit goes towards spark childrens home. We were lucky enough to meet some of the kids from the childrens home which Ashes and his family supports. This was also a highlight of our trip. However, this was something that we chose to do and at no point was this forced upon us. The kids are so warm, natural and fun and we felt really at home. I was travelling around Nepal with my 10 year old daughter and she said out of all the places we stayrd she felt most comfottable at Ashes. Another advantage of staying at the Metkha guesthouse is that it is in Patan. In Patan there are lots of sights to see but as it is not in central Kathmandu it is a more relaxing. However it iy still easy to get into Kathmyndu with a taxi or local bus....I cannot recommend this place highly (URL HIDDEN) thanks Ashes for making our stay so memorable
---