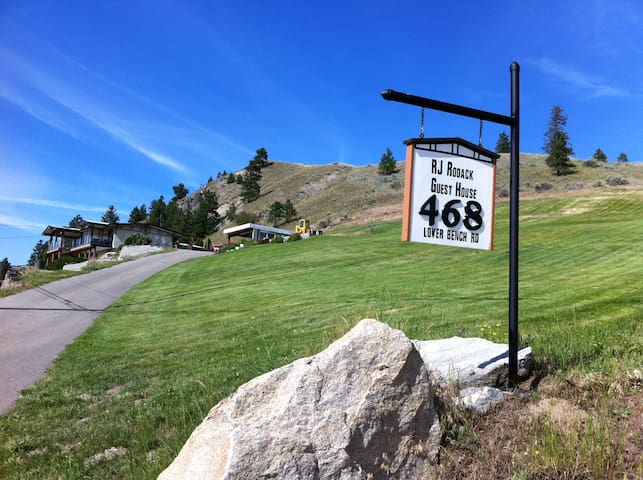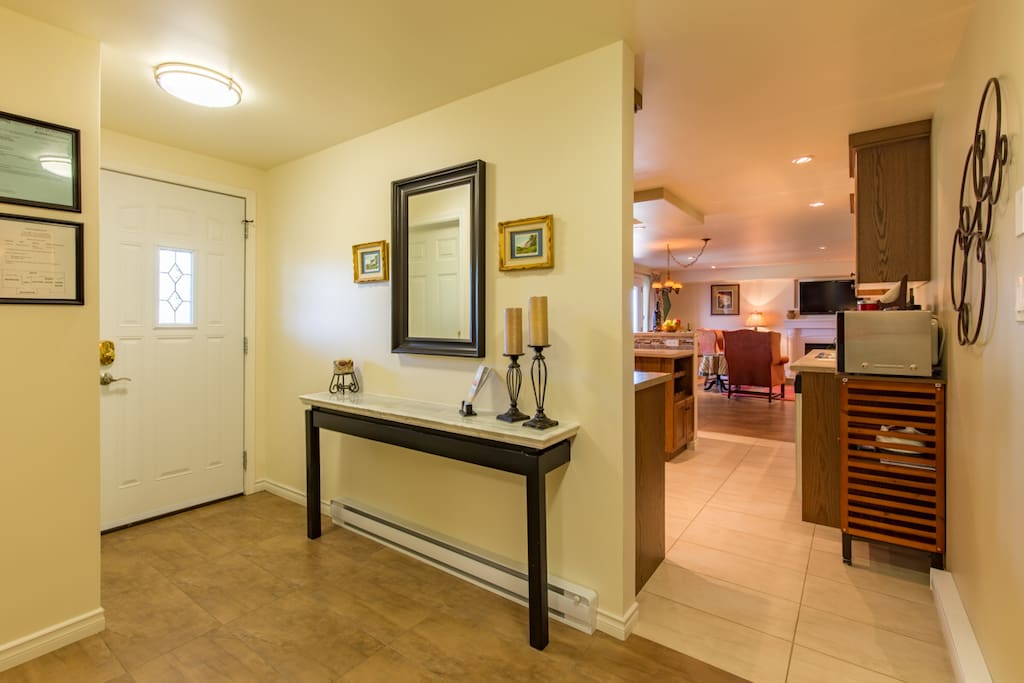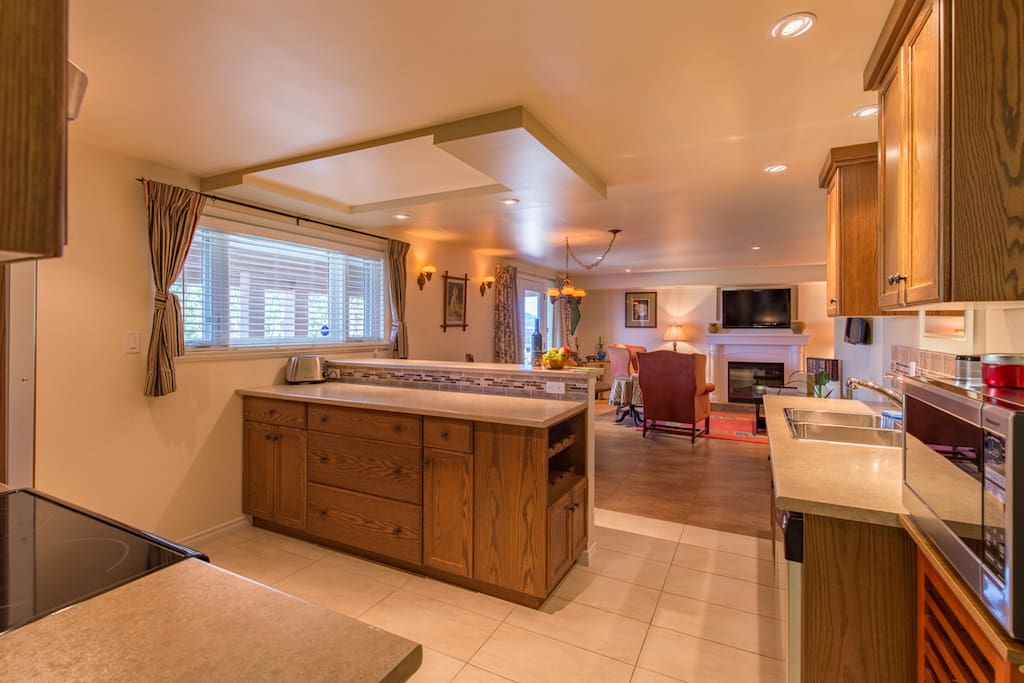 Merlot Suite Fully furnished one bedroom suite.
RJ Rodack Guest House酒店位于加拿大不列颠哥伦比亚省卑诗省Penticton市。 Penticton位于BC省Okanagan山谷的Okanagan(OK)湖南岸。城市南部是Skaha湖。 我们的宾馆位于OK湖东侧的彭利克顿农村。我们在Munson山的边界,这是一个自然,观光和远足的公园。作为一个农村,我们被果园和葡萄园包围。我们提供壮观的景色,俯瞰OK湖,Penticton市中心,并向北扩展到Summerland和Peachland的城市。 Penticton的水上山区提供无数海滩,水上和划船活动。我们的半干旱气候确保温暖的春天,秋天和炎热的夏季天气。 奥卡那根山谷拥有加拿大首屈一指的葡萄酒产业之一。这让我们的客人有机会在壮丽的环境中探索我们广泛的收藏,折衷主义,精品和传统酿酒厂。 在春季,夏季和秋季,Penticton举办了许多节日和体育赛事。星期六早上,农民市场吸引了我们非常有成效的农业学家,艺术家和工匠。春季和秋季的葡萄酒节必须有机会参观Penticton。 Penticton在八月份举办世界级铁人三项赛,吸引了来自世界各地的游客和运动员。 来享受我们美丽的城市,温暖的气候,暑期活动,当然还有RJ Rodack Guest House。
RJ Rodack Guest House is in the City of Penticton, British Columbia (BC) Canada. Penticton is located at the southern shore of Okanagan (OK) Lake in BC's Okanagan Valley. South of the city is Skaha Lake.
Our guest house is located in rural Penticton on the eastern side of OK Lake. We are on the perimeter of Munson Mountain, a natural, viewpoint and hiking park. As a rural area, we are surrounded by orchards and vineyards. We offer spectacular views overlooking OK Lake, downtown Penticton, and expanding views north to the cities of Summerland and Peachland.
Penticton's water and mountain setting offers a myriad of beach, water and boating activities. Our semi-arid climate ensures warm spring, fall and hot summer weather.
The Okanagan Valley boasts one of Canada's premier wine industries. This offers our guests the opportunity to explore our extensive collection of, eclectic, boutique and traditional wineries in breathtaking surroundings.
Throughout the Spring, Summer and Fall, Penticton hosts a number of festivals and sporting events. The Saturday morning Farmers Market draws our very productive agriculturists, artists and artisans. A must occasion for a visit to Penticton are the Spring and Fall Wine Festivals. In August Penticton hosts a world class Triathlon that attracts visitors and athletes from around the world.
Come and enjoy our beautiful city, its warm climate, summer activities and of course RJ Rodack Guest House.
---
Rod & Jack's place was perfect! The view is stunning and the suite is large and is as beautiful as the photos! The location was great... a few minutes to town and close to many wineries. The bed was so comfy I could have slept for days! Rod and Jack were awesome hosts and I will recommend their place to all my family and friends. My only regret was not staying there longer!
---
Our stay at the Merlot Suite was great! This was the perfect location for our wine tasting visit to the Penticton area. Many of the wineries we wanted to visit were surprisingly within minutes of the suite. The suite was clean, roomy and comfortable. We were provided with everything we needed for our stay, and more! The view of the lake was spectacular and we will definitely return.
---
We had a wonderful holiday in The Merlot Suite. The outstanding views of Okanagan Lake, the decor and the amenities were all second to none! Better than advertised actually! The location near to Penticton and Naramata is perfect but we could not wait to return to our private patio in the evening. Sipping excellent local wines and admiring the views on a warm summer night is our idea of a perfect getaway. We wanted for nothing and will absolutely return to The Merlot Suite in the future. Recommended highly to friends and family.
---
Beautiful suite, well appointed and with a fabulous view. Host was non-intrusive and kindly left wine, coffee, and chocolates to greet us. Quiet hillside in Naramata just a few minutes from the City. If you have a physical challenge and steps are an issue, confirm the access to your suite works for you. Great parking, huge patio, and complete privacy.
---
My friend and I had a wonderful two night stay in the Merlot Suite. Great location on the Naramata bench. Within walking distance of a few of the Naramata wineries (Poplar Grove and Monster Vineyards are just around the bend) and a 25 min walk into downtown Penticton. The hosts were super friendly and easy to communicate with. The suite itself exceeded all expectations. Super clean and comfortable with plenty of room to relax and take in the beauty of the Naramata Bench! We thoroughly enjoyed the outdoor patio space and magnificent view of the lake and countryside. I would definitely recommend staying here and plan to do so again on my next trip to Naramata!
---