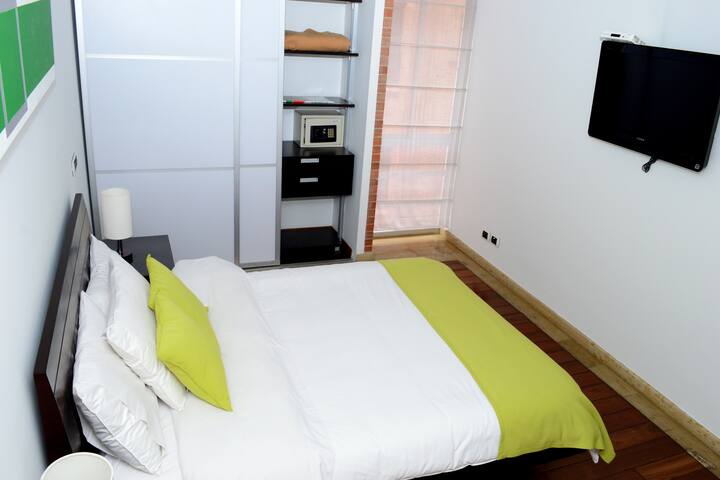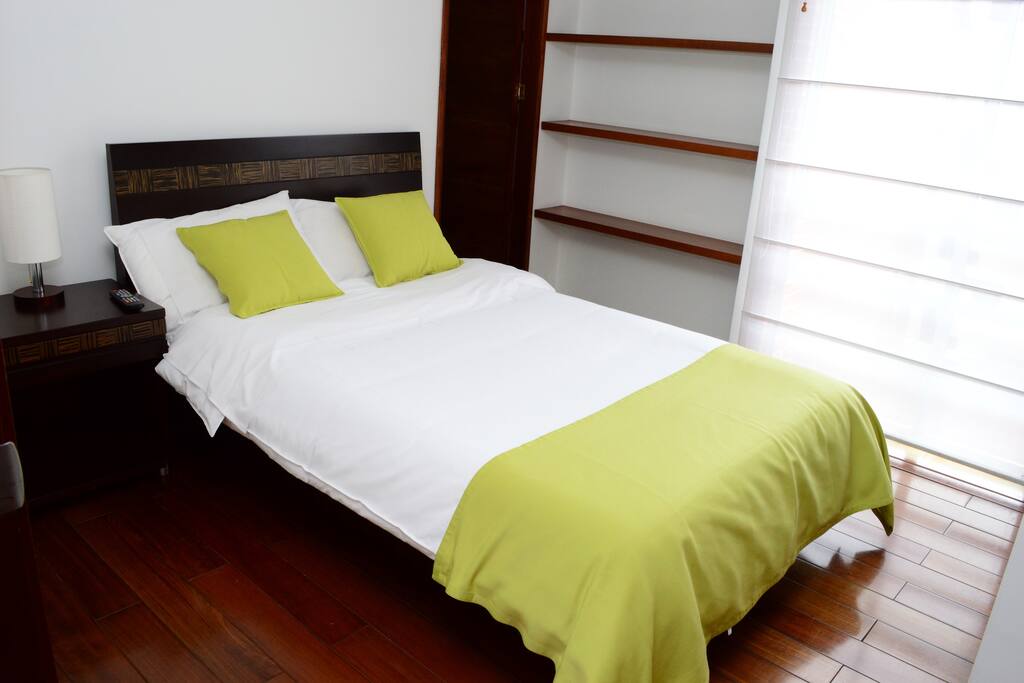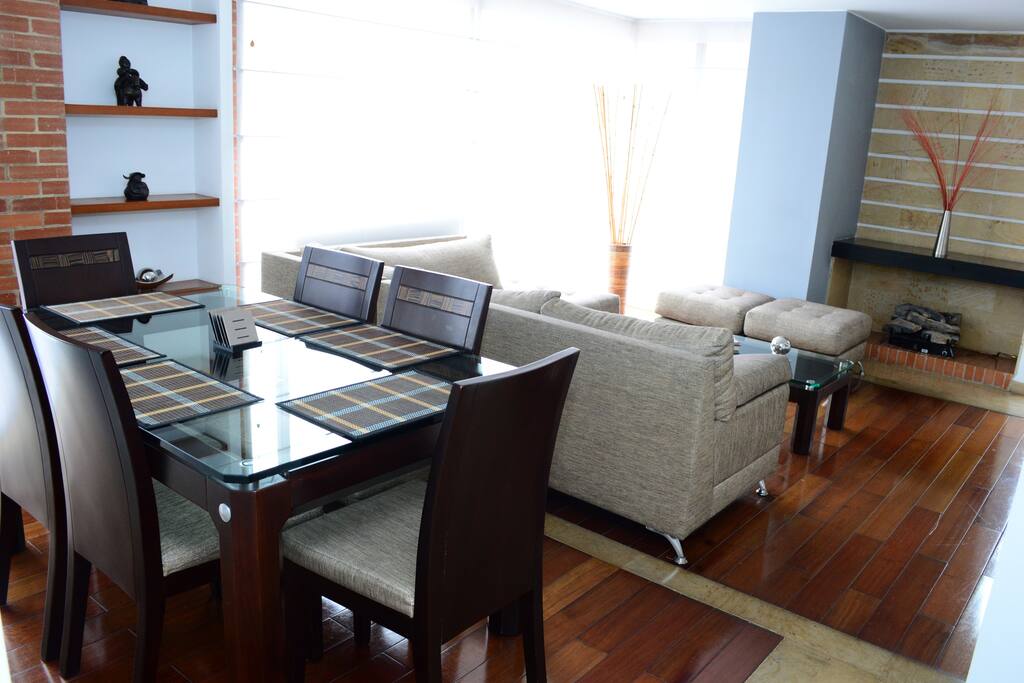 Apartamento 4 Habitaciones
- Cocina
- Baño
- Internet WiFi
- Tv Satelital
- Servicios hoteleros
- Equipo de sonido
- Parqueadero
- Servicios turisticos
房源
La comodidad es lo más importante para nosotros, por eso contamos con 18 apartamentos suites de 1, 2, 3 y 4 habitaciones completamente amoblados, dotados y decorados de forma elegante para brindar una experiencia única durante tu estadía en Bogotá.
房客使用权限
Prisma cuenta con una sala de estar, un comedor restaurante para desayunos, una sala de juntas para 8 personas, parqueadero, jardín y sauna para uso de todos nuestros huéspedes.
与房客的互动
En prisma contamos con atención las 24 horas, todos los días para brindar un servicio personalizado y así lograr que nos huéspedes se sientan como en casa.
其他注意事项
-Los NO RESIDENTES en Colombia están exentos del pago del Impuesto del Valor Agregado, 19%, únicamente en el valor del alojamiento, siempre y cuando presenten: El pasaporte original, la tarjeta Andina o la tarjeta de Mercosur comprobando su estatus migratorio con el sello vigente de Permiso de Ingreso y Permanencia PIP-3, o PIP-5, o PIP-6, o PIP-10; o la Visa Temporal vigente TP-7, o TP-11, o TP-12; según sea el fin que asiste al residente en el exterior para ingresar al país sin el ánimo de establecerse en éste, de acuerdo con lo señalado el Decreto 1067 de 2015, modificado por el Decreto 1743 de 2015, yen la Resolución 5512 de 2015 del Ministerio de Relaciones Exteriores. En caso de que los huéspedes no cumplan con los requisitos anteriores deben pagar el Impuesto del Valor Agregado, 19% adicional en el Hotel.
-El pago por servicio de limpieza corresponde a una vez por semana, si se requiere limpieza adicional se debe solicitar en la recepción y pagar 25 dolares en el hotel.
-No se permite ningún tipo de reunión, fiesta o despedida de soltero dentro de los apartamentos que afecten la tranquilidad de los demás residentes del edificio (Prisma se reserva el derecho de admisión)
---
Wonderful location in the city. Our family of 5 were able to take countless walks to many parks and city sites. The breakfast was wonderful every day. I was most impressed by the staff and hospitality; any need you have, they will work with you to make it happen. We stayed here for early 2 months and would recommend it to anyone looking for a safe and comfortable place to experience Bogota!
---
The apartment was better than expected. It fitted our needs for being together as a family and yet having our own spaces. The personnel at the reception and the cafeteria were extremely friendly and helpful. I love the daily breakfast. It was fresh, it included many options. I felt pampered when the lady in the kitchen made the eggs at my request. The terrace had a great view. The table and the chairs at the terrace created an space to hangout at night. It is located in a quiet neighborhood at night yet, accessible to many restaurants and local shops during the day. The front desk provided us with all we asked, for example, a hair dryer, and an iron. Staying there was like renting our own apartment with the amenities of a hotel. I will definitely stay there again.
---
We enjoyed our stay at Prisma. It's a great space for larger parties (there were 6 of us), and it was convenient that people in our party were able to check in at different times (not all of us arrived at Bogotá at the same time). The place was clean with amenities needed. Breakfast was not included (though the listing says it is; we were told it was an additional 7,500 COP per person if you wanted the option if I remember correctly), so we opted to grab breakfast elsewhere. The water took a bit of time to heat up, but other than that, everything was great. There's a nice upstairs patio and a living room area to hang out. We only stayed 1 night and left early the next morning for Villa de Leyva but definitely would consider staying again!
---
We arrived after midnight to a fine welcome by a professional and friendly agent who put us immediately at ease. Great apartment with very good furniture in living room, and a fully equipped kitchen lacking nothing at all. The whole place was immaculately clean. Anything we had questions about--tourism, taxis, other--were immediately answered. Breakfast was included--it was a good buffet plus hot egg/etc dishes made to order. The gas fireplace came in handy since Bogota can be, and was, chilly at night. Our particular apt was on two levels and additionally had a rooftop private balcony with small table and nice chairs from which to view the neighborhood. The workers in the building called taxis for us and assisted us in learning where restaurants and food stores were, all very nearby. The neighborhood seemed quite safe to us, with lots of guards and police in appropriate places, along with a lot of public lighting along the streets. It was easy to get to the sights we wanted to see via taxis. We didn't try other forms of public transportation but we suppose there were options. The stars of the show were the building staff and agent who made everything easy.
---
Overall we were very impressed with the quality and cleanliness of the facility. Everything look brand new, furnishings were elegant and nice and the place was very spacious. There was 5 of us and we were very comfortable. The staff (front desk receptionist, cleaning staff, cooking staff) was very friendly and accommodating. The location was convenient, safe and well lit at night and the building itself was very well secured. The amenities were impressive. They had modern showers, TVs in every room, patios/balconies and a roof-top terrace. Good privacy due to the set -up (3-storie unit). 2 of the bedrooms had in-suite full bathrooms (with shower). Other services included daily cleaning (including beds made) and hot breakfast with eggs/fresh fruit/juice/cereal/etc. All-in-all, would happily return to Prisma next time we're in Bogota. Highly highly recommend it! Quedamos impresionados con la calidad y limpieza del apartamento. Todo estaba nuevo, los muebles muy elegantes y modernos. Nos hospedamos 5 en el apartamento y estuvimos muy cómodos. El personal estuvo muy atento (recepción, servicio de limpieza, cocinera). La ubicación fue excelente. Un lugar muy seguro con buena iluminación en la noche y el edificio con buena seguridad también. Los baños muy modernos y cada cuarto con su TV. En el último piso hay una terraza al aire libre con una bonita vista. Buena privacidad dados los 3 pisos del apartamento. 2 de los cuartos tienen baño privado completo (con ducha). Otros servicios que nos gustaron: limpieza diaria con tendida de cama y desayuno caliente con huevos, fruta, jugo, cereal, etc. Definitivamente Prisma queda súper recomendado!
---