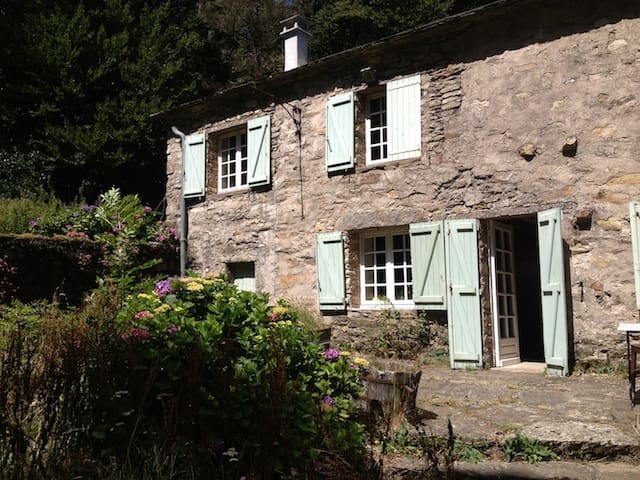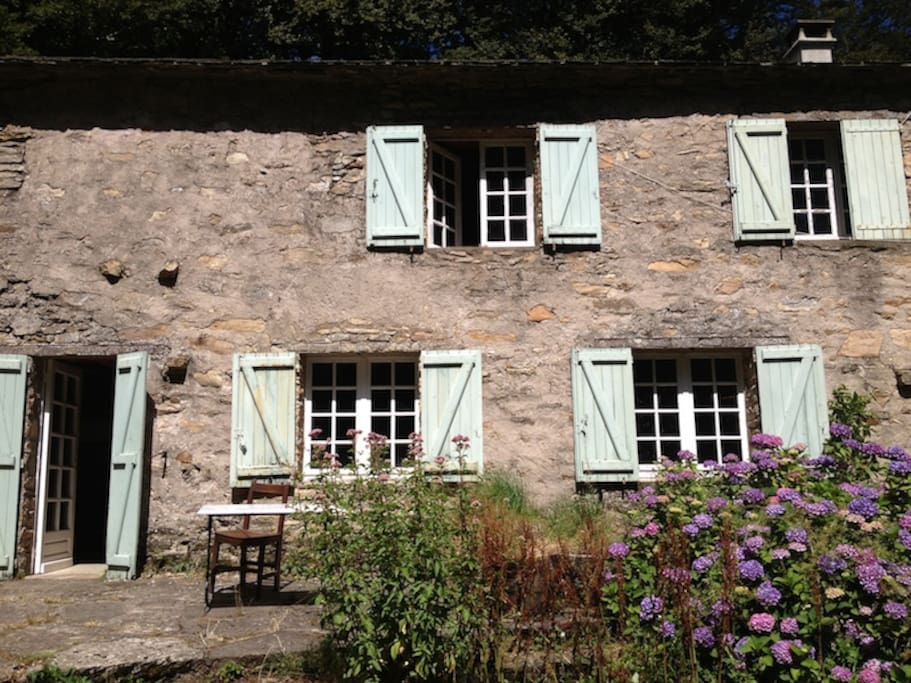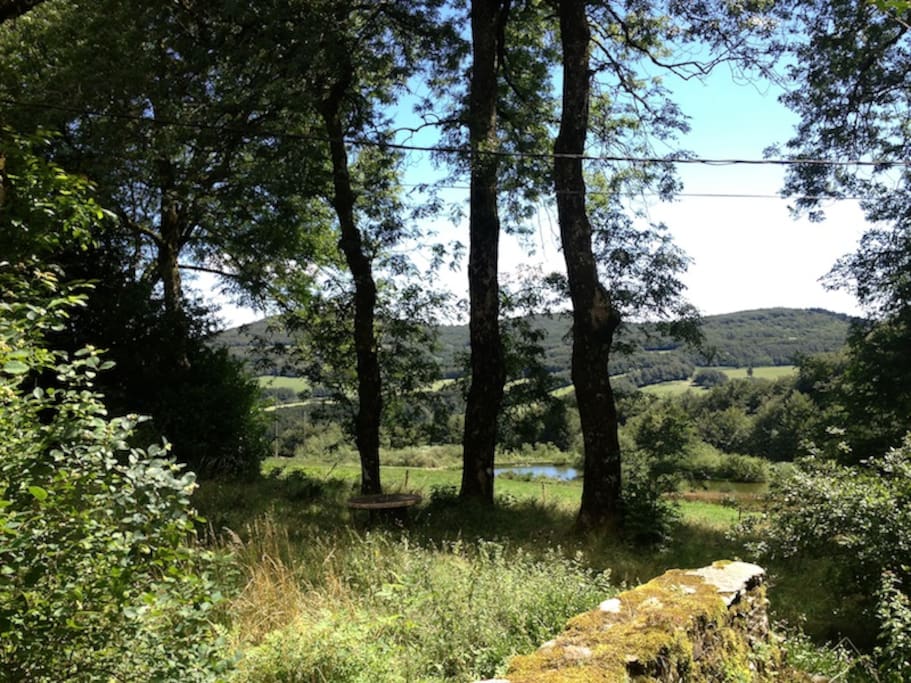 A homely cottage hidden away up in the hills, with its own lake, meadows and woodland. Four bedrooms and two bathrooms (one with bath and one with shower). Satellite wifi and landline included (limited to 40GB/month).
房源
Le Santé is a beautiful rustic cottage in the French countryside just 30 minutes drive from Mazamet and 45 minutes from Carcassonne.
It's 1000m high, with stunning scenery and plenty of walks to do in the local area.
You'll need a car as you'll only have about 20 neighbours for miles and miles around.
There are two small lakes which you can take the little boat out on. You can go mushroom hunting at the right time of year. You can escape from the internet! (No wifi - there is mobile and 3g connection, but you have to wander around the front of the house to find it).
This would be an ideal base for a couple with 2-4 children to explore the countryside and the local area including Carcassone's old city, the most popular single tourist destination in all of France.
It is close to the following airports:
Carcassone - 45 mins
Castres - 45 minutes (domestic flights to Paris)
Perpignan - 1hr 20mins
Toulouse - 2hrs
Montpellier - 2hrs 30

The house itself is charming, but rustic. It has electricity, running water and gas. The central heating is not currently working, but the fireplace and electric heaters do the job perfectly well.
Top floor:
One master bedroom with double bed, ensuite bathroom with bath and toilet.
Second bedroom with queen bed and sink.
Study with desk and hifi.
Third bedroom with single bed.
Bottom floor:
Kitchen with oven, gas cooker, kitchen and microwave.
Large living room with small dining table, sofa armchair and wood fire.
Other rooms, including garage and storage.
---
La maison de Daniel s'apprivoise. Collée à la colline, dans le bruissement des hauts hêtres, elle nous a accueillis un soir austère, sous le vol des rapaces, après l'incroyable montée de Lespinassière. L'endroit est vraLe séjour est un peu bas et sombre ; mais c'est un arbre entier qui supporte l'énorme cheminée. À l'intérieur attend le meilleur poêle que j'ai jamais vu (il tire sans aucune fumée) auprès duquel nous avons joué au Boggle, bien calés dans les canapés pendant des heures. Le dallage de pierres brutes est superbe de rusticité. A l'étage, trois chambres au parquet impeccable et une salle de bain toute neuve donnent un peu de douceur à l'ensemble. Au-delà… d'innombrables portes menant vers des ateliers et des livings en travaux qu'on espère voir un jour achevés. La cuisine est très bien équipée – mention spéciale pour le fourneaux qui permet un service en « assiettes chaudes ». L'ensemble est donc confortable, même si on sent une vieille humidité d'un endroit pas assez habité. La terrasse avec la petite source est charmante, même si un peu chaude en été. On s'y est délectés du bal des papillons et des lézards (en nourrissant une énorme… araignée baptisée Ciboulette). Une des plus belles ballade de notre séjour fut celle des clairières de *** qui passe en bas du champs où se trouve l'étang. Pour finir, Daniel que nous n'avons pas rencontrés, à été aussi bienveillant et disponible qu'on peut l'être, nous dégottant du matériel pour notre bébé et nous fournissant un « plan du quartier », c'est à dire le contact des quelques habitants voisins de ce chemin perdus auxquels on sent qu'on peut toujours demander un coup de main. Ça rassure dans un pareil isolement. Le froid, la pluie, la brume - que nous n'attendions pas au mois d'août – ne nous ont pas empêchés de passer des moments rares dans l'impressionnante demeure endormie de Daniel. Nous l'avons apprivoisée…nous reviendrons.
---
Malgré l'accueil téléphonique et par mail, chaleureux, (notre hôte ne pouvant venir pour la remise des clefs), nous avons apprécié de découvrir cette jolie demeure et son environnement, mais gros problème d'humidité, de pression d'eau, de toilettes défaillants, de propreté, manque de chaise extérieur (4 chaises pour un logement prévu pour 5)...
---
If you're city folk with a passion for outdoor (activities) and spend ten days in a real French countryside cottage smack in the middle of the green and gently sloping Haut-Languedoc natural park you are bound to be wonder-struck and impressed. The place is charming, genuine and simply great! Surrounded by tranquility. We arrived and the cottage wasn't inhabited the weeks before and needed some clearing away of weeds and overgrown blackberries shrub from the large stone terrace. For us, this was a highly enjoyable activity, messing around our first day if we owned the place, making ourselves comfortable and afterwards submerge in a big stone water reservoir adjacent to the terrace that has cold water oozing out of the mountain! How cool is that? There is a scenic little pond right in front of the terrace with salamander, frog and big dragonflies fighting over dominion. Down the meadow (with lots of wild Thyme) a minute walk will bring you to a small lake which is clean and has some blooming French Water Lilies, the setting looks like a Claude Monet painting indeed ;-) If you do not want to swim in the little lake, Daniel has a little easy portable boat in one of the barns which you can use to peddle, but note: the lake is not that big, a few strokes and you're across or around... The cottage is located in a very serene and quiet surrounding; lizards fleeing in acrobatic moves, cows mooing in the distance, owls at night, and now and then the rumble of an audacious squirrel trying to find a way into your kitchen. The water in the house tastes simply great, it comes from the mountain and is filtered and pressurized at the house. On a cloudy afternoon when the temperature drops you might want to lit the wood burning stove which sits in a large old fireplace in the living room. Fortunately Daniel arranged for plenty of wood to use so you do not have to go about collecting it yourself. It's a promise for a very cozy evening. Daniel arranged BBQ equipment just before we arrived which we eagerly used for roasting Aubergine and such and he also installed a brand new washing machine. Some practicalities: we used nearby Mazamet for groceries (Intermarche) and gasoline mostly. When driving back to the cottage we used 'Albine' village (on road D88) for car navigation reference point finding our way back to Le Santé, other nearby villages didn't show up. Leucate Plage at the Mediterranean Sea is not so far and a great spot for a day at the beach. Do visit nearby Carcassone and its medieval citadel (on UNESCO list and a must see), Narbonne and Minerve if you want to see some Cathar history (we approached Minerve through road D182 and you'll be treated to some beautiful countryside). THANK YOU DANIEL FOR FACILITATING A GREAT STAY!
---
We (me, my wife, and our 3 kids) recently spent the most amazing 30-days in Le Sante. Its hard to write this review, because it is hard to put into words how special this house, this place, and our holiday there was. The house itself is beautiful, charming, spacious, and comfortable - including bedrooms, bathrooms, kitchen, living room and huge fireplace. The terrace of the house, with its lovely fountain, extends the house out to the most spectacular and calming outdoor space you can imagine. Hydrangas, birds, butterflies, mountains, trees, ponds, green as far as the eye can see… The hosts - Daniel and his family are lovely, warm, helpful, accessible (yet not at all intrusive), and most importantly, kind. The wine they make is delicious too (added perk). Though removed, the (many) local villages are beautiful and easily accessible by car. Perfect combination of mountains, wineries in the valley, and rustic villages. I don't want to exaggerate, but the vacation at Le Sante really changed what we know think a holiday/vacation can be. Kind of ruined us from taking a holiday any where else ;) We hope to have the privilege of taking another long holiday here (that is assuming they don't agree to sell us Le Sante!). In short - this house, place, and hosts have our warmest, heart-felt, and most positive recommendation. Basically, a once-in-a-lifetime opportunity.
---