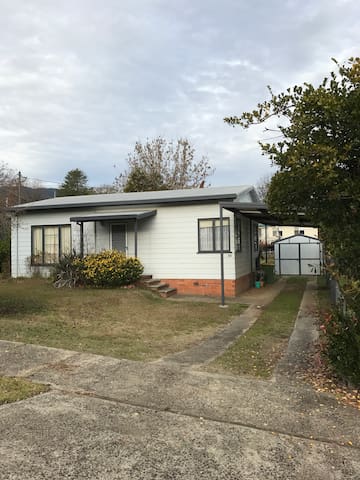 This house have two double beds and two single beds. Two car park. Here is small town have beautiful trees and lake. You can swimming and water ski in summer or go to Thredbo(1.5-2hours) ski in winter.
房源
This is beautiful house for business visit or family travel.
---
Tina's home was so lovely and cosy, and she was so thoughtful to leave the heater on for us. We had all the amenities we needed including extra blankets and pillows, as well as heaters in each individual room. Parking space was just perfect, and the location is ideally close to Thredbo. We enjoyed it very much and hope to visit again soon!
---
Me and 5 of my mates stayed here. Excellent place if your not too fussy. One thing you need to keep in mind is if you are planning to get dinner outside there are no options if its late. Just get take away from thredbo on your way here. The host left the heater on before we arrived so it was soothing once we stepped in. All the basiv amenities are there. We had all the blankets however if you feel too cold carry one for yourself. Clean house and everything organised.
---
I highly recommend Tina's accommodation to Airbnb.her house is very clean ,hygienic and full of all facilities.She left the heater on and house was warm when we arrived.The rooms were cold and as I requested her heater for room she responded back immediately and brought small heater and warm dooner for us. Especially eggs,butter and jam was in kitchen as all shops were closed and we were not aware of that.It made our life easy for breakfast.Its best stop over for families.Thanks again Tina for your hospitality and lovely nature.
---
I was born in Tak North of Thailand. My father was police so the family moved from town to town a lot in my primary school. I was in school of nursing in Bangkok 4 years and graduate in General nursing Midwifery and Public Health Nurse. I worked at Maramad 2 years then married to my husband 1967 and come to lived here. After our 2 sons started school I went to work at Corryong Hospital Vic. 36 years and retired 4 year ago.
During my working we rent the house that belong to Snowy Hydro until got an offer to buy the house that we lived 32 Mitchell Ave. then we can buy others.
at the moment we have 6 houses. We bought farm opposit Hotel and build our house. I have experince with hospitality all my life beside being a nurse.
like meeting peoples. Enjoyed see peoples have a good time , provide accommodation to holidays maker or contractors that come to work in town.
use to play Lawn bowl and very good at it too.
My husband and I are owner breeder so we have a lots of retired horse on our farm and cows .
We go to Thailand and Ireland together to visit family and friends.
We have pay TV. watch Sport. I like watch Better Home and garden.
enjoyed to have you all as our guests.
lived with passion.