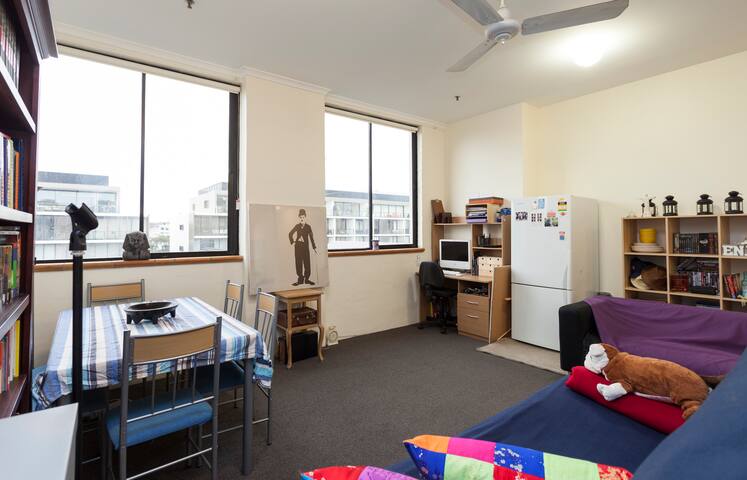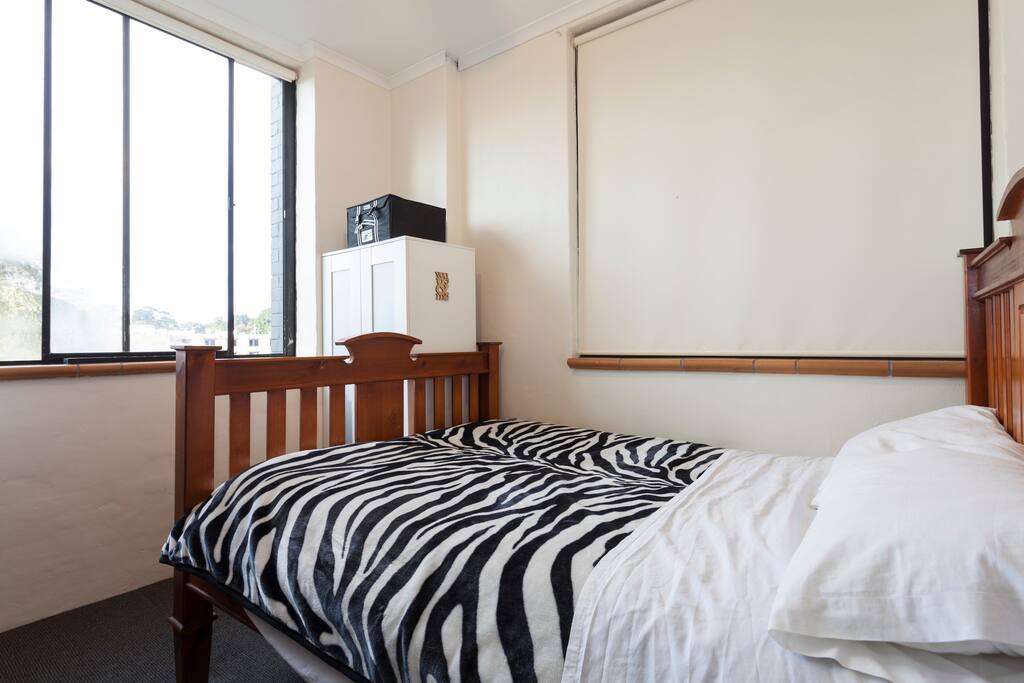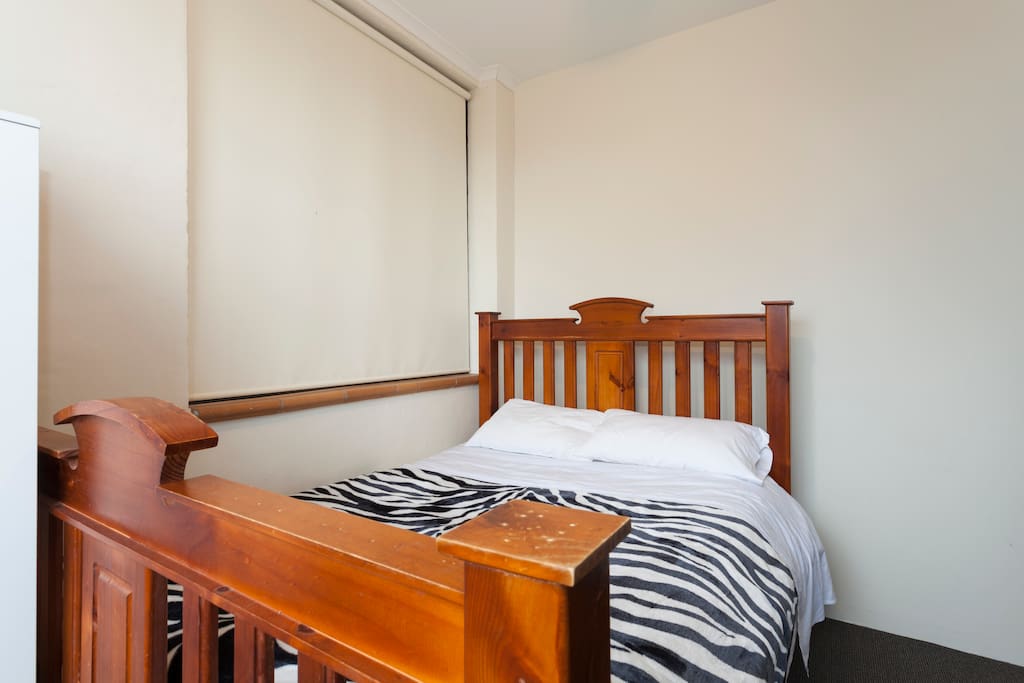 P&G's Place - drop the mic
Best Sydney Spot! In the heart of it all. City & other popular areas like Sydney's artistic and cultural hubs Newtown & the Italian area of Leichardt close. There's always something to do here and it couldn't be easier to get to and from here. Best.
房源
Best Spot in Sydney! Close to City & other popular areas like Newtown & Leichardt. Free outdoor gym with equipment next door at the park. Nice home with everything you need. Historic and prestigious Sydney University just moments stroll away for a, well, stroll! You'll love it!
G'day Everyone!
We have one really nice Queen size bed private room in a two bedroom apartment located in the exciting and beautiful City of Sydney! The private room in our home would suit a couple who are travelling to Sydney and wish to have a great time having the freedom and comfort of a home to stay in!
Features:
- Open plan kitchen (fully equipped with toaster, expresso machine, blender, kettle, microwave, all utensils and cutlery.
- Located on the 2nd floor of a renovated apartment block.
-A completely new renovated bathroom.
- 10 min from Sydney CBD by bus or train.
Bus stop 2 min from the door (Buses go all day to the City centre).
-10 min walk to Newtown Train Station (where Cold Play recently filmed their new single), cafes, shops,pubs, supermarket and etc.
- Beautiful Camperdown Oval Park next door, newly developed. (Outdoor fitness/fun area with tennis court, public basketball court, picnic area and great Cafes!
- Frankie's Italian Restaurant next door at Parramatta Rd.
- Bedding ( pillows, bed sheets, blankets) and towels provided (in entrance hall cupboard).
- No Smoking or pets are allowed. Smoke alarms fitted to water sprinklers.
- All bills and Wireless Internet (WiFi) Included.
- Available from 21st to 25th of December (late checkout available on the 26th of December) and the second room is available again from the 3rd of January to early February-possibly longer.
We are very excited to have caring guests share our home. We will have the apartment clean , tidy and ready for your arrival. So we wish and hope you can have a lovely time here treating and respecting our place just as you found it. =)
Cheers!!
Newtown is up the other end of the street and it is the biggest most attractive free spirit area of Sydney. There's loads of art, fashion and food to poke a stick at or have a stickybeak at. The restaurants are many and various. GiGi's pizza is incredible!!!!
There are many buses along Parramatta Rd, which is a minute walk from the building. Take the stairs up and down or take the lift if you want to take it easy.
房客使用权限
You will have access to all appliances and standard utensils and kitchen things. You may use the condiments such as pepper and salt and oils. I have weights and kettle bells that you can use if you know how safely, at your own risk. You may read books from the bookshelf but I do ask that my photo albums be left untouched. Guests will have cupboard spaces in the master bedroom and in the kitchen. You may use the towels provided. Use your own toiletries but toilet paper is provided to start you off. This isn't a Hotel though so please don't fill any bags or take anything from here home. Please keep the place clean and tidy. The cleaning is merely for general cleaning and not to clean up any mess left by guests, and most people do leave the place as clean and tidy as they found it showing that they appreciated their stay.
There is a very good DVD collection that you are welcome to enjoy while staying at our place. Please be careful of the DVD's and place them back after using them. (you will need to use your own laptop to view the DVD's). Internet wireless passwords provided on arrival.
与房客的互动
There is a second room that we are also looking to rent out.

---
Best tip I can give: download the GoCatch app when you land in Sydney, use the referral code CRWHN to get a 15AUD voucher when you sign up and get a ride to Gareth's place for only 6AUD. Cheaper and faster than public transport. You'll thank me later :-) Over to the apartment: we had a great time staying at Gareth and Pat's place. The first day we arrived we were warmly welcomed by Gareth's dad, which was great after a long flight. The location is convenient, the price is right and the amenities are awesome (we're already missing their espresso machine). It's about a 10min bus ride from the city, a 30minute walk to the city/big supermarket (Aldi/Coles), next to a park and there are several bars within a 15min walk. All in all highly recommended!
---
G'day Airbnb!

I've been hosting people in my home since 2003 through share accommodation. I joined Airbnb in 2010 and my partner Patricia and I have been hosting our Camperdown home since 2013. We love making our guests feel like they belong here. In-fact, we now co-host for other hosts to help them make their guests feel like they belong.

My motto is "be considerate and funny, always be funny". Hotels don't do funny all that much. "Sir, I would like to offer you a free joke" said no hotel anywhere. When you stay with us, we'll go about making you feel at home, and we'll probably be funny. So if there's anything you need let us know and we'll do our best to make your stay outstanding and funny. If we co-host for you, funny costs extra.

I'm an Australian with a love for being hospitable. My beautiful partner is the brains of our hosting experience, ok she's also the face of it as well, I just help here or there or tell jokes. We have a welcome board to say welcome in your language on your arrival. So far we have "welcomed" in English, Australian, Russian, French, Japanese, Spanish, Mandarin, Cantonese, Portuguese, and Millennial.

We love Sydney and have a spacious apartment that you're welcome to share or even rent out entirely.

I'm a stand up comedian that's performed solo shows at Sydney Comedy Festival and The Sydney Fringe Comedy Festivals. I use those powers of humour and creative content production along with serious social media credentials to help companies with great purposes to succeed on social media.

We love to salsa! Paty has made me crazy about coffee and we love getting out and about here or abroad. We both have great full time jobs and also develop businesses of our own!

With everything going on in the world it's a really incredible opportunity to be a part of the Airbnb superbrand community spreading the message of togetherness and helping people to belong anywhere. The way we'll make you feel is quite natural to us as we love to host. We'll have a conversation with you and you'll have our genuine interest, fascination even, and you'll always get a laugh out of me or laugh from one of my jokes which are sure to pop up in conversation. We look forward to hosting or co-hosting you.
语言:
English、Español、Português