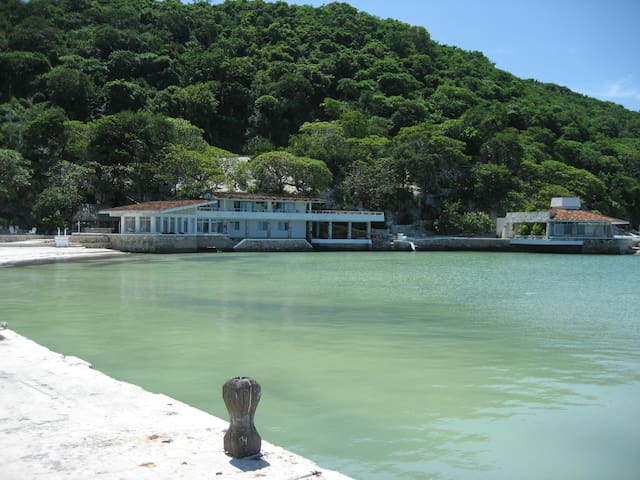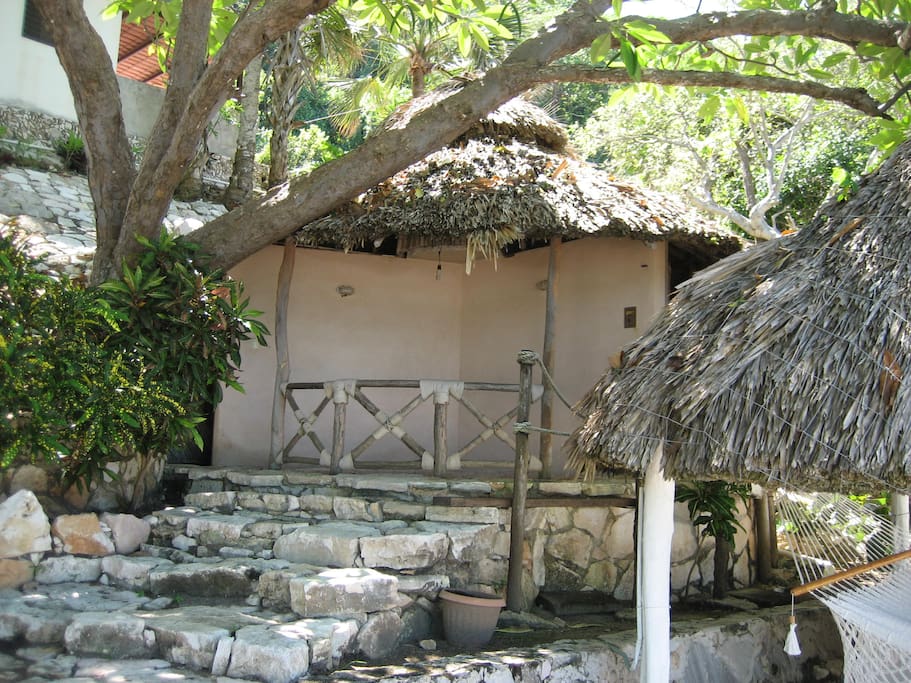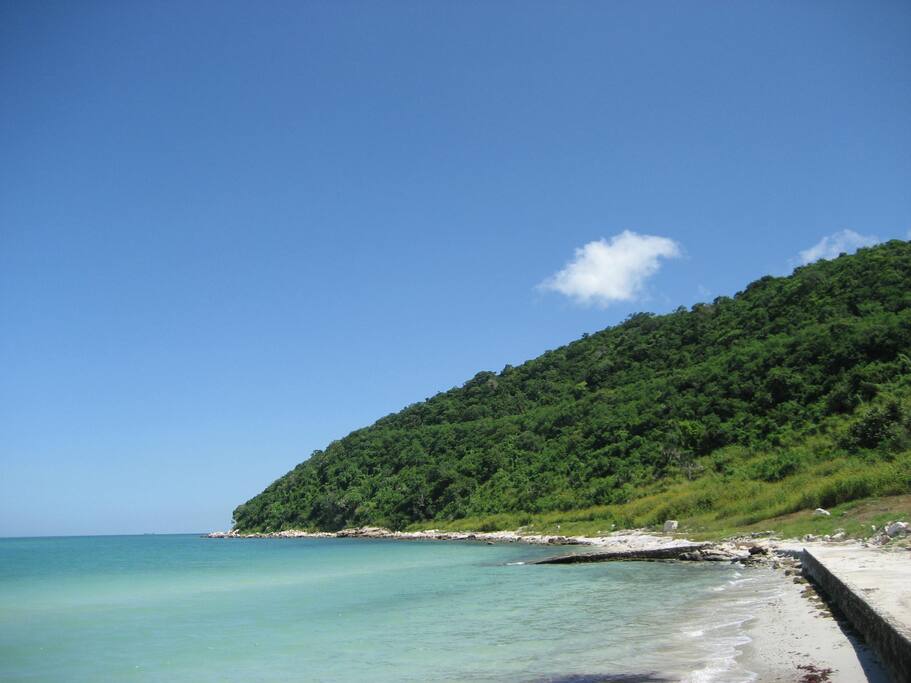 LA CUESTA, SAN LORENZO is a house and a bungalow on the shores of the Gulf of Mexico, in a completely private beach perfect for your family. This place has the ideal location to know Campeche and its surroundings.
房源
Surrounded by the lush jungle and bathed by the sea of different shades of green ranging from emerald, by the reflection of the jungle in the sea, to blue-green of the Gulf of Mexico, in the Yucatan Peninsula. This beautiful place is the perfect getaway for you and your family. The atmosphere this place has to offer is ideal to relax and enjoy a totally private beach, isolated from pollution, smog and excessive noise.
Our facilities include a house and a bungalow by the sea.
"The House" has 4 bedrooms with bathrooms, a kitchen, living and dining area all furnished. "The Bungalow" has 2 bedrooms with bathrooms, living and dining area for 4 people, not to mention the extraordinary view this place owns.
HOUSE
Room1:
2 Single beds
Bathroom
A/C
Room 2:
1 Double bed
1 Single bed
Bathroom
Closet
A/C
Room 3:
3 Double beds
Bathroom
A/C.
Room 4:
1 Single bed
3 Double beds
Closet
Bathroom
A/C
Dining room:
Capacity for 20 people.
A/C
Living room:
T.V. with satellite service.
Kitchen:
Basic utensils
Refrigerator
Stove
Microwave Oven and other appliances.
BUNGALOW
Room 1
1 King Size bed
Walk in closet
Bathroom
A/C
Room 2
1 King Size bed
Walk in closet
Bathroom
A/C
Living and dining for 4 people.
房客使用权限
Multipurpose Palapa
It has a space for outdoor dining. You can hang hammocks and it has 2 rustic bathrooms to shower before and after activities in the beach. The Palapa is in front of an ideal area to play volleyball and some other sports.
There´s also some chairs for sunbathing and relaxing.
The house has an outside bar with a fridge, sink and grill area perfect for a barbecue.
If you like snorkeling or fishing, the pier within the property is the best option to practice such sports.
ADVICE:
We recommend you to have your own transport.
We accept pets with some restrictions.
与房客的互动
The people who takes care of the property are natives that preserve the customs and traditions of the mayan culture. They know about fishing, about fauna and flora of the region and even how to make hammocks.
其他注意事项
Although the city is near, the area where the house is located has no phone service and the cel phone access is limited
House Rules for Casa LA CUESTA:
CHECK IN: FLEXIBLE
Since every house is different we recommend you read the House Rules so you become acquainted with the way everything works, so you can have a more comfortable and pleasant stay at Casa LA CUESTA.
1. The rent of the house is for holidaying.
2. No spring breakers or Hooligans allowed!
3. The maximum capacity of the house is 25 people. It is forbbiden to exceed this limit. You will be charged with a penalty!
4. During the Christmas season, holy week and easter the minimum stay is seven nights.
5. Security Deposit: If your stay is from 2 to 15 days a $500 USD deposit will be required.
6. The people who takes car of the house are honest, professional, reliable, helpful, and friendly. However, they do not speak English.
7. Check-in: We will be waiting for you at the house to welcome you and show you around the house. We will also give you the keys and answer your questions. Upon arrival you must show your ID and hand out your leasing contract and reservation slip.
8. Check-out: We will inspect the house to check that everything is in good condition, thirty minutes before your departure. At this time, you must return the house keys to us.
9. Smoking: You are allowed to smoke in the common areas, but not in the bedrooms.
10. Laundry Service: Our housekeeper will change sheets and towels once a week.
11. Kitchen: You are free to use the kitchen and all the appliances. The kitchen is fully equipped with a traditional oven, a microwave oven, a blender, a toaster and coffee maker.
12. Utilities: All utilities are included in the rental. Please be mindful that there is a water scarcity in Mexico and in most of the world. Please try to use only what you need.
13. Lights: Please make sure you turn the lights and the A/C off when you are not in the room.
14. Water: Tap water is not drinkable. For drinking and cooking, please use the water from the large container in the kitchen.
15. Bathroom and kitchen supplies: We provide you with toilet paper and hand soap.
16. Appliances: The voltage in Mexico is the same as the USA, Canada, and some countries in Latin America. If you come from Europe, Asia, Africa or Australia, bring your own converter.
17. The white towels which are in the bedrooms, are not to be used in the beach area.
18.Campeche and its surrounding areas: You are welcome to use our travel guide for reference. Which contains information about Campeche and Yucatan.
19. Our Responsibility: We will make every effort to make your stay as pleasant as possible. We do not take responsibility for any accidents caused inside nor outside the house as they are beyond our control and purview.
20. Your Responsibility: Please take care of the household and installations as if they were your own. We ask you to leave the house the way you found it, so that other guests can enjoy it as well.
21. Damage: We are aware that accidents happen, but you need to assume your responsibility. Please notify us or the employees of any damage caused to the property. If we find damage has been done to the house or furnishings during your stay, we will notify you immediately and a specific amount will be deducted from your deposit.
22. Liability Policy: The owners do not assume responsibility for any injuries, illness, theft, or death sustained by the guests during their stay at Casa LA CUESTA, SAN LORENZO in Campeche. When guests agree to stay at this house, they consent to release the owners and the housekeeper from all liability.
23. Comments and/or Suggestions: We appreciate your comments and/or suggestions. If you have favorable or unfavorable comments about your stay in the house, or a suggestion that will help us improve our service at Casa LA CUESTA, please write it down in our Guest Book located by the dining room. We hope this information is useful and we wish you have a wonderful stay at Casa LA CUESTA, SAN LORENZO.

Mónica
Soy pintora. Trabajo administrando esta propiedad. Me encanta la decoración, coser y cualquier actividad creativa y manual.
En mi tiempo libre hago sábanas y toallas para bebés. Tengo 2 hijas pequeñas a quienes dedico mi tiempo libre.

ENGLISH

Monica
I am a painter. I administrate this property. I love decorating, sewing and any other creative and handmade activity.
I make towels and blankets for babies in my free time. I have 2 daughters to whom I dedicate my free time.

语言:
English、Español