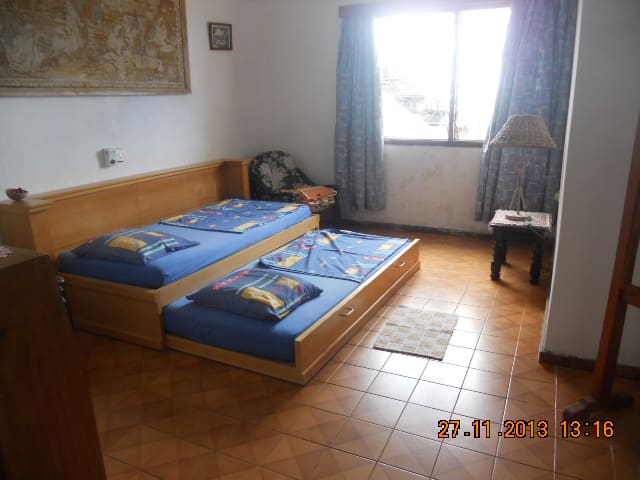 I have been staying with Edith and Edward in May 2015. There was so much warmth and hospitality in everything they did, that I really felt like home during my stay at this wonderful house. I liked everything there: a cosy room, our delicious breakfasts and dinners at a huge terrace with a wonderful panoramic view and of course my fluffy friend, the hosts' dog Marley. The house itself is well-situated. Not far from Victoria and there is a bus stop right next to it, so you can reach the town very quickly. Edith and Edward were always friendly and helpful giving a lot of tips and recommendations. Besides, Edith and I did a fantastic trip through the island to see all the places of interest, which I recommend you to do. Edith and Edward are fantastic people and I`m very happy to have met them on my way. So don`t miss a chance to discover the real Seychelles with them!
---
I had a wonderful stay with Edward and Edith. I was welcomed with warmth. I felt like I have found old friends. They even invited me to join their Sunday family picnic with their extended relatives at the beach on Easter Sunday. It was really nice of them. Also Edith organized a tour of Mahe Island for me, and drove me around for a reasonable price. The view from their home is really amazing as said in the advertisement. The neighborhood is good, and a bus stop is almost at their doorstep. You can do a lot with the bus system for very cheap. Edith had maps and bus itinerary and time table ready in the guest room. The breakfast was really good. Edward and Edith had a lot of choices for me with toasts, plenty of fruits, avocado from their garden, jam, eggs, yogurt, etc...I would come again as they are so nice. Edith dropped me off to my next stay at the beach for free. I really appreciate it. Thank you so much Edith and Edward. I have new friends in the beautiful Seychelles now. Blessings. Marie
---
Sehr viele gute Tips und leckeres Frühstück bei einem sehr Fairen Preis. Danke Edith und Edward das Ihr uns bei euch aufgenommen habt. Wunderschöne Insel mit teilweise menschenleer en Stränden!! Tipps: Bus reicht zum erkunden von Mahe!!
---
Very sweet hosts, we felt part of the family. Very good breakfast with tropical fruit every day. However, this is a modest accomodation, which you must chose only if you are looking for simple confort. You must like dogs too ! But we felt really good there. Earplugs could be required for light sleepers, as the neighborhood becomes alive with the sun, very early. It's located up a steep hill, but a regular bus (12A) takes you from Victoria to their front door for 5 rupees. The day tour of the island offered by the host was very nice and reasonably priced. Airport pick-up is an absolute plus. Thanks for everything.
---
Wir waren insgesamt 1 Woche zu Gast bei Edith und Edward. Edith war jederzeit stets bemüht uns den Aufenthalt besonders angenehm zu gestalten. Edward haben wir in der Zeit aber leider nicht näher kennenlernen können. Besonders toll fanden wir: - Edith hat uns mitten in der Nacht (Flug hatte 5h Verspätung) vom Flughafen abgeholt und uns am letzten Tag sogar noch zum Fährhafen gefahren, damit wir weiter nach Praslin fahren konnten. - Wir bekamen nach Abstimmung ein angepasstes vegetarisches Frühstück (lecker Fruchtsalat!), auch Wäsche waschen war kein Problem. - Die tolle Aussicht von der Terrasse. Eher mäßig fanden wir: - Besucher sollten damit leben können das in dieser Region der Erde eben einiges an Kleintieren auf Einen stoßen kann und das leider auch im Haus. Edith war aber auch hier bemüht diese schnellstmöglich zu entfernen. Für uns weniger ein Problem, aber der Ein oder Andere ist ja doch nicht unbedingt auf engen Kontakt mit einigen kleinen Krabbeltierchen aus. - Die Inseltour haben wir nicht genutzt, da 100€ je Pärchen für uns nicht erschwinglich waren. Mit einem Mietwagen und etwas Planung kann man diese auch kurzerhand selbst organisieren. Allerdings verzichtet man so auf das Insiderwissen der Beiden zur Insel. Nicht so gut fanden wir: - Die Internetsituation, viele Urlauber sind wohl eher froh, wenn Smartphone oder Laptop mal nicht in Benutzung sind. Wir befinden uns im Moment allerdings auf einer Weltreise und sind daher auf Internet zwingend angewiesen, um uns über die nächsten Stationen und Flüge informieren zu können. Die Einschränkung und zeitweise sogar Abschaltung des WLAN aufgrund des angeblich hohen Datenverbrauchs, ist daher sicher nicht Jedermanns Sache. - Auch wichtig, die Hunde in der unmittelbaren Nachbarschaft sind sehr mitteilungsfreudig und so wird man doch des Öfteren aus dem Schlaf gerissen. Viel Licht und etwas Schatten also. Wenn man mit allen genannten Umständen kein Problem hat, ist man hier sicher gut aufgehoben. Die Unterkunft ist zweckmäßig und dem Preis angemessen.
Bezueglich Krabbeltierchen muessen Besucher einfach wissen, dass wir in den Tropen leben und die dazu gehoeren. Wir haben kein Air/Con, sondern ein offenes Haus, was wir auch nicht verheimlichen. Bezueglich Internet ist die Situation die, dass normale Email-Abfragen kein Problem darstellen. Wir haben 9 Gigs per Monat zur Verfuegung - natuerlich viel weniger als in Europa. Ihr habt 5 davon in einer Woche verbraucht, was uns natuerlich Probleme gibt, denn wir muessen fuer airbnb 24/7 erreichbar sein. Die Kosten fuer die Ueberschreitung sind horrend. Zudem sind Abfragen bezueglich Stationen und Fluege keine Gigs verbraucher. Dropbox, Software down- und upload und was es da sonst noch gibt, halt schon. Diese koennten aber mit gutem Willen auch abgestellt werden
---
We are at a loss of words. To say we were warmly welcomed would be such a understatement! We were treated like family and felt home instantly. Never before have we spent hours of talking and cooking with Airbnb hosts. Edward is such a funny guy and really entertained us with his stories about sechellois lifestyle wich gave us a lot of insight. Edith made us the best breakfasts and cared for us so much. We had such a great connection! Edward and Edith are amazing people and we highly recommend everybody to stay with them and enjoy the beautiful view from the copolia mountains over Victoria. You wont be disappointed. We hope to stay in touch with you guys and wish you health and all the best :)
---
I'm Seychellois and my wife is Swiss... we love Seychelles and can tell you a lot about this islands. If you wish, we show you around and since we like cooking, we could even show you the creole way of eating. And if you need a massage - just tell us we can organize...

语言:
Deutsch、English、Français