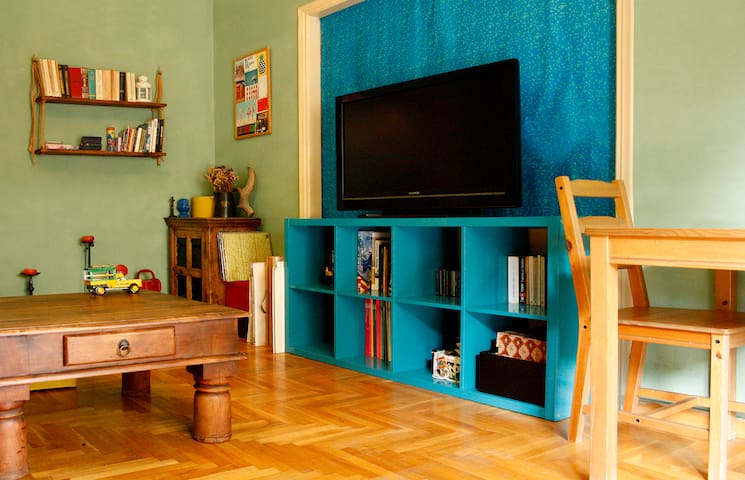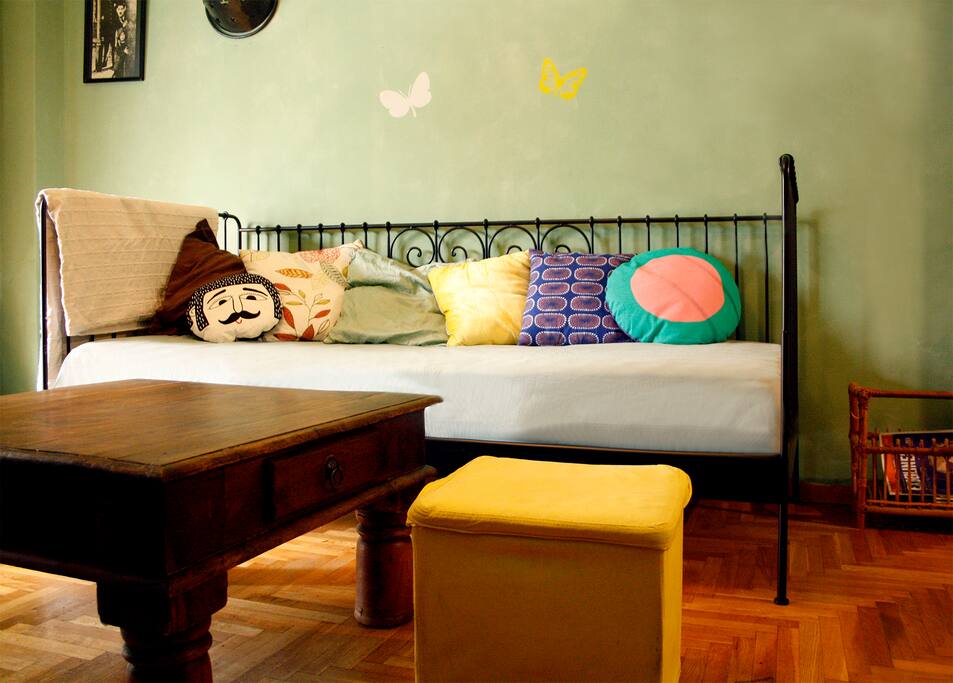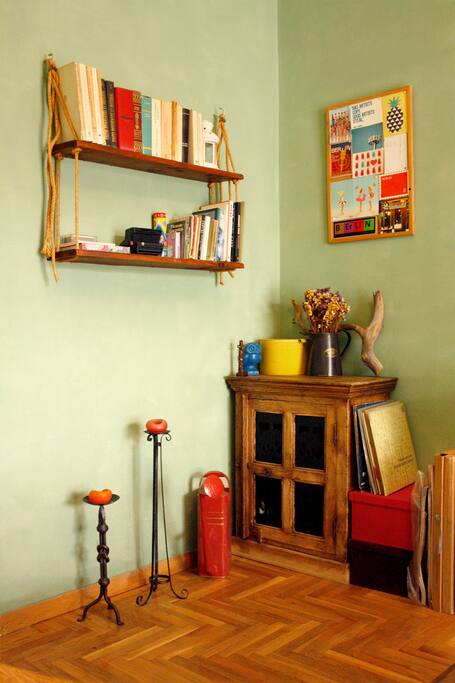 I would definitely put a 6-star rating if there is one! Best place I've ever stayed in Greece. Excellent quality at this price. The host provides many things other than basic amenities, including newly brought orange juice, milk, jams, bread and many more. It's a spacious apartment with stylish designs as the host studied art and design. The apartment is located next to a number of squares which comprise supermarkets and local restaurants. The only bad thing is that it's not next to a metro station, which is about 8 minutes away by bus.
---
Ce logement est vraiment très bien, Très grand, très pratique et très joli. La terrasse permet de manger dehors et de profiter du beau temps. Le quartier est vraiment parfait, il y a plein de petits resto, cafés.... où on y mange vraiment bien et pour pas très cher. Pas très touristique, plutôt comme une petite ville, comme un petit cocon au sein même d'Athènes nous nous y sommes vraiment senties bien. On peut s'y balader assez tard, on y est en sécurité. Nous avons fait beaucoup de visites à pieds, l'acropole n'étant pas très loin (30min à pieds). Il y a un bus qui passe au niveau de la petite place pour aller dans le centre. C'est un super logement que je recommande à 100%. Ioanna est adorable, répond rapidement et donne plein de conseils. Nous n'avons pas pu la rencontrer à cause d'un retard de notre avion, mais elle est très réactive. This place is really great. Big, convenient et really pretty. The balcony allows to eat outside and to enjoy the good weather. The neighborhood is perfect, lots of little restaurants and cafés where we eat well and cheap! Not touristic, more like a little city we felt really good here. We walked late and felt safe. We did a lot of visit walking from the appartement, the acropolis being near by (30min). Otherwise there's a bus passing at the plaza down the street, that goes in the center. This is a great place, that I recommend at 100%! Ioanna is lovely, she answers quickly and gives plenty of advices. We couldn't meet her due to a delay in our flight but she's very reactive.
---
Hi, I can read on the other posts the same default on the bed that we've notice. It's indeed very noisy and annoying when we'have to sleep. So I suggest, be sure that the bed don't make noise anymore. Except that, the flat is big and well placed, in a hip area, not very far from the historical center. Ionna had prepared the baby bed that we have asked. We did'nt matter, but for those who expected a breakfast as we can read on the previous post, we did'nt have.
---
We spent a very nice trip in Loanna's place. Cosy, clean and very well decorated, we especially enjoy the air conditionned (as it was 35° outside!). All commodities at 2 min and acces to the Acropole in 20min. Loanna was understanding for the check in (our boat was very late, as usual in Greece we have discovered...). Thank you again!
---
适的公寓位于雅典市中心。在Varnava Sq,在Kallimarmaro体育场后面,这个75米的公寓是您度假的理想选择。雅典市中心(Syntagma Sq-Plaka-Monastiraki-Acropolis)距离酒店步行范围内(15分钟)或巴士5分钟路程。尽管公寓位于所有的观光地点旁边,但邻里却特别安全。 Varnava Sq是一个美丽的公园,周围是自助餐厅,酒吧,餐馆,杂货店,面包店和药店。
Cozy apartment, located in the heart of Athens. In Varnava Sq, behind the Kallimarmaro stadium, this 75m apartment is ideal for your vacations. The centre of Athens (Syntagma Sq-Plaka-Monastiraki-Acropolis) is within walking distance (15min) or accessible by bus (5min). Despite the fact that the apartment is located next to all the sightseeing, the neighborhood is especially safe. Varnava Sq is a beautiful park surrounded by cafeterias, pubs, restaurants, grocery stores, bakeries and drugstores.
---