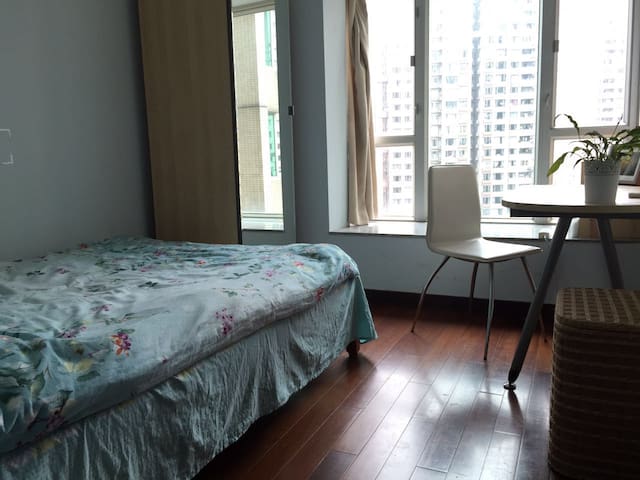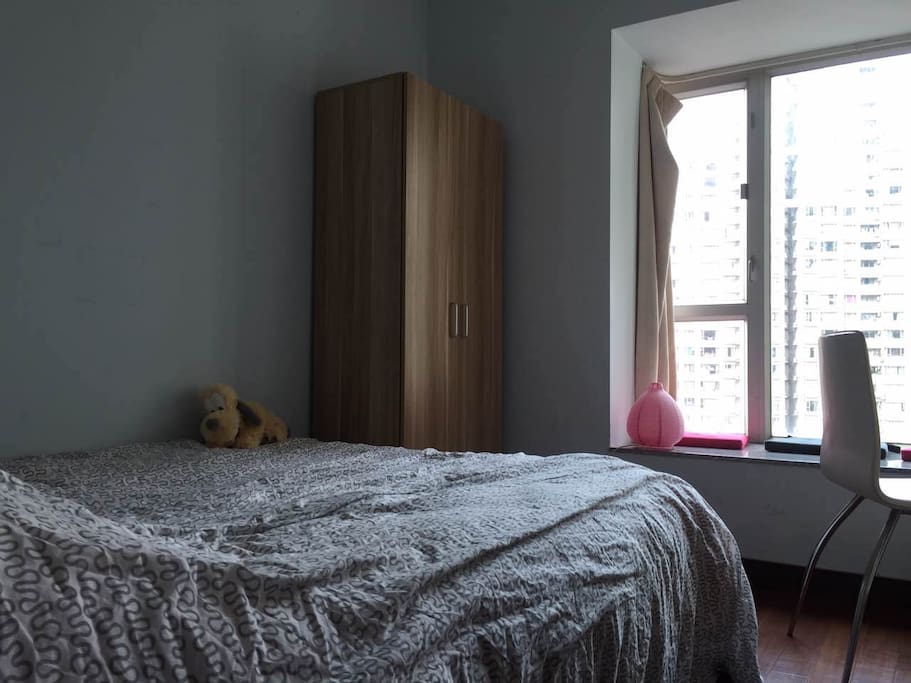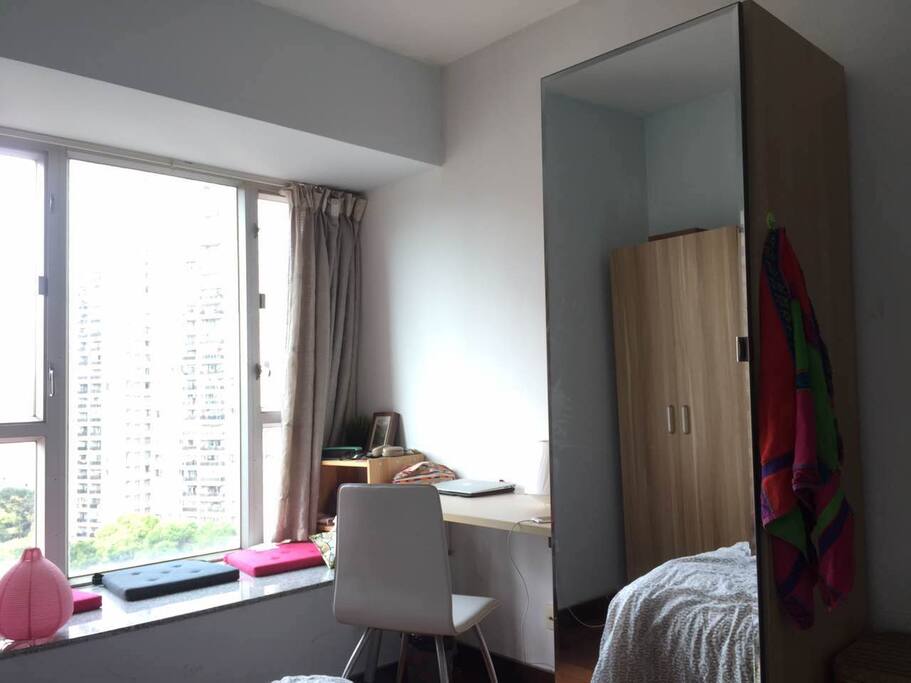 Please continue with your search! I can NOT recommend this place! Although I have informed Lisa about my arrival time in Shanghai, no one was there when I arrived. I had to ask people on the street, whether I can use their mobile phone (in China, where no one speaks English), because my Hong Kong SIM card did not work. I've informed Lisa about this fact, nevertheless, she was not there. She did not even give me a message until I wrote her one day prior my arrival. Her excuses were always the same, that she has too many guests to look after. Honestly, I don't care about this, because I was also a guest and paid my bills. However, this shows already that she only makes Airbnb for the money. After she arrived to the flat, she showed me the room, the bathroom and the kitchen - that was all. She did not even provided a map or gave some recommendations about Shanghai. However, the room was not cleaned properly, the walls are quite dirty and about the bathroom I just don't want to talk. Just forget to shower without slippers! Not even the toilet lid was fixed on the toilet! Ridiculous! The kitchen was in a similarly poor condition. And my pillow smelled as if someone slept there before and no one has changed the sheets. In addition, the bed squeaks with every movement and is really uncomfortable. In the apartment two permanent students lived (in total there are 3 rooms). At least they were really nice, friendly and helpful and made my stay bearable. Thank goodness I only spent two nights in this apartment.
I apologize for the delay for the meet up but Balázs only contacted me a few mins in advance. I strongly advise our guests to call me up during their way to the apt, instead of fixing a time...because often time I waited for more than an hour due to traffic jam of our guests (which I could understand!). But 99% of our guests don't have the meet-up issue. The apt is as pictured in the pictures in real and I don't know why Balázs is so opposed to it..from my heart I hope every guest has a nice experience with us but I can satisfy all indeed.
---
The experience started off well enough. Lisa was friendly and somewhat helpful, despite giving the wrong address for the property. However, after settling in, I found that the lightbulb in the bathroom didn't work, which I replaced at my own cost, and Lisa refused to reimburse me, or even split the cost. The same occurred again when I was in need of an iron for my clothes for work. Lisa offered to provide one in 4 weeks time, which was both insulting and not very helpful. I offered to buy her an iron for her to keep for the next guest ,and split the cost, but again, she refused. As it turns out, Lisa owns several properties in the same complex and rents them all out as landlord, and each house is sparsely furnished to keep costs low. The TV you see in the photo doesn't work. The wifi only really works after midnight. The washing machine only makes your clothes dirtier by covering it with dust and leaving the occasional oil mark. The cockroach infestation in the kitchen is due to the remnants of all the previous tenants, and Lisa asked that we sort that problem out ourselves. The only saving grace about this listing is that the facilities are exactly as pictured, and the street food stalls that open at 10:30 outside the main gate is delicious and cheap.
---
It's been a pleasure to meet Lisa, she's nice and helpful. The apartment is well kept, large enough and comfortable. The views, especially at night, are a great plus both from the living room and master bedroom, the friends that came visiting really appreciated! The master room was clean and comfortable too, kissed by the sun in the day. You'll appreciate the nearest metro station, from line 4 you can really go anywhere with just 1 change. There's a simple looking but very good restaurant right out of the condo, when you're home it's good to have a meal there. All this helped making my Shanghai experience a great one
---
Hello, I'm Lisa, a young girl living and working in Shanghai. I am outgoing and friendly, fond of people, traveling & food :) I worked as a Skincare Shop Manager before starting the "hosting idea" in 2013 and Airbnb in 2014. It is a delighted experience showing my guests morden and old sides of Shanghai, giving them a "live like a local" experience. Since 2013, over 3,000 travelers / expats from 50+ countries have lived with us, short-term or very long-term. I appreciate all their insights on life, work and many aspects of things. So it would be great if you can help me know a bit about you before a booking!

We can reach much more than a hotel as highlighted (aka. if you're looking for) below:

-A fully furnished space to stay in city heart with short reach to major sites and easy transport access;
-A sweet and experienced host who has lived years abroad to handle all your expectations;
-A chance to befriend with other cool shared apartment guests and hang out around;
-A well compiled booklet to travel as a local.

FAQs shooting:

1. "Do you host elsewhere in the city?" - Not yet. In order to provide the best hosting experience, all our private rooms are in the same location (managible radius) strategically closed to the Bund and major sites of the city. Cloest metro is Linping Lu Station (临平路站) at Line 4 and Hailun Lu Station (海伦路站) at Line 10. Read our comment to check how great the location and everything else are.

2. "Can I / my friend come over to visit first?"
i) For stay of over one month, you can come for a visit beforehand. But to ensure room availability, we suggest you to book two weeks to check out the environment and roommie(s) before a decision to stay really long-term. But:
ii) For stay of less than one month, we cannot arrange it due to capacity. Reviews from 50+ guests and photos taken by Airbnb photographer can be a very good reference for your judgement.

4. "Can I check in in the morning or leave in the afternoon/evening?" - Normal check in time is 2 p.m. and check out time is 12p.m. We can help keep your luggage in storage before check-in time or after check-out time. If the room is not occupied or to be occupied, we can arrange it more flexibly for you.

5. "What else do I share with others after booking the private room?" -Our apartments are fully furnished. You will be sharing the common facility such as washing machine, refrigerator etc with 0-2 other roommies. You will have an own bath if you book a master bedroom.

6. "Good internet?" -YES! Internet is stable and fast but you need a VPN to access foreign sites such as (website hidden) and (website hidden). If VPN is important to you, please send us a note so we can arrange you to a room with this provided.
语言:
English、中文