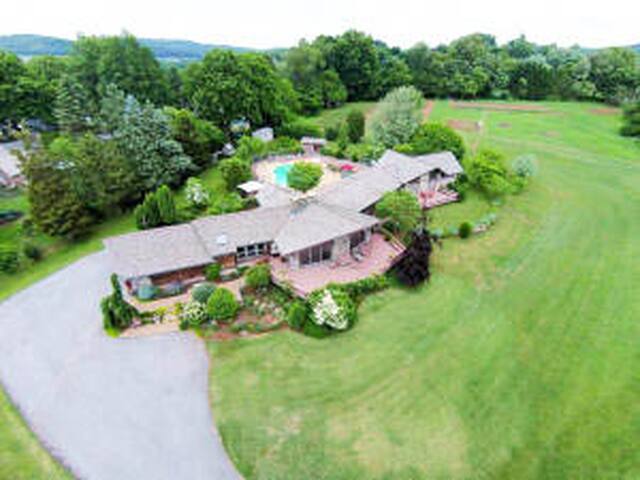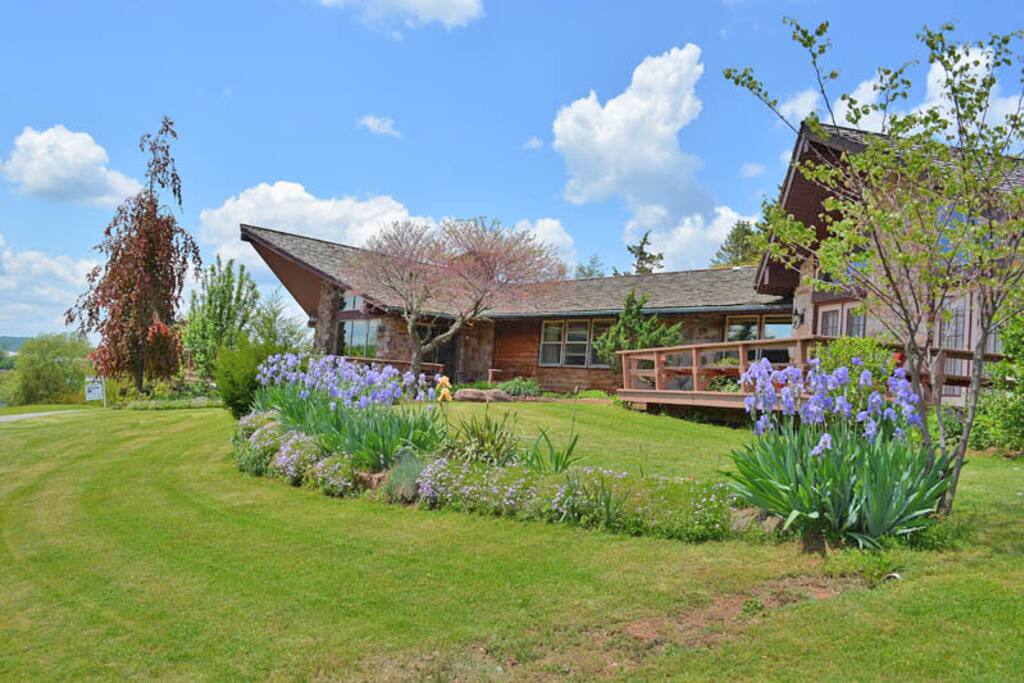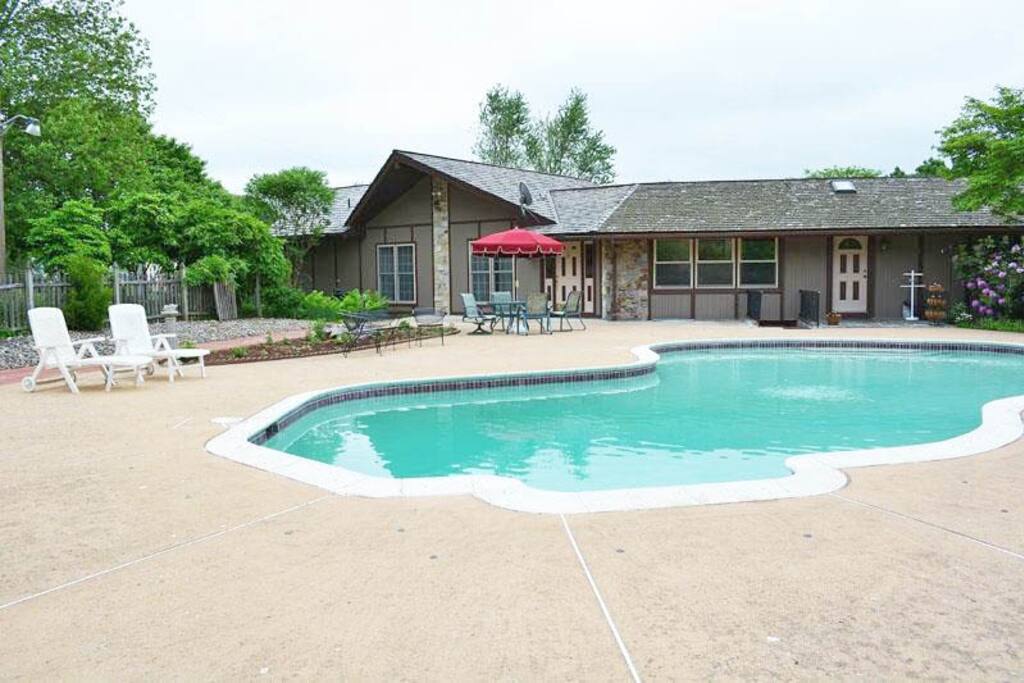 Come & relax in this unigue style vacation house adjoining Springside Par 3 Golf Course and featuring a private inground pool, sunroom, TV room, well stocked kitchen and more. Only 10 min from PA Turnpike. Approx. 35 minutes from lots of local attractions including the Amish Country, Sight & Sound Theatres, Rockvale and Tanger Outlets, Spooky Nook Sports Complex, Old Town Lititz. 50-60 minutes from Hershey and Dorny Parks. 15-20 minutes from hiking trails. 15 miles from Shady Maple Smorgasbord.
房源
The pool will be open from
May 15 - October 1. Please bring your own pool towels.
Free wifi is available.
与房客的互动
We are available for questions or concerns while staying at the guest house. Please feel free to contact us via text message or phone. We want your stay to be enjoyable! Please let us know how we can help!
其他注意事项
*Please note that acceptance of the House Rules & Pool & Liability Waiver is a condition for booking a stay at this property. By Booking with us you acknowledge and agree to the terms below.
WAIVER:
1. In consideration for receiving permission to rent, I hereby release, waive, discharge and covenant not to sue the owner(s), property manager(s), agent(s), and township for any and all liability, claims, demand, and actions whatsoever arising out of or related to any loss, damage or injury, including death, that may be sustained by me or any of the group staying with me at this property, including any property belonging to me and/or the group whether caused by negligence of the owner(s), property manager(s), agent(s), or township while on or upon the premises of this property.
2. I further agree to indemnify and hold harmless the owner(s), property manager(s), agent(s), or township from all loss, liability, damage or costs that may incur due to my participation in renting.
3. It is my express intent that this Waiver of Liability shall bind the members of my family, spouse, and guests.
4. I understand that the owner(s), property manager(s), agent(s) and township are NOT responsible for any accidents or injuries that occur while on the property or in the pool.
5. Only guests declared with this booking may use the property or the pool.
6. To the best of my knowledge, I am physically sound to participate in physical exercise activities for usage of the pool.
7. I understand that the owner(s) and/or property manager(s) reserve the right to change or cancel continued availability of the pool without prior notice to me for issues related to care, maintenance and/or safety.
8. I understand the risk of injury, illness and/or death is present when engaging in or utilizing the pool and I assume all responsibility and risk.
9. In consideration of the acceptance of my agreement, I intend to be legally bound for myself, my spouse and family and guests and do hereby release the owner(s), property manager(s), agent(s), and township from any and all liability arising from injuries, including illness and death, that may result from usage of this house, property and/or pool.
10. I accept this Waiver of Liability and I acknowledge that I have read this waiver of liability and understand it and accept it voluntarily, no oral representations or statments have been made; I am at least 18 years of age and fully competent and I execute this Release.
HOUSE RULES:
-Check-in Time: 4:00pm, Check out Time: 11:00am
-Please respect the property of the Golf Course and do not play on the other side of the creek and the other side of the driveway (property of Golf Course)
-No Smoking inside the building or on the property.
-Please observe all exits and locations of the fire extinquishers in the house & garage.
-No Pets.
-Please respect our neighbors - Absolutely no loud music or loud noise at any time. Quiet Time after 10PM. (Our neighbors and the township authorities have our number, and if called, we do reserve the right to dismiss the group staying at that time immediately.)
-No climbing on the interior and exterior rock walls, trees and landscape.
POOL RULES:
-Swim at your own risk. No lifeguard on duty.
-All children and minors must be accompanied by a responsible adult while swimming and in the pool area.
-Swimsuits must be worn while in the pool. Babies must wear a swim diaper.
-Keep gates to the pool area locked and closed.
-No pets in the pool.
-No food or drink in the pool.
-No glass near the pool.
-No throwing rocks into the pool.
-No swimming in a thunderstorm.
-Absolutely no swimming under the influence of alcohol.
-To avoid possible injury or death, only swim at night if the pool light is on and if you are with at least 1 other person.
-Please use common sense at all times and observe the locations of our rescue and floatation devices and use if necessary.
-We are not responsible for any accidents or injuries that occur while on the property or in the pool.
---
---
---
When checking out, please:
-Have all your dishes washed (you may leave them in the dishwasher but please have the diswasher properly started).
-Put all towels, washcloths, and bed sheets in the laundry bins in the garage.
-
---
---
---
I definitely recommend renting this property. Darlene was very responsive through the entire booking process, answering my many questions. The house is clean, relaxing and charming. The house is stocked with all the necessities and then some. We were 6 adults and 1 toddler, there was still plenty of room for a few more adults. The many steps around the house did make it a little challenging with a curious toddler, but nothing that couldn't be managed. We spent our entire time at the house - cooking, swimming, golfing, relaxing by the fire pit and playing ping pong. The house made for a great Labor Day weekend getaway!
---
We were 3 families (6 adults and 6 kids) with very young children and the house was perfect for us. There was enough room for everyone and it was exactly as described. Darlene also let us know to bring water shoes for the kids bc the concrete was a little bit rough around the pool. The only issue we had was it's a "dry" town...if you want beer or wine it's best to bring with you. We are all talking about coming back again next summer!
---
This house is stunning, the view is great, the area is nice and private, plenty of space for a big family. Darlene and her husband Were very attentive and great hosts. Everything was clean and the kids especially enjoyed the pool and the spacious backyard, I only wish we had more time there to enjoy it even more.
---
The home is very large, with a lot of living space, and a beautiful outdoor pool area which includes a gas grill, shuffleboard court, many lounge chairs, and multiple eating areas. There's even a ping pong table in the garage. The master suite is huge, and the other two upstairs bedrooms are quite ample. The two bedrooms in the basement are smaller, but serve their purpose. The hosts are very communicative and responsive. There were 8 of us (two families of 4) and we had a great time here.
---