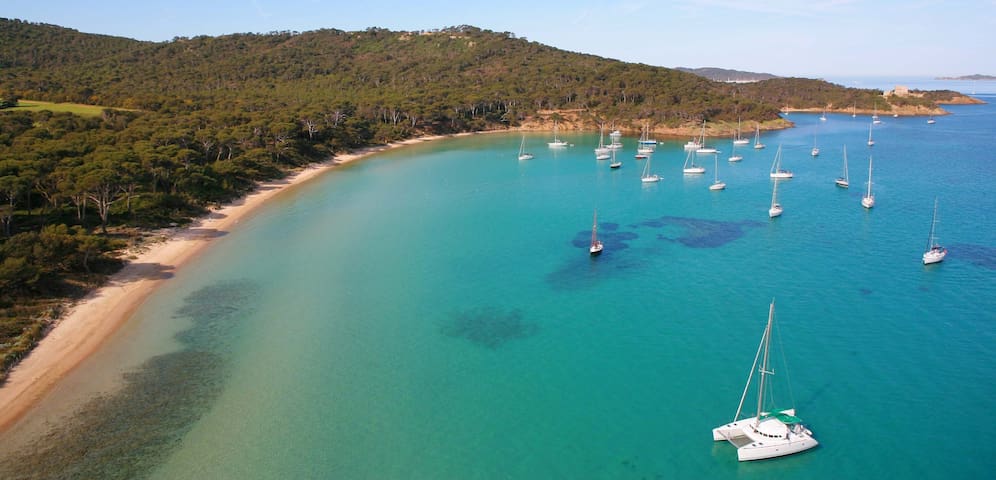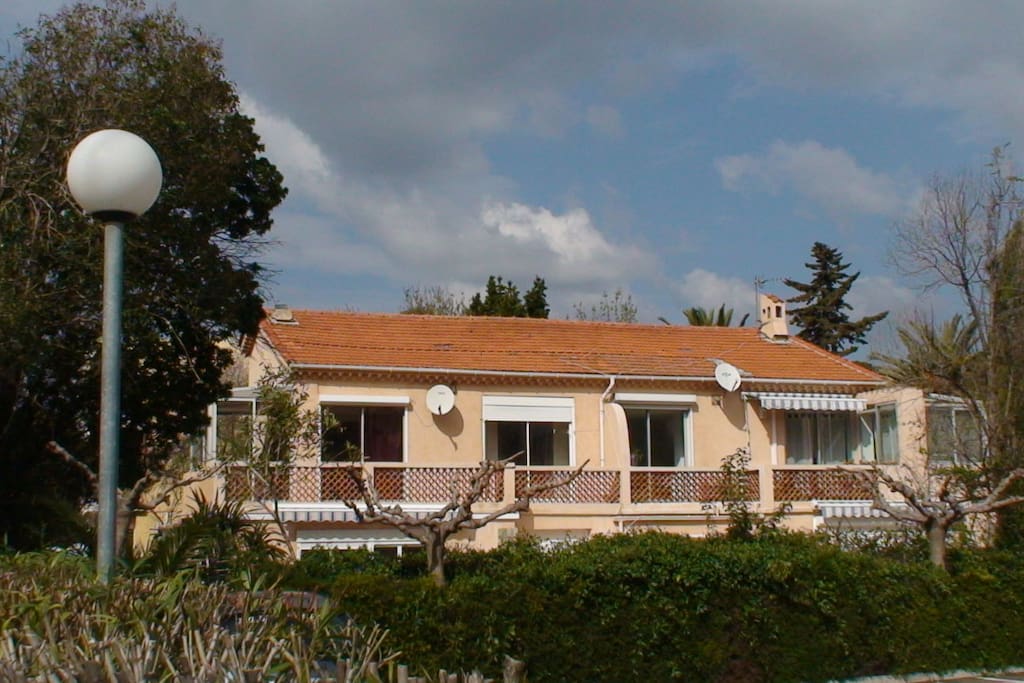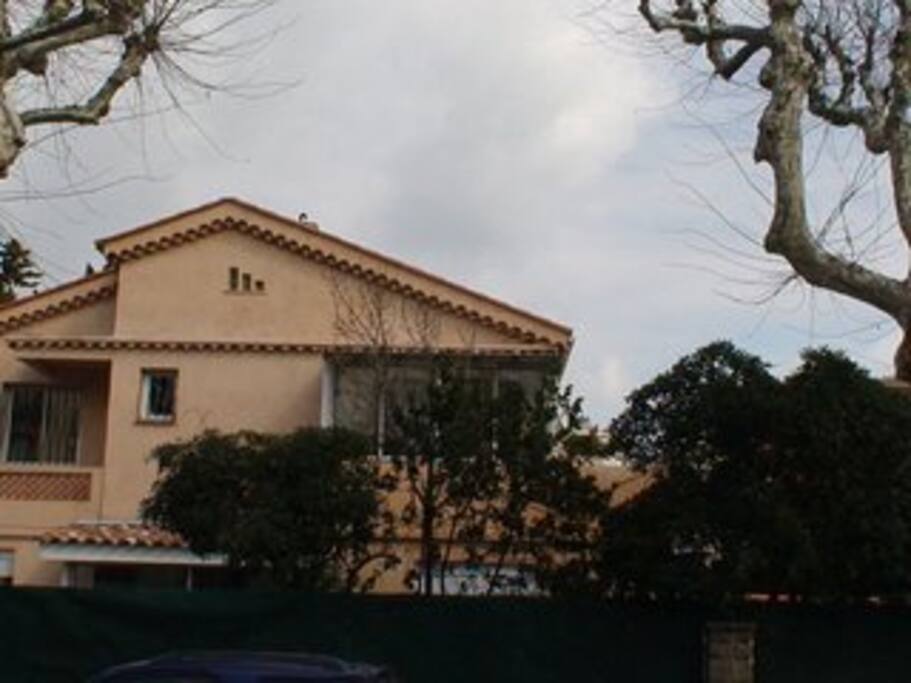 SEPTEMBER: 1 WEEK HAPPINESS VILLA PORT FREJUS.
SEPTEMBER: 1 WEEK HAPPINESS VILLA PORT FREJUS.
SEPTEMBER: SUMMER HOLIDAY AT WINTER PRICES. TAKE ADVANTAGE !
This 75 m2 apartment is fantastically located on the first floor of a villa, at the end of the Sea Bd. at FREJUS, 100 meters from the beach, in front of the 210 acres park BASE NATURE and at the entrance of PORT-FREJUS, a beautiful, new early 20th century beach resort style realization.
2 kms from the roman city of Forum Julii (FRÉJUS), with its monuments, its magnificent Middle Age cathédral, cloister and baptistery.
房源
It is indeed a very privileged place. The beach is so near from the villa that you can reach it walking in less than 3 min., the same as to the wide BASE NATURE park with its 2 kms beach which extend in a natural environment without any road inside which interrupt your walk, though there are plenty of pedestrian ways and cycling paths for the children to ride bikes.
On the other hand, the apartment has its own privacy with a small terrace from which you have an eye on the sea, with a private parking for your car, downstairs in the garden of the villa. The latter is securized by an electrical gate and video watching.
The apartment has 3 bedrooms with in each one a double bed. The main bedroom opens onto the terrace with a double-glassed window-door and an electric shutter. The second one has a balcony and a wide window both double-glassed and closing with electric shutters. You also have there a double bed, the same as in the third bedroom.
In the living you have a dining table with its chairs for 6/7 people, two wide and comfortable lovely 3 seats sofas, one looking at the 55" flat screen located on a wide wall placed on the other side of the room and the other one located in a corner of the living for those who prefer chatting or reading.
The living window door also opens towards the terrace where you have
a lovely barbecue to make grilled meat and chicken as well as a table to help that delicious food or perhaps to have your breakfast under a store which protects you from the sun. You also have there two long chairs to make a siesta early in the afternoon.
From the living, you have access to the kitchen through a bar which allows you to communicate with the family in the living and where you have all the necessary items to prepare their food: fridge with a freezer storing, vitroceramic cooker, whirlpool and microwave ovens, washing machine as well as plates, pans and cutlery. From the living, you also have access to a mezzanine floor where there is extra bedding in case you would like to invite one or two persons more. You have got naturally a bathroom with a shower and separated toilets.
The apartment is connected to a TV satellite system with more than 100 channels and unlimited internet/wifi.
The most important advantage of this appartement and the villa where it is located, is its nearness to Frejus fine sand beach, the wide natural and activity park called "Base Nature", as well as Port-Frejus itself which is so attractive in the afternoon when you walk along its quays and admire the small boats which are parked there while you are enjoying an italian ice-cream, or something you also can do, walking from Port Frejus along the 2 kms distance up to that other beautiful resort which is Saint-Raphael.
Besides, we are on one hand, at 30 kms from CANNES and just a few kilometers from the Golden Corniche which is a marvellous blue (of the sea and the sky) and red (of the rocks falling down into the sea) piece of coast on the way to that city along the seaside; and the same from SAINT TROPEZ, riding through a beautiful road by the sea where you will admire lovely creeks and small beaches.
The price for this apartment includes sheets and bedlinen, duvets, pillow and their protection, towels and all you need for the cooking + private parking in the villa for your car + water and electricity, internet, Tv, as well as all taxes which are very high at that place of the Côte d'Azur. You'll also find on your arrival, a gift pack with some goodies, chocolates, cookies, coffee and a bottle of our "champagne" of the Provence region. We also provide some toilet and soap products.
I don't request any guarantee deposit for renting my flat nor any other paiement and the only extra money you'll have to pay is 60 euros for the cleaning when you leave.
房客使用权限
Our guests will enjoy a small private terrace with holiday equipments, such as shade awnings to keep you protected from the sun,
- A small table to have breakfast outside,
- Several long chairs for the beach, the siesta and the farniente,
- A gaz barbecue for the pleasure of making grilled meat and chicken,
- Two parking spaces in the private garden of the villa.
与房客的互动
The owner lives in a village of Provence, 20 kms from FREJUS and won't disturb you in your holiday, but she will welcome you, even at the SAINT RAPHAEL train station, if you wish.
She will show you up the apartment and explain you the working of its equipments.
The owner will also give you plenty of tourist informations so as to make the most of your holiday.
During all your stay, the owner will answer your call or whatssap message to help, guide or inform you about the apartment or tourist and visiting matters.
On your leave, you will drop the key in the letter box. No inspection will be done to the apartment as we wish you to enjoy your holiday until the last minute and keep the best memory of it. We rely completely on you !
其他注意事项
How to get there
If you come by plane, you'll probably land at NICE CÔTE D'AZUR airport and you will take a train to Saint Raphael (2km from Fréjus) from the station of Saint Augustin, just in front of the airport. I'll wait for you at the station.
You can also rent a car from the airport, you take directly the A8 motorway, direction CANNES, AIX. Fréjus is only 60 kms from NICE AIRPORT. You put the villa adress on the GPS and you are here. I'll be waiting for you with a bottle of champagne in the fridge.
Otherwise, you arrive directly with your car, driving on the AUTOROUTE DU SOLEIL from Paris or any other place. I'll also be there to welcome you.
You also can come by train and go down at SAINT RAPHAEL. I can wait for you at the station without any charge.
---
Нам очень понравилось! Искали долго квартиру или дом в Ницце, Антибе или Каннах, но случайно увидели предложение Бриджит во Фрижюсе. Нас было две семьи (четверо взрослых и трое детей).По соотношению цены и качества это оказалось лучшее предложение из всех! Немного колебались, думая, что это далеко от аэропорта. Но решили,, что все равно будем брать машину на прокат. И не пожалели ни капли. Особенно, когда много поездили по Лазурному берегу! Идеальнейшее расположение дома для отдыха семьей! Уютный старинный город, не так разрекламированный как Ницца и Канны! Идеальнейшее расположение дома. Дом находится в 200 м от песчаного пляжа! Пешком и босиком) 3 минуты. До порта со всеми его кафе и ресторанами 3 минуты. Прямо рядом с домом магазин , котором утром всегда есть вкусные теплые круасаны. Теперь о самом доме. В нем есть три замечательные полноценные спальни с двухспальными кроватями + лофт над кухней с двумя односпальными кроватями. В гостиной есть еще два дивана. Места очень много! Есть Wi-Fi и телевидение. Есть два балкона. На один выход из одной спальни. На другой выход из спальни и из гостиной. Это очень удобно. На большом балконе есть маркиза, которая складывается, стол и стулья и газовый гриль, который очень удобен. На кухне есть все для того чтобы вы ни в чем не нуждались в достаточном количестве. Большой плюс, это наличие большого паковочного места прямо во дворе. На Лазурном берегу это очень важно, если вы на машине! Хозяйка Бриджит очень приветливая и общительная женщина! С ней очень легко общаться. Она всегда на связи. Были приятно удивлены, когда увидели у себя оставленное ею для нас местное вино. Очень вкусное, кстати! Очень нам помог ее сын Кристофер. Как и многие русские, мы приехали с купюрами по 500 евро. Кристофер помог нам в выходной день разменять через банкомат эти купюры. Поверьте, это не просто)
---
Lovely apartment for 6-8 people. There is everything for a comfortable stay, including a chaise longue and chairs for the beach. The apartment is in 3 minutes walk from the beach. Everything that was said in the description corresponds to reality. Brigitte and her son conquered us with their attention, friendliness and hospitality. Brigitte, thank you for the interesting information about your region and the detailed recommendations.
Thank you Irina for your kindness and the one of all the members of your family. I congratulate the four of you to be such good guests in our apartments and I thank you definitely for your generosity even before having met us as you brought me such a beautiful gift. I proposed you the two places to stay and I am amazed of your hability to organize and make the most of your visit. You are indeed good holidaymakers and lovely people. I hope we will meet again and please remind that you made new friends in South of France. Thank you for your fantastic review!
---
Profile in English - Profil en Français (voir en bas)

I am a French citizen but my mother belonged to an Italian immigrant family and was born on the GOLDEN CORNICHE between Saint Raphael and Cannes. She remembered to have run barefoot over the red porphyry rocks of LE TRAYAS and to have guided English tourists in the many callanques or small creeks existing along the sea in that area. She loved South of France and used to tell me that every place on the coast and in the Var Provence where I now live among the vineyards, talked to her. She left me 2 apartments (which I fully renewed) located in such special places as the CARRE D'OR in Nice, behind the NEGRESCO HOTEL, and in Frejus in a villa which is right at the entrance of PORT FREJUS, in an ideal place to spend a holiday. She also transmitted to me her special pleasure in welcoming visitors onto those Mediterranean exceptional destinations. I love the sun, the sea, the beautiful southern culture with Italian accent of NICE, its extraordinary surroundings of Cannes, Antibes, Grasse, Biot, Saint Paul de Vence, Menton and Monaco as well as of the old villages of Provence and I enjoy very much that people from other places appreciate the beauty of their landscape, their architecture and history and the way of life of their inhabitants. Any stay in one of my apartments begins with a small chat of information for my guests, giving them some useful tips and advices to have a successful holiday in that magnificent region of France.

...................................................................................................................

Je suis française mais ma mère appartenait à une famille d'immigrants italiens et était née sur la CORNICHE D'OR entre SAINT RAPHAEL et CANNES. Elle se souvenait d'avoir marché pieds nus sur les rochers de porphyre rouge du TRAYAS et d'avoir guidé les touristes anglais parmi les nombreuses calanques ou petites criques creusées dans les rochers dans cette région. Elle aimait profondément le Midi et me disait souvent que chaque endroit de cette côte et de la Provence Varoise où j'habite maintenant, lui parlait.
Elle m'a laissé deux appartements (que j'ai rénovés complètement) situés dans des endroits aussi particuliers que le CARRÉ D'OR à NICE, derrière l'HÔTEL NÉGRESCO, et à FRÉJUS dans une villa située juste à l'entrée de PORT FRÉJUS, dans un lieu spécial pour passer des vacances. Elle m'a aussi transmis le plaisir très particulier qu'elle expérimentait quand elle accueillait les visiteurs de ces régions méditerranéennes exceptionnelles.
J'aime le soleil, la mer, la merveilleuse culture du Sud avec l'accent italien de NICE, les extraordinaires parages de CANNES, ANTIBES, GRASSE, BIOT, SAINT PAUL DE VENCE, MENTON et MONACO ainsi que les vieux villages de PROVENCE dont j'aime à faire connaître aux gens d'autres régions et pays, la beauté de leurs paysages, leur architecture et histoire ainsi que la forme de vie de leurs habitants. Tout séjour dans un de mes appartements commence par un petit briefing à mes vacanciers, pour leur donner quelques indications et conseils qui les aideront à réussir leurs vacances dans cette magnifique région de France.

语言:
English、Español、Français