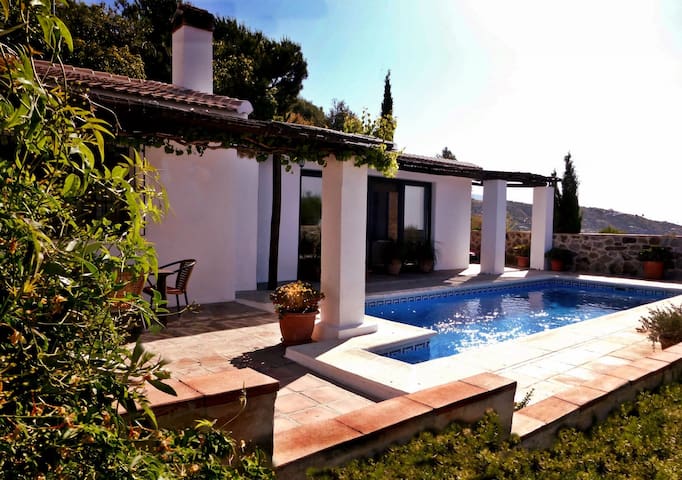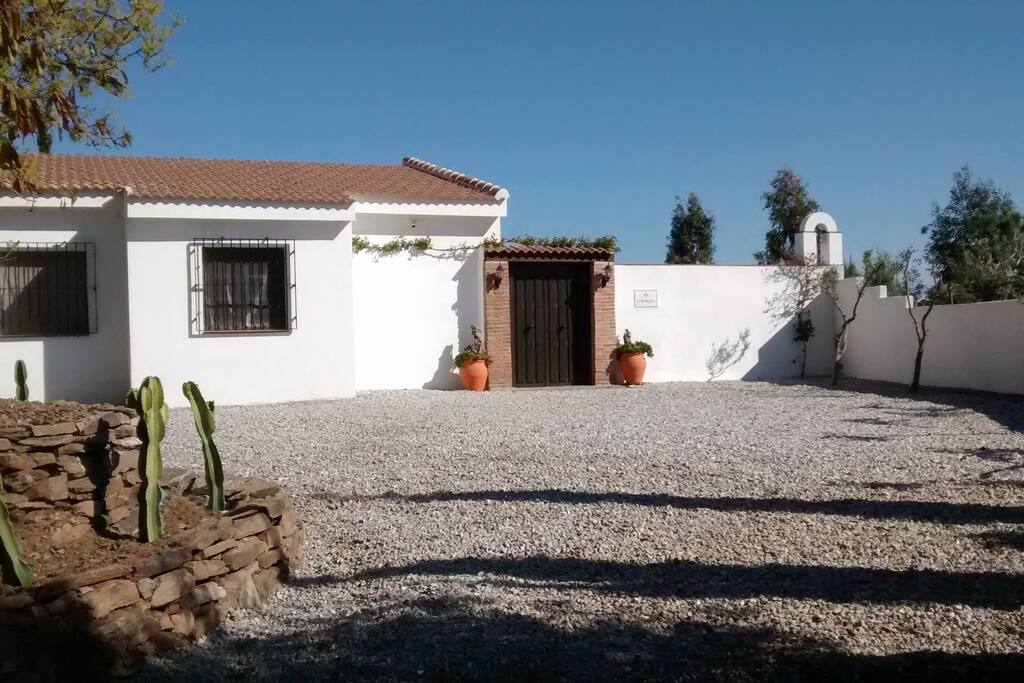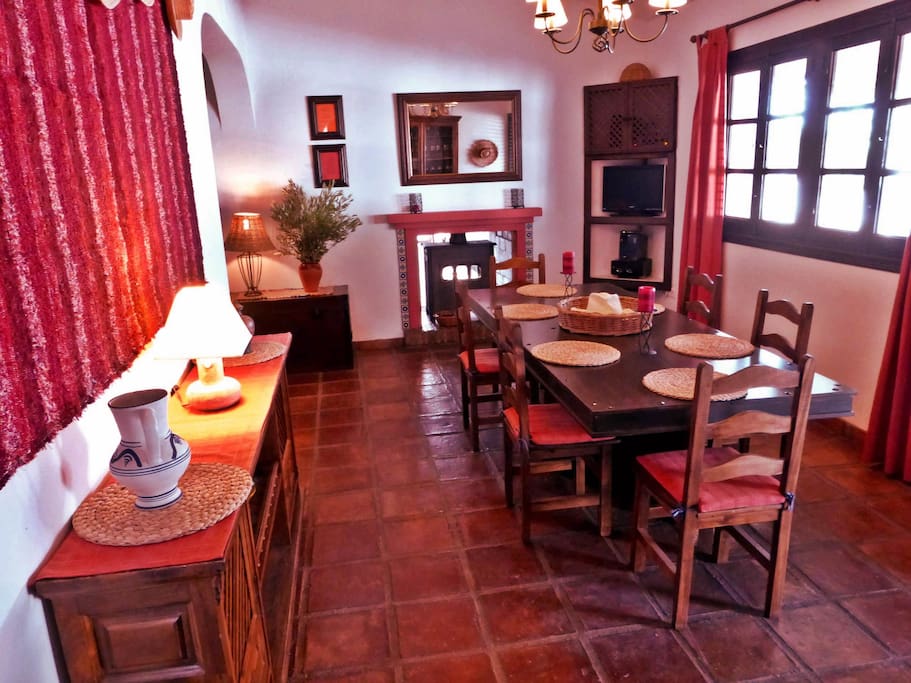 A secluded mountain hideaway just minutes from sandy beaches.…...
..... On a ridge perched high above two valleys, Villa Mexicana is set within two acres of beautiful countryside. The peaceful location, stunning views and a rustic chic ambience offer a perfect setting for romantic getaways or relaxing holidays with family and friends.
房源
Our villa is a spacious and rustic country house with three double bedrooms, two bathrooms, ample terraces, extensive grounds and a private 8x4m swimming pool. The location at Torrox on Spain's eastern Costa del Sol is rural but not isolated. The villa is set between the villages of Torrox and Competa just a 5 minutes drive from Torrox Pueblo and 8 minutes from the coast. Nature lovers will delight in exploring the nearby Almijarra and Tejeda natural park areas with its mountains, canyons, and river walking oportunities. For history and culture the famous old towns such as Malaga, Granada, Seville are all possible day trips from the villa. Our guests find this setting ideal, allowing one to unwind in a secluded villa tucked away in the Andalusian countryside and still enjoy all the attractions that the bustling Mediterranean coast has to offer just short drive away. So whether you just want to relax by the pool with a cocktail and a good book or are looking for a comfortable base from which to explore this ever popular region of Spain with it's lovely beaches, towering mountains and pristine natural parks, Villa Mexicana is the perfect choice.
与房客的互动
Pool cleaning every three to four days, mixed with a chat and any advice and help that may be useful.
其他注意事项
We have "Instant Booking" enabled with AirB&B. However if your booking is at short notice, less than two weeks ahead then please check with us first.
Licensed by the Junta de Andalucia as "Casa Rural": CR/MA/00930
---
---
General T&C`s, Disclaimers etc for Villa Mexicana.
Your accommodation is available from 4pm on day of arrival and must be vacated by 10am on day of departure. The maids need this time to prepare the accommodation properly for incoming guests. However if circumstances permit these times may be varied, but this must be pre-arranged
Party Size. At no time must any more persons occupy a property than agreed at the time of booking, except with prior written agreement. Property owners or their agents reserve the right to refuse admittance if this condition is not observed.
Arrival. Immediately upon arrival at your holiday home please familiarize yourself with the layout of the property and identify any potential hazards e.g. unexpected steps, slippery surfaces etc. Please also read fully the information sheets provided with the house directions.
Insurance. Holiday, personal and travel insurance are essential for your own protection and we strongly recommend that your holiday, you and all members of your party be suitably insured. Insurance is not included with villa rentals. The status of your ocupancy at the villa is as our invited "private guests".
Breakages, Damage and Property Care. We trust you to report any breakages or damage to us and request that the property is left in a clean and tidy state. You may be required to pay for any repairs, replacements or extra cleaning as necessary.
Property Standards. We endeavor to maintain high standards At Villa Mexicana. However, inevitably, items break or require maintenance, therefore please be aware that you may encounter maintenance staff and gardeners during your stay. Please also remember that these are private homes - please leave the villa in a reasonably clean and tidy condition. We reserve the right to charge for extra cleaning if necessary.
Problems with property. If you have a problem during your holiday, immediately inform the local agent who will then endeavour to put things right, If you fail to do this we cannot accept responsibility, as we have not had the opportunity to investigate and rectify the problem. Problems affecting your stay will always be treated the same day although there may be times, such as weekends and public holidays, when repairs may take longer.
Pool. Usually maintained and in commission from Easter to the end of October. Sometimes pool equipment breaks or needs maintenance. We cannot be held responsible if a pool is not in commission due to circumstances beyond our control though every effort will be made to solve any problem as quickly as possible. Use of swimming pool is at guests own risk and we specifically request the supervision of children at all times whilst in the pool area.
Included in cost. Pool and garden maintenance, Local information notes and maps, All water and electricity, All local and other taxes, All bed linens. Cleaning before and after stay.
House keys and property use. You are responsible for the keys whilst they are in your possession and for their safe return to the villa owner or agent. Our information pack may include certain instructions relating to your property and the safe use of equipment etc these should be followed.
Safety. The owners and their agents cannot be held responsible for personal injury or accident however caused and therefore advise guests have full personal and holiday insurance.
Force Majeure. We cannot accept liability or pay any compensation where our services or any asspect of your holiday is affected by 'force majeure'. Force majeure referes to any event which we could not, foresee or avoid. Such events may include, war, civil commotion or strife, hostilities, strikes or other industrial disputes, natural disasters, fire, acts of God, terrorist activities, technical problems, with transportation, closures of airports, changes to flight times and ferries, quarantine, epedemics, weather, government action or any other events outside our control.
Rights of Access. The representatives or their subcontractors have the right of access to the property at any time with due regard to the convenience of the hirer for the purpose of inspection of the property and to carry out any essential repair or maintenance work.
Our Responsibilities. Neither we nor the owners of any accommodation provided shall be under any liability for any injury, death, inconvenience, damage, loss, accident, delay or additional expense howsoever caused, occasioned to or incurred by any of your party or any other person during your stay at any of our properties.
Guests Responsibilities. The guest is responsible for taking all reasonable care of the property and its contents. The property and all equipment, utensils, furniture etc. must be left clean and tidy at the end of the hire period. The guest shall ensure that no member of the party engages in any activity in or around the swimming pool which may cause offence to neighbours or pollution to the water or damage to the structure or filtration equipment - this includes unacceptable antisocial behavior. Also, to ensure that the barbecue is cleaned and that all rubbish is placed in the communal dustbins at roadsides.
Security Deposit. We charge a modest security deposit. This is to ensure that the villa is left reasonably tidy, free of damages, the keys are left at the property and that all of the rental terms and conditions are followed.
CCTV There are two exterior cameras which cover the villa entrance and parking area. Both are normally switched off during guest stays, although we reserve the right to use them if we suspect that villa security may be at risk, ie burglary spate etc. and will inform you of this.
General . All our houses are traditional and rural properties. They are prepared with every care, but remember they are private houses and not hotels. They are taken at guests own risk and the villa owners or agents are not liable for damages or injury to person or any property belonging to any person. No liability is accepted whatsoever for any aspect of the arrangements and, in particular, for any loss, personal injury or death however incurred. Although all reasonable endeavors are made to ensure the accuracy of information provided and the quality and facilities of the villas, we cannot accept any liability whatsoever for problems that occur while guests occupy the villa of their choice. All information has been provided in good faith and no liability is accepted for any misrepresentation of villa material or accommodation. Disputes are referred to Spanish law.
Alternative Accommodations. We reserve the right to provide alternative accommodation if due to circumstances beyond our control a property is unavailable for occupancy or rendered unsuitable for occupancy during your stay. In these circumstances the alternative accommodation will be comparable to the property contracted. In certain circumstances when we are unable to offer alternative accommodation, and at our own discression, we may pay for emergency accommodation, the total daily cost of which will not be more than the daily cost of the contracted accommodation. Local alternative pensions are suggested in our information pack.
Descriptions & Website accuracy. All information contained on our websites has been compiled from up to date details and we have taken care to ensure its accuracy. There may however be occasions when an advertised facility is either modified or unavailable. Such situations may be dictated by local circumstances, necessity for maintenance, local construction work, water shortages, adverse weather, fuel shortages, power cuts, and other circumstances beyond our control. If we are advised of this, we will of course inform you as soon as possible, but we cannot be held liable in such circumstances.
---
My wife Esther, teenage daughter Sofia and I live fifteen minutes drive from our Villa in nearby Nerja. I am an ex Software Engineer (CAD/CAM development) and my wife, from Madrid, worked in the pharmaceutical industry. We fell in love with the area and moved here in 1996, soo…
语言:
English、Español、Français