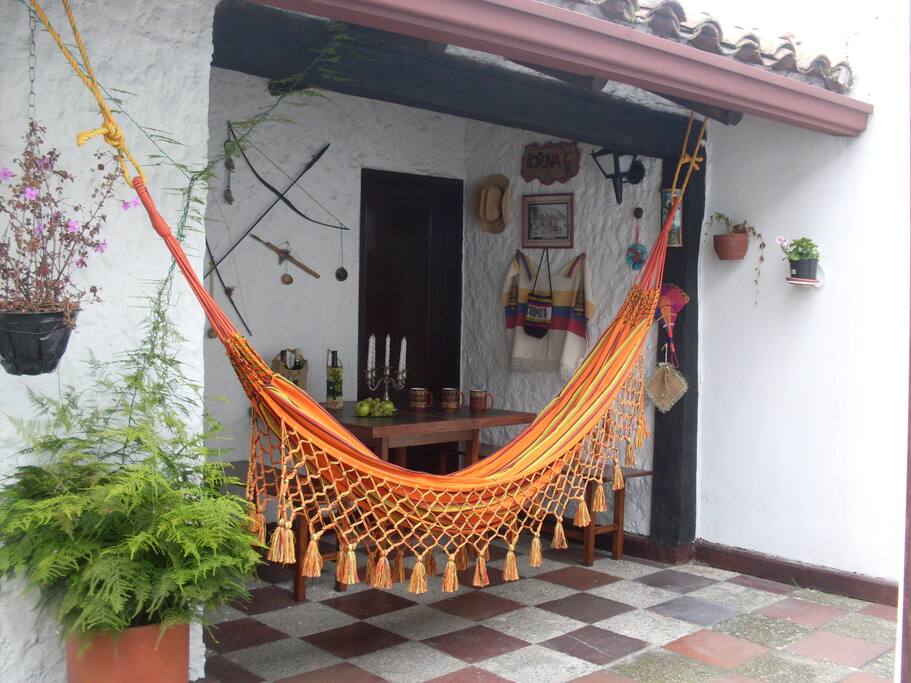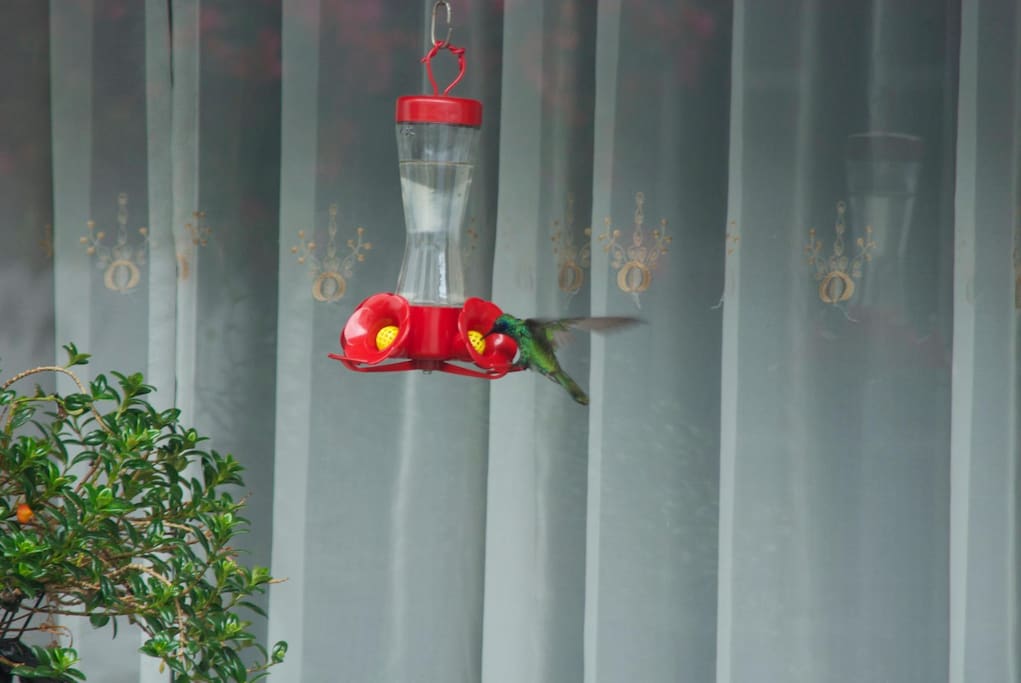 private room in family house
房源
Private room, rustic country style, double bed and sofa bed, bathroom, warm and cold water, direct TV, wireless internet, closet, wood table and chairs.
Friendly athmosphere. Spanish, english and german spoken. Dining room, living room can be shared. Smoke is not allowed.
House located in a residential neighbourhood located near humedal cordoba forest, 8 minutes walk to Bulevar Niza mall and transmilenio station and near to other malls with cinemas, restaurants, supermarkets, fruit stores and banking.
No meals are included, Breakfast is included.
For one month or more special price.
---
The reason I chose to include a stay at Raquel's was to add variety to the Bogotá trip. That's exactly what I got. The private secluded ensuite annex lets one imagine being in an Andean chalet with rolling green hills and coffee plantations outside. The thirty minute six bucks ride from Plaza Bolivar helped me sightsee many dimensions of the city: demographics, economic disparity, as well as architecture - parks, commercial areas, some embassies, churches, one synagogue, the mosque, the famous transit operations, and trendy neighbourhoods with sushi bistros. Nevertheless, the warm reception outweighed the math factoring-in. Perfect for someone looking for a homestay with a cordial human connection and not just a substitute for a hotel. Not to omit mention of home-made strawberry jam at fusion-breakfast.
---
! Mi estancia a la casa de Raquel y Jorge, fue una experiencia excepcional! Primero, y mas que todo, porqué Raquel y su familia son muy atentos y queridos con sus anfitriones, les gustan compartir y permite hacer un paseo rico. Aprendí mucho de la cultura colombiana ( y boliviana también porqué Raquel es boliviana), y me encantaron las charlas. A Raquel le gusta hacer jugos de frutas de todos tipos por su anfitrión, sin hablar del desayuno que es riquísimo (y saludable ;) ) ! Secundo, porqué la habitación es un verdadera joya en Bogotá, pequeña casa independente con un jardín y hamaca, en un sitio muy tranquilo y cerca del Transmileno! Ya sé donde volver cando volveré en Colombia ;) Muchas Gracias !
Claro que sì Sarah, ojala pronto puedas volver por àca, serà maravilloso poder volver a verte y poder atenderte como se lo merecen cada uno de nuestros huespedes que al final se convierten en familia para todos nosotros, besos y muchos abrazos, te recordaremos siempre y ya ocupas un lugar en nuestros corazones.
---
Raquel en Jose are wonderful hosts who really go out of their way to give you the best of times and teach you everything you need to know about the city and the country. I had a great time in the lovely appartment in the garden (incl. nice hamock) Raquel made a huge breakfast everymorning with local fruits and other delicatesses, and if you are looking to improve your Spanish, Raquel is the most patient teacher you can wish for.
---
Raquel's private room is actually a wonderful cabin in their back garden. The cabin was very clean and comfortable with a modern bathroom and wonderful shower which we appreciated. We loved the hammock, the table set up for writing and quiet time and the privacy. We arrived on December 31st and spent New Year's Eve celebrating with our hosts. Raquel prepared a wonderful Bolivian dish which we so enjoyed and throughout the evening we chatted easily with one another. We very much loved the breakfast prepared with such care and attention by Raquel...we truly were spoiled! The home's atmosphere is very relaxed and welcoming. We felt like old friends very quickly and we look forward to staying here again when we return to Colombia. The neighbourhood is quiet and safe. A mall with a grocery store is within a 10 minute walk. Several small eateries can be found on the way to the mall. This stop was a fabulous one for us! Hope you find your way to them when in Bogota!
---
What a WONDERFUL experience...Scot and I,...and later my Dad also stayed with Raquel in Bogota...we have been very pleased with the apartment next to Raquel's home...roomy and tastefully decorated... Mostly we have been very happy with Raquel hospitality and gentleness.. every morning we had a delightful breakfast with such a big selection of local fruits ,.. arepas . jiuces, teas...and so much more..we met 4 other happy visitors, and Daniela,.. the daughter is muy linda....and so friendly. We Highly recommend the apt. and mostly we recommend our lovely Raquel...we are hoping to be able to visit again very soon... Scot & Tullia Heissenberg of Delray Bch. Florida
---
Raquel, Daniella, and Daniella´s friend,Sebastian, came to receive me at the airport and during the drive to the house, we developed excellent communication.The family has background and experience living in Germany.Many members of the family live in Germany.Daniella speaks German and French besides English and Spanish.Enormous room for lively conversation on a range of subejcts. Raquel is an excellent cook and prepares desayunos and other meals with great flair. A friend of mine from Bogota saw my living quarters in a nice part of Bogota Norte and were impressed by Raquel´s residence. Their house will be my casa on future visits to Bogota !
---
Bienvenidos a nuestra casa en Bogotá, Colombia! Una casa familar ubicada cerca del humedal Córdoba donde tenemos a disposición de ustedes la "Casona", una habitación grande y bonita al estilo rústico. Como madre, me dedico al cuidado del hogar y como hobby tengo mi taller dentro de la casa para confección de ropa interior femenina, vestidos de baño, entre otros. Nos gusta atender lo mejor posible a todas las personas que entran a nuestro hogar y quienes estén interesados en alojarse en un ambiente familiar y tranquilo, serán bienvenidos. Somos una familia multicultural y alegre a la que nos gusta mucho compartir con personas de diferentes nacionalidades y mostrarles un poco de la cultura y gastronomía latinoamericana, por ejemplo con un suculento desayuno con arepas colombianas y jugo de frutas. Los esperamos con los brazos abiertos!

Welcome to our house in Bogota, Colombia! A house located near the wetland Cordoba, where we have available for you the "Casona", a large nice rustic-style room. As a mother, I take care of my home and my hobby is sewing female underwear, swimsuits, among others in my own workshop. We like to host people who are interested in staying in a familiar and peaceful environment. We are a multicultural cheerful family who loves to share with people of different nationalities and show them a bit of Latin-American culture and gastronomy, for example with a hearty breakfast with colombian arepas and fruit juice. We are waiting with open arms!

语言:
Deutsch、English、Español